Jharkhand's 14th Lynching in Four Years, Country's 266th
Planned spread of religious bigotry and hate has led to this situation, with chilling videos of lynching too available now, for posterity.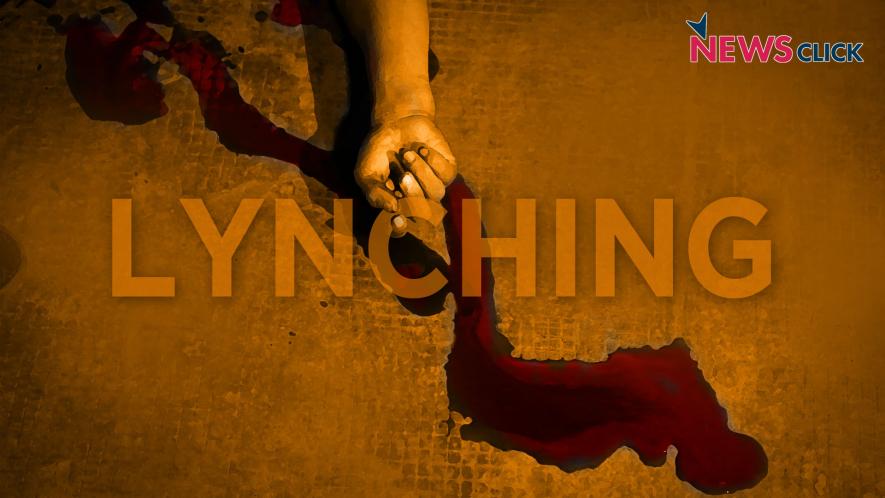 On June 17, 24-year old Tabrez Ansari was returning home in the remote Seraikela-Kharsawan district of Jharkhand when he was accosted by some people and accused of stealing a motorbike. The mob started beating him, and forced him to chant 'Jai Shri Ram' and 'Jai Hanuman'. After seven hours of bestial beating with sticks, the police took him away to lock up, recording his 'confession' for the theft but not mentioning the assault on him. On June 21, he was admitted to hospital and later rushed to Jamshedpur where he died the next day because of injuries. The horrendous incident came to light after a video of the torture surfaced on social media.
This was the 14th case of hate crime in Jharkhand in the past four years, according to data collated from media reports by Factchecker.in, a website that is tracking the horrendous trajectory of crimes based on religious hatred in India. With Tabrez Ansari's death, 11 such cases have been recorded this year itself while the total number of such incidents since Modi-led BJP came to power first in 2014 has increased to a staggering 266. The data unequivocally shows that mob lynchings are directly connected to the ascent of BJP to power at the Centre.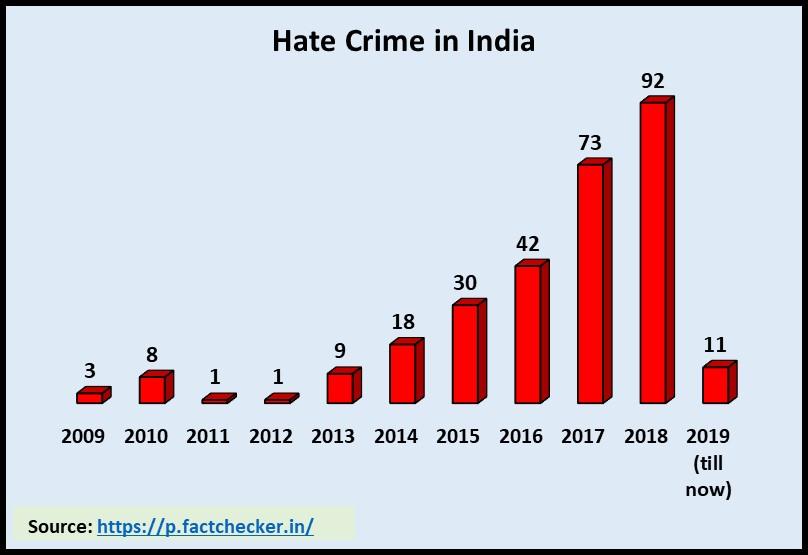 Between 2009 and 2013, the five-year period prior to Modi's victory in 2014, a total of only 22 such cases were reported. That means there has been a ten-fold rise in lynchings since the BJP came to power.
Hate Campaign Against Muslims
Scores of experts and TV talking heads have devoted hours figuring out the causes behind this undeniable rise in mob lynchings. Leaving aside the apologists for BJP, who ascribe case specific causes and end up saying that it is nothing but an attempt to vilify Hindus, others have raised an important factor: the pervasive hate campaign against Muslims carried out by Sangh Parivar and its associates through public statements, supportive actions towards the accused, lack of speedy legal remedies, absence of due police intervention and even connivance in BJP ruled states, etc. Is this true? What are the facts?
Also read: Another Lynching in Jharkhand, a Paradise For Mobs
Take the state of Jharkhand. Factchecker investigated nine of the 16 cases of hate crimes in the state since 2009 (14 of which happened after 2014, two earlier). It found that two of the cases could not be clearly classified as 'hate crime' as per their definition. In the remaining cases, they found that armed processions taken out during Hindu festivals (especially Ram Navami) were directly responsible for at least two cases of lynchings and indirectly for six others.
Provocative songs and slogans, brandishing of swords, tridents and other weapons, purposely targeting Muslim residential areas and mosques, is a standard feature of such processions. Many songs with open incitement of violence in the name of deities are wildly popular and even used as ringtones, the report of Factchecker states. The police appear to be aware of the danger these processions pose and have – in some cases – tried to restrict the activities. But by and large, the provocation and hate mongering is unbridled.
This is but the tip of the iceberg. A vast and silent campaign is continuously operated through social media where even more direct hate mongering continues. Usual stories of cow slaughter, beef eating, love jehad (Muslim men kidnapping or enticing Hindu women), support for Pakistan and various criminal activities are circulated and forwarded thousands of times.
This has created a simmering undercurrent of hatred towards the Muslims among large sections of the people in Jharkhand. From here to mob lynching is not too far, especially in a state which leads the pack in witch-hunting cases. Between 2001 and 2016, there were 623 cases of women being declared as "dayan" or witch and killed by mobs. This is almost a quarter of the 2,557 such cases across the country, according to National Crime Records Bureau (NCRB) reports on crime in India for these years. NCRB has not published reports after 2016.
Also watch: Don't Defame India in the Name of Ram!
Supreme Court Ignored
State governments and the Central government has largely ignored the 2018 directions of the Supreme Court which included setting up of fast track courts, stopping hate messages on social media, giving compensation to victims and bringing in a law to define and curb mob lynchings.
Troubled by the rising number of cow vigilantism and mob lynching cases in the country, the Supreme Court in July 2018 issued detailed directions to the Central and state governments to put in place "preventive, remedial and punitive measures" for curbing what the Court called "horrendous acts of mobocracy". These included:
Stop dissemination of irresponsible and explosive messages, videos and other material on various social media platforms which may incite mob violence and lynching
Police should register FIRs under Section 153A of IPC (promoting enmity between different groups on grounds of religion, race, place of birth, residence, language, etc) against persons who disseminate such messages and videos
Compensation to lynching/mob violence victim within one month from the date of the judgment;
Fast Track Courts in each district to hold trial on day to day basis;
Trial Court should award maximum sentence to set a stern example;
If a police officer or an officer of district administration fails to comply with these directions it shall be considered an act of deliberate negligence and/or misconduct for which appropriate action must be taken against him/her;
It is the duty of the state to ensure that the machinery of law and order functions efficiently and effectively in maintaining peace so as to preserve our quintessentially secular ethos and pluralistic social fabric in a democratic set-up governed by rule of law.
Recommend to the Parliament, to create a separate offence for lynching and provide adequate punishment for the same.
The full text of the judgement can be read here.
As the numbers of victims of brutal lynchings and mob violence continue to pile up with shocking speed, indicating a descent into hate fuelled bloodshed, perhaps the only way forward is to mobilise common people against these crimes against humanity. Otherwise, lynching and mob violence driven by bigotry will become the new normal, letting loose a bloody tide from which nobody can escape.
Get the latest reports & analysis with people's perspective on Protests, movements & deep analytical videos, discussions of the current affairs in your Telegram app. Subscribe to NewsClick's Telegram channel & get Real-Time updates on stories, as they get published on our website.
Subscribe Newsclick On Telegram