Modi's America High Can End in a Hangover
India bent over backwards to please America but returned with no trade deal.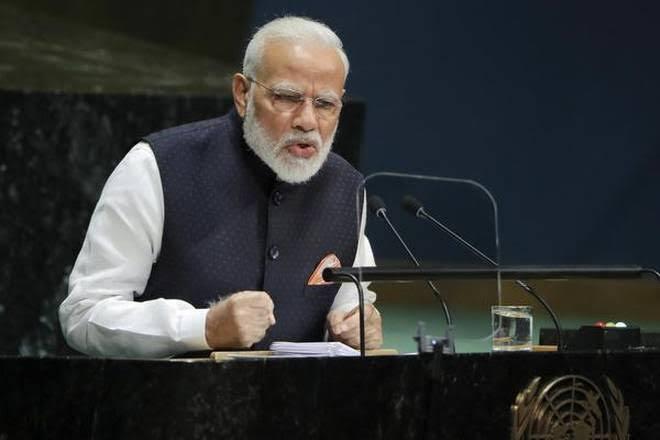 Image for representational use only.Image Courtesy : The Hindu
The current United National General Assembly (UNGA) session in New York, attended by a host of world leaders, is seeing a repeat of the India-Pakistan tamasha. While Prime Minister Narendra Modi concentrated mainly on his government's achievements and called for a united fight against terror, Pakistan Prime Minister Imran Khan's speech on Kashmir was equally emotional, as he once again called the Rashtriya Swayamsevak Sangh and the ruling Bharatiya Janata Party (BJP) "fascist" outfits.
This will continue so long as Kashmir remains in focus. India, by its own actions in Kashmir, has once again hyphenated itself to Pakistan. In the past two decades, India's attempt to break away from the South Asia context and de-hyphenate itself from Pakistan had succeeded to some extent. Since the economic reforms of 1991, successive governments had worked towards projecting India as a major regional power. But now, with Kashmir once again in focus, India and Pakistan are back to doing what they are best at—attacking each other at every international forum.
That said, Modi will still return from his week-long tour of the United States (US) on a high. The Houston do, with 50,000 fawning Indian-Americans packed into a football stadium and US President Donald Trump in attendance, was certainly the high point of his visit. Bhakts, with little sense of history, will possibly celebrate the event as India's coming-out party. The narrative promoted by the BJP will be a rising India under Modi arriving on the world stage.
Admittedly, Modi was the master-of-ceremonies at Houston. Trump looked like a visitor to his own country. Clearly, the US President was overwhelmed by the crowd and their obvious love for the Indian leader. In his enthusiasm, Modi went on to endorse Trump for next year's presidential elections. Usually most leaders never get into domestic politics of a country, but Modi threw caution to the wind. He may live to regret it, if the impeachment move against Trump gains momentum.
But beyond the ego-boosting razzmatazz, what did the US trip actually achieve in concrete terms? One significant achievement for Modi and his government is the fact that the world has, by and large, not publicly been critical of India. The argument put out before the world by India is that terror emanating from Pakistan is stoking unrest in Kashmir, that development has suffered because of the state's special status and that very soon Kashmir will be back to normal with more industry and employment for the people. Because of Pakistan's own record of using terror groups against India and Afghanistan as well as US and NATO (North Atlantic Treaty Organisation) soldiers in Afghanistan, the world is inclined to give this argument some credence.
While scrapping Kashmir's special status by reneging on Article 370 of the Constitution has not evoked much response (except from Pakistan and China), what has concerned many is the virtual lockdown of the Kashmir valley. The fact that the people of Kashmir have been denied their fundamental rights by shutting down both mobile and the internet services for over 50 days would normally have raised a furore, especially in the free world. India has managed to ensure that issues of human rights violation in Kashmir do not become part of the official narrative in the US. What is said behind closed doors is not known, but publicly this is not being raised by governments. (Though Opposition politicians in both the United Kingdom and the US are speaking out.)
By now, Modi knows Trump well enough to understand that flattery pays. So do business deals. Modi ladled out both in abundance in Houston. Petronet, an Indian energy company will invest $2.5 billion in US firm Tellurian's Driftwood project in exchange for close to 20% equity stake. It also promised to import five million tonnes of LPG every year for the next 40 years. The deal delighted President Trump, for whom promoting American business is a priority.
The US, which has enormous quantities of shale oil, is hoping to become an important exporter in the next few years. This deal has given a fillip to America's shale exports. India has stopped oil purchases from Iran, thanks to US sanctions. Though Indian refineries have always purchased oil from Iran, and at a decent price ever since the crippling sanctions, New Delhi has given in to the US. Iran's ambassador to India, Ali Chegini, had recently said that unlike India, China has refused to follow Washington's diktat.
The envoy made it clear that the impact of India's decision not to lift Iranian oil would affect the Chabahar project. Chabahar is of strategic significance for India as it helps New Delhi to bypass Pakistan and trade directly with Afghanistan. It also opens out the larger Central Asian countries for Indian goods. But, for now, all this is at a standstill. China can benefit from India's inertia in Chabahar.
Despite going out of its way to please the US, Delhi has not been able to get a trade deal finalised. The expectations were that at least a mini agreement would be announced during Modi's trip. But now it seems that is not to be. Trump had been pointing fingers at India over its trade surplus with America. The US had stripped India of special tariff concessions since June 5. As a developing country, India was allowed preferential market access, which exempted billions of dollars of Indian products from American tariffs. Trump believes that India does not need any special concessions considering that it had never extended "equitable and reasonable market access" for American goods.
Despite Trump's imputations, the US in recent years has gained enormously from India's generous defence purchases. From 2007 to now, American companies have earned over $18 billion, and another $10billion-worth military equipment is on the cards for the next two to three years, for which negotiations have not reached the final stage.
Imran Khan had vowed to raise both Article 370 and human rights violations in the Valley at the UNGA, but failed to get much traction, especially from the White House. Though the US media have been reporting on Kashmir and the plight of people in the Valley, Trump has not been moved. Considering that human rights is low on President Trump's agenda, this is not surprising. After all, despite constant criticism from the media, Trump has gone ahead with his policy of separating children from their parents on the Texas-Mexico border.
With the Right on the rise across Europe and America, there is little tolerance for freedom fighters, whether in Kashmir or Palestine. This, coupled with the rise of terrorism, has given India space to manoeuvre. So far, few questions have been asked by ruling governments in the West. India has been given a long rope by the international community to sort out Kashmir and lift restrictions on its people. The sooner the crackdown ends, the better. It is not that the murmurs have not started. The anti-India rally in Houston may not have been covered much by Indian reporters but it was juxtaposed with the Modi event by nearly the entire Western media.
The Democratic presidential candidate Bernie Sanders has already spoken out on Kashmir. In the UK, the Labour Party in its conference in Brighton passed a resolution supporting international intervention in Kashmir and called for a UN-led referendum. The resolution "...calls on the Labour Party, the government in waiting, to clearly and vocally support the Kashmiri people's right to self-determination and for international observers to be sent to the region immediately. The resolution also calls for an intervention of the party at the United Nations Human Rights Council (UNHRC)." India has rejected this resolution, although pressure on the human rights front will mount on India in the days and months to come.
Alice Wells, top State Department official spoke of US concern about "...widespread detentions, including those of politicians and business leaders, and the restrictions on the residents of Jammu and Kashmir." She added that Washington looked forward to India resuming political engagement with local leaders and scheduling of promised elections in Kashmir.
It does not matter what Donald Trump or anyone else says on Kashmir. India needs to concentrate on winning back the hearts and minds of the people of the Valley. After all, they are citizens. This will not be an easy task considering the mood in the Valley, but a beginning has to be made unless the BJP government believes it can forever keep a population down by force.
Seema Guha is an independent journalist based in Delhi. Views are personal.
Get the latest reports & analysis with people's perspective on Protests, movements & deep analytical videos, discussions of the current affairs in your Telegram app. Subscribe to NewsClick's Telegram channel & get Real-Time updates on stories, as they get published on our website.
Subscribe Newsclick On Telegram