Modi Govt Says it is Committed to Revive BSNL but is it?
The BSNL Employees Union does not believe so as it blames the Centre itself for creating "roadblocks" to stop the state-owned telco to launch its 4G services.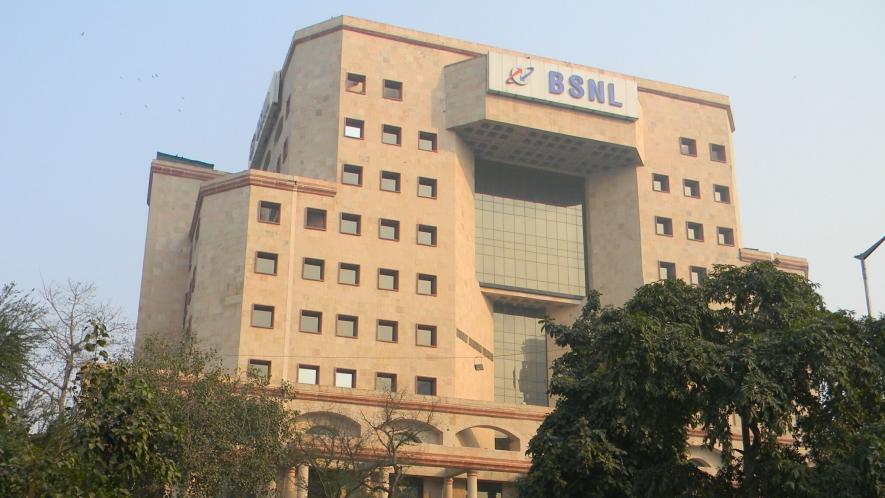 Image Courtesy: Wikimedia Commons
New Delhi: With the announcement of a second revival package for the state-owned telco Bharat Sanchar Nigam Limited (BSNL), the Narendra Modi – led Central Government earlier this week aimed to reiterate its commitment to turn the debt-ridden firm into a "viable entity."
But do facts support such assertions?
The BSNL Employees Union does not believe so as it blames the Centre itself for creating "roadblocks" to stop the state-owned telco to launch its 4G services – the latter being crucial, in a highly competitive telecom sector, for the firm's turnaround.
"To stop BSNL from launching its 4G service, the government has created two big road-blocks," the employees union said on Thursday, adding that the first of them is the denial of permission for the upgradation of BSNL's already existing equipment and the second was to not allow the state-owned firm to procure its 4G equipments from global vendors.
"BSNL is having around 50,000 3G BTSs, which could be converted into 4G BTSs, through software upgradation. But, the government denied permission for this. Had this upgradation been allowed, BSNL could have launched its 4G service at the pan-India level, at least 2 years back," the union argued.
It added, "In March 2020, BSNL [then] floated a tender to procure 50,000 4G BTSs. However, the government forced BSNL to cancel this tender and directed that BSNL should procure it's 4G equipment only from Indian vendors and not from global vendors. Now, TCS has been identified to supply 4G equipments to BSNL. But, to date, TCS has not been able to prove that it is having the requisite technology to supply 4G equipment to BSNL."
This was so, according to the employees' union, even as private telecom operators including Airtel, Reliance Jio and Vodafone Idea are allowed to procure their 4G equipments from global vendors.
Newsclick has earlier reported on how the prevailing deadlock over network equipment for 6,000 sites between the BSNL and IT services provider Tata Consultancy Services (TCS) has been affecting even the partial launch of the former's much-awaited 4G services.
"The denial of level playing ground to BSNL has been done intentionally by the government, to stop BSNL from launching its 4G service," the union alleged on Thursday.
The allegations by the BSNL employees union has surfaced a day after the Union Cabinet approved a Rs 1.64 lakh crore revival package for the state-owned telco. The package, which has a cash component of Rs. 43,964 crore and a non-cash component of Rs. 1.2 lakh crore spread over four years, will include administrative allotment of 4G spectrum worth Rs. 44,993 crore, according to The Hindu. In addition, Bharat Broadband Network Limited (BBNL), which was set up to implement the ambitious BharatNet project, will be merged with BSNL.
The same report added that other key components of the package include capex support of Rs. 22,471 crores, viability gap funding of Rs. 13,789 crore for rural wireline operations, debt structuring by raising of bonds with sovereign guarantee worth Rs. 40,399 crore and financial support for AGR (Adjusted Gross Revenue) dues worth Rs. 33,404 crore.
The four-year revival strategy, announced this week, follows a 2019 lifeline, when the Centre had announced a Rs. 70,000 crore package, which, however, mainly covered the voluntary retirement of BSNLs' over half of the workforce, even as it contained a guarantee to provide 4G spectrum to the state-owned telco.
P Abhimanyu, general secretary, BSNL Employees Union on Saturday accused the Centre for "deliberately" sending a "wrong message" to the general public of the country that "a huge amount of taxpayers' money" is being spent on the revival of the BSNL.
"In reality, has not spent or is going to spend even a single penny from the tax payers' money for the allotment of 4G spectrum to BSNL. Spectrum is available in abundance in nature and the government is only allotting a portion of it to BSNL, for which it is not going to pay any money to anyone," he said, while speaking to NewsClick in a telephone interview.
On this week's revival package, Abhimanyu on Saturday noted that even as capital expenditure funds and sovereign guarantee to BSNL was announced, the state-owned firm is yet to receive a "refund" worth Rs. 38,540, owed to it by the Centre. This amount, according to him, includes the "Viability Gap Funding" for rural telephony worth Rs. 13,789 crore for the period from 2014-15 to 2019, among others, which has long become overdue.
"Even despite the multiple announcements, the message is very clear to us which is that the Modi government does not want to get BSNL out of the crisis. By rejecting the opportunity to procure 4G equipments from global vendors, clearly the government is planning to push BSNL to the stage of a sick company and thereafter to sell it to the corporates, as was done in the case of Air India," Abhimanyu remarked.
He further added that it was disappointing that nothing was mentioned about BSNL's 5G services launching in the second revival package this week, even as auctions for its spectrum, in which private Indian firms are participating, have already begun.
Get the latest reports & analysis with people's perspective on Protests, movements & deep analytical videos, discussions of the current affairs in your Telegram app. Subscribe to NewsClick's Telegram channel & get Real-Time updates on stories, as they get published on our website.
Subscribe Newsclick On Telegram