Modi Govt's Bizarre Economic Policy: Borrow More But Spend Less!
In the period between April to July 2020, as the pandemic was galloping ahead and a lockdown was imposed, government expenditure was less than last year, latest data shows.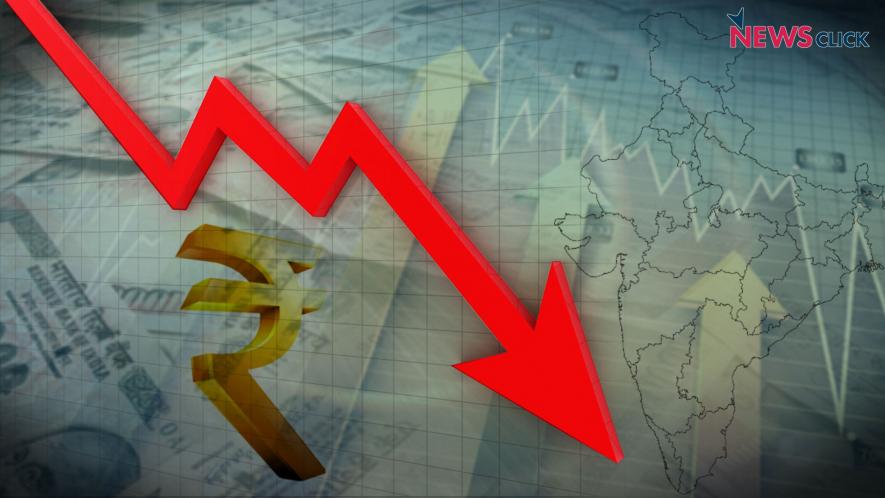 Recently released data on receipts and expenditure of the central government has exposed the sad and bitter truth that Indians have known all along – they have severely restricted much needed spending. The data, published by the Controller General of Accounts (CGA) every month (after a month-long lag), shows that instead of boosting spending so that people can fight the pandemic and survive the ill-conceived lockdown, growth in central government spending was less than last year's. [See chart below] Last year, government spending increased by 16% year on year. If this is adjusted to price rise, the real increase last year was still 10.8%.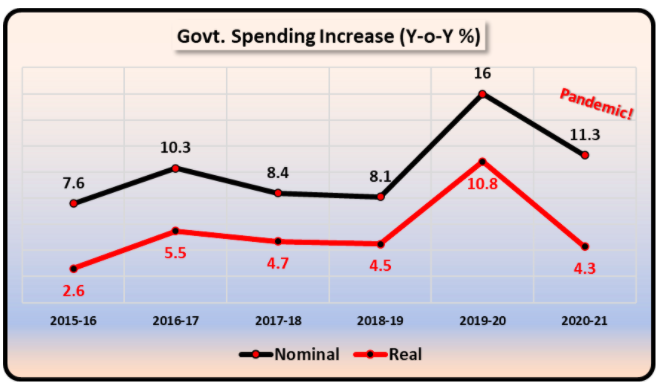 This year, the nominal increase is 11.3% but in real (inflation adjusted) terms, it works out to a mere 4.3%. This is the slowest real growth since 2015-16. In the 2020-21 Budget presented earlier this year, the target was to increase spending by 12.7%. Despite the pandemic, the government has not even touched that level currently.
Why is it necessary to spend more? 
India is passing through its worst economic crisis. Both demand and supply had slumped due to the ill-conceived and premature lockdown imposed by the Modi government itself in late March. Coming on top of an already slowing economy, this devastated the economic activities. Unemployment shot up to nearly 24% in April, investments crashed, production in industrial sector juddered to a halt and even the services sector was severely hit. The informal economy, and the MSME sector were decimated.
To revive the economy from this destructive onslaught, the only way out was for the government to pump in money into the economy, with special emphasis on boosting the buying power of common people. This would have revived demand and led to a cascading effect on the whole economic system.
The Modi government instead took the path of providing more credit through banks, in the naïve hope that this would spur investment which in turn would boost employment, and so on. In other words it put the cart before the horse. The results are there for all to see. GDP has crashed, unemployment is still running at 8-9%, bank credit is stagnating, industrial production is yet to pick up, both exports and imports are down, and there is mass hunger.
Also read: Is This How You Are Doubling Farmers' Income, Mr Modi?
Some of the areas in which the government did increase spending were programmes like the rural job guarantee scheme (MGNREGS) the allocation for which was ramped up from around the budgeted Rs 60,000 crore to about Rs.1 lakh crore. Another scheme that received substantial funding was the PM-KISAN, which provides for Rs 6,000 annually to farmers as income support. This scheme was launched last year.
Specifically, for the pandemic and the lockdown induced distress, the government promised to distribute extra foodgrains and provided a measly Rs 500 per month (for three months) to Jan Dhan account holders. All this may have contributed to increase in spending but clearly it has fallen well short of even their own normal target. And, it is unconscionably short of the desired level needed to tackle the lockdown disaster.
Govt Borrowings Are Sky High
Despite curtailing spending, it is not as if the Modi government is managing within limited means. The CGA data shows that 'external borrowings' (that is, loans from foreign sources) have reached Rs 39,165 crore, which is nine times the provision made in the current budget! Similarly, domestic borrowings have touched an astronomical Rs 7.82 lakh crore till July end, which is 99% of the provision in the current Budget. This includes not only commercial borrowing (from banks) but also dipping into Provident Fund, National Small Savings Fund etc. How and when these loans will be returned, and whether interest will be paid or not – nobody knows. Clearly, the Modi government is living dangerously beyond its means. But it doesn't have enough money to spend on the people.
Fixing the Accounts
To understand the way the government's economic mandarins are thinking, have a look at the tricks they have pulled on the key question of subsidies. CGA data shows that subsidies have been cut by over 38% in 2020-21. How has this happened?
Nutrient based fertiliser subsidy has dipped by about Rs 1,173 crore over the comparable April-July months last year. But all that the government has done is to not pay the fertiliser companies. The Fertiliser Association of India is claiming that the government owed the companies a whopping Rs 50,000 crore at the beginning of 2020-21, according to a CMIE report. The petroleum subsidy has shrunk by Rs 11,924 crore (about 42%) compared to last year. But, this happened because of international crude oil prices dropping dramatically, and additionally, because of increase in cost of LPG cylinders.
The food subsidy is shown in government accounts as having been reduced by 47.4% or Rs 51,476 crore. But in reality, the government has simply asked the state-owned Food Corporation of India (FCI) to get the money through other sources. Some of this was raised by FCI by taking loans from banks, whose food credit has risen by over 26% by end July 2020. And a major part of the funds was raised from borrowing Rs 1,4 lakh crore from the National Small Savings Fund (NSSF).
In short, the government has essentially transferred its spending on to public sector units like FCI, who in turn have borrowed from banks and NSSF – which means the peoples' money. How FCI will pay back these loans is a problem for another day.
All this manipulation has been done to show that the government is NOT spending money from its pockets! Why is there need to show this? Because the Modi government wants to impress international credit agencies that it is following the principles of minimum intervention, which in turn impresses the foreign investors and multinational companies.
Clearly, the Modi government is not worried about how Indians survive in these times. Its priority is to please the big business houses (domestic and foreign).
Also read: Indian Economy Falls of the Clif
Get the latest reports & analysis with people's perspective on Protests, movements & deep analytical videos, discussions of the current affairs in your Telegram app. Subscribe to NewsClick's Telegram channel & get Real-Time updates on stories, as they get published on our website.
Subscribe Newsclick On Telegram