Move over Big Oil and Tobacco, Big Tech is the Biggest Lobby in the US
A report revealed the level of influence tech companies now wield in US politics, with Big Tech spending $124 million on lobbying during the 2020 US election cycle. The likes of Facebook and Amazon spent twice as much on lobbying as Exxon and Phillip Morris did.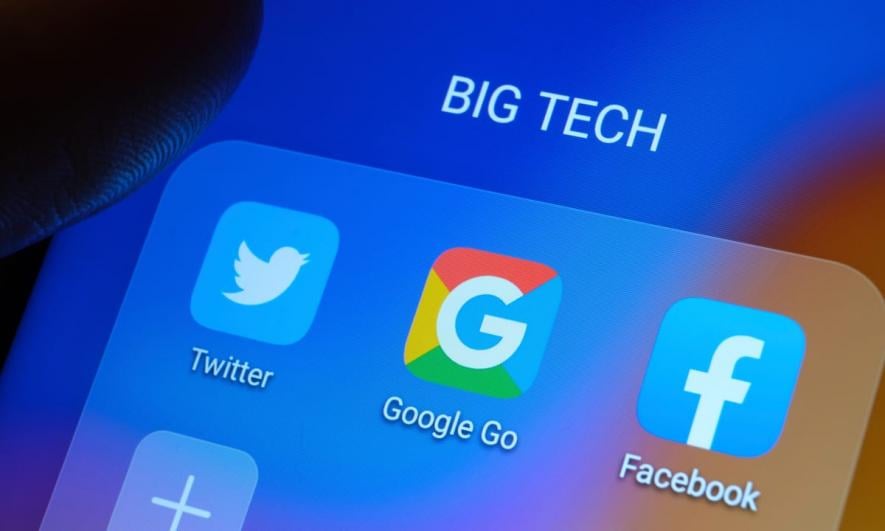 Representational image. | Image Courtesy: paymnts.com
A recent report by Public Citizen – a non-profit consumer advocacy organisation – revealed the extent of lobbying by Big Tech in the US, with Facebook and Amazon leapfrogging Big Oil and Big Tobacco to become the biggest corporate lobbyists in the country in 2020.
The report revealed the level of influence these technology companies now wield in US politics, with the Big Tech spending $124 million on lobbying during the 2020 US election cycle. The likes of Facebook and Amazon spent twice as much on lobbying as Exxon and Phillip Morris did, the report mentioned. 
"In recent years, Amazon, Apple, Facebook, and Google have all come under increased scrutiny for threatening our privacy, democracy, small businesses, and workers. In the race to amass monopoly power in their respective markets, these corporations have developed predatory business practices that harvest user data for profit and facilitated discrimination by race, religion, national origin, age, and gender. Facebook and Google have wielded unprecedented influence over our democratic process," Public Citizen mentioned.
It added that the increased investment in Washington has led these "monopolists to harm consumers, workers, and other businesses alike, with relatively little accountability to date."
Between 2018 and 2020 Amazon increased its spending on lobbying by 30% while Facebook bolstered its capacity to woo US legislators by 56%. Big Tech has also increased its army of lobbyists, adding 40 more –  from 293 in 2018 to 333 in 2020.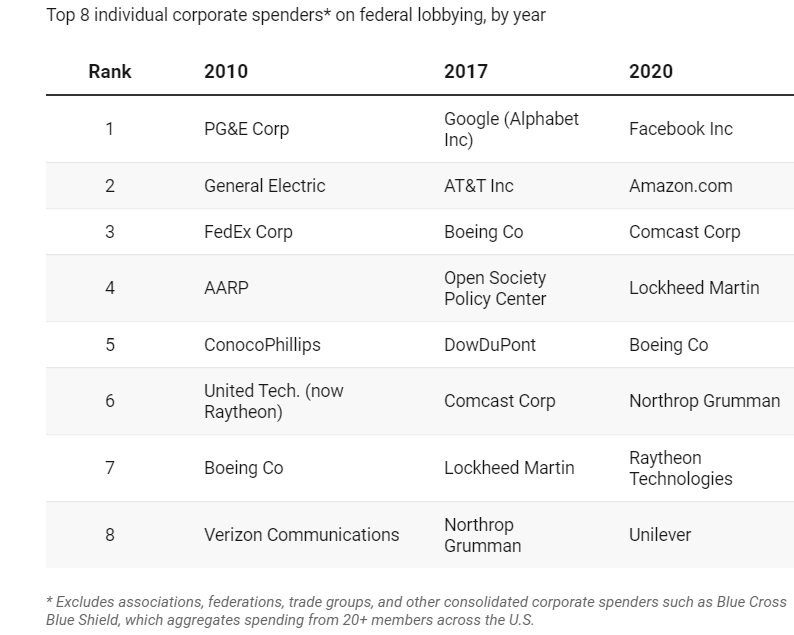 The report described Facebook and Amazon's rise in lobbying as "rapid. Most other corporations that make the top eight list are legacy spenders in Washington," it said, mentioning that the likes of Boeing, which now spends 56% lesser than Amazon now, has been in the list since 2010. "Not only do they stand at the top of the list, Facebook and Amazon lead the pack of corporate lobbying spenders by a significant margin. In fact, Amazon spent about 30% more than the next biggest spender, Comcast," it added.
Big Tech is said to have contributed 33% more to the 2020 US Presidential Elections than it did in the 2018 mid-term polls and that of the ten lobbyists who had the biggest contributions to the 2020 polls, "half lobby on behalf of at least one of the four Big Tech companies. Together, just these five lobbyists contributed over $2 million to the 2020 elections."
The nature of the lobbying is noteworthy as well, with the report mentioning that Big Tech now "commands its own revolving door in and out of government" by recruiting "former congressional staffers, FTC officials, and other government officials to lobby their former colleagues, bosses and agencies is central to Big Tech's political influence strategy."
Jay Carney, Amazon's Senior Vice President for policy and press, had a previous stint as former President Obama's press secretary and as communications director for current President Biden. Prior to securing his victory, Biden had hired Cynthia Hogan, who was then vice-president for public policy and government affairs at Apple. She is said to have been a long-time Biden aide. Google got on board Anne Hall, a former Obama staffer.
The lobbying has also been subtle, with Amazon, Apple, Facebook, and Google sponsoring academics, "who often fail to appropriately disclose conflicts of interest as a result of this funding."
With the companies increasingly becoming monopolies, Big Tech has also been contributing to lawmakers tasked with keeping their powers in check. "Nearly all (94%) members of Congress with jurisdiction over privacy and antitrust issues have received money from a Big Tech corporate PAC or lobbyist. In total, just in 2020, Big Tech PACs and lobbyists have contributed about $3.2 million to lawmakers tasked with regulating them," the report mentioned.
In conclusion, the report mentioned that the companies' "increasingly dominant role in our economy and everyday lives is worsening social problems that need a political response."
"Yet as Big Tech converts its enormous economic and social power into political influence, our political system is hamstrung from addressing those increasingly serious issues. This problem is reflective both of Big Tech's extraordinary wealth and power and a broken political system that works for giant corporations but not the rest of us."
Get the latest reports & analysis with people's perspective on Protests, movements & deep analytical videos, discussions of the current affairs in your Telegram app. Subscribe to NewsClick's Telegram channel & get Real-Time updates on stories, as they get published on our website.
Subscribe Newsclick On Telegram