A Mumbai Lawyer's Open Letter to Army chief
Could you please take it easy on the neighbourhood.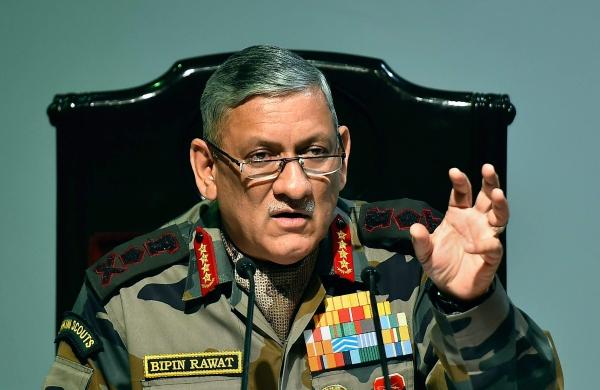 Image for representational use only.Image Courtesy : New Indian Express
Gen. Bipin Rawat
COAS
Indian Army
Respected sir,
Let me begin with congratulating you on holding your prestigious office. It may not be unreasonable to say that you must have worked really hard in your service towards our beloved country. You must have been as dedicated as any farmer is to his field, probably even more. Jai Jawan, Jai Kisan. Both you and the farmers are sons of soil, whose lives are devoted to the motherland. You dedicated your life to serving our beloved country. I cannot even fathom the number of sacrifices you must have made to honour the call of duty. Well, thank you so much for everything.
However, today I am constrained to write this letter to you. I believe that as one of the citizens of our beloved country (because that is what connects your office to me) I can write to you in distress. I have seen your pictures on various social media platforms, interacting with families of your larger family of our Armed Forces. That is when I thought that I could write to you because of your commitment towards your service, which is so evident from the pictures.
I have never done this before and therefore allow me room for a few errors too, which are purely unintentional. I have never written to any other COAS; you stand apart so much. Imagine, just imagine, a commoner in India can think of approaching you on a public platform in a situation of distress. The trust that you've built for yourself just speaks for itself.
Sir, when I was in school and later in college, I listened to and read stories about Field Marshal Sam Manekshaw, whom we all so fondly remember as our "Sam Bahadur". It is very difficult to explain how he is so "ours" even today and that too when most of us never met him. His stories are awe-inspiring and I am sure that you remember most of those stories. After all it is that honourable legacy that you have been called to shoulder, because you hold today one of the most respected offices. It would be difficult to disagree that if our Sam Bahadur heard this, he would say that it is not just one man but all the men in uniform—the soldiers, officers and jawans alike—who make this institution what it is. Who make it respected almost to the degree of being revered.
Sir, I may be inexperienced and may not be as knowledgeable as you are. That is an absurd comparison on my part. However, with whatever little experience I have, I understand that with greater power comes even greater responsibility. And the ability, rather sensibility, to exercise restraint is one of the non-negotiable aspects of that responsibility. That is so pretty much irrespective of the context.
In this regard, I feel extremely distressed by your absolutely unprovoked statements that are doing the rounds these days. You will always know more than me but even then I can sense a blatant lack of responsibility in your statements on the latest turn of events in the Valley. You have been making statements saying, "If the adversary has to activate LoC, that is his choice."
There are two other statements attributed to you, that are very provoking in nature and that too without anybody provoking you. In fact it kind of disturbs me to even quote them here. Links to them are here and here for your ready reference.
These statements are devoid of the degree of rationality and responsibility that comes with the office you hold today. We are not talking about a cricket match, that a provocation like that is harmless. Unfortunately it appears that these unprovoked "warnings" were intended to provoke. And I hope I am absolutely wrong here.
Sir, courage does not align with jingoism. There is as much courage in exercising restraint for the greater good as lies in fighting a rightful battle. We live in times when our beloved country must only work towards solutions through peaceful means. This being our first choice, it should be expressed through our words and backed by such actions.
Preparedness to defend ourselves, should the need arise, that is something different. It is not the same as telling somebody again and again that, 'Hey, I am prepared, remember I am prepared, dare you, I am prepared.' This is plain and simple provocation. I find it very disturbing to see all this coming from you.
It is never a wrong think for any adult to pause, take stock and reassess. You may have done it many times. Please do reassess once again to check if these statements stem from a false machismo than the degree of maturity required. I believe that in delicate situations, restraint and maturity will save coming generations.
Sir, would it be wrong to assume that just like the rest of us, even you were heartbroken, disgusted and extremely ashamed of those fellow citizens/netizens who viciously trolled Mita Santra, the wife of one of our slain CRPF jawans whom we lost to the dastardly attack in Pulwama in February.
Mita was trolled for not wanting war and her firm belief that "war is never a solution". She was trolled by jingoistic Indians. Armchair self-proclaimed patriots questioned her integrity and love for her family. This was barely a few days after her life had changed forever.
In this distressing and very difficult situation, may I request you to kindly exercise your discretion in making public statements a little more judiciously. Because with power, you have also been bestowed with greater responsibility. Would it also be possible to keep some good distance from politics and politicians alike? After all, it is our beloved Sam Bahadur's legacy and you would remember that he had the courage to speak truth to power and say 'no' when required, even putting his service at stake. I am guessing that during his time, there was nothing called a "career" in the Army and it was actually a "service" to the beloved nation.
Sir, I stumbled upon one of Manekshaw's lectures on YouTube and it turned out to be a real gem. It would be wrong to assume that you have not seen it yet. But considering you are all over the media, taking out time to pause, think and reassess is very difficult. Here is a link for your ready reference. I would urge you to please make time to watch it. Maybe your watching it would help our beloved country and each one of us, individually and collectively, and future generations will be indebted.
I sincerely thank you for your time and consideration and hope we shall see more maturity and restraint in your statements and absolutely no provocation, even unintentional.
Sir, congratulations once again. I read that you are being considered for the proposed post of Chief of Defence Staff. Even greater power—very high degree of responsibility.
In anticipation,
Yours truly,
Shruti, a helpless citizen of our sovereign socialist, secular, democratic republic.
Shruti Lokre is Mumbai-based lawyer. Views are personal.
Get the latest reports & analysis with people's perspective on Protests, movements & deep analytical videos, discussions of the current affairs in your Telegram app. Subscribe to NewsClick's Telegram channel & get Real-Time updates on stories, as they get published on our website.
Subscribe Newsclick On Telegram