NEP a Document for Creating Modern Slavery, say Teachers and Students
Students of 25 universities from 15 states participated in the gathering at Delhi's Jantar Mantar to demand roll-back of NEP 2020, the organisers said.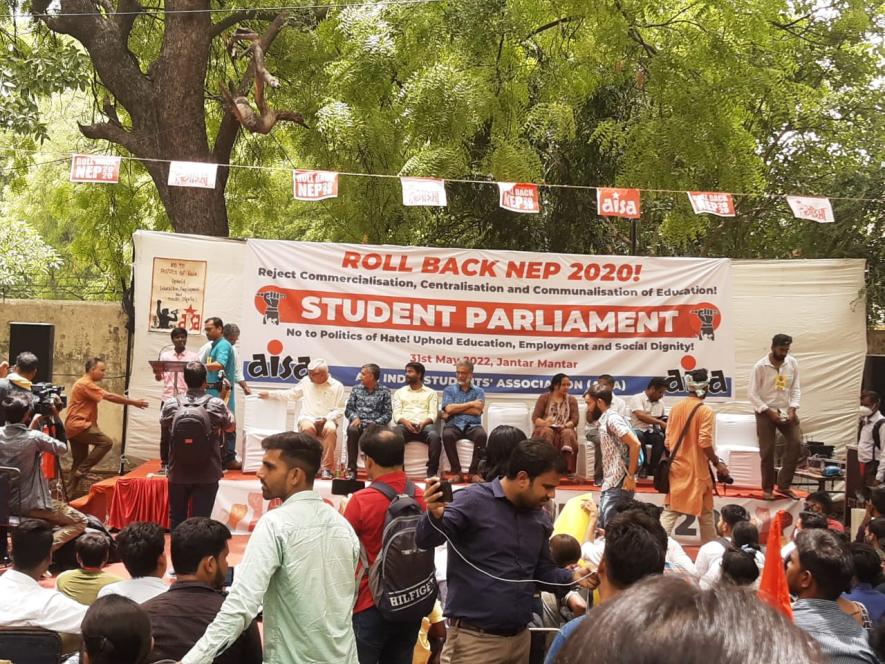 New Delhi: Calling it a movement to 'save the future of education', teachers and students from about 25 universities and colleges across 15 states assembled at Jantar  Mantar  on Tuesday to oppose the implementation of the new education policy (NEP).
The participants of the assembly, organised by All India Students Association, maintained that the policy would decimate the prospects of any learning in rural India.
Addressing the gathering, Manoj Jha, a professor in Delhi University and Member of Parliament, Rajya Sabha, said everything was "prefixed" by the government as it wanted no dialogue on an issue that would determine the fate of education in India
"The policy which you are opposing was never tabled in Parliament. When I tried to raise this issue in zero hour, I was told that this is a policy decision and it cannot be debated in Parliament. So, I checked if this was the case with education policies in previous years. To my surprise, this was the first precedent that an education policy was not being debated. When the Kothari Commission placed its recommendation in 1966, it was duly debated and passed. Similarly, the revised education policy under the Rajiv Gandhi regime was discussed, too." 
In a veiled reference to Prime Minister Narendra Modi, Jha said: "I often say that the King at the Centre often speaks about his chest. Had he given some heart to the argument, the consequences would have been different."
The Rashtriya Janata Dal MP warned the middle class that their children too would be pushed to the margins. "This class often indulges in celebration without any understanding. Please stop living in a fool's paradise if you think this policy will empower your children. It will not.  If you put the Preamble of the Constitution beside the NEP, you will find that it is not compatible. A policy document which does not bother to mention social justice symbolically, what can you expect from it?" he said.
Jha said everything around "is so sad. I think we must look around us to see. When farm laws were shoved down the throat of this country through Parliament, I was very disturbed. Our logic and arguments were thrown into the dustbin. If the King thinks this is in favour of people, it must be implemented. But our streets woke up. Farmers hit them. A person who said that I will never retract my decision, had to take back the farm laws".  Calling upon the gathering to take this battle to small cities, he said: "We must be able to say that this document enables our slavery. This is a document to create Eklavyas in the modern age. Nothing can be pernicious than this!"
Echoing similar sentiments, Apoorvanand, professor of Hindi, Delhi University, said that the country was witnessing an ever increasing number of school going students. "Governments, state and the Centre, should have made appropriate arrangements in terms of the number of teachers and enabling infrastructure in colleges. However, the policy is recommending the opposite".
Kamalanand Jha, Assistant Professor of Hindi at Aligarh Muslim University, said it was unusual for any education policy in any country to recommend reduction in the number of institutions
"The NEP has laid out the plan for 2032 and it is proposing to reduce the number of institutions by one-fourth of the existing strength. The policy broadly segregates institutions into three categories; research institutions, teaching institutions and colleges. We have about 50,000 institutions of higher learning. This policy asks us to bring the number of research institutions to 300, teaching institutions to 2,000 and colleges to 10,000. If you add it, you will find only 12,300 institutions catering to the needs of the people. Please be mindful that the student intake will only increase during this period."
Hindu College Professor Ratan Lal said the education policy would affect both students and teachers.
"Professors will also suffer due to this policy. We should all fight for it. We should stand together to protest against this policy," he said.
Get the latest reports & analysis with people's perspective on Protests, movements & deep analytical videos, discussions of the current affairs in your Telegram app. Subscribe to NewsClick's Telegram channel & get Real-Time updates on stories, as they get published on our website.
Subscribe Newsclick On Telegram