A Week Before NGT Order Flagged Concern, EAC Cleared Expansion Related Work in Chhattisgarh
On February 21, the EAC allowed 'coal transportation by road' as part of expansion of 1,000 MW plant being run by Jindal Steel & Power Ltd in Raigarh district, raising pollution concerns in the area.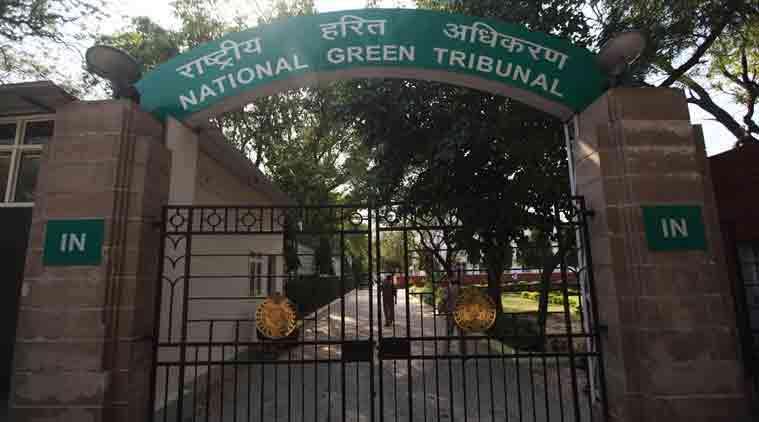 In February 2020, a week before the National Green Tribunal (NGT) directed that 'expansion' of any thermal power project can only happen in Chhattisgarh subject to certain conditions, environmental clearance was given to Jindal Steel & Power Ltd for coal transport by road, as part of the expansion plan by the EAC. The EAC or Expert Appraisal Committee constituted under the Ministry of Environment, is a body that gives clearance to development projects.
In an order dated February 27, 2020, in Shivpal Bhagat & Others versus Union of India, the principal bench of NGT had said: 'Any further expansion or new projects in the area should be allowed after thorough evaluation only and mechanism for remedial measures should be in place…..'
Some of the major highlights of the February judgment by NGT Chairperson Justice Adarsh Kumar Goel and expert members – Dr Nagin Nanda and Siddhanta Das – were as follows:
The bench did acknowledge that there were 'serious deficiencies' and that there is 'potential for damage to the environment'.

Going by the principles of 'Precautionary' and 'Sustainable Development', the NGT order further noted that 'any further expansion or new projects in the area should be allowed thorough evaluation only'.
The Tribunal entrusted a nodal agency, an 'Oversight Committee', which had been constituted on July 22, 2019, with the task of submitting a status report on the issue by July 15, 2020. The next hearing in the case is due on July 28, 2020.
However, almost a week before the NGT order regarding further expansion came, on February 21, 2020, at an EAC meeting by the Ministry of Environment, permission was granted for 'coal transportation by road' as part of expansion of 1,000 MW plant being run by Jindal Steel & Power Ltd., in Raigarh district of Chhattisgarh.
Go Ahead for Coal Transport Amounts to Expanding Footprint of Plant
Referred to as the '38th Meeting of the re-constituted EAC on Environmental Impact Assessment (EIA) of thermal power projects', the meeting was attended by six members of the panel constituted under the Ministry of Environment. The meeting was held in New Delhi on February 21, 2020 under the leadership of Navin Chandra, chairman of EAC, along with five other members that included NP Shukla, Gururaj P Kundargi, Jai Krishna Pandey, RK Giri and S Kerketta.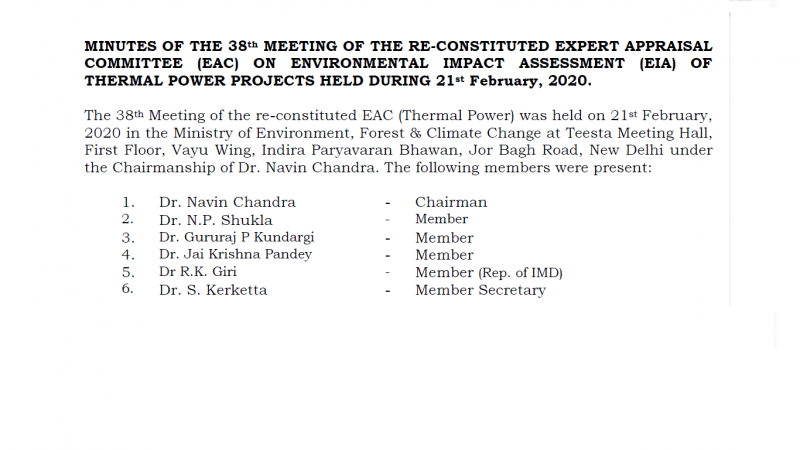 Listed as item no. 38.7 in the minutes of the meeting, as shown in a document accessed from the website of the Ministry of Environment, the matter was referred to as 're-consideration of amendment in the Environment Clearance for coal transportation by road'.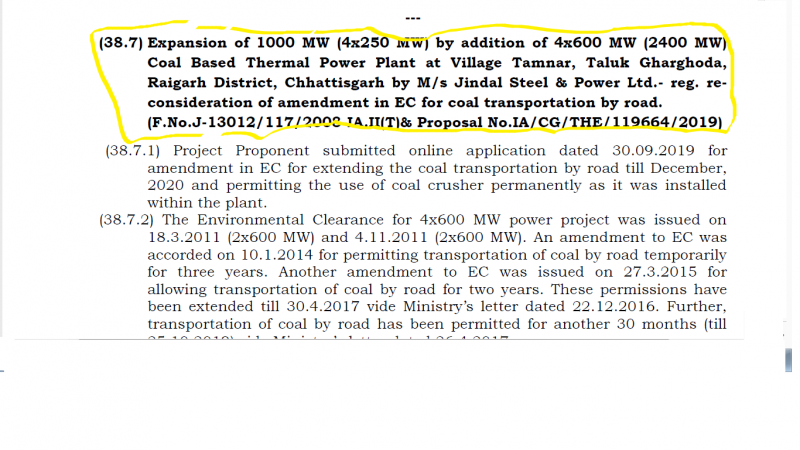 According to researcher and activist Shripad Dharmadhikary, the constituted by the Ministry is a recommendatory body. 'So while EAC took the decision to permit coal transport by road and to amend the Environment Clearance (EC) to that effect, it is not clear when the amendment was issued,' Dharmadhikary told NewsClick.
The PARIVESH website, which is the official portal for the Ministry of Environment, still doesn't reflect the amended EC regarding coal transport though Dharmadhikary deems it as 'not unusual'.
'So, the impact of the NGT order is that the coal transport by road, if it involves new roads, expansion of existing roads, new or expansion of related infrastructure or more coal to be transported, will be considered an "expansion" and will need through evaluation, remedial measure being in place first', Dharmadhikary said.
Environmentalists Concerned About Mining Related Activities
In an effort to reduce the pollution caused by road transport of coal, the NGT, in its February 27 order, had also said that 'transport of coal from coal mines to thermal plants by road will be permitted only for one year after which transport needs to be done by rail or conveyor belt only'.
The Environment Ministry-led panel had given 'temporary permission' to transport coal by road till December 2020. However, according to some grass root-level activists the go-ahead for coal transport under the expansion plan will cause more harm than good to environment.
According to Chhattisgarh-based activist, Degree Prasad Chouhan, who also happens to be convener of Adivasi Dalit Mazdoor Kisan Sangharsh: "Several mining companies, including JSPL, which are involved in mining, are already building roads by acquiring the common community land of village without the mandatory SIA (Social Impact Assessment) in most cases".
In August 2017, a study released by the Community Environmental Monitoring (CEM) and Dalit Adivasi Mazdoor Sangathan had found that cadmium levels in Chhattisgarh's Raigarh district were 169 times higher than the safe limit. Shweta Narayanan, the author of that report had then called for "a moratorium on expanding any coal mines, thermal power plants and other polluting industries till the area can be examined further."
Speaking to NewsClick, Narayanan, said: "It is very odd that the ministry has gone ahead with this clearance a week before the final order. It is not that the ministry was not aware of ongoing environmental violations in the region."
Following the Supreme Court's 2014 judgment in the coal scam, the mines earlier allotted to JSPL as captive mines are now being operated by Coal India's SECL (South Eastern Coalfields Ltd) as custodian. Residents in neighbouring villages, where JSPL is operating, have been caught in a legal battle since 2014. Concerns have been raised about the rise in pollution levels due to indiscriminate mining in the area by power sector companies.
Shivpal Bhagat versus Union of India is one such case among a batch of other petitions, wherein Bhagat, the Sarpanch of Kosampali and Sarasmal villages in Raigarh, has been vocal about health risks being posed by regular flouting of pollution norms by the corporate entity in his vicinity.
Responding to the environmental clearance granted by the ministry, Rinchin, a Raigarh-based activist and co-petitioner in Shivpal Bhagat's case, told NewsClick: "Air emissions are already higher in the area (from mining), even ash disposal is haphazard in low lying areas, expansion is not going to help in long-run."
Approval for Expansion Contrary to Panel Findings
According to Rinchin, a fresh round of computation of pollution-related data by local environmentalists was due to be done in March this year but had to be stalled due to the COVID lockdown. Interestingly, on October 11, 2019, a report on the impact of coal mining activity was submitted before the NGT by a panel of experts. The report was titled 'Preliminary Investigation into Environmental Carrying Capacity for Polluting Projects and Allied Issues in Tamnar & Gharghoda Blocks of Raigarh District Chhattisgarh'.
Among the five members of this panel constituted by NGT itself in July 2019, three were representatives of the Ministry of Environment. These included CPCB or Central Pollution Control Board members, PK Behera and RP Mishra along with Purushottam Sakhare (Representative of MoEFCC, Regional Office, Nagpur).
Based on their findings about the carrying capacity of the area, quality of soil, pollution control measures, fly ash management and ambient air quality with regard to PM 2.5, the panel comprising representatives of MoEFCC had identified:
Air pollution from different sources including 'coal mining activity itself' and thermal power plants among other sources.

Water pollution from mine water being pumped out and potential seepage from ash ponds

Groundwater depletion, etc.,
It is ironic that despite a panel comprising representatives from MoEFCC submitting a report before NGT, apprising it of pollution concerns in October 2019, another panel under the ministry went ahead with the expansion-related clearance with respect to coal transport in February 2020.
"There should have been at least a study before giving the go-ahead for any expansion. It's imperative that the Environment Ministry should re-look the approval given to JSPL", said Rinchin.
A questionnaire has been mailed to CK Mishra, secretary, Environment Ministry. We will update the story as and when we get a formal response. Another email has been sent to the communications in-charge at Jindal Steel & Power Ltd. Their response is still awaited.
"By giving this Environmental Clearance, the ministry has clearly indicated that it stands to support businesses at the cost of environment", said Shweta Narayanan, whose report had raised concerns about environment hazards of mining in Chhattisgarh.
The writer is an independent journalist.
Get the latest reports & analysis with people's perspective on Protests, movements & deep analytical videos, discussions of the current affairs in your Telegram app. Subscribe to NewsClick's Telegram channel & get Real-Time updates on stories, as they get published on our website.
Subscribe Newsclick On Telegram