NPS Making Delhi University Teachers Anxious with Paltry Pensions
DU lost more than 60 teachers in the horrific second wave of Covid. Teachers maintain that the scheme deprived them of any family pension in case of an employee's untimely death, but they are receiving a paltry Rs 3,500 as pension per month now.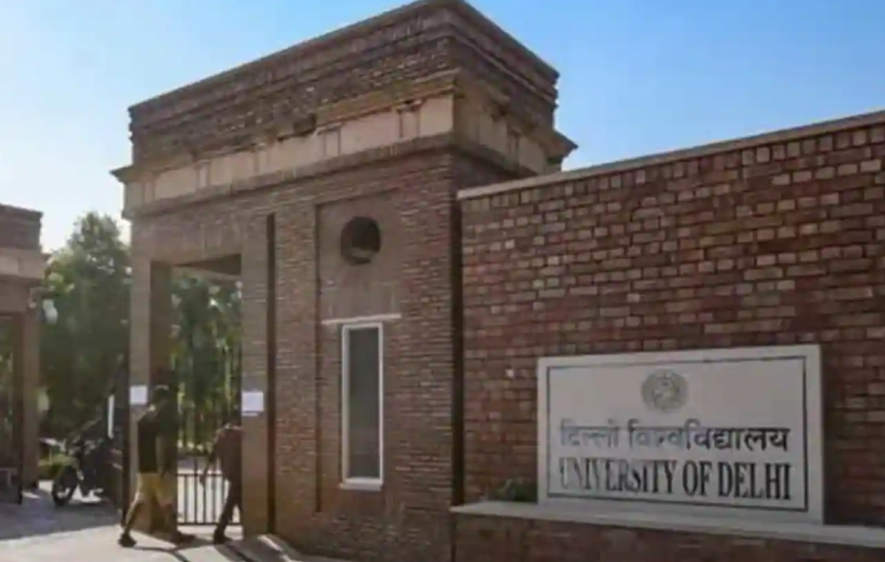 New Delhi: Mukuta Bora's voice starts trembling as soon as she recalls the disturbing and tragic death of her husband Rajarshi Kalita in the second wave of Coronavirus in 2021. However, her ordeal began when she realised that she would not be receiving much help as gratuity provident fund after Kalita taught as permanent faculty for merely 12 years in Shyam Lal College of Delhi University. Bora said that she received support from college Teachers Fund but still awaiting disbursal of dues from the college.
The teaching and non-teaching community in the university is growing restless as COVID-19 exposes them to insecurities posed by New Pension Scheme. Delhi University lost more than 60 teachers in the horrific second wave of Coronavirus. Teachers maintain that the scheme deprived them of any family pension in case of an employee's untimely death, but they are receiving a paltry Rs 3,500 as pension per month now.
Introduced in 2004, the New Pension Scheme proposed that it would be resolving the problems of the mounting burden of the centre to pay pensions to its retiring employees without compromising social security benefits. The officials argued that the total pension liability on account of the Central Government employees had risen from 0.6% of GDP (at constant prices) in 1993-94 to 1.66% of GDP (at constant prices) in 2002-03 and the actual outgo had increased from Rs 5,206 crore in 1993-94 to Rs 23,158 crore (excluding telecom) in 2003-04 (BE) and the crisis would be resolved by linking pension funds to government securities and market-linked instruments.
The scheme came up with a monthly contribution of 10% of salary and Dearness Allowance (DA), to be paid by the employee and matched by Central Government. The contributions and investment returns were to be deposited in a non-withdrawable pension Tier-I account. It was also specified that the then-existing provisions of defined benefit pension and General Provident Fund (GPF) were not available to the recruits in Central government service.
Individuals could normally exit at or after 60 years for Tier-I of the pension system. At exit, the individual would be mandatorily required to invest 40% of pension wealth to purchase an annuity from an Insurance Regulatory and Development Authority of India (IRDAI) - regulated life insurance company. Further, individuals would have the flexibility to leave the pension system before age 60. However, in this case, the mandatory annuitisation would be 80% of the pension wealth.
Rudrashish Chakraborty, associate professor at Kirori Mal College of Delhi University, maintained that the New Pension Scheme failed the teaching and non-teaching staff at the crucial junctures of their lives when they expected relief from the government most. The protests are intensifying in favour of the old pension scheme because NPS is adding to income inequality. The pension is determined on your salary, and there is already a wide gap between highest-ranking officials such as Cabinet Secretary and lowest grade employees such as peons. It does not safeguard them against old age insecurity and inflation. Talking to NewsClick over the phone, Chakraborty, also a former academic Council member said that the scheme could not guarantee returns because the premise of such returns took a back seat when the authorities started implementing it.
He said, "NPS has been rightly termed as No Pension Scheme because it is defining your contributions, not returns. The scheme was introduced on January 1, 2004, and it was implemented in 2009 in spirit. By this time, the Indian economy has lost its sheen. It is correct that the economy did not suffer like the rest of the economies, including the United States post-collapse of Lehman Brothers, but it did not recover and shoot up. We are also witnessing that the economy suffered tremendously after Prime Minister Narendra Modi announced Demonetisation all of a sudden in 2016. So, the government's plans of extracting attractive returns from the market were dusted before they could take off. However, this whole fiasco did cost employees dearly.
Delhi University has three categories of teachers; the first tier comprises 10-15% of teachers covered under the old pension scheme, the second tier has 25-30% teachers covered under New Pension Scheme and about 50% teachers who teach as ad-hoc faculty in different colleges. He said, "The last bunch of teachers has worked in the university without any benefits for 10-15 years. If they join colleges today as permanent faculty, they will have less contribution to the corpus. So, the formula set by NPS is obvious. Less contribution means less pension amount.
On the contrary, the old pension scheme ensured any working employee pension equivalent to 50% of basic pay plus admissible dearness allowance indexed to inflation. The situation had led to the pauperisation of the teaching community in Delhi University. Why would bright young teachers come to public-funded universities when they know that they would not be getting anything as old age security? They would be going to foreign universities or private universities, which pay them much better."
When asked about the old pension scheme being fiscally untenable furthered by former civil servants, Chakraborty said that the officers have been parroting neoliberal arguments. He said, "The civil servants who are writing at length about fiscal tenability are the same person who enjoys securities of the old pension scheme. Fiscal tenability is achieved through progressive taxation. Fiscal tenability is achieved by taxing corporates and not reducing corporate tax from 22% to 15%. Fiscal tenability is achieved through investments in public institutions with higher rates of dividends. Nothing can be more hypocritical than these former civil servants enjoying the benefits of the old pension scheme but do not want their juniors to avail these benefits. Pension is social security that any civilised society deserves."
Former Finance Secretary Rajiv Mehrishi, in an article in a leading national daily, argued that the decision of the Rajasthan Government to restore the Old Pension Scheme was not financially as the state would spend 56% of its tax and non-tax revenue in paying pensions and salaries to government employees.
Nandita Narain, former President of Delhi University Teachers' Association (DUTA), echoed sentiments expressed by Chakraborty and said that the teaching community across the country is agitating for it as they see gaining nothing out of NPS.
She said, "The restoration of old pension scheme is not only being demanded in central universities but teachers of state universities to are agitating and organising under AIFUCTO. We thought that we would be getting pensions as a right for years, but it was done away with. Much like India, the youth of Mexico hit the streets to demand pensions for their senior citizen parents. The government answered protesters with bullets. In 2018, the employees of 60 universities of the United Kingdom, including the Universities of Oxford and Cambridge, went on strike against similar pensions provisions there. The employees have served the people of the country for 30 years. Can any government abandon them in their old age? The government is saying that NPS gave 9% interest over the years, but it is not saying that I would be taxed too on corpus withdrawal. It did not happen in the previous scheme. Overall, we want assured income as old pension income guarantees."
Hansraj Suman, associate professor of Hindi in Aurobindo College in Delhi University, argued that the provisions of the New Pension Scheme were introduced for employees. However, legislators at different levels of government kept themselves safe from the turbulence of markets by fixing their uniform pensions. Talking to NewsClick, he said," the parliamentarians, MLAs, even councillors of Municipal corporations kept their pensions out of the ambit of New Pension Scheme. If market-linked returns are this much attractive, why did they insulate themselves? We recently saw a few retirements in the college. These retired teachers are withdrawing pensions worth Rs 3500 per month. Please explain to me how an old age couple would survive on such a paltry income."
The Rajya Sabha Handbook on entitlements to former members of parliament suggest that they would draw a monthly pension of Rs 25,000 per month. It stated, "A former Member of Provisional Parliament or either House of Parliament is entitled to a minimum pension of Rs 25,000/- per month and an additional pension of Rs 2,000/- per month for every year served as Member of Parliament for a period exceeding five years." It added that Spouse or dependent of a deceased Member/Ex-MP, who is neither a sitting Member nor drawing pension under Section 8A of the MSA Act, 1954, is entitled w.e.f. 15.09.2006 for the remaining period of life of Spouse or dependent so long as he continues to be a dependent, a Family Pension equivalent to 50% of the Pension otherwise admissible to such deceased Member/Ex-MP."
Manjeet Singh Patel, president, Delhi unit of National Movement for Old Pension Scheme, who has been campaigning extensively, told NewsClick that the process of investment remains opaque under New Pension Scheme. The provisions state that the government would be investing 85% of the corpus into government bonds and 15% into market-linked instruments. He said," it is very clear what rules suggest about investment but is the government conforming to these rules? I am doubtful. NPS Trust could not answer when we asked about the quantum of money invested in bonds and other instruments and respective interest through RTI, NPS Trust could not answer. Even when they said that the investment is averse to market fluctuations, PFRDA had to issue a press release and acknowledge that it lost Rs 1620 crore as IL&FS became bankrupt. Uttar Pradesh Power Corporation Limited employees went on strike alleging that they lost Rs 200 crore owing investment in the open market. So, it is the employees who have been hit over the year as their investments plummeted."
"As far as the scheme is concerned, the government reduces 10% of salary as employees' share and adds 14% from its side. For thirty years, the employee works for which he is paying through his salary, and you cannot even guarantee him a decent pension for ten to fifteen years. Is this fair? Why should pensioners pay for the government's inefficiency? Let me cite the example of Uttar Pradesh. The state of Uttar Pradesh introduced the scheme on April 1, 2005, but it did not reduce the contributions from employees till 2017-18. It did not invest anything from its side too. Now, the employees who joined ten years back retired with nil pensions. There are various categories that allow recruitment till the age of 50. Even it recruited teachers at the age of 58. What are they getting for the shorter tenure of service? It is interesting to note that the New Pension Scheme did not generate confidence in the judiciary. The Second National Judicial Pay Commission recommended that the new pension scheme not be introduced for the judiciary."
When asked for a way forward even as employees are intensifying their struggle for the old pension scheme, he said that scrapping new pension would not be feasible because the government has already invested 6 lakh crore in different bonds and three institutions Life Insurance Corporation (LIC), State Bank of India (SBI) and UTI are earning Rs 9000 crore per month on it. He said, "there are two issues here; one, the state governments are not much autonomous now to use the collected funds till date. The money has been deposited in National Securities Depository Limited (NSDL), and the centre handles it. Second, Scrapping NPS would also affect Atal Pension Yojna, which is on the same platform. We are suggesting government that it should hand out employees option forms if they wish to continue with NPS or OPS."
Get the latest reports & analysis with people's perspective on Protests, movements & deep analytical videos, discussions of the current affairs in your Telegram app. Subscribe to NewsClick's Telegram channel & get Real-Time updates on stories, as they get published on our website.
Subscribe Newsclick On Telegram