Chowkidar Hi Chor Hai: Part 2 – How a Firm Linked to Modi Siphoned Money From Bank of Maharashtra
In part two of a three-part series on how the Modi government pushed banks into repeatedly lending to cronies, read the story of a Surat-based transporter with links to PM Modi.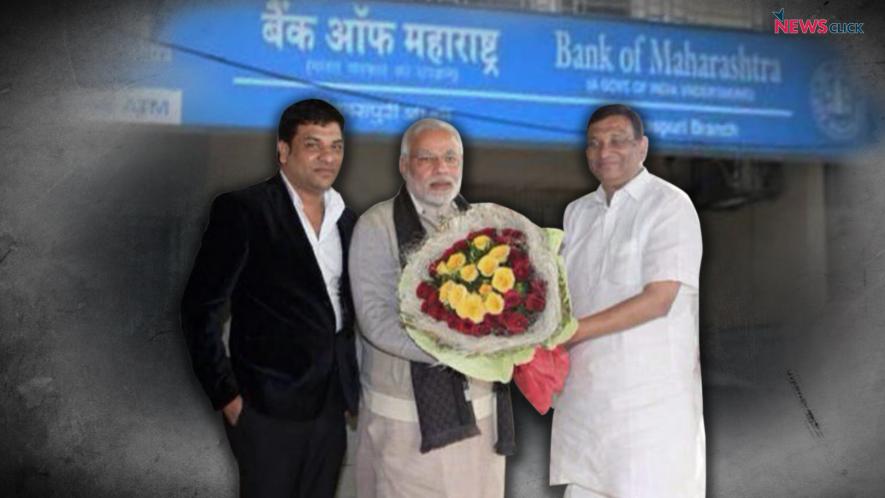 PM Narendra Modi with SVLL chairman Roopchand Baid
Based on documents received from a source in the banking industry, in this three-part series, Newsclick has investigated three instances of political interference in a public sector bank thereby causing unpaid loans to pile up with cronies of government bigwigs. In Part 1, Newsclick had revealed the case of how a company linked to Union Minister Nitin Gadkari allegedly received loans from a public sector bank in violation of the bank's own policies and past decisions, and received multiple subsequent loans to prevent the account from turning into a none performing asset (NPA) or bad loan.
In part 2, we tell the story of a Surat-based transporter with links to Prime Minister Narendra Modi, parts of which appear for the first time here. Persons associated with the company, including its promoter and directors, were accused of fraud on Bank of Maharashtra (BoM) and diversion of funds received as loans. Central Bureau of Investigation (CBI) arrested and briefly held in custody the company's promoter and one bank official. The arrested BoM official, who is also affiliated to an organisation in the Sangh Parivar, was later reinstated by the bank and has since superannuated. Since his reinstatement, two Chairpersons of BoM, under whose watch the bank's internal investigation is supposed to be proceeding, have been forced out of their positions on flimsy pretexts. A banking source has told Newsclick that these dismissals were due to an attempt to protect the suspended BoM official from further action including and up to dismissal by the bank.
As of March 2019, the total NPAs held by public sector banks stand at Rs. 8.96 lakh crore, up from just over Rs 2 lakh crore in 2014. Of this total, over 82% are estimated to be due to corporate defaulters. A mere 40 corporate groups account for a third of the total corporate NPAs. Between 2014 and 2018, the country's 21 public sector banks ended up writing off Rs 3.16 lakh crore of these bad loans, recovering only Rs 44,900 crore. Four thousand six hundred and ninety-three cases of fraud worth over Rs. 1 lakh were reported in 2015-16. That number rose to 5,904 in 2016-17.
Siddhi Vinayak Logistics Limited (SVLL) is a transport company run by Surat-based businessman Roop Chand Baid. A report in a trade publication in April 2014 had called it "one of the leading transportation companies in the country" and described it as "changing the face of Indian logistics." The company's fleet included over 7,000 commercial vehicles and several ambitious expansion plans were in the pipeline.
The year 2014 represented something of a peak for the company, which reported an annual turnover of Rs. 1,500 crore and 80% annual growth. SVLL announced that it was partnering with international luxury bus manufacturer, Scania, to launch services equipped with "in-house restrooms and pantries, and ultra-luxurious facilities like Personal LCD screen with USB compatibility and Sennheiser headphones along with Mobile/Laptop charging points and Wi-Fi Connection."
In May 2014, an SVLL brand "SVLL Connect" was announced as the official transport partners for Royal Challengers Bangalore Indian Premier League franchise. By far its biggest coup had been its tie up with the then Bharatiya Janata Party Prime Ministerial candidate Narendra Modi's campaign, to whom it was supplying specialised video trucks fitted with 3D projection technology. Using SVLL's trucks, Modi attracted the world's attention by simultaneously holding campaign rallies in multiple locations through the use of holographic projections of his image.
Unbeknown to the outside world though, in the same period, SVLL was under increased pressure from its bankers to begin to service a mounting debt burden. The dam broke in February 2015, and that was when the company's downfall started. A report was published by India Today on February 2, 2015 alleging that SVLL was the Bank of Maharashtra's (BoM) single largest defaulter. The report alleged that despite knowledge of multiple irregularities, the bank's senior management had avoided tagging the company's loan accounts as NPAs and declaring the company's management wilful defaulters. Following that report, in a hastily convened board meeting, the BoM management declared some of SVLL's loan accounts as NPAs and proposed a forensic audit of the company's finances as well as legal and recovery action. India Today's follow-up report added that the CBI had started a discreet inquiry into the company.
In March 2015, the BoM suspended three senior officials involved in sanctioning loans to SVLL, allegedly in violation of banking guidelines. The three officials were P N Deshpande, a general manager holding the portfolio of resource planning, government business, marketing and publicity, ABC, CPO and SLBC, Rajesh M Jain, an assistant general manager in the bank's Kolkata asset recovery branch and AM Menon, an assistant general manager in the bank's Amravati branch. All three officials were supposed to remain under suspension till the bank concluded its internal investigation.
In April 2015, the bank filed a complaint with CBI, and in August 2015, the central agency conducted raids on SVLL and BoM's offices in Pune, and registered a case against SVLL and five of its directors, including its promoter Roop Chand Baid, five other private companies and BoM officials. The forensic audit on the company's finances was completed by September 2015.
In April 2016, however, the Hindu reported that two of the three dismissed officials had been reinstated. Soon after, in September 2016, BoM's chairman and managing director (CMD) Sushil Muhnot was sacked four days before he was due to retire. As CMD Muhnot had been responsible for Deshpande's suspension, and had served three show-cause notices on him. His sacking was on the grounds that he occupied two government sanctioned houses – in Pune and Mumbai. While this would be a technical violation, it is a common enough occurrence among senior government officials, and is rarely the grounds for outright termination, rather it typically attracts penal action amounting to a "slap on the wrist." His sacking had raised eyebrows, media reports used the terms "rare" and "unprecedented" to describe his sacking over what one report termed "frivolous issues." The Hindu Business Line had reported that "political pressure may have prompted the Finance Ministry to remove Muhnot."
In July 2017, Baid and a BoM official named P N Deshpande were arrested by CBI. Deshpande was one of the bank officials who had been suspended by BoM in 2015, although his suspension had been lifted a year later. He is one of the central characters of our story.
Less than a year hence, on June 20, 2018, Muhnot's replacement as CMD at BoM, Ravindra Marathe, was arrested by the Pune Police, along with Muhnot and some other BoM officials on charges related to a different case pertaining to a real estate developer. This led to another uproar and allegations of "foul play" and "political overtones" were aired in the Economic Times by an unnamed bank CEO. The report pointed out that action against the BoM officials was unusual because "it was not even a lead bank that lent funds to the real estate developer...and was cooperating with the investigation into it." Livemint quoted an anonymous Finance Ministry official as saying "this is an aberration in a giant country like ours. In the normal course, the state police does not have any jurisdiction on central government employees. There is a proper mechanism in place if any action against a central government employee has to be taken. The state should refer it to the CBI." Even Finance Minister Arun Jaitley made a veiled reference to the arrest stating "if the state police [is] allowed a free run [to act against bankers], the federal structure could be undermined."
In a rare and possibly unprecedented instance of labour and management unity, multiple BoM employees unions came together under a front titled "United Forum of Bank of Maharashtra Unions" and came out in Marathe's support stating that his arrest by the Pune Police "seems to be a deliberate conspiracy to run down the bank." Marathe was released on bail eight days after his arrest, on June 28, and was promptly suspended by the BoM's board the very next day.
The outcry was not unwarranted. After investigating for four months, on October 21, 2018, the Pune Police filed a closure report. "We have filed a closure report under Section 169 of the CrPC as we haven't found any evidence against the three bank officials," Pune Police Commissioner K Venkatesham told Indian Express. Subsequently, they were reinstated to their positions on November 3, 2018. A month later, in December, Marathe superannuated. The case against Deshpande proceeded no further. In February 2019, Deshpande superannuated as well.
A banking source, speaking on condition of anonymity, has spoken in detail to Newsclick about the background of the actions against Muhnot and Marathe and shared multiple documents. According to the source, the SVLL case and a nexus of powerful political figures associated to Baid and Deshpande have cast a large shadow over the episodes of Muhnot and Marathe's arrest and their removal from the top of the BoM. As BoM CMDs, they were the disciplinary authorities in charge of bank overseeing the inquiry into Deshpande's conduct with regard to loans sanctioned to SVLL, and other charges. With their arrests and other actions against them, the charges against Deshpande within the BoM failed to move forward.
Chaalak Se Maalak
In 2012 SVLL launched a corporate social responsibility scheme called 'Chaalak se Maalak' (from driver to owner). The company announced that it would transfer ownership of its trucks (existing and new purchases) to its drivers over time, who would then operate as its sub-contractors, selling their services to the company. Initially, the company would take loans for the trucks in the drivers' names, and pay the EMI (equated monthly instalments) out of the bills payable to the drivers. Once the full amount was paid, the ownership of the trucks would transfer to the drivers. The BoM was responsible for financing the scheme.
It was also in 2012 that Deshpande was transferred from a posting as the zonal head for BoM's Ahmedabad zone to the Pune zone. An email seen by Newsclick sent by Deshpande to an SVLL official on December 7, 2012 contains the phrase "with reference to our several meetings on 18.09.2012 at Surat, on 1-11-2012 at Mumbai, on 23-11-2012 at Pune and on 05-12-2012 at Chakan, regarding financing the present drivers of the trucks to purchase the same truck." Deshpande was transferred to Pune on October 3, 2012, and thus this indicates that the negotiation of BoM finance for the scheme had begun during his tenure in Ahmedabad, and it was a deal that "traveled with him" to his Pune posting, and led to the Pune branches of the BoM implementing the plan and disbursing the loans.
After media reports about the company in early 2015, the BoM ordered that a forensic audit be conducted on the loans given to the company. An internal summary of the forensic audit conducted for the BoM by an independent firm and concluded in September 2015, which is in Newsclick's possession, details the loans that were given for this scheme. Its Deccan Gymkhana branch in Pune gave out a total of Rs. 798.4 crore, of which Rs. 160 crore was in the form of term loans for purchase of new trucks, and Rs 638.4 crore was loans issued to SVLL's drivers for them to purchase 1,150 new trucks and 1,152 of the company's old trucks. The Model Colony branch of the bank, also in Pune, gave out Rs 99.85 crore in loans to SVLL's drivers, meant to purchase 500 of the company's trucks. The bank's Ring Road branch in Surat gave out Rs 35 crore as working capital.
The forensic audit found that a large part of these funds had been "misutilized." It confirmed money trails for Rs. 252.06 crore that found their way back to SVLL from the vendors that it had listed as its suppliers. A further Rs 296.25 crore was classified as "likely misutilization of funds" while the ultimate beneficiary of the loans could not be verified for Rs 81.53 crore. A total of Rs. 629.84 crore of the Rs 933.25 crore totally given out by the BoM had thus been misutilised.
As interest costs mounted, in March 2015, the audit noted that the outstanding balance owed to BoM was Rs 839.70 crore.
The trucks, meanwhile, were not transferred to the drivers, as SVLL had promised. The CBI, when it conducted raids in August 2015, in a press release stated that in many instances verified by the bank, the vehicles continued to remain hypothecated to other lenders. In many instances, registration documents of new vehicles were not submitted to the bank, and in several other instances, old vehicles were passed off as new. Many more tantalising details about the fraud have already appeared in the reports linked to in this article.
It was not only the company that was at fault – it is rarely the case in such a fraud on banks by industrialists that it is achieved without collusion of bankers as well. The investigation sparked by media exposure also revealed collusion by some BoM officials. The first India Today report on the subject had noted that the bank's internal probe observed "the huge exposure taken by the [banks'] zonal authorities were without express consent by Head Office, violating its own credit policy about the exposure to the group defined under credit policy approved by the board."
Prior to their public exposure, the bank had also attempted to restructure SVLL's loans on SVLL's request. A joint lenders forum (JLF) had been formed in 2014, led by the Oriental Bank of Commerce (OBC), a stock audit and techno-economic viability study carried out and the restructuring proposal had been cleared by the JLF on December 9, 2014. Following this, the proposal was handed to an Independent Evaluation Committee formed by OBC, which prepared recommendations on how to carry out the restructuring scheme. Copies of the techno-economic viability study, conducted by a third party firm, and the evaluation committee's report, are in Newsclick's possession.
Modi Links Revealed
New developments took place in 2016.
By early 2016, apprehensions had started growing that the SVLL case was subject to "outside pressure" and political interference. In a complaint submitted to K V Chowdhary, the Central Vigilance Commissioner, dated February 23, 2016, in another case involving Deshpande, that is in Newsclick's posession, a reference is made to the SVLL case. That complaint alleges that "the [internal BoM] charge sheet related to...SVLL & group companies are pending because of probably external pressure." The complaint related to loans that Deshpande had approved the sanction of while posted as the Zonal Manager in the BoM's Ahmedabad zone in 2012 to a clutch of companies. An FIR has been filed in relation to this complaint as well by the CBI. We shall return to this in the next section of this article.
Soon after, The Hindu's report on April 20, 2016 revealed that two of the three suspended BoM officials had been reinstated. At that stage, Congress leader Digvijaya Singh wrote a letter to Jaitley highlighting the case. Singh's letter, dated April 23, 2016, added as annexures proof of SVLL promoter Baid's relationship to Prime Minister Modi.
There were two principal pieces of evidence first reported by scroll.in, which are also in Newsclick's posession. The first was a letter written on June 11, 2014, by Baid to the BoM, apparently responding to concerns raised by the bank. In it, addressing the Assistant General Manager in the BoM's Deccan Gymkhana Branch, Baid claimed to have been busy "with preparation of very specialised vehicles for 3D campaigning by Hon. Shri. Narendrabhai Modi (now Hon. Prime Minister of India) & his team." As a result, Baid wrote "it resulted into wrong reporting by our lower rank staff to bank about transfer of vehicles." In a subsequent letter, dated September 16, 2014, Baid further flaunted his closeness to the Prime Minister this time forwarding a copy of a letter received by his company from the Prime Minister, congratulating his company on observing "Drivers' Day," a celebration that the company had initiated and was seeking to popularise.
There used to be, on the company's website, a photograph of Modi and Baid. It is not available any more, as the company's website has been taken over and all content replaced by a liquidation notice following insolvency proceedings before the National Company Law Tribunal.
Singh's letter also alleged that Deshpande had links to the Sangh Parivar. Deshpande, who joined the BoM in 1978, became an officer in 1981, and has ever since been an activist of the National Organisation of Bank Officers, an affiliate of the Bharatiya Mazdoor Sangh – the Rashtriya Swayamsevak Sangh-affiliated trade union.
While working as the Zonal Head of the Pune zone, Deshpande was the officer who was instrumental in sanctioning the loans to SVLL and its associates for the Chaalak se Malak scheme.
These revelations strengthened the suggestion, first reported in the 2015 India Today coverage, that the nexus of persons involved in defrauding the BoM were closely linked to the ruling party. Its first article had quoted BoM sources as saying that "SVLL's senior officials always boost off of having political linkages with the state's [Gujarat's] ruling party and some senior leaders."
The Ahmedabad Case
The SVLL case is not the only one in which P N Deshpande has been linked to a scheme to defraud the bank. In November 2016, CBI lodged an FIR against three companies based in Patan, Gujarat, linked to a chartered accountant named Arvind Shrishrimal Jain based in Ahmedabad. The FIR relates to a scheme to defraud the BoM's Ashram Road branch in Ahmedabad and claims a Rs 9.15 crore loss to the bank.
The FIR, a copy of which is available on CBI's website, details the case. In 2012, Jain had introduced Ashishkumar Ratilal Soni to the bank, with Soni seeking loans in the name of various persons and companies for a business purportedly involving processing of cotton and byproducts. The companies involved were named Ashapura Cotton Industries, Soni Cotton Industries, Umang Steel, Narandevi Cotton Industries, Sainath Cotton Industries and Shivkripa Cotton Industries. Collectively, in 2012, the six companies had been sanctioned loans of Rs 31.4 crore. All were declared NPAs between August 2013 and January 2014.
The FIR describes the modus operandi as follows: Soni "would issue quotations of machineries," Jain "would assist in preparing loan documents" and Mayur G. Shah, a third named accomplice "would give highly inflated valuations of properties to be offered as securities." Once the loans were sanctioned, "new and proper machines as per the quotations were never supplied and no production ever took place." It added that "role of the key accused is seen in all the accounts and...there have been inter-firm transactions in the accounts"
Deshpande was at the time, the zonal head for the Ahmedabad zone, and approved the sanctioning of these loans. The complaint submitted to the CVC mentioned the above claimed that the BoM management had "crossed all the limits in protecting and benefiting the [vested] interests when the bank decided to sell the financial assets of Sainath Cotton Industries and Shivkripa Cotton Industries." According to the complaint, the BoM branch heads, whose banks held these accounts, had been in the process of recovering the defaulted amounts from the accused persons, having filed suits before Debt Recovery Tribunals and obtained orders in their favour when this decision to sell the assets to an asset recovery company instead was taken.
The complaint to the CVC also alleged that a draft complaint to CBI had been prepared in June 2015, and submitted to the bank's vigilance officer, but had not been submitted to the CBI yet. The complaint annexed evidence of a sequence of emails whereby a dossier of evidence had been submitted to him as early as October 2014, and that he had been aware of the fraud ever since but not taken any action. The complaint claimed that the "staff accountability process [had] been compromised" and sought the CVC's intervention. It was in this backdrop that the complaint also brought up the SVLL case, as another one that Deshpande was connected to, and which in the complaint's view was seeing stymied action on the part of the bank.
Where is the Case Going?
On February 24, 2018, the CBI filed a chargesheet in its investigation into SVLL. It alleged that including three other cases involving Bank of Baroda, OBC and Indian Overseas Bank, along with the BoM case, the company had committed bank fraud of Rs. 2,000 crore in loans taken in the name of the Chaalak se Malak scheme. In another action, the Enforcement Directorate, which had opened an investigation in November 2016 into money laundering of the SVLL loans through shell companies and related-party transactions, provisionally attached assets worth Rs. 19.62 crore of the company and people associated to it in June 2017. The attached assets include two hotels, multiple flats, offices and shops, four luxury cars and bank accounts. In September 2018, CBI filed another FIR indicting SVLL – this time the victim was the Bank of India and the amount concerned was Rs 43 crore.
SVLL has been forced into insolvency proceedings before the National Company Law Tribunal (NCLT), and is facing liquidation. It remains to be seen how much of the bank's lost money will be recoverable through the liquidation sales.
Deshpande, meanwhile, was almost fully rehabilitated by BoM before he superannuated. Whether this is a result of political intervention or influence on his behalf is impossible to prove. On the other side, two chairmen were thrown to the curb since, and internal probes that they were supposed to be heading into Deshpande's actions did not move forward.
Nonetheless, the evidence and sequence of events makes it hard to escape the conclusion that this is a case of a politically connected group having siphoned money out of a public sector bank, much of which is forever lost to the public, whose money, it bears remembering, the entire NPA scandal comprises.
The writer is an independent journalist.
Get the latest reports & analysis with people's perspective on Protests, movements & deep analytical videos, discussions of the current affairs in your Telegram app. Subscribe to NewsClick's Telegram channel & get Real-Time updates on stories, as they get published on our website.
Subscribe Newsclick On Telegram