Nehru Warned About Majoritarianism Masquerading as Nationalism 6 Decades Ago
Nehru consistently warned, right from the days of the freedom struggle, that conflating communalism and nationalism was the real danger to India.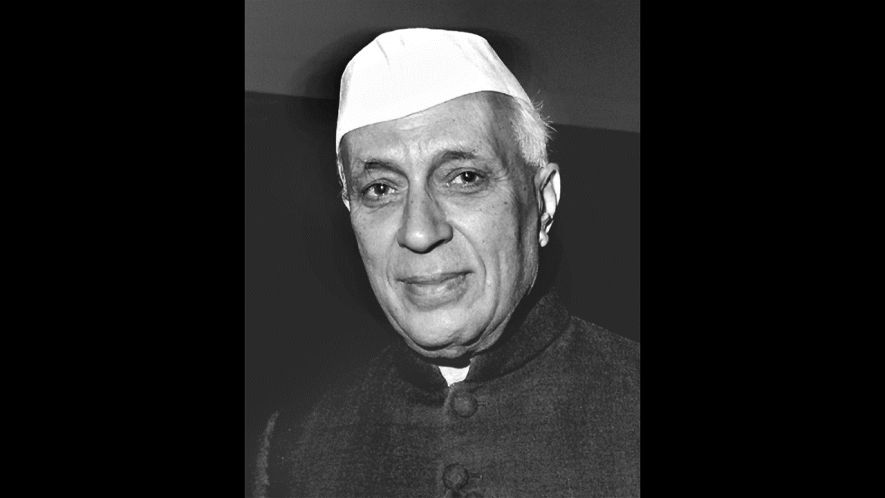 Image Courtesy: Wikimedia Commons
As the nation pays glowing tributes to the first Prime Minister Jawaharlal Nehru on his birth anniversary on Monday and recalls his role as a towering freedom fighter, architect of modern India, brilliant writer, a statesman par excellence, for building scientific temper and promoting secularism, it is of critical significance to flag his overriding concerns about communal forces threatening the country.
In one of the several letters expressing his anxieties addressed to chief ministers (CMs) every fortnight dated December 31, 1949, Nehru wrote: "…narrow communal bias often hides itself under high-sounding phrases appealing to nationalism and patriotism and thus it attracts some people."
The letter further read: "It must be remembered, however, that this is in its essence, a reactionary and disruptive cry, not a unifying one however it may be called so."
Nehru consistently warned, right from the days of the freedom struggle, that conflating communalism and nationalism was the real danger to India. Therefore, he used to remind the nation about the impending threat, which he described as latent. 
It was clearly highlighted in another letter addressed to the CMs on May 18, 1959, when he referred to communal disturbances in some parts of Bihar, Uttar Pradesh and Madhya Pradesh sensitively observing: "What is very distressing is the realisation that below the surface there are these deep passions which can be roused so easily. If those fears continue, our foundations are weak. For this reason, probably there is nothing more dangerous for the future of India than a communal approach."
These words sound so deeply poignant in the India of 2022 when we are celebrating his birth anniversary and confronting the danger of polarisation and divisiveness in a more intense and calculated manner.
The country knows who is behind the incessant stoking of divisiveness based on majoritarianism and exclusive nationalism. In the aforementioned letter, Nehru further wrote: "Communalism and nationalism are wholly opposed to each other even though some form of communalism adopt the garb of nationalism."
It is worthwhile to delve into a special letter he sent to the CMs on March 26, 1958. "We have many hangovers from the past which it is difficult to forget or get over. We have also, let us be frank about it, communalism not only in the minority but very much so in the majority. The chief difference is that in the majority it puts on the garb of nationalism and democracy," Nehru wrote.
"But that is a false democracy," Nehru further wrote. "The fact is that the minorities have a sense of grievance and that is
enough to put us on our guard and to induce us to meet these grievances. I am not thinking in terms of elections and the like but of much more basic issues."
More than six decades after Nehru made those incisive observations, India is confronting catastrophic consequences because leaders in power are aggressively combining polarisation with nationalism and democracy specifically when elections are around the corner.
Gulf countries and several other nations in other parts of the world strongly reacted, boycotted Indian goods and demanded an apology from our country when a spokesperson of the ruling party at the Centre made disparaging remarks on Prophet Muhammad. It is tragic that no action was taken to arrest or detain that person in contrast to punitive measures taken against members from minority communities who get incarcerated on flimsy grounds.
In fact, Nehru had presciently written that assault on communal harmony by entities from within India would not only cause unacceptable domestic turmoil but also invite international opprobrium and irreversibly tarnish its image.
"We must, at all costs, and with all our strength," he wrote in a special letter addressed to the CMs on September 9, 1948, "prevent any communal deterioration in any province."
Observing that "the consequence of this will be harmful to us in many ways", Nehru added, "Nationally, this will impede our effort and produce complications. Internationally, it will not only injure our good name but may have even more serious consequences."
Therefore, he urged, "we have to be prepared as much as possible to prevent this". Nehru was far-sighted in seeing through the times and alerting the nation to prevent the deterioration of our communal amity and solidarity.
Such disruptive situations can be prevented by adhering to our secular values and upholding secularism enshrined in the Constitution and declared as its basic structure by the Supreme Court in the S.R. Bommai vs Union Of India on 11 March, 1994.
So, what is required is the constitutional vision of India rooted in inclusive democracy and robust secularism which encompasses in its scope all Indians regardless of their religious, caste, linguistic or ethnic identities. In fact, Nehru in another such special letter dated March 26, 1958, wrote: "Democracy means rule by the majority, but it means something more, that is, full play and opportunity for the minorities. It means also that the minorities should have the sensation of having this full play and opportunity."
Unfortunately, such notions of inclusive democracy have been negated by an aggressive push for majoritarianism. The effective counter to it is both inclusive democracy and secularism.
Our freedom struggle and the centuries-old tradition of safeguarding the cultural liberty of people without in any way negating their religions or other attributes defining their multiple identities laid the foundation of our parliamentary democracy and secularism.
Nehru made immense contributions to consolidate and strengthen that invaluable tradition. Answering the question of the great French statesman and writer Georges André Malraux as to what he would find the most difficult thing to do in India, Nehru with his characteristic genius replied, "To create a just society by employing just means and create a secular
State in a religious society".
Our current secular State has withstood the test of time and now come under pressure due to the upsurge of communal entities blending their communal outlook with nationalism.
The secular State is nothing new to our country. Addressing a public meeting in Goa in 1963, Nehru very perceptively stated, "India has always been noted for religious tolerance and so it was quite natural for us when we became independent to decide to be what is called a secular State. A secular State does not mean an irreligious State; it only means that we respect and honour all religions, giving them the freedom to function. This has been the basic attitude of India throughout the ages".
This basic attitude has to be carried forward in defending the secular State, facing relentless attack from majoritarianism. Therefore, Nehru's vision is of enduring significance to defend the idea of India and salvage it  This is a valuable lesson we should learn from his life and work on his birth anniversary.
The writer was the officer-on-special duty to President KR Narayanan. The views are personal
Get the latest reports & analysis with people's perspective on Protests, movements & deep analytical videos, discussions of the current affairs in your Telegram app. Subscribe to NewsClick's Telegram channel & get Real-Time updates on stories, as they get published on our website.
Subscribe Newsclick On Telegram