Newspapers in Kashmir Trapped by Restrictions, No Word from Reporters
The state-imposed restrictions and clampdown on communication has hit the newspapers in Kashmir.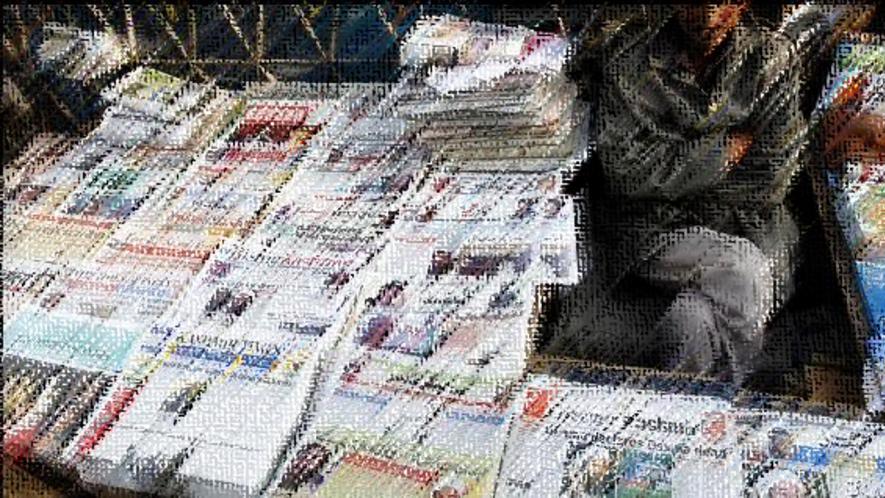 Representational image. | Image Courtesy: Free Press Kashmir
Srinagar: Amid the downed shutters of over a thousand shops in Srinagar's city centre Lal Chowk, only a few shutters are up, that too, partly. Amongst them, Khan News Agency is selling newspapers outside the deserted Lambert Lane. The newspapers are always sold here despite shutdowns. This time, however, there are fewer copies to sell.
In his mid-40s, Hilal Khan joined his father's business in the mid 90s when he was a teenager. He now looks after the business and "it is times like these," he says, "selling newspaper stands out". But, for the first time since the 90s, Khan adds, he doesn't stay for long at his shop. In the normal days, Khan sells over a thousand newspaper copies both from local dailies and the late editions of national dailies. "Now I have only 30 copies to sell," Khan says.
The state-imposed restrictions and clampdown on communication has hit newspapers in Kashmir significantly. Khan hasn't sold even a single national daily since the crackdown began on August 5, 2019, in the wake of abrogation of Article 370 and subsequent bifurcation of Jammu and Kashmir into two union territories.
Also read: Kashmir Lockdown: In a First, Journalist Detained in Midnight Raid
"There is no way we can connect to our staff and reporters," Faisul Yaseen says. Faisul is the associate editor of a prominent English daily Rising Kashmir which is in its 11th year of publication. The 16-page newspaper published only 4 pages on the first day of the clampdown but now manages 8 pages. Among 125 employees, Faisul says, they are in touch with only 16, due to which two sister publications of Rising – Urdu daily Buland Kashmir and Kashmiri daily Sangarmaal – have not been printed at all since the clampdown.
Also, in its 11th year of publication is the weekly Kashmir Life, a widely circulated newspaper known for its online presence as well. "No, we are not able to work," Life's Associate Editor Shams Irfan says. The biggest challenge, Irfan says, is to get confirmation for any information. "No communication line is working as there is a complete blackout. We can't report anything without official confirmation. And, we can't reach our reporters in any of the district outside Srinagar," he adds.
It is not the first time that newspapers have faced hardships in Kashmir. At times, like in the summer of 2010, most newspapers did not publish for 9 days. In 2016, another daily Kashmir Reader was banned for its reportage on ground and for years newspapers like Rising, Reader and Kashmir Times have faced the scrutiny of the government following which the state ads were stopped in dailies. Kashmir Times, considered to be a fearless publication, suffered massively for its reporting and scathing editorials on the 2010 agitation and has not been able to recover since then.
Also read: Current Clampdown in Kashmir a Prelude to Dark, Uncertain Future
But, in the past, even during months long curfew and shutdowns, a special internet lease line for offices worked or landlines operated which kept the communication channels open. This time, the media personnel, especially from local dailies, according to Faisul, are not even allowed to move freely. For him, this is a direct assault on the freedom of speech and expression. "The communication lines for police and bureaucrats is open but not for media. It simply means that it is a clampdown on the press as well," he points out.
Fahad Shah, editor in chief of The Kashmir Walla, began publishing his weekly newspaper only two months back. Thirty-year-old Fahad ran TKW as an online magazine for eight years before printing it. Now, he looks shattered. "Our access to office is restricted. The printing press doesn't have the material to print. And even if we do, how will the copies reach the stands," he says. Fahad's preparations for the seventh edition were cut short due to the clampdown. "This is definitely a setback," he adds. All the major newspapers and online portals had last updated their stories in the wee hours of August 5 on their respective websites. The time and date of updates since then are stuck.
Multiple hindrances to report, publish and in the delivery of newspapers has set unprecedented challenges before the newspapers in Kashmir. There are now only 12-15 newspapers that reach Khan News Agency out of over 250 newspapers that are normally sold there.
Also watch: Kashmir Newspapers Publish Blank Front Pages to Protest Against the Government's Move
Get the latest reports & analysis with people's perspective on Protests, movements & deep analytical videos, discussions of the current affairs in your Telegram app. Subscribe to NewsClick's Telegram channel & get Real-Time updates on stories, as they get published on our website.
Subscribe Newsclick On Telegram