Nipah Lessons: 'It is High Time 'One Health' Concept is Applied in Public Health Surveillance'
A Sukumaran, epidemiologist with Kerala's Integrated Disease Surveillance Programme, says the state handled the outbreak efficiently, but emerging new diseases that are zoonotic in origin will throw more challenges in future.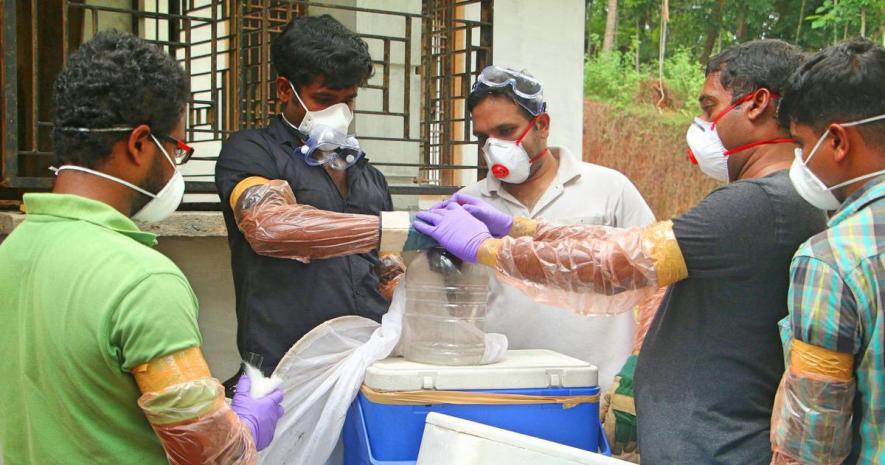 Representational image. | Image Courtesy: Scroll.in
It's close to one year since the outbreak of Nipah virus in Kerala that took 17 lives. Dr. A. Sukumaran, State Epidemiologist, Integrated Disease Surveillance Programme (IDSP), Kerala, is someone who was in the thick of activities when the state was tackling the outbreak of Nipah in 2018. His first-hand account and observations on how the outbreak unfolded tell us volumes about the nature of the disease and its spread. He discusses his experiences with Jisha CJ. Edited excerpts:
JCJ: As an epidemiologist was this the first time you worked on an extremely contagious disease, such as Nipah?
AS: No. I have worked in field investigation of many other extremely contagious diseases, such as cholera, measles, rubella, polio, diphtheria, H1N1 etc. over the past 10 years.
What were your initial observations from the field before the outbreak of Nipah was confirmed?
I got the information of the first encephalitis death, and the subsequent hospitalisation of his father and brother with similar symptoms, on May 17, over phone while I was in the field investigating a dengue outbreak at Kottiyoor area of Kannur district. I did not have any provisional diagnosis at that time, but informed the health inspector, who called me, to save the blood samples of the cases for testing at an expert centre. I also opined that this could not be any common disease, like dengue or Japanese encephalitis, currently prevalent in the district. Since I was having field investigation of dengue outbreaks in Kannur and Kasargode districts May 5 onward, I could not visit the area immediately.
Read Also: Reconstructing a successful containment procedure: Kerala's Nipah Virus Challenge
Would you retrace your steps about discovering that the mysterious death in Kozhikode was the result of the Nipah virus?
The information that the disease was Nipah reached me by late evening of May 19, 2018 only.  As mentioned, I was in Kannur district for field investigation of a dengue outbreak, in Kottiyoor area of Kannur district, on May 16 and 17, and in Kasargode district on May 18.  I was planning to revisit Kottiyoor on May 19 for follow-up. On  May 18, around 7 p.m, I got  information from the State Surveillance Officer (SSO), IDSP, that there was a serious disease outbreak in Kozhikode district, and a team from the Directorate, including Director of Health services, and herself was visiting Kozhikode district for onsite verification and further action.
Since I felt the situation could be something interesting, and worth getting involved, I decided to reach Kozhikode, the next morning. Cancelling my revisit to Kottiyoor, I reached the office of District Medical Officer (H), Kozhikode, on May 19 morning, who had called a meeting of expert clinicians, public health managers, programme officers, etc in her chamber.
During the discussion, it was revealed that there was an unusual outbreak of viral encephalitis in the Chengaroth panchayat of Kozhikode district, two siblings had died, one on May 4 and the second on May 19, and two more close relatives were admitted in a private tertiary care hospital with similar symptoms in a critical state.
Suspecting a novel infection, the treating clinician had sent samples to the Manipal Centre for Virus research (MCVR) and the result was awaited. The HoD of MCVR had also informed us that there was a possibility of spread of the infection within the hospital setting, and all precautions to prevent its spread should be implemented. There were rumours in the air, that the organism isolated was Nipah virus, waiting for confirmation/approval from the government of India, before disclosure, and key officials were informed of this, by MCVR. We discussed steps to be taken at each level for preventing spread of the outbreak, and to minimise the deaths.
In the afternoon, Director of Health services, SSO and me, along with District Medical Officer and District Surveillance officer moved to the affected PHC area, interacted with MOPHC and field staff and the local panchayat authorities. By this time, State Minister for Labour and Excise, T.P.Ramakrishnan, who hails from the affected area, (Perambra) also reached the location, called an emergency meeting of the local panchayat functionaries, along with technical experts from the medical, veterinary and animal husbandry.
By this time, official confirmation of the cause of outbreak as Nipah virus disease was confirmed by MCVR and informed to Director of Health Services. The local community leaders had many doubts regarding the disease and were very apprehensive. This was also the time of Ramzan fasting and all the affected persons belonged to Muslim community, adding to the panic among the community.
To minimise the apprehensions, we visited the affected household, consoled the siblings' mother and other relatives, closely interacting with them, (without any personal protective equipment), so as to regain their confidence. When we were coming out of this household, a mob surrounded us, demanding that steps be taken to keep the family members in any institutional isolation facility! We assured them that such steps, if needed, would be considered later.
Read Also: Kerala Government Honoured by American Virology Institute for Nipah Virus Containment
This incident was an initial indication of the community's reaction towards such an unusual disease. The next day, when followed up with local Health staff, we were told that the community was convinced and was feeling comfortable.
By the evening, the full extent of the Nipah outbreak was revealed, with rumours of many kinds flying in the air. A frantic search was launched by the health team to look for the source of infection.
I suggested that we should inform the Central Surveillance Unit, at National Centre for Disease Control, New Delhi, immediately about the outbreak, and seek their response. Accordingly, an e-mail was sent.
The confirmation of Nipah's outbreak from Kerala evoked a mixed response in my mind. On the one hand, it is a success story of surveillance efforts, but on the other, we failed to identify the cause in the first opportunity-- we lost precious two weeks, and by that time, the infection had spread to many in our own health care institutions!
At what point was it suspected that the unexplained death was caused by something as contagious as Nipah virus?
This was a landmark measure by the emergency department of the tertiary care centre at Kozhikode, (BMH Hospital). When the second case, (Salih) was admitted at BMH Kozhikode, the clinician/s there suspected an unusual presentation. A detailed history exploration revealed the death of his brother, (Sabith) on May 4, 2018 at Medical College Hospital, treated as viral encephalitis, and his father and maternal aunt were also suffering from mild but similar symptoms. It is then that the clinicians decided to recall those persons to hospital, got all their serum samples tested, informed the district health authorities, and the rest is history.
What steps were taken once Nipah was confirmed by MCVR?
Immediately after confirmation, institutions were identified for admission of probable cases. Initially, we thought of including both private and government sector institutions, but later, as the case load expected was smaller, we decided to involve only government institutions.
Special isolation wards were arranged in Govt Medical College and all necessary supports arranged, all staff were given a refresher training on infection control measures, adequate supply of personal protection equipment were ensured, all suspect cases were subjected to laboratory testing for early detection and containment, among other things.
We tracked the index case -- (Sabith 26 yrs who died on May 4 ) --  epidemiologically linked to the first confirmed case -- his brother, Salih who died on May 9.  All his possible contacts were listed, which includes his family members, close relatives and friends, staff in hospitals where he attended, rabbits at his house etc. His movement during the previous 2 weeks were traced by tracking his mobile phone number and geo tagging the tower positions. The history of handling a dead rabbit in his house were obtained from his mother, which was investigated. Serum of two rabbits alive, there also sent for lab tests. All his family members and staff of hospital where he was treated from day onwards were kept under surveillance, in isolation, blood samples of few of the close contacts were sent for testing at Manipal.
Since plenty of bat eaten fruits of various kinds were seen in and around his house and nearby places, these fruits were also collected and sent for virus tests.
Tracking the contacts after the death of the health care provider was the most tragic part of this outbreak. She was a staff nurse who worked in a local Taluk hospital (Perambra), where the first two cases had sought initial treatment. When the cases she attended succumbed to the new virus, she was not aware, like many of her colleagues, that the same virus had entered her body as well. And when she developed symptoms, she knew what destiny had in store. All her colleagues at the Taluk hospital were put on isolation and few of them subjected to blood tests. This group also include doctors who initially treated the cases. Her children were also subjected to laboratory tests, which luckily turned out to be negative. All the Health workers were given adequate counselling support.
Identification of the index case was comparatively easy, since members of the same household presented with similar symptoms and the treating clinician had timely suspicion.
During detailed exploration of all the contacts in these institutions, we could also identify that the transmission of infection could have happened only when the victims had severe symptoms, - uncontrolled cough and vomiting, a special feature of this outbreak. This could also explain the lack of spread of infection to the mother of the first two cases- she did not interact with her sons, when they were having severe symptoms, but both were in hospital by that time.
What governmental measures were taken to control the spread of infection. And what was the role of the health department officials in policy making in such situations?
From day one, the state government sprang into action. The Chief Minister instructed the health department, district administration and cabinet ministers to coordinate all activities.
Hon Minister for Labour, Mr. T.P.Ramakrishnan,  who hails from the same district rushed to the site, interacted with District Collector and District Medical Officer and an emergency action plan was formulated. A joint task force meeting was convened, incorporating clinician of the private hospital from where the virus was confirmed, HoD of infectious disease of Govt Medical college, Kozhikode(Calicut), RMO and Principal of GMC Kozhikode, Media experts and officers of the Mass media wing of district medical office , and program officers of DMOH, experts from community medicine and microbiology wings of GMC etc. Private sector doctors were key partners.
All the health department officials were active participants of the Incident Management System, from daily data analysis, identification of critical gaps, timely decisions and monitoring implementation.
What were the public health measures that were taken to control the spread after it was known evidence that most of the victims seemed to have been infected from a healthcare facility?
The public health measures taken include, strengthened hospital infection control activities, barrier nursing enforced, health care providers instructed to strictly implement bio safety precautions, disposal of the infected materials strictly monitored and enforced, among others.
 In most cases of Nipah deaths, the mortal remains were not handed over to the relatives for cremation, how was this tricky situation tackled?
Lessons of managing similar situation associated with Ebola outbreak was the guiding principles here. But, unlike the African situation, Kerala society was different as well. Having a high literacy rate, was a double-edged benefit – the community understood the risk of unprotected handling, but at the same time, were apprehensive of the safety measures. Hence, it was difficult to convince the relatives in some situations. Various methods were adopted including intervention through trade unions in crematoria. Most of the Nipah dead bodies were cremated at the corporation crematorium/funeral ground within shortest possible time, observing all biosafety precautions.
As a public health event how would you describe the outbreak, the spread and the control of virus?
This outbreak, from the public health point, is a point source infection which got propagated by person to person transmission route. Medium of spread was through droplets /fomites, by direct contact with infected body secretions like vomitus, respiratory secretions and probable urine.
Identification of the causative agent in this outbreak can be considered a landmark achievement for the state. The Role of Manipal Centre for Virus Research (MCVR) in disease surveillance has been a strength of Kerala state's disease surveillance programme. Our state has been associating with this premier institution since 2012. We have a public-private partnership model with this institution for associating in Acute Febrile Illness Surveillance programme since 2015, through specially designated hospitals / CHCs in two districts, Wayanad and Alappuzha, which has resulted in early recognition of disease outbreaks like KFD and Lyme disease in Wayanad, and JE in Alappuzha, Kozhikode districts etc.
Detection of Nipah virus outbreak, reported first through a private institution, (Baby Memorial Hospital) confirmed from a private research laboratory (MCVR) and acted upon by the government system is a sufficient proof of private-public partnership in disease surveillance, an important aspect of public health management.
Regarding the confirmation of the source of this outbreak, why did it take so long for the tests to give conclusive results. And were the first set of bats tested for Nipah anti-bodies?
When the cause of the outbreak is confirmed as Nipah virus, the source of the virus becomes not very significant, since it is already known that the natural reservoir of Nipah virus is fruit bats and pigs. Identification of the primary host becomes only an academic/research priority, and for containment it is sufficient to know the mode of spread.
In all previous Nipah outbreaks from other countries, it took longer periods for identifying the primary source. It is very difficult to isolate virus from natural reservoirs, due to lack of appropriate technology in our country, and antibody testing will suggest the possible reservoirs, but not the exact source in index cases.
Even in this outbreak, confirmation of presence of Nipah virus in fruit bats will not confirm that the index case got infection from the bats. And the time delay in identifying the source of natural reservoir is justifiable, from the fact that it is a zoonotic infection requiring involvement and commitment of many stakeholders. I am not aware of the type of test the veterinary department has done on both sets of bats. 
How would you rate the state's response in controlling the outbreak in Kerala and its public health infrastructure?
Outbreak response by Kerala would have to be given full marks- 10/10. (On the surveillance component I can give only 6/10). For the Infrastructure part, it can only 6/10, since we need to invest more on detecting and responding to hospital infections, including the threat of antibiotic resistant organisms. Our response to emerging new infections, most of it being zoonotic in origin, it is high time that the One Health (health of people is connected to the health of animals and the environment) concept be applied in our public health surveillance.
Are there any personal stories that you would like to mention? About cases (any one or two in particular)?
Nothing special, except the relief expressed by the mother of the index case, when I interacted with her at her house, to dispel social stigmatisation of the affected household.
The writer is a PhD scholar in Jawaharlal Nehru University's Centre of Social Medicine and Community Health and is currently working on her thesis on Ayurvedic medical education in Kerala.
Get the latest reports & analysis with people's perspective on Protests, movements & deep analytical videos, discussions of the current affairs in your Telegram app. Subscribe to NewsClick's Telegram channel & get Real-Time updates on stories, as they get published on our website.
Subscribe Newsclick On Telegram