No 'International Conspiracy' Against Vishwaguru
Neither is India a superpower economically or militarily nor is it on the road to becoming one against whom 'conspiracies' are hatched to destabilise it.
The ruling Bharatiya Janata Party's nauseating catchphrase of "international conspiracy against India" is back after the BBC documentary, India: The Modi Question, last month.
The farmer movement, Pegasus Project bombshell, Global Hunger Index (GHI) and World Press Freedom Index (WFPI) of 2022, and the BBC documentary are either part of the "international conspiracy" to "destabilise" India or "erroneous" and devoid of facts.
That's the government's refrain from its standard playbook of "international conspiracy" to any global news report, research or study critical of India, especially Prime Minister Narendra Modi or the economy.
In February 2021, Modi said that the country should "protect" itself from a "Foreign Destructive Ideology" after former porn actress Mia Khalifa, lawyer-author Meena Harris and environment activist Greta Thunberg and others supported the farmer protests.
In July 2021, as the Pegasus Project exposé consumed Parliament, Union home minister Amit Shah dubbed it an attempt "to humiliate India at the world stage and derail India's development trajectory".
Perhaps, the government forgot that Citizen Lab found suspected Pegasus infections associated with 33 of the 36 Pegasus operators identified in 44 other countries, including its neighbours Pakistan and Bangladesh, and the US, the UK, Algeria, Bahrain, Brazil, Canada, Egypt, France, Greece, Iraq, Israel, Poland, Saudi Arabia, Singapore, South Africa and Switzerland among others.
Why would UK-based NGO Amnesty International and France-based non-profit Forbidden Stories conspire with 17 media organisations to target only India is incomprehensible.
The documentary is the latest 'revelation' of an "international conspiracy" against India—at least, that is what BJP national general secretary CT Ravi and Kerala governor Arif Mohammad Khan want us to believe.
"The BBC documentary on Prime Minister Narendra Modi is nothing but an international conspiracy," Ravi said in January. Khan too dubbed the documentary "propaganda" and a "conspiracy" hatched to "divide India into a hundred pieces".
The Oxford Learner's Dictionary defines the word 'conspiracy' as a "secret plan by a group of people to do something harmful or illegal".
Who are these conspirators plotting to "destabilise" India or "tarnish" its image? Is it a cabal or a group of countries or one country?
The details about such "conspirators" are as vague as the "conspiracies". Why would a former porn actress or an environmental activist have a destructive ideology against India is perplexing.
India is neither a superpower nor an emerging one against whom adversaries would conspire to destabilise it. A superpower is superior not only militarily but economically too, like the United States (US) or China. If the US conspires against China, it is understandable and logical.
India is none—neither does it have the most powerful military nor is it among the top three global economies.
Several indicators clearly point out that India has a long way to go before even becoming the most powerful nation in Asia against whom others could 'conspire'.
In fact, according to the World Bank political stability Index in 2021, India was ranked 143 out of 194 nations from 1996-2021 with a score of -0.62 (-2.5 is considered weak and 2.5 strong).
Our GDP has been falling after reaching the highest under the Modi regime at 8.3% in FY 2016-17, which is still lower than the highest of 8.5% under the Congress-led United Progressive Alliance rule in FY 2010-11, according to the ministry of statistics and programme implementation (MOSPI) data.
GDP had already started declining two years before the pandemic—6.1% in 2018-19 and 4% in 2019-20—before crashing to -8% in 2020-21. After rising to 8.7% in 2021-22, GDP is estimated to fall to 7% in 2022-23.
Therefore, when the media laps up the International Monetary Fund's 6.1% GDP growth projection for India in 2023, it forgets the size of the US and Chinese economies. According to IMF data, the Indian economy's size was $3.5 trillion in 2022 compared with the US' $25 trillion, China's $18.3 trillion, Japan's $4.3 trillion and Germany's $4 trillion.
The government's reaction was prompt as the IMF hailed it as a "bright spot". Mentioning the IMF projection, Modi said that it is because of India's strong "macroeconomic fundamentals" and speed of reforms. "We have opened strategic sectors like defence, mining and space for the private sector," he said in January.
On the other hand, the BJP had doubted the 2020 IMF forecast of 4.8% growth. "What IMF does is that they take past performance figures and project it. They do not consider the government's initiatives," BJP national spokesperson GK Agarwal told ANI.
Last September, when the IMF said that India had overtaken the UK to become the fifth largest economy, the media was gung-go, forgetting that India's per capita income, according to World Bank data, at current prices in 2021 was merely $2,256 compared with $46,510 of the UK.
The yawning gap is more noticeable considering the vast difference between the population of the two nations. On the other hand, the per capita income of the US was $70,248, Germany $51,206, France 43,659 and China $12,556.
Job creation has become one of biggest challenges. According to a 2020 McKinsey Global Institute report, India needs to create, at least, 90 million new non-farm jobs by 2030 with the GDP growing 8%-8.5% annually in the next decade.
However, the target looks unachievable, considering the high unemployment rate of 7.7% (urban 8.1% and rural 7.5%), according to the Centre for Monitoring Indian Economy (CMIE), as of February 19.
While the government boasts of India being one of the fastest-growing economies globally, an "unemployment rate of over 7% seems to be the new norm", the CMIE said earlier this month on the unemployment rate falling from 8.3% in December 2022 to 7.1% in January 2023.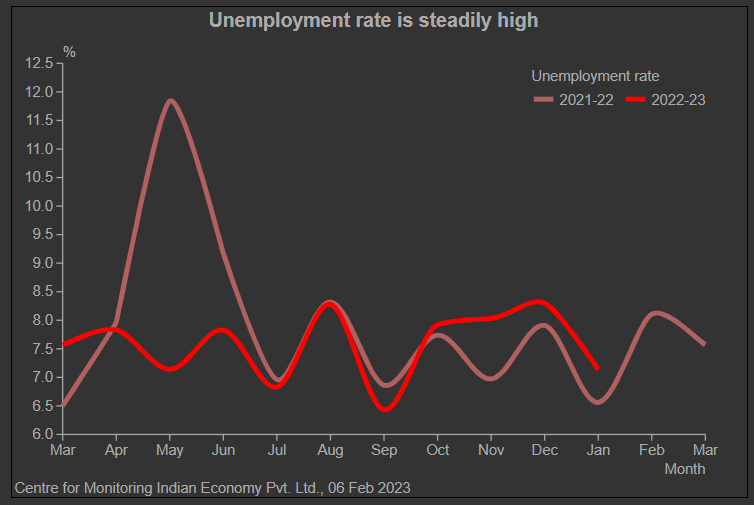 With 40% of the 1.4 billion population under the age of 25, according to a Pew Research Center survey earlier this month, the unemployment rate is pretty high. "In fact, there are so many Indians in this age group that roughly one in five people globally who are under the age of 25 live in India," the survey says.
Comparing the January unemployment rate with the December 2022 data of 43 countries (including an entry for Euro area), the CMIE said, "Only five countries would have been worse than India—Greece, Spain, Turkey, Colombia and South Africa."
When's the government's own Periodic Labour Force Survey (PLFS), conducted by the National Sample Survey Organisation, was leaked in January 2019 revealing that unemployment reached a 45-year-high of 6.1% in 2017-18, the Centre delayed its publication.
Subsequently, the two non-government members of the National Statistical Commission, PC Mohanan and JV Meenakshi, resigned in January 2019 over the delay in releasing the data.
The reason for the delay was obvious: the BJP feared that the unfavourable data could damage its Lok Sabha election prospects. In fact, the labour ministry's data released post-election corroborated the PLFS figures.
Similarly, when around 415 million Indians climbed out of poverty between 2005-06 and 2019-21, according to the Global Multidimensional Poverty Index (MPI) 2022, the report received considerable media coverage.
However, the report—released by the UNDP and the Oxford Poverty and Human Development Initiative—mentioned that the largest number of poor in the world, 228.9 million, lived in India in 2020.
Such global reports are prepared with a particular methodology after considering several factors and don't target a particular country or conspire against it. For example, the MPI constructed a deprivation profile for each household and person in it that monitored deprivation in 10 indicators spanning health, education and standard of living.
Otherwise, the report wouldn't have praised India saying the poorest states "reduced poverty the fastest", and it "fell faster in absolute terms" among children.
When the Global Hunger Index 2022 placed India at 107th out of 121 countries, down from the 101st position in 2021, with Yemen at the bottom, the government termed it an "erroneous measure of hunger" and a "consistent effort to taint India's image".
As the GHI indicator below shows, India "has a level of hunger that is serious". India was between Sudan and Zambia with Afghanistan at 109, showing acute hunger while China had a score of less than <5 compared with 13.3 in 2000.

The GHI considers undernourishment, child wasting, child stunting and child mortality while ranking countries. The government perhaps ignored that the GHI termed India's status as alarming both in 2000 with a score of 38.8 and 2007 with a score of 36.3, when the UPA was in power.
In October 2019, when India ranked 102 out of 117 nations, some social media posts claimed that India's ranking had slipped dramatically under the Modi regime from 55 in 2014 to 80 in 2015, 97 in 2016, 100 in 2017 and 103 to 2018.
Fact-checking website, Alt News, whose co-founder Mohammed Zubair was arrested in June 2022 for allegedly hurting religious sentiments, busted the claim saying the ranking tanked due to the "difference in methodology of tabulation followed by the index since 2015".
The report is released by Ireland-based NGO Concern Worldwide, whose donors include the EU and USAID, and Germany-based NGO Welt Hunger Hilfe, which too is supported by the same organisations plus the UN.
Only the government can explain the reason(s) for NGOs funded by the EU, USAID and UN to hatch 'conspiracies' to target India unless we have become a worldwide threat to the world's safety and security or are making others insecure either militarily or economically or both.
Similarly, when France-based Reporters Sans Frontières released its 2022 World Press Freedom Index (WPFI) ranking India at 150 among 180 nations, Information & Broadcasting minister Anurag Thakur said in the Lok Sabha that the "government does not subscribe to its views and country rankings".
Thakur said the same thing in the Rajya Sabha citing "very low sample size, little or no weightage to fundamentals of democracy, adoption of a methodology which is questionable and non-transparent".
However, the RSF report said, "Very early on, Modi took a critical stance vis-à-vis journalists ... Indian journalists who are too critical of the government are subjected to all-out harassment and attack campaigns by Modi devotees known as bhakts."
India was described as "one of the world's most dangerous countries for the media" where "journalists are exposed to all kinds of physical violence".
"Supporters of Hindutva … wage all-out online attacks on any views that conflict with their thinking. Terrifying coordinated campaigns of hatred and calls for murder are conducted on social media, campaigns that are often even more violent when they target women journalists, whose personal data may be posted online as an additional incitement to violence," the report added.
Considering the India is the largest democracy, our WPFI ranking has instead been falling since 2014 (140)—except for 2015 (136), 2016 (133), 2021 (136) and 2018 (138)—with 140 in 2019 and 142 in 2020 and 2021.
Even New Delhi-based independent think tank Rights & Risks Analysis Group in the India Press Freedom Report 2021 said that, at least, six journalists were killed, 108 attacked and 13 media houses targeted that year.
Another study titled 'Getting Away With Murder' showed that 40 journalists were killed between 2014-19 with 198 serious attacks, including 36 in 2019 alone. It also mentioned that more than 30 journalists were killed since 2010, when the UPA was in power.
Every study can't be biased, erroneous, methodologically wrong or a conspiracy against India. The BJP's reaction to international/national forecasts, studies or research is plain cherry-picking: highlight data when they praise India; trash or doubt them when they are critical.
Militarily, India is ranked fourth by GlobalFirepower (GFP), which has provided a unique analytical display of data concerning 145 modern military powers since 2006. The GFP ranking is based on each nation's potential war-making capability across land, sea, and air fought by conventional means. 
Currently, India has a score of 0.1025 (0.0000 is considered perfect) compared to US at the first place (0.0712) and China at the third (0.0722). India's score
Australia-based independent think tank Lowy Institute too ranks India fourth out of 26 for comprehensive power with an overall score of 36.3 on its 2023 Asia Power Index. The US and China, the only two countries in the superpower category, are ranked first and second with scores of 72.5 and 80.7, respectively.
The difference in scores between India and the US and China in both the rankings is evident. India's score has been falling since 2018 (41.1)—2019 (41.0), 2020 (39.7), 2021 (37.7) and 2022 (37.7), according to Lowy's 2023 report.
Its analysis reveals India to be an "underachiever performing less well than would be expected based on its size and available resources".
"India remains an uneven contributor to the regional balance of power and continues to underperform relative to its resources," the report states adding that the gap between the country's resources and its influence in Asia is "growing".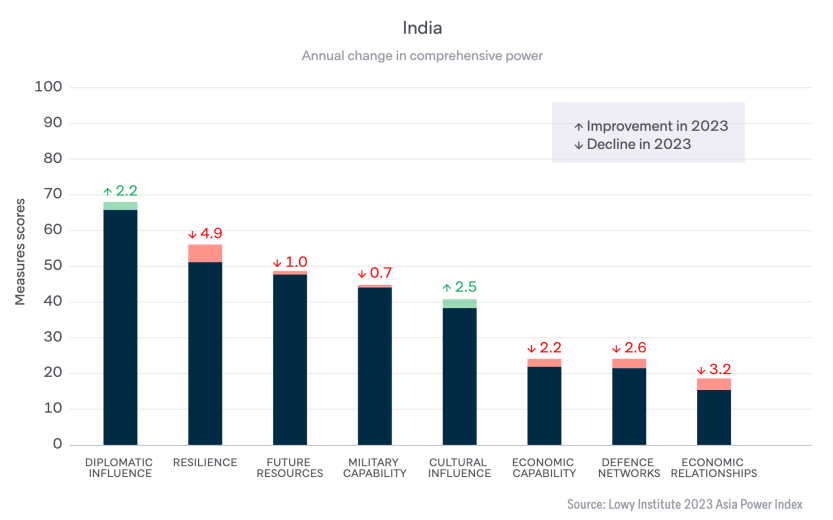 Despite a small rise in 2022, India's "power gap" has on balance "deteriorated" over five years and now stands at -2.8 point. "Its diplomatic service continues to receive lacklustre marks from the Asia Power Index survey of experts, ranking 10th in the region, the same as in 2018," it added.
Modi's idea of India being a "Vishwaguru" and the government's "international conspiracy" might appeal to his core base, but the reality is that India is not in a position to be a global teacher when the literacy rate is 77.70%, according to the National Family Health Survey (NFHS-5) and National Statistical Office (2021 and 2022).
The narrative of India being a leading power and engaged in a battle of civilisations is misleading when the BJP views the country only as a Hindu Rashtra. The increasing Hindu-Muslim chasm and the targeting of minorities is a self-inflicted wound that will make any "international conspiracy" redundant.
Instead of being in a state of denial about the shortcomings pointed out in such reports and dubbing them as 'conspiracies', the government should try to uplift the population, achieve 100% literacy by providing primary education to all, set up more educational institutes, provide more jobs, improve healthcare and reduce the widening gap between the rich and poor.
Get the latest reports & analysis with people's perspective on Protests, movements & deep analytical videos, discussions of the current affairs in your Telegram app. Subscribe to NewsClick's Telegram channel & get Real-Time updates on stories, as they get published on our website.
Subscribe Newsclick On Telegram