Non-Teaching DU Employees Protest Over Consistent Ignoring of Demands by the Admin
The employees alleged that the university officials haven't conducted a single central committee meeting in the last several years to address the employees' complaints.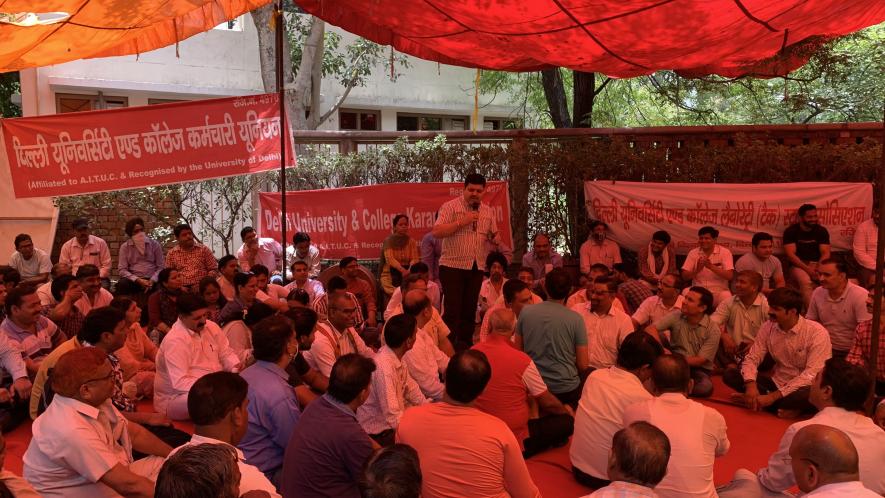 The prospects of losing workers' rights have forced the employees of the Delhi University to assemble and protest at Arts Faculty in weather that scientists deemed very dangerous to endure.
The non-teaching employees of the university are enraged over consistent ignoring of their demands, including jobs to the dependents of deceased employees, imposition of an enforced regime of contractualisation and fixing anomalies in universalisation of promotion of cadre as per central government rules.
The employees told NewsClick that even if the spectre of uncertainty looms over higher education institutions across the country after the implementation of the new education policy, the university did not take employees into confidence if their services would be hit.
Manoj Kumar, who came from Shraddhanand College in North West Delhi, said that the employees are losing prospects of permanent work with easy replacement with contractual jobs.
Talking to NewsClick on the sidelines of the protest, Kumar said," Until now, the colleges were recruiting class VI employees on contracts. Now, they are planning to recruit senior officers through government e-market portals. It is a perfect amalgamation of the new education policy and four labour codes. The policy has advised that colleges be administered through a board of governors where each college may determine its terms of engagement. We are protesting here, and the university has asked officials to identify employees who are missing from the duties and went to protest. Four labour codes similarly advise against the formation of unions/organisations. If we go ahead, four labour codes ask for fixed-term employment. Now, the colleges may hire somebody if they think they need a person for two months for conducting examinations, uploading marks on the website, etc. They may employ them for two months only. What will they do for the rest of the year?"
Kumar went on to add that employees have been waiting for promotions, whereas colleges and universities skip their responsibility by recruiting staff from outside.
"We have a glaring example of School of Open Learning where employees retired from the positions they joined 30 years ago."
The employees maintain that the problems started rising when the sixth pay commission identified universities as autonomous bodies and recommended different norms.
Talking to NewsClick over the phone, Aruna Kumar, President of Delhi Karamchari Federation, said that the thrust for university and college administration remains on not giving permanent employment for vacancies with perennial job responsibilities. The older employees are retiring, and no new permanent vacancies are filled. The employees are being hired on a contractual basis where the college has no obligation to provide medical leaves, bonuses or retirement benefits.
"The non-teaching employees are already facing discrimination as far as salary and promotion rules are concerned. There is a huge difference in salaries of teaching and non-teaching staff. Additionally, our promotions have been languishing for years in the absence of the formation of committees to review promotions. University officials actively pursued departments and colleges to give due promotions to teachers. They are given arrears from the date of eligibility, whereas we are given arrears from the date of formation of the committee. Teachers got huge sums of money in millions whereas the employees would receive peanuts."
Kumar added that the retirement benefits like pensions have become thinner as the new pension scheme is linked with market fluctuations, and they are unable to beat the impact of inflation.
"Most employees are ignorant that we have lost much after the market nose-dived in last two months. They would not be able to cope with raging inflation. I know an employee whose wife expired and is withdrawing pensions now worth Rs 3,000. Similarly, our bonuses have been denied. Colleges stated that they have no funds to pay the bonus that employees have been receiving for the past 60 years. It has been impacting the performance of employees. If a contractual employee always thinks about his terrible working conditions, when will he focus on work? Their efficiency will certainly be affected when the colleges extract five persons' work from a single employee."
Conversations with other employees expose government claims regarding the choice in protecting savings in new pension schemes. A group of employees told NewsClick that the employees have so far incurred losses on their savings invested in different funds.
For example, the employees got 6.4% returns on investment in an equity fund, but all returns were swept away when the equity fund posted -11.52% and -17.90% losses in April and May.
An employee who requested anonymity said, "A nodal officer handles all our investments. Our stake in determining the trajectory of savings is nil. I am worried if I will get my funds back at retirement or not."
Devendra Sharma, President of Delhi University and Colleges Karamchari Union, told NewsClick that the university officials could not conduct a central committee meeting in the last several years to address the employees' complaints. Central Committee remains the official platform for dialogue between university officials and employees formed by the vice-chancellor.
"I was elected in 2019, and no central committee meeting has occurred between employees and the university officials. It is the official body where issues are placed on records and discussed. We could pursue the issue because the minutes of the meetings would be recorded. In its absence, we meet the registrar and other officials privately. They may or may not accept our demands, but there is no obligation."
Sharma added that there is no commitment to making appointments on vacant 2500 positions.
"The university advertised 1100 positions in 2021 for which National Testing Agency had to conduct the test. Although it collected Rs 50 crore from aspirants, it could not conduct a single test for the previous 14 months."
Delhi University Registrar Vikas Gupta declined to comment on the matter.
Get the latest reports & analysis with people's perspective on Protests, movements & deep analytical videos, discussions of the current affairs in your Telegram app. Subscribe to NewsClick's Telegram channel & get Real-Time updates on stories, as they get published on our website.
Subscribe Newsclick On Telegram