Delhi Violence: Maruf's Murder — A Saga of 'Concocted' Statements, Contradictory Police Diary
The police did not name in the FIR and the chargesheet those who, as claimed by eye-witnesses, killed Maruf in Bhajanpura. Why?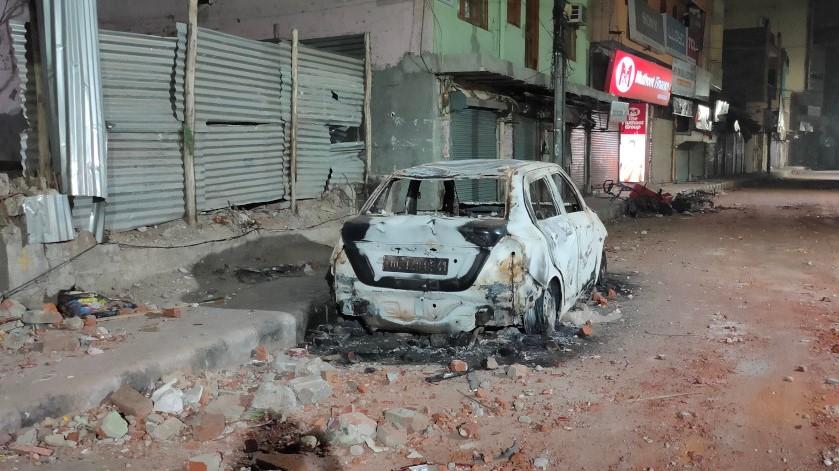 File Photo. | Image Credit: NewsClick
New Delhi: Hope for justice continues to remain elusive for Shamshad and Mohd Harun, both victims of the communal violence in North-East Delhi in February this year that left 53 people dead and over 200 injured. Shamshad (25) and Harun's younger brother, Mohd Maruf (32), were shot at by a mob chanting 'Jai Shri Ram' on February 25 evening at Subhash Mohalla (North Ghonda) in Bhajanpura.
While Shamshad — who had received a gunshot injury in his abdomen — survived the attack, his neighbour, Maruf — who had gone to rescue the former — was not fortunate enough. Hit by a bullet on his head, he died at Lok Nayak Hospital where the duo was rushed for treatment.
Being prime victims and eye-witnesses, Shamshad and Harun, who had identified those who had open fire, have alleged that the police did not name any of the assaulters. Both alleged a 'cover-up' that started from the filing of the first information report (FIR). They claimed the police registered an FIR based on Harun's complaint, but his narrative was allegedly distorted and names of the persons he had identified were not included in the FIR.
They said they later complained about the alleged distortion to superior police officers, the Lieutenant-Governor (L-G) of Delhi, the Union Home Minister and the Prime Minister, but to no avail. In fact, both were also allegedly threatened by senior police officers at the Crime Branch office in Daryaganj.
As a result of the 'concocted' FIR, the chargesheet filed in the case on June 8 has names of the persons about whom the two victims have no knowledge. They allege their case has in a way been sabotaged.        
The Sequence of Events
Shamshad said he had gone out at around 9:30-10 p.m to buy milk when he heard violent slogans being raised by a strong mob in street number 2 of the colony. "I rushed back home in street number 3. As I reached the corner of the street, I spotted my neighbours Sonu, Bobby, Ram Singh and Yogi as part of the mob coming toward the corner from street number 2. Before I could take a step back to escape, Bobby opened fire," he told NewsClick.
Shamshad said he was hit on the left upper abdomen (close to the rib cage). "Maruf bhai (brother), who lives in the same lane, had also come out after the noise and gunshot. He came to my rescue, but Sonu fired at him. He was bleeding profusely. Both of us were first taken to a hospital where he was declared brought dead," he said. The deceased, who owned an electrical appliances shop, is survived his wife and two young children.
The irony is that all those whom the victims identified have allegedly not been arrested so far. They are allegedly roaming freely and often stare at them in threatening manner whenever they come face to face.
On June 8, the Crime Branch of the Delhi Police filed four chargesheets concerning the communal violence. One of them is related to the present case (FIR No. 66/2020, PS Bhajanpura).
Six persons — Shoeb Saifi (19), Imran Khan (24), Mohd Dilshad, Mohd Imran , Navin Tyagi (30) and Manoj Kumar (25) — have been chargesheeted under Sections 144 (unlawful assembly armed with deadly weapon), 147 (rioting), 148 (rioting, armed with deadly weapon), 149 (being part of unlawful assembly and committing an offence in prosecution of common object), 153A (promoting enmity between different groups), 188 (disobedience to order duly promulgated by public servant), 201 (causing disappearance of evidence of offence), 307 (attempt to murder), 302 (murder), 505 (statements conducing to public mischief), 34 (acts done by several persons in furtherance of common intention) of the Indian Penal Code (IPC) and Section 27 (using illegal arms or ammunition) of Arms Act.
Screen grabs of CCTV footage annexed with the chargesheet show Navin and Manoj carrying firearms and firing bullets, while the rest of the accused are armed with sticks and stones or can be seen standing with alleged rioters.  
Except Dilshad, who got interim bail, all of them are in judicial custody. Investigators claimed that all the arrests were made on the basis of cell phone location of the accused, CCTV footage and statements of eye-witnesses.
According to the investigators: "A crowd chanting slogans in support of the NRC (National Register of Citizens) and the CAA (Citizenship Amendment Act) reached there (the scene of crime). The mob started pelting stones and firing bullets. 
While Maruf received a bullet in his head, Shamshad was shot at in his abdomen. Both were admitted to LNJP Hospital where Maruf died, while Shamshad was admitted for further treatment. Six people (four Muslims and two Hindus) have been arrested in this case."
Both Shamshad and Harun (brother of the deceased) are asking as to why those whom they identified were not arrested and those who were not named were apprehended, although the police claim that the probe is still on.
FIR — A SAGA OF ALLEGED OMISSION
Based on Harun's complaint, the cops registered one FIR on February 26, at Bhajanpura police station for both the incidents without naming anyone as accused. 
The FIR reads, "I and my younger Maruf (the deceased) along with one Shamshad (their injured neighbour) were standing at the corner of our street (Street No. 03, Subhash Mohalla, North Ghonda, Bhajanpura, East Delhi) at around 11 pm on 25-02-2020 (February 25, 2020). Chanting 'Jai Shri Ram' and supporting the CAA and the NRC, hundreds of people reached there and began opening fire and stone pelting. A bullet hit my brother Maruf in his head. My neighbour Shamshad also received a bullet. The bullets were fired and stones were pelted intentionally to kill us. They (the crowd) then moved ahead shouting 'Jai Shri Ram'. I dialled the police and took both the injured persons to LNJP Hospital. Take legal actions against those who fired at my brother and neighbour."
No one has been named as attackers in the FIR despite the complainant — as he claims — identifying and naming the attackers. "I had described the entire sequence of incidents and also named the persons who had fired bullets before Assistant Sub-Inspector Ved Pal who had visited us at 1 a.m on February 26 to register my complaint. He recorded my statement on a paper and asked me to sign it. He also got my signature on several plain papers," said Harun, who refused to talk to Newsclick over phone but has been quoted as saying by Newslaundry. 
Harun alleged that "the police man was hesitating to write the name of the accused but he finally wrote it in his diary on my insistence".
To the complainant's surprise, the FIR he got three days after his complaint did not have any name (of the attacker) that he had told to the ASI (assistant sub-insepctor). Notably, Harun is one of the eye-witnesses of the incident.
Initially, the investigation into the case was assigned to Inspector Malti Bana of Bhajanpura police station but later, on senior officer's order dated February 27, it was transferred from North-East district police to Special Investigation Team of the Crime Branch. Inpector Lokendra Chauhan of the Crime Branch was appointed investigating officer.
After taking over the probe on February 29, Chauhan, said the victims, met the complainant and also visited the crime scene. He was even shown the houses of those who had allegedly opened fire on Shamshad and Maruf. "Assuring that he will not let the culprits go scot-free, the IO left but the killers of my brother are still roaming freely," alleged Harun, adding that "it does not seem to be happening". 
IDENTICAL STATEMENTS OF WITNESSES
Newsclick has accessed the Inner Case Diary submitted before the court by the Crime Branch. It has detailed statements of the victims and the witnesses.
Harun, in his purported statement made before Chauhan on February 29, says: "I did not see anyone firing bullets, and I did not recognise anyone in the crowd gathered near Thakur confectionery shop."
Surprisingly, the same statement — ad verbatim — has been given by others such as Firoz (Maruf's relative), Md Shahid (Firoz's son), Arshad (Shahid's friend) and Shamshad at the conclusion of their accounts.
Contrary to what he told Newsclick, even Shamshad has repeated the same at the end of his alleged three-page statement — "I did not see anyone firing the bullet".
Is this a mere co-incidence? If it is a co-incidence, it appears to be more than a co-incidence.
ARE WITNESS STATEMENTS CONCOCTED? 
Shamshad in his statement has named Shoaib Saifi, Md Imran, Dilshad and Manoj Gujjar as those who were active during the riots. This means, except Naveen Tyagi, Shamshad identified everyone who was named in the chargesheet.
What raises doubts is that Shamshad told Newsclick that he has not named anyone of those who have been chargesheeted. "I did not see any of them firing a bullet that day. They have been implicated in my case. The police have not arrested those whom I named in my original statement. I was not even given a signed copy of my original statement for the record," he alleged. 
Shamshad claimed the police took his signatures on plain papers. "When we asked them, they (the cops) told us it is needed," he said.
Harun also claimed that his statements recorded in the Inner Case Diary of the police were "false". "Wherever I was called, be it the SIT office at Yamuna Vihar or the office of Crime Branch at Daryaganj, I told the investigators the names of those who had opened fire. I have mentioned the names of the shooters not once, but many times before the investigating officer as well as in my original complaint. But my statement was not recorded as I described. The statement attributed to me is completely untrue," he alleged. 
After the police failed to act against those whom he had named in his complaint, he wrote to the deputy commissioner of police (DCP), Crime Branch, on April 20, describing the incident that took place that evening. He also sent a copy of the letter to the Delhi lieutenant-governor (L-G), the Union Home Minister and the Prime Minister. 
The letter, accessed by Newsclick, reads: "My brother Maruf, who owned a shop of electrical appliances, had returned shifting some goods of the shop to a nearby house. After he came to know that Family Bazaar (market) has been looted in the evening, he told us to visit the shop to know if it is safe. As soon as we reached near street number 3 while returning from the shop, we spotted Sonu Kumar, Bobby, Lala, Ram Singh, Mohit, Abhishek, Yogi and others — whom we often saw in street number 1 and 2 and also identify if they are paraded before us — gathered in street number 2. They had guns, swords, sticks, iron rods, etc. in their hands. In the meantime, Shamshad stepped out from street number 3. Bobby fired at him. As we saw Shamshad being hit by a bullet, I and my brother Maruf ran toward Shamshad. Ram Singh shouted, 'Kill them as well'. Sonu who also was holding a gun fired a bullet, which hit my brother Maruf in his eye."
An injured Shamshad had also written a letter on April 20 to the station house officer of Bhajanpura police station. Mentioning the names of his alleged attackers, he described the entire turn of events in that letter. He alleged that the SIT was trying to shield the real culprits.
"Two-three days after I was discharged from the hospital on February 27, (investigating officer) Lokendra along with other officials came and told me that they were probing my case. I told him everything and also revealed the names and addresses of those who fired at me. He asked me to give him the jacket, which I was wearing on the evening of the incident. I handed him over the jacket. They took mine and my father's signatures on eight-ten plain sheets of paper. They told us that they have taken our signatures on the plain papers because they have to send a report with regard to the jacket to their senior officers," reads his letter.
Harun says, according to the report, he got a notice on May 16 wherein he along with Shamshad were asked to come to the office of the Crime Branch in Daryaganj on May 18. 
"We conveyed to the official concerned a message through a WhatsApp that we were unable to be present there, as asked, because of the outbreak of Covid-19 pandemic. Wearing personal protective equipments (PPE), some officials of the Crime Branch came to our houses on May 19 and asked us that we will have to go with them. Following their instruction, we went to the Crime Branch office. When we reached there, we were asked to sit in the waiting room. To our surprise, I saw the attackers (of Shamshad and Maruf) were also sitting there. They were staring at us," he has been quoted as saying.
Shamshad said Sonu and Yogi were sitting in the waiting room. "They (the alleged attackers) told, 'Shikayat karke tu zyada hoshiyar ban raha hai. Bete, yahan par bhi hamari chalti hai (By registering the complaint, you are trying to show that you are wise enough. My son, we have influence here as well).' Then Sonu began abusing me. He said, 'Tu hamara kuch nahin bigaad payega (You won't be able to harm me).' Sonu had fired at Maruf. After some time, a police man took us to a different room."
He adds: "We were shown some video footages, which we could not understand. Then we were taken downstairs to some superior officer who enquired as to why we are lodging the complaint. I told him that I was scared at that time. In response, he told me, 'Ab tujhe dar nahin lag raha hai (Aren't you scared anymore)?' I told him that I am fine now and I have no problem in filing my complaint. To which, he said, 'Main tumhari yeh shikayat nahin manta hun (I don't accept this complaint).'"
Four-five days later, Harun once again shot off a letter to the DCP (Special Cell), describing in details the May 19 incident. He wrote, "A Crime Branch officer refused to entertain my complaint. He told me, 'Tum jaante ho 302 ka muqadma kya hota hai. Agar kisi hare ped par likh kar taang do to who bhi sukh jata hai. Main apne ladkon ki zindagi tumhari shikayat par kharab nahin hone dunga (Do you what a case registered under Section 302 of the IPC means? If it is hung from a green tree, it will also dry up. I will not let the lives of our boys get ruined because of your complaint)'."
Harun also sent a copy of the letter to the Prime Minister and the Union Home Minister, saying: "The video footage of that day recorded in the cameras installed in the SIT office be saved and examined so that truth comes out."
Claiming threat to his life, he urged for a security cover. "Since we are eye-witnesses, they want to eliminate us. Therefore, ensure the security of our lives and properties," he requested in the letter.
Several other witnesses have also denied their statements as recorded by the police.   
Investigating Officer (IO)Chauhan and senior officials of the Crime Branch could not be reached for comments.
THE CHRONOLOGY
Like other chargesheets, the investigators in this case have mentioned a chronology of the violence that starts with violence at Jamia Millia Millia Islamia on December 13 and ends with February's communal violence in North-East Delhi.
What makes it different is the mention of Bharatiya Janata Party (BJP) leader Kapil Mishra. But investigators conveniently ignored to mention his alleged hate speech that reportedly triggered violence in the region. 
Ruling out any conspiracy angle, the chargesheet just says: "On 23-02-2020 (February 23, 2020), a group of citizens led by Kapil Mishra, a local BJP leader, along with pro-CAA supporters staged the protest against the inconvenience being caused by the unlawful blockade of major arterial roads of North-East district."
As per the chargesheet, the anti-CAA protests and subsequent road blockades were "calculated" and "orchestrated" moves to incite violence.
Get the latest reports & analysis with people's perspective on Protests, movements & deep analytical videos, discussions of the current affairs in your Telegram app. Subscribe to NewsClick's Telegram channel & get Real-Time updates on stories, as they get published on our website.
Subscribe Newsclick On Telegram