Nothing Has Worked – Industry Still in Doldrums
Despite tax concessions, easy credit terms and loosening of regulations, investment is flagging and jobs are scarce.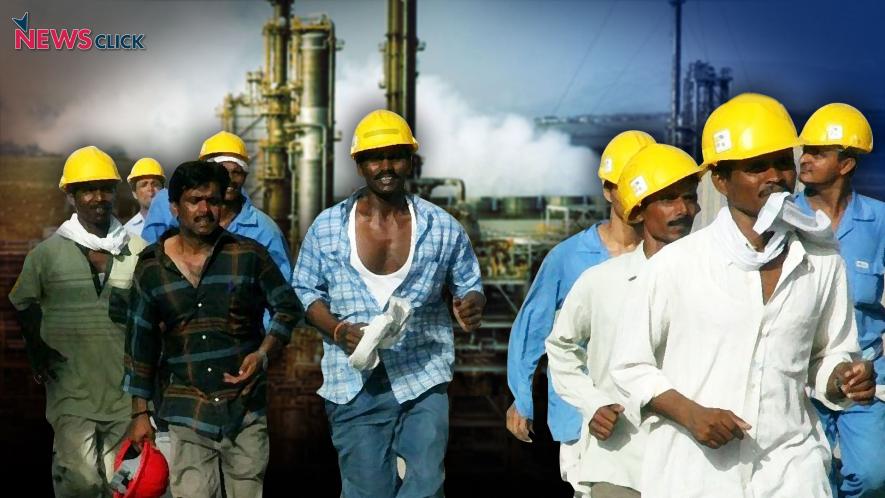 Amongst the raft of Indian economic indicators that are showing continued signs of distress, is the Index of Industrial Production (IIP), published every month by the National Statistics Office (NSO), under the ministry of statistics. It gives a measure of the changes in volume of industrial production of a basket of industrial goods over a certain period.
Needless to say, industrial production is key to the health of any economy of India's size. It directly affects employment, wages, prices – all of which are matters of concern today. That's because industrial production has been in the doldrums for nearly four years now, which includes the catastrophic fall in the pandemic-related lockdowns and restrictions.
The chart below shows how the IIP has fared since February 2020, which was the last month before the pandemic burst upon India and the led to the hasty total lockdown from the last week of March. As can be seen, IIP was growing at a reasonable rate of 5.2% in February 2020, though not as much as was needed. This was preceded by the slowdown in the Indian economy in 2018-19. But since this last pre-pandemic level, it has shown exceptional sluggishness all through, often languishing at around zero per cent growth, or even dipping into negative territory.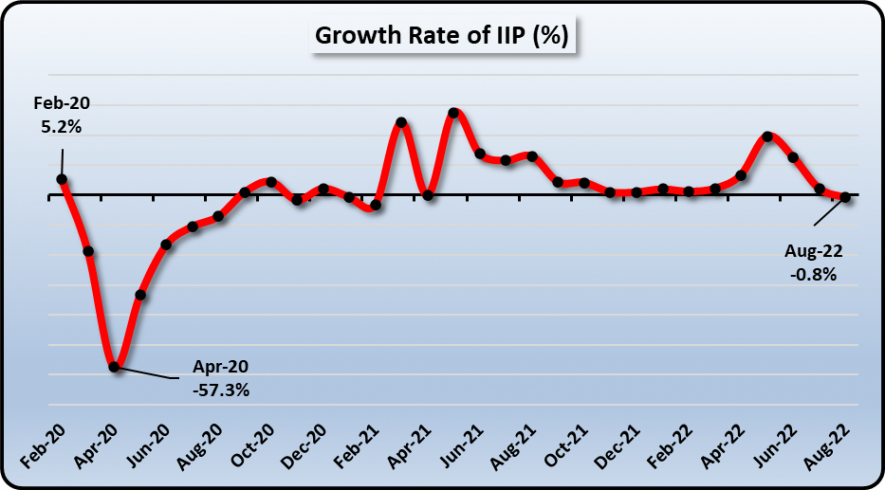 Remember, like many other economic parameters, the growth rate is calculated by comparing with the one-year-ago level and so if the base year is low you may see a spike one year later. That explains the few spikes that are visible. Of course, April 2020 shows the spectacular fall in industrial production due to the first lockdown.
In August 2022, the latest month for which data was recently released, IIP was 'growing' at (-) 0.8%, that is, it actually declined with respect to August 2021.
Sectoral Growth Rates Show Dire Picture
IIP is made up of three sectoral parts – mining, manufacturing and electricity. In August this year, mining was declining at (-) 3.9% while manufacturing was going down at (-) 0.7%. Only electricity production was actually increasing but at a measly rate of 1.4%.
It is instructive to look briefly at which sectors are performing how. Textiles, apparels, leather, and pharmaceuticals are all doing badly as indicated by double digit negative growth rates (that is, declines). These are sectors with strong export linkages. So, perhaps their lack lustre performance could be due to the economic crisis in the rest of the world, causing a dip in exports. This is confirmed by the widening current account deficit (the difference between import and export bills). In the first quarter of the current fiscal year, the deficit had shot up to $23.9 billion or 2.8% of GDP, up from $13.4 billion (1,5% of GDP) in the last quarter of fiscal 2021-22.
But that doesn't explain the sluggish growth – or indeed decline – in several other sectors of the manufacturing economy. Thus, fabricated metal products, electrical equipment, rubber and plastic products, are all in the red while food products have shown zero growth. In addition, mining sector, as mentioned earlier, is exhibiting negative growth.
What this means is that there is limited demand in the domestic economy, especially so in the machinery and electrical segments. Petroleum products are showing better growth because of continued demand in the automobile sector, which also is showing marked improvement. But just selling cars and bikes is not going to revive the country's industrial sector.
Bank Credit to Large Industry
The Narendra Modi government has been cajoling, sometimes even scolding, corporate honchos to roll up their sleeves and get down to investing in fresh productive capacities. The government gave a huge corporate tax cut to them in September 2019. It eased credit facilities to industry – especially the MSME (medium, small and micro enterprises) sector. But, while easier credit has been swallowed up by all segments, there has been precious little expansion of capacities.
As far as large industry is concerned, outstanding credit data (shown in chart below), from the Reserve Bank of India, is revealing of their disinterest. In February 2020, the last pre-pandemic month, outstanding credit to the large industry segment stood at Rs.23.6 lakh crore. In August 2022, the last month for which data was available, it was Rs.24.1 lakh crore.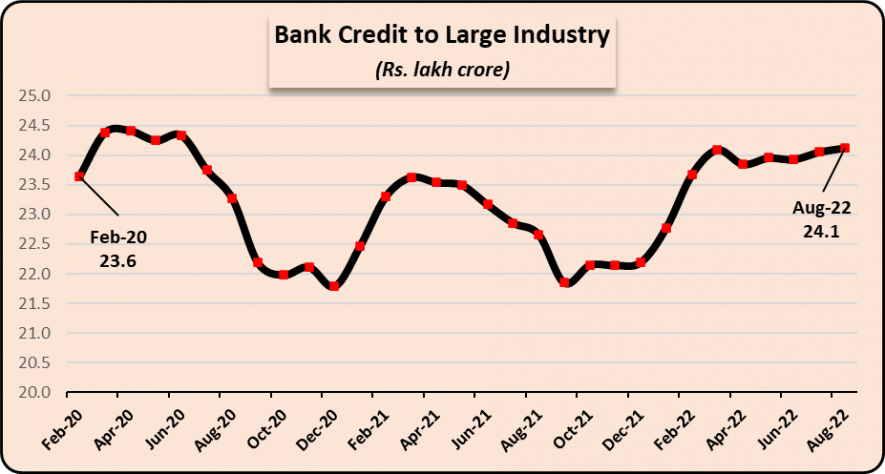 Every time the government offered easier credit and pushed it on to the corporate sector, there is an uptick, but it is followed immediately by a steep fall. This happened during the first lockdown in 2020 and then in the second wave of Covid in 2021. In 2022, credit outflow picked up in the first few months but since then it is again stagnating, as shown in the chart above. It remains only slightly above the pre-pandemic level in February 2020, over two and a half years ago.
This is evidence of the dramatic failure of the Modi government's policy of dangling the carrot of credit to the corporate world and praying that it would lead to rise in investment, and hence in employment, thus kicking off a cycle of recovery of the whole economy.
Dogma of 'Trickle Down'
The Modi government continues to blindly follow the discredited theory that the corporate world will lead the country out of the woods. This, despite the all-round failure of the policy to get the economy moving, and more importantly, its failure to solve the unemployment crisis, which goes hand in hand with the low-wages/earnings crisis.
The net effect of this crisis is that there is limited buying power in the hands of a large majority of people. As a result, there is no demand. The corporate sector refuses to ramp up productive capacities because it is well aware of this situation. If there is no demand, where will it sell its products? But it benefits from excessive unemployment because that drives down wages and thus it boosts the profits.
Only a wholesale reversal of this myopic policy can prevent the country from sliding deeper into the mire. But for that, people have to take decisive action.
Get the latest reports & analysis with people's perspective on Protests, movements & deep analytical videos, discussions of the current affairs in your Telegram app. Subscribe to NewsClick's Telegram channel & get Real-Time updates on stories, as they get published on our website.
Subscribe Newsclick On Telegram