OBITUARY: Manager Pandey -- Teacher, Colleague, Friend and Scholar
Manager Pandey enriched not only Hindi literature, but the entire world of Indian literature through his writings, and was an extremely dedicated teacher.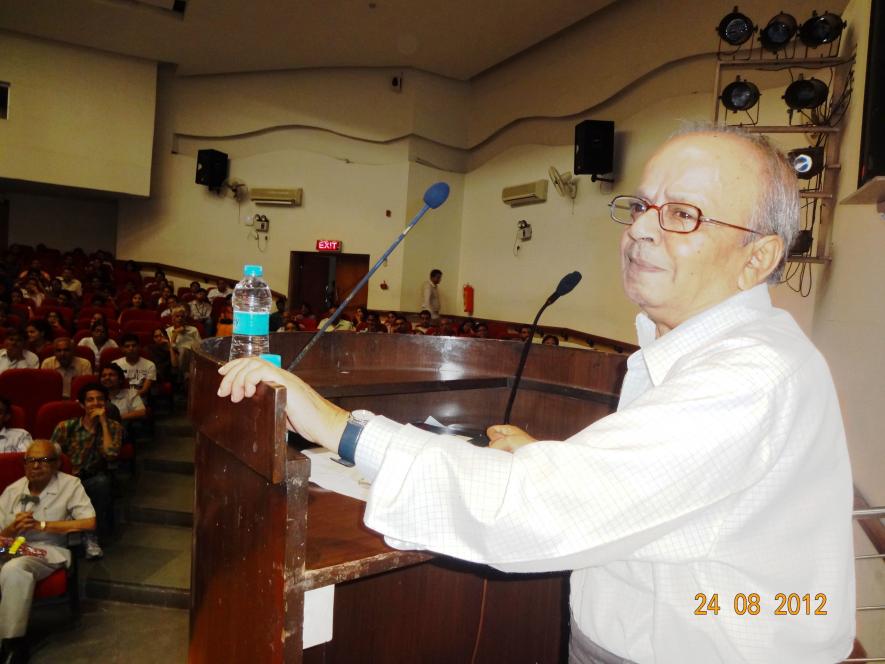 Krantiveer Bhagat Singh release programme
On November 6, 2022, around 8.30 a.m, one of the legendary teachers and scholars of Jawaharlal Nehru University (JNU), Professor Manager Pandey, passed away. He was 81. He had authored/edited over 30 books, all in Hindi, out of which some were translated into a few other Indian languages.
Manager Pandey was born on September 23,1941 in Lohti village, now in Gopalganj and earlier in Sivan district of Bihar. After early education in the village at Khurharia High School, which was about 10 kilometres away from his village and where he had to cross a river every day, his parents sent him to DAV College in Banaras (Uttar Pradesh) for graduation.
Pandey lost his mother early in his childhood and was taken care of by his widowed paternal aunt. His farmer father continued to support his education, so he was the first in his family not only to receive education but even to receive the highest academic degree --  a doctorate.
Manager Pandey did Master of Arts (MA) and Doctor of Philosophy (PhD) in Hindi from Banaras Hindu University (BHU) in 1968 on the topic -- Sur ka Kavya: Parampara aur Pratibha (Poetry of Sur (Das): Tradition and Talent). This thesis, in book form, was published as Krishana Katha ki Parampara aur Surdas ka Kavya (The tradition of Krishana narration and Surdas's Poetry) by Macmillan (now defunct) in 1982. Its new and revised edition came out as Bhakti Andolan aur Surdas ka Kavya (Bhakti tradition and Surdas's Poetry) from Vaani Prakashan Delhi in 1993.
Pandey began his career at the Bareilly College as a Hindi lecturer in 1969. He started writing scholarly articles in prestigious Hindi journals, and was soon appointed as lecturer at Jodhpur University in 1970, from where he moved to JNU in Delhi in March 1977.
My interaction with him started from the very beginning. He was put up for some time in H. No. 165 of Uttarakhand block, which was temporarily used as a JNU guest house, and which was perhaps vacated by Prof. Satish Chandra, after he was appointed Chairman of University Grants Commission. Later he shifted to a flat in Ber Sarai, in front of the Old Campus, where all the schools/centres of JNU were then located.
I was selected for admission to the PhD course in the Centre of Indian Languages in 1976, during the Emergency, but my admission along with another student, was withheld due to political reasons. We were offered admission in March 1976, after the Emergency was withdrawn. I met Pandey and sought his advice, as from 1977, CIL had planned to start M.Phil admissions. Prior to that, direct admission to PhD was done with a pre-PhD course. He  advised me to wait till the 1977 session admissions, which were just months away and take admission to a combined MPhil/PhD course. I heeded his advice and appeared for the entrance test again in 1977, got selected chose him as my supervisor.
The CIL, as part of the School of Languages in JNU, was set up in 1974 without any faculty, with courses in Hindi and Urdu. Naamvar Singh joined as Professor and Chairperson in November 1974, around the time Savitri Chander Shobha and S P Sudhesh had also joined. Chintamani, Kedarnath Singh and Manager Pandey were brought in by Naamvar Singh. Out of all six earlier faculty members of Hindi in CIL, Pandey was the last to leave the world. In January 2022, S P Sudhesh bid goodbye at the age of 85+.
Pandey's talent for evaluation of literature and society flourished in JNU's atmosphere of critical thinking. His first book, Shabad Aur Karm (Word and Action), was published in 1981. It brought in a breeze of freshness in the stereotypical scene of Hindi literary criticism. Among CIL students, he created a big impact by his teaching of the Sociology of Literature and occasionally Historical Perspectives on Literature papers to MPhil students.
Under the leadership of professors Naamvar Singh and Mohamad Hasan, the curricula of Hindi and Urdu were radicalised with the inclusion of advanced courses, which could not be imagined in other Indian universities. Critical thinking was the spirit of these core courses, which were common for English or European languages literary studies, but entirely new for Indian languages. 
The two courses that attracted most attention and gave credibility to Hindi and Urdu literary studies were Sociology of Literature and Historical Perspective in Literature. (Sahitya ka Samajshashtar and Sahitya ki Itihas Drishti). Both these courses were taught in Hindi by Manager Pandey and Naamvar Singh. The latter also taught Marxist Perspective of Literature to M A (Hindi) students, which was also taught by Pandey during Singh's sabbatical.
In 1981, another book by Pandey- Sahitya aur Itihas Drishti (Literature and Historical Perspective), came out from the newly set up progressive publisher, People's Literacy Delhi, which brought out many Marxist literary theory classical books in Hindi translation. This book established Pandey as an important Hindi critic in the academic world. Another book which brought laurels to him was Sahitya ke Samajshashtar ki Bhumika (An Introduction to Sociology of Literature), published in 1989, and since has run into many editions and has been translated into a few other Indian languages, including Urdu. This book was and is still recommended in many other Indian languages MA and research degree courses.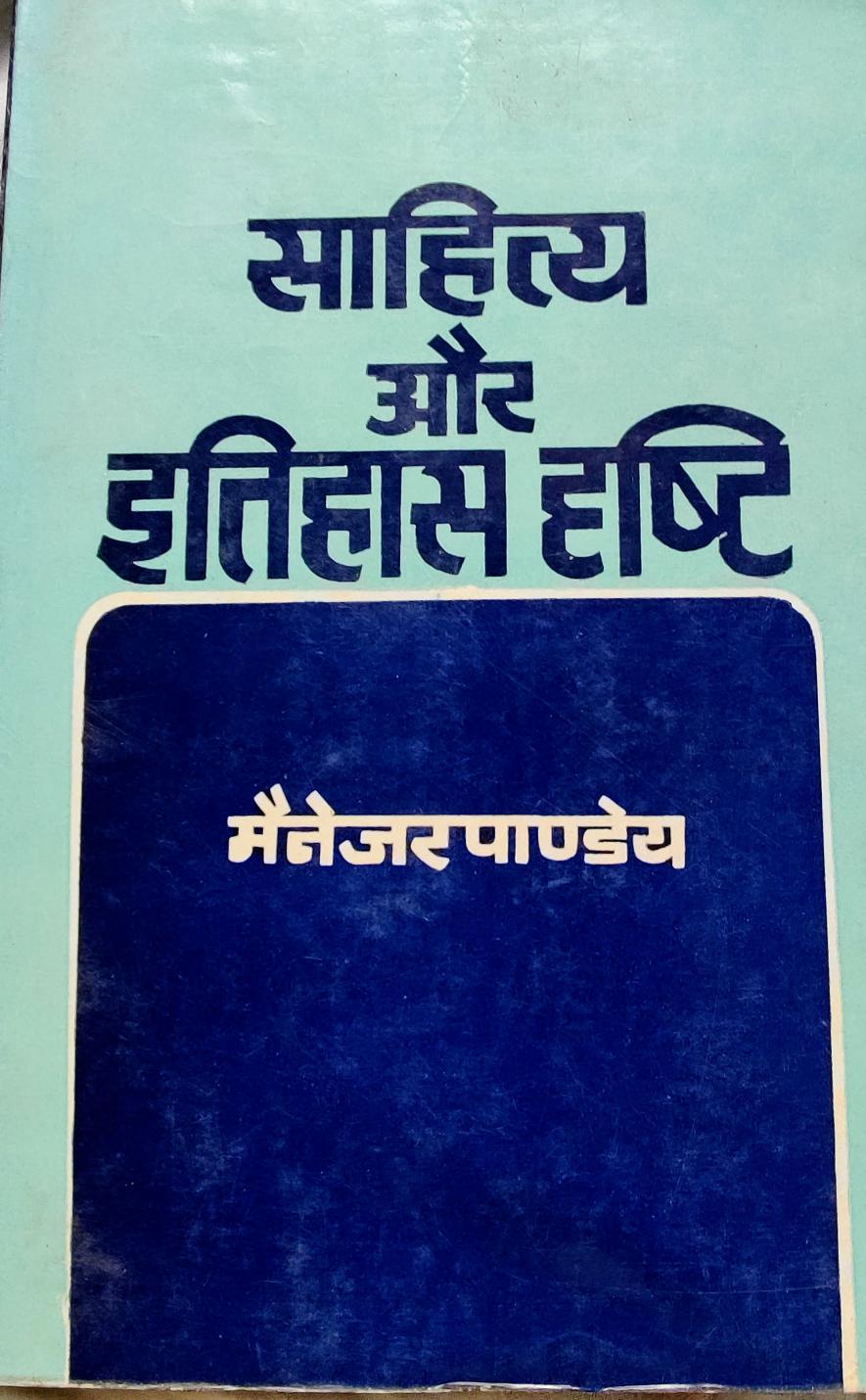 Apart from these two important literary theory books, Pandey published many books on modern and medieval literature. In the general perception of Hindi writers/scholars/students and cultural activists, he was and is considered a Marxist literary critic. He remained president of a radical Leftist cultural organisation Jan Sanskriti Manch for many years. Some of his later books are referred to here briefly.
Pandey's next important publication was Anbhai Sancha. It was published in very tough and tragic circumstances. His young and only son Anand was murdered in his village in Bihar on August 16, 2000, allegedly by Bihar Police in league with criminal gangs of the area, against whom Anand was fighting as a young and popular activist. This book is dedicated to his son with an introduction describing the anguish of the author. This is a collection of 20 articles on literature from his three decades of innumerable writings on Hindi literature. It includes writings on medieval Bhakti literature to modern dalit literature. The book, Mere Sakshatkar (My Interviews), based on his 16 interviews with different Hindi writers, including many by his students and CIL faculty member Devender Chaubey, is included in this collection published in 1998. 
Another book of interviews -- Main Bhi Munh Mein Zuban Rakhta Hoon (I Too Have a Voice) -- was published in 2005. Two more books based on his interviews were published -- Batkahi and Samvad-Parisamvad. A collection of his 26 selected articles - Aalochna ki Samajikta (Social Aspects of Criticism) were published in 2005, which centred more on modern fiction and cultural issues.
An issue of Samved edited by Kishan Kaljayee focussed on Manager Pandey and titled Sankat Ke Bavjud (Despite Crisis), was published in 2002, in which 26 known critics/writers of Hindi discussed his critical literary writings. A separate book, Sankat ke Bavjud (Despite Crisis)- selections and translations of some world-renowned authors was published later by Pandey.
A few more books on the contribution of Manager Pandey were published during his life time.
One of his edited books is Sivan ki Kavita (Poetry of Sivan). Despite living in Delhi since 1977, Manager Pandey was bound to his roots in Sivan in Bihar, and he collected the literary talent of that area into this collection. He also edited selected writings of major Hindi writers -- Surdas, Kumar Vikal, Nagarjun, Madhav Rao Sapre, Munshi Navjadik, Lal Sreevastava and other
Manager Pandey had brought many such books to the public domain that depicted India's freedom struggle, but were out of sight in present times. One such book was Desh Ki Baat, one was in Marathi by Sakharam Vishnu Paradkar and another in Hindi by Dev Narayan Dwivedi with the same title. Both books were important publications in the socio-political history of India.
Another such book was Munshi Navjadik Lal Sreevastva's Pradhinon ki Vijay Yatra (The Winning journey of Subjugates). He acquired its copy from a German University with the help of his friends. The book was first published in 1934, its 1937 edition was banned by the British colonial rulers. The book contains descriptions of the freedom struggle of 36 countries, including India. Similarly, Madhav Rao Sapre was an eminent journalist, also having the credit of the first short story writer of Hindi- Eik Tokri Bhar Muthi. His selected writings were edited by Manager Pandey.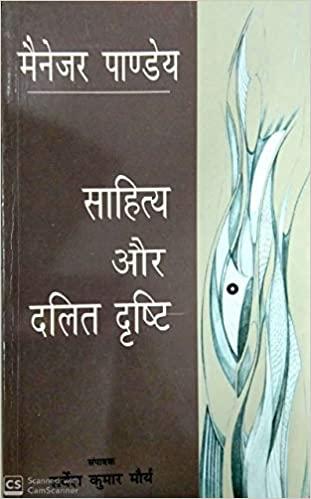 There are other books- Upnyas aur Loktantr (The Novel and Democracy), Sahitya aur Dalit Drishti (Literature and Dalit perspective), Hindi Kavita ka Atit aur Vartman (The Past and Present of Hindi Poetry), Aalochna mein Sahmati-Asahmati (The consent and dissent in Criticism), Bhartiya Sahitya mein Pratirodh ki Parampra (The Legacy of Resistance in Indian Literature), Mukti Ki Pukar (The Call of Liberation)- edited Poetry, Shabad aur Saadhna, Acharya Dwidey Abhinandan Granth (Edited), Lokgeeton mein 1857- edited with an introduction(1857 in Folk Songs), Sanklit Nibandh(Collected essays of Manager Pandey) was published by NBT(National Book Trust of India).
One of his last and significant publications was Mughal Badshahon ki Hindi Kavita (Hindi Poetry of Moghul Emperors) in 2016. In this collection, the editor begins his introduction with Babar, the founder of the Mughal regime in India, who wrote poetry in Persian. Babar's daughter Gulbadan Begum also wrote poetry in Persian. Manager Pandey found no evidence of Humayun writing poetry, but he appreciated and patronised poetry by having two Persian poets in his Durbar. From emperor Akbar begins the uninterrupted flow of poetry from the pen of Mughal emperors. Not only did they write poetry, they also patronised a large number of poets.
Pandey found an old book Mughal Badshahon ki Hindi. The book was written by Pandit Chander Bali Pandey and was published by Nagri Pracharini Sabha Varanasi in 1940. This book contained Hindi poetry penned by Mughal emperors from Akbar to Bahadurshah Zafar. He also consulted Harbans Mukhia's book Indian Mughals, which further confirmed the poetry penned by emperor Shah Alam. This collection, edited by Pandey, includes the maximum number of poems penned by Shah Alam, Akbar is second in the number of poems. Manager Pandey notes that many people will be surprised to know that even Aurangzeb penned Hindi poems. With an elaborate introduction, he describes the Mughal emperor's Hindi as Braj Bhasha poetry. 
Surdas also wrote in Braj Bhasha, which was a major poetic form of the Hindi language before the present Khari Boli replaced it. The collection includes Hindi poetry of Akbar, Jahangir, Shahjahan, Aurangzeb, Azam Shah, Mozam Shah Shah Alam Bahadur Shah, Jahandarshah Mauj, Mohammad Shah, Ahmad Shah, Alamgir, Mohammad Shah Alam and lastly of last Mogul emperor Bahadur Shah Zafar. 
For many years Manager Pandey was working on Dara Shikoh, who was killed by Aurangzeb in the fratricidal war for power, but was considered the most philosophical prince among all Mughal ruling families. That was his most ambitious project, which remained unfulfilled due to his life being cut short.
Manager Pandey received many accolades in form of awards and honours, such as Shalaka Samman of the Delhi Government, Dakshin Bharat Prachar Sabha's Subramaniam Bharti award, was honoured by Bihar government and more.
Manager Pandey enriched not only Hindi literature, but the world of Indian literature through his writings and he also became a role model as a dedicated and disciplined scholar. He was known for scolding his students quite often, but remained an equally concerned teacher and always protected them.
His death was mourned not only in condolence/memorial meetings including one in CIL and another by JNUTA, but by many of his publishers and writers' organisations in Delhi. In Bihar, especially in the Sivan area, many meetings were held. Obituaries were written by many writers in Hindi, English, and Punjabi in many parts of the country.
The writer is retired professor & former chairperson at the Centre of Indian Languages, Jawaharlal Nehru University, New Delhi. At present, he is honorary advisor to Bhagat Singh Archives and Resource Centre New Delhi.
Get the latest reports & analysis with people's perspective on Protests, movements & deep analytical videos, discussions of the current affairs in your Telegram app. Subscribe to NewsClick's Telegram channel & get Real-Time updates on stories, as they get published on our website.
Subscribe Newsclick On Telegram