Did OIL Conceal Facts to Obtain Environmental Clearance for Hydrocarbon Expansion Project in Assam?
An Oil India Limited spokesperson said all information at hand had been provided to the central government with due diligence and all replies to all queries had also been made.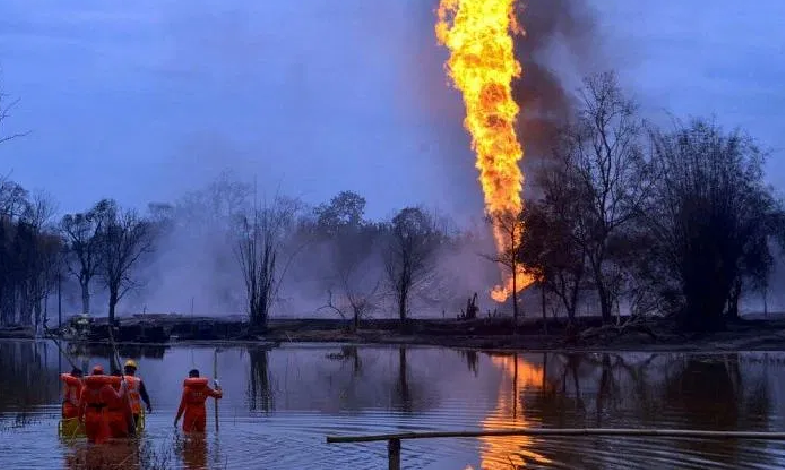 New Delhi: Public sector major Oil India Limited (OIL) allegedly concealed information in order to obtain environmental clearance for an oil exploration expansion project in the rainforests in Tinsukia district of Assam. Further, the Union Ministry of Environment, Forests & Climate Change (MoEF&CC), while granting the clearance, not only ignored a Supreme Court order for a mandatory biodiversity assessment study but also exempted the project from any public hearings.
The project is located in Mechaki block of Assam. It pertains to onshore oil and gas development drilling and production in the Mechaki, Mechaki Extension, Baghjan and Tinsukia Extension petroleum mining lease areas. The environmental clearance was granted on April 9 2020. This is the second instance that OIL has been granted clearance for drilling wells in Assam by imposing outcomes of public hearings conducted for different projects.
On September 17, the eastern bench of the National Green Tribunal sought a report from the MoEF&CC in response to these allegations.
"The Mechaki project is proposed in an ecologically sensitive and fragile area. The Mechaki Block is located in close proximity to the Dibru Saikhowa National Park, the Maguri-Motapung wetland and falls within the Dehing Patkai Elephant Reserve. The area is one of the few habitats of the White Winged Wood Duck. There are several reserved forests, too, within the Mechaki Block supporting a wide variety of wildlife. These facts were concealed while applying for environmental clearance for the project," said environmental lawyer Ritwick Dutta.
In Form 1 of the Environment Impact Assessment (EIA) process, submitted to the central government in February 2017, the project proponent, OIL, had responded in the negative to the entire section on parameters pertaining to environmental sensitivity. The parameters contained, amongst other queries, as to whether the project area is protected under legislation for its ecological value, whether the project area is sensitive for ecological reasons like wetlands, watercourses, biospheres and forests, whether the project area is the habitat of protected and sensitive species of flora and fauna and whether the project contains scarce resources including forestry.
Besides, OIL also responded in the negative to a question as to whether the proposed project is in proximity to other existing projects. This information was denied despite the fact that the Mechaki project is an 'expansion project' where OIL proposes to add 16 new exploration wells apart from setting up additional infrastructure including pipelines and production installations. Consequently, no cumulative impact assessment study was ever conducted for the project.
Also read: Baghjan Oil Field Fire: A Prelude to Ecological Disaster in North East
For concealing information, an environmental clearance is liable to be rejected as per provisions of the Environment Impact Assessment (EIA) Notification, 2006. This notification, which had been issued by the Congress-led United Progressive Alliance (UPA) government, states: "Deliberate concealment and/or submission of false or misleading information or data which is material to screening or scoping or appraisal or decision on the application shall make the application liable for rejection, and cancellation of prior environmental clearance granted on that basis."
The region where the project has been proposed is home to a wide variety of wildlife. These include the leopard, the Hoolock Gibbon, Capped Langur, Rhesus Macaque, Pig-tailed Macaque, Slow Loris, Malayan Giant Squirrel, Red Giant Flying Squirrel, Barking Deer and Wild Water Buffalo. An expert committee constituted by the National Green Tribunal after the Baghjan oil well fire, which also falls within Assam's rainforests, confirmed the presence of these wildlife species in the region.
Nevertheless, OIL never undertook a biological impact assessment study required under the Biological Diversity Act, 2002. A Supreme Court order was, too, allegedly violated in not conducting a biodiversity assessment. In September 2017, the Supreme Court had issued an order making it mandatory for carrying out a Biodiversity Impact Assessment Study, through the State Biodiversity Board, for exploratory drilling of hydrocarbons in close proximity to the Dibru Saikhowa National Park. This order had been issued by the apex court in the matter of TN Godavarman Thirumulpad versus Union of India (I.A. 3934 in W.P (C) 202 of 1995.
Further, the Environment Appraisal Committee (EAC) of the central government did away with the need for a public hearing for the Mechaki project using its veto power. The exemption was provided by the EAC during its meetings in the last week of March 2017. The EAC was informed by OIL that a public hearing had already been conducted on December 26, 2016, for a similar proposal falling in the project area. Consequently, the EAC using its power under Para (ii) of EIA Notification, 2006 did away with the public hearing. However, in reality, the public hearing of December 26, 2016, was for a different project of the OIL, that is, the Khagarijan Oil and Gas Field project.
For yet another project of OIL for drilling seven new hydrocarbon exploratory wells in Tinsukia district for which environment clearance was provided on May 11, public hearings had similarly been waived off. OIL was allowed to use details of public hearings of another project that had been conducted six years ago.
"Environmental approvals are not a bilateral matter between the government and project proponents. The outcome of these decisions should be grounded in local socio-ecological contexts, draw from good science and gain from public disclosure. Public hearings can enable all of these," said Kanchi Kohli of the Centre for Policy Research.
When contacted, a spokesperson for the OIL said due diligence had been undertaken in providing information to the MoEF&CC for this project.
Also read: Coal Mining Casts Shadow Over Assam's Rich Biodiversity
"The very fact that an environmental clearance has been granted by the central government for this project implies that we had provided all the information that we had at our disposal. Had there been any ambiguities, the environment ministry would not have provided the clearance. An environmental clearance is not provided overnight and requires several correspondences over a period of time. There were several queries from the environment ministry before deciding on the clearance and we had responded to all queries," OIL spokesperson Tridiv Hazarika told NewsClick.
A set of queries were emailed on behalf of NewsClick to the concerned MoEF&CC officials, as also its secretary, Rameshwar Prasad Gupta, including a question as to on what grounds OIL was provided an environmental clearance despite not conducting a Biodiversity Impact Assessment Study as per the Supreme Court order. The queries are yet to elicit a response.
Get the latest reports & analysis with people's perspective on Protests, movements & deep analytical videos, discussions of the current affairs in your Telegram app. Subscribe to NewsClick's Telegram channel & get Real-Time updates on stories, as they get published on our website.
Subscribe Newsclick On Telegram