OP Rajbhar's Meeting with UP BJP Chief Creates Dent in Bhagidari Sankalp Morcha
Om Prakash Rajbhar's meeting with UP BJP President has given rise to rumours of a possible alliance with the BJP in the upcoming Assembly elections.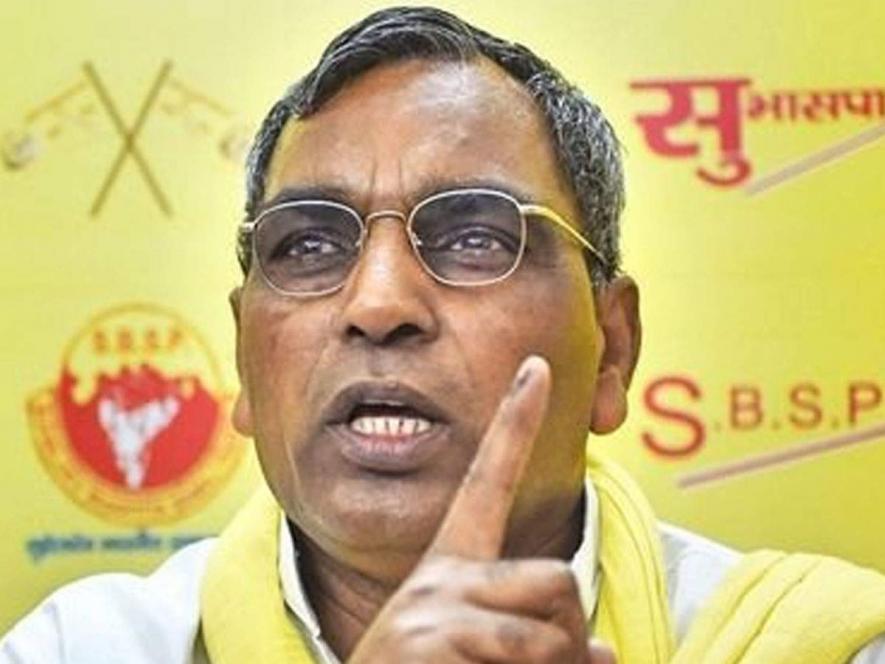 Image Courtesy: Times of India
Om Prakash Rajbhar once again knocked on the door of Bharatiya Janata Party (BJP) on Monday, August 2. Rajbhar, president of the Suheldev Bhartiya Samaj Party (SBSP) met the state chief of the BJP and hinted to go back to his old shelter National Democratic Alliance.
But the meeting did not go well with Rajbhar's allies in the Bhagidari Sankalp Morcha (BSM) which was formed by Rajbhar himself. Soon after the news of the meeting between Rajbhar and BJP's UP State President Swatantra Dev Singh spread, the All India Majlis Ittehadul Muslimeen (AIMIM) announced that it is distancing itself from the Morcha.
Meeting was catalysed by BJP's State Vice-President Dayashankar Singh. Rajbhar told the media that it was an informal courtesy meeting between two leaders of pichhdi jati (backwards castes), though he admitted that political discussion was also on the table.
In a TV interview, Rajbhar compared the AIMIM chief Asaduddin Owaisi with BJP's Muslim leader Shahnawaz Hussain. He also dropped hints which showed that he is slowly inching towards the saffron camp.
To avoid any split in the Morcha, Rajbhar promptly dismissed the idea that his party would ally with the BJP in 2022. However, in an interview, he said that he would consider an alliance with the BJP if it fulfilled his demand of an OBC chief minister, which was laid down by him.
AIMIM, which is a part of the morcha stitched together by Rajbhar to contest BJP, lashed out at him. Many believe that this meeting has created a split in the morcha. Owaisi's party reacted immediately and said that Rajbhar has insulted Owaisi by comparing him to Shahnawaz Hussain.
AIMIM leader Aasim Waqar said in a statement, "BJP is our political foe, we do not continue alliances with anyone who has any political relationship with the saffron camp." It is important to note here that Owaisi is demanding 100 seats for the next Assembly elections.
Rajbhar had started his political career in the early 1980s and was with the Bahujan Samaj Party (BSP) till 2001, when he quit after a fall out with the party chief Mayawati over the renaming of Bhadohi as Sant Kabir Nagar.
Later, Rajbhar founded the SBSP and headquartered it in the eastern town of Varanasi, and the party contested at least seven elections in UP and Bihar, quite unsuccessfully. SBSP claims to have influence in the Purvanchal (Eastern) region of UP where the Rajbhars constitute nearly 18% of the population. However, the Rajbhar Community constitutes only 7% of the total OBC population of the state.
However, in 2017, SBSP won four Assembly seats as a BJP ally. Rajbhar was also elected from Zahoorabad (Ghazipur). BJP accommodated Rajbhar in the Yogi Adityanath-led government as a cabinet minister for Department of Backward Classes Welfare, and the Department of Disabled People development.
On May 20, 2019, however, Rajbhar was sacked from the cabinet of Yogi due to anti-alliance activities. After his resignation, Rajbhar told the media that the BJP had betrayed him, made a false promise of sub-categorising the OBCs of Uttar Pradesh into three groups and accordingly splitting the 27% existing reservation. A report had been presented about this by an OBC Social Justice Committee in 2018, under the chairmanship of Raghavendra Kumar, a retired judge.
After his expulsion from the NDA, Rajbhar stitched together a political alliance of Indian center-left political parties, BSM, to fight an electoral battle against the BJP in 2022. The alliance is led by the Suheldev Bhartiya Samaj Party.
The Morcha includes AIMIM, which has active presence in Bihar and Telangana, and is led by Asaduddin Owaisi, Bhagidari Party (P) led by Premchandra Prajapati, Bharatiya Vanchit Samaj Party, Bhartiya Manav Samaj Party, Janata Kranti Party (R), and Rashtra Uday Party. Reportedly, there are ongoing conversations with the Azad Samaj Party of Chanderashekar Azad, for its inclusion in the alliance.
NewsClick reached out to SBSP General Secretary Arun Rajbhar, who said that the separation of Purvanchal from UP and the implementation of OBC quota sub categories are two long standing demands of the party. According to Arun Rajbhar, while Om Prakash Rajbhar was a cabinet minister, he had prepared a report on backward classes within six months.
In this report, the 79 OBC castes were divided into 3 categories—backward, more backward and most backward classes. The first category got 7% reservation, the second got 9% and the third got 11%. The other 7 percent was assigned to the category that gets more benefit than the rest of the population.
Arun Rajbhar said, "When we increased pressure to implement the report, BJP Leader Amit Shah said that they would implement it six months before the Lok Sabha elections in 2019, but later he retracted this decision when the Lok Sabha elections came close, and said that it is not possible to implement the report. Following Shah's refusal, OP Rajbhar tendered his resignation.
SBSP decided to contest general elections independently, with Rajbhar backing the SP-BSP-RLD alliance. SBSP flags were also seen in Mirzapur during Congress leader Priyanka Gandhi Vadra's roadshow.
Arun Rajbhar added that CM Yogi Adityanath has completely failed to hide his failure and only fights to create hate between Hindus and Muslims. He ruled out any possibility of alliance with the BJP for the Assembly elections in 2022.
However, political commentators believe that the future of Rajbhar's party and Morcha depends on how firmly he stands against the saffron party. Senior political commentator, Govind Pant Raju, said that while OP Rajbhar is a self proclaimed leader of the Rajbhar Community, there are also many other faces active in the state politics.
However, OP Rajbhar has political influence over some seats of the eastern UP, and he managed to win four legislative seats in 2017. But he could not have done this alone, SBSP chances of winning elections depend on alliance with other big political players.
Raju said that without an alliance, SBSP cannot win any seats, though it could dent the prospects of BJP's victory in a few seats, Raju added. He also added that if Rajbhar strikes an alliance with the BJP in 2022, it will damage him politically.
Social activist Rajiv Yadav opined that SBSP's demand of sub categories in reserved quota would not solve the plights of OBCs. According to Yadav, the problem can be solved only by increasing the quota in congruence with the population of backward classes.
"Why is Rajbhar not demanding more quota for OBCs, and instead demanding division of the existing quota?" Rihai Manch's secretary, Yadav asked.
Professor Ramesh Dixit of the University of Lucknow believes that OP Rajbhar is taking part in identity politics and wants to come back to power using the Rajbhar Community. He added that on one hand, Rajbhar made an alliance with AIMIM, while on the other hand, he had a meeting with the BJP state head.
Get the latest reports & analysis with people's perspective on Protests, movements & deep analytical videos, discussions of the current affairs in your Telegram app. Subscribe to NewsClick's Telegram channel & get Real-Time updates on stories, as they get published on our website.
Subscribe Newsclick On Telegram