Odisha: Rural Women Celebrate Siali Uchsav for Forest and Livelihood Protection
The women (Kondh tribals, dalits and others), dependent on Siali leaves both for household consumption and selling purposes, decided to conserve and regenerate the forest by planting more Siali seeds after finding that there were only a few creepers left in the forest.
The village women patrol their forest in shifts with the help of sticks only (Photo courtesy: Rakhi Ghosh)
On the arrival of monsoon, the people of Odisha, situated in the eastern part of the country, celebrated Snana Purnima – bathing ritual of the trinity (Lord Jagannath, Balabhadra and Subhadra). Meanwhile, a small group of rural women in Ranpur block of Nayagarh district, around 84 km from state capital, commemorated the festival by celebrating Siali Uchsav, a festival of forest conservation and regeneration.
"We celebrated the festival to conserve Siali (Bauhinia Vahlii) a type of creeper that grows around Sal trees inside forest and planted preserved Siali seeds, on which our livelihood is dependent," said Golap Pradhan (40) of Dengajhari village and a member of the Women's Federation dedicated for the conservation of lost Siali population. She said that another reason of celebrating Siali Uchsav on Snan Purnima is that the monsoon rain showers help to germinate seeds planted by the community in the forest.
Golap said, "Apart from forest produces such as harida, bahada, kendu leaves, mahua, mushrooms, leafy vegetables, tubers and honey, we are also dependent on Siali leaves for our livelihood. Every morning we pluck the leaves, stitch plates, keep some plates for household consumption and sell the rest to local traders for some extra income."
But, for the last several years it has been found that few Siali creepers are left in the forests, she added. As selling of Siali plates (locally known as khali) is an important source of income, it became a concern for these village women. The women (Kondh tribals, dalits and others) dependent on Siali leaves both for household consumption and selling purposes, decided to conserve and regenerate the forest by planting more Siali seeds. Thus, the idea of Siali Uchsav took shape and womenfolk of nine gram panchayats –Darpanarayanpur, Baunshagarh, Balabhadrapur, Majhiakhand, Bandhamunda, Patia, Damasahi, Kandapada and Khatia -of Ranpur block joined hands to celebrate the festival.
On the festival day, these women wake up early in the morning, clean their houses, decorate the walls and floors of their homes with jhoti chita (traditional Odia white art made using rice paste), prepared traditional sweet dishes such as- poda pitha, kakara, manda, muan, chakuli pitha, and chuda ghasa.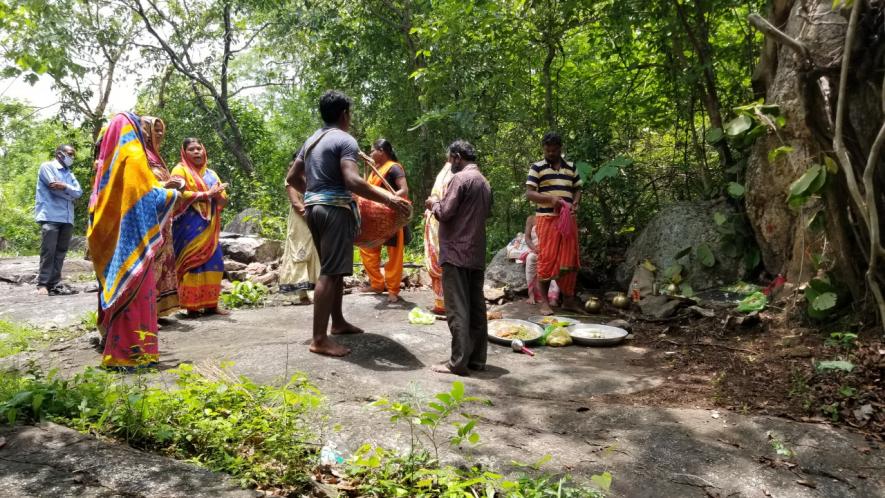 Women are offering puja to Banadurga (forest deity) and praying for healthy growth of Siali creepers. (Photo courtesy: Rohit Mukerji, Vasundhara)
"We prepare all these items to create an environment of festivity so that all family members can be involved. Then we go into the forest and offer these dishes to Maa Banadurga, the local forest deity," said Bilasha Pradhan, (42) another member of the federation, adding that they perform this puja to the forest deity to get her blessings for healthy growth of Siali creepers. 
Planting seeds
"In the natural process it was found that most of the seeds get wasted, so it was decided seeds will be collected, dried and planted in the banks of streams or other suitable spots for their healthy growth," said Bijayalaxmi Biswal, project coordinator of Vasundhara, a research and policy advocacy group that works on environment conservation and sustainable livelihood in Odisha. The non-profit organisation has been supporting villagers of Ranpur to celebrate this Uchsav since 2002.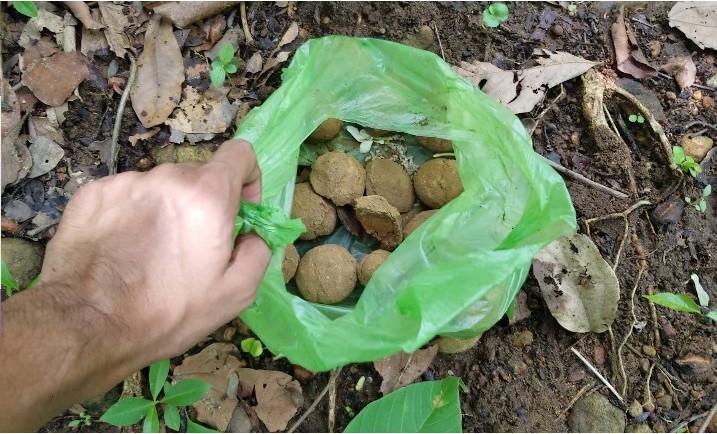 Siali seed balls kept for planting (Photo courtesy: Rohit Mukerji, Vasundhara)
The women collect the seeds in the month of March and April. They collect Siali seeds that have mostly fallen on the ground and from harvested fruits. Then these collected seeds are preserved in an organic mixture of manure, cow dung, cow urine, ant-hill soil and ash. "The women in groups knead a mixture of all these ingredients and make small balls and inside these balls they put the seeds and sun-dried it. The sun-dried seed balls are prepared 15 days prior to the festival. This process helps the seeds for better germination and healthy growth of the creeper," Biswal added.
On the day of the ritual, women carry these seed balls in bamboo baskets to the forest along with dishes they prepare to offer Banadurga deity for puja. "Once the woman priest finishes puja, all of us carry our seeds in our saree pallu (loose end of the saree) and search for right spots to plant. When we venture into the forest, a kirtania dal (traditional troupe that play drums and other instruments during festivals in villages) also come along with us to encourage and recite the rituals and importance of Siali Uchsav," said Malati Pradhan, (45), who belongs to the same federation.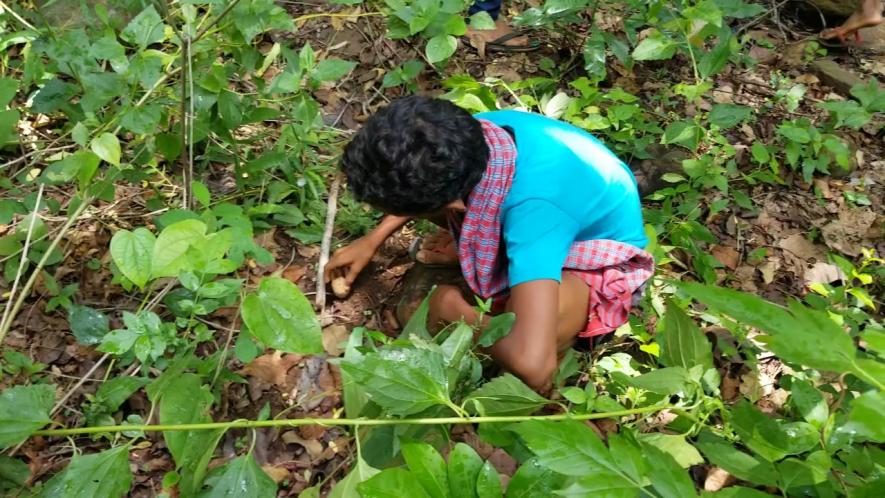 A villager is planting Siali seed ball inside the forest (Photo courtesy: Rohit Mukerji, Vasundhara)
Though every year hundreds of women from these nine gram panchayats join together to celebrate the festival, for last few years women from other districts such as Sambalpur and Kandhamal have also joined them. "The number of participants was increasing till last year, but due to fear of COVID-19 and to adhere the pandemic guidelines, we had to confine the number of participants to 20 women from the villages this time," said Bijayalaxmi.
Impact of COVID-19
The marginalised Kondh tribal and dalit women depend on Siali leaves for their livelihood. A woman stitches nearly 400 plates in a day and gets Rs 70-80 by selling 100 plates to the local traders. However, since the announcement of the lockdown the situation has completely changed.
"As all the temples and roadside small hotels and dhabas are closed, traders are not coming to our villages to purchase Siali leaf plates so we have suffered a huge loss. It has impacted our income too," said Golap. Last year, too, they were unable to sell these leaves and had suffered loss. So, this year they opted not to venture into forest to pluck Siali leaves.
"Only a few people purchased leaf plates for marriage and death ceremonies, but selling to local traders has been completely stopped for last two years. We had tried to supply to quarantine centres as we thought in those centres inmates can be served in Siali leaf plates. We approached the administration to purchase Siali leaf plates from the women's federation but that didn't work. Only a few plates were supplied. Thus, the women didn't get the profit they wanted," Biswal told NewsClick.
A couple on their way to home, after plucking Siali leaves from forest (Photo courtesy: Rakhi Ghosh)
She added further that considering the the economic situation of these women, the government should have purchased Siali leaf plates from them during lockdown. According to her, if government would have supported them they might not have suffered huge loss. These women do not have bargaining power and taking advantage of this, local traders buy Siali leaf plates at throw away prices, sometimes they don't even get profit of the labour they invest in plucking and stitching the leaves, Biswal explained.
She suggested, "If the government can support them in marketing their Siali leaf plates through ORMAS (Odisha Rural Development and Marketing Society) or OLM (Odisha Livelihood Mission), it will enhance their income and also help to minimise the use of thermocol plates which affect the environment. Only forming SHGs (Self Help Groups) cannot solve the issue, government has to look into the matter."
Protecting forests            
More than hundreds of women in Ranpur block have taken up the complete charge of protecting forests around their villages. Every morning after finishingtheir regular household chores, five-six women from different villages pick-up their sticks and venture into forests for patrolling the boundaries of forests in shifts.
"For food and livelihood we are dependent on forests, so it is our duty to protect and conserve our mother forest," said Sabitri Pradhan, (48), who belongs to the same Dengajhari village. The women, who have been patrolling these forest boundaries, till now have helped to protect over 500 acres of forest lands from smugglers and timber thieves.
"Though we have planted many Siali seeds the timber thieves have always destroyed trees by lighting fire in the forest. We are not getting the kind of support we should be getting from the forest guards. What will we do?," asked Golap, adding that in their families women members of all generations join hands in plucking and stitching Siali leaf plates.
"If the government will extend support in marketing, it will enhance our income and have a positive impact on environment," she said.
(The writer is a freelance journalist based in Odisha. The views are personal.)
Get the latest reports & analysis with people's perspective on Protests, movements & deep analytical videos, discussions of the current affairs in your Telegram app. Subscribe to NewsClick's Telegram channel & get Real-Time updates on stories, as they get published on our website.
Subscribe Newsclick On Telegram