Omicron: Ominous Outcome of Vaccine Grab
The new COVID-19 variant is the result of vaccine inequality and the race for profit by big pharma companies through patent monopoly.
The discovery of the COVID-19 variant Omicron in South Africa shows that humans cannot afford to promote the interests of one section of the population at the cost of others. The continuous evolution and mutation of SARS-CoV-2, which could lead to deadlier variants, is the result of the large unvaccinated populations in poor countries and the marginalised in rich nations.
The pursuit of profit by big pharma companies through patent monopoly and the vaccine grab by rich countries goes against the logic of experts that vaccination must be extended to all if the world intends to defeat the virus.
In his recent address at a COVID-19 information session for member states, World Health Organization (WHO) director-general Tedros Adhanom Ghebreyesus remarked that "the longer we allow the pandemic to drag on—by failing to address vaccine inequity or to implement public health and social measures in a tailored and consistent way—the more opportunity we give this virus to mutate in ways we cannot predict or prevent". 
In a statement on November 26, WHO informed that the B.1.1.529 variant (Omicron) has a large number of mutations some of which are concerning. Preliminary evidence suggests an increased risk of reinfection with this variant as compared to other variants of concern. The variant is still under study and nothing concrete is yet known about its transmissibility rate compared to other variants, like Delta, or its potential to cause more severe diseases. Epidemiological studies are still under way to assess whether the increase in the number of positive cases in South Africa are due to Omicron or other factors. 
Stark Vaccine Inequity Persists
Even after repeated appeals by the WHO, the starkly gross iniquitous distribution of COVID-19 vaccines persists. 
Figure 1 shows the proportion of population fully vaccinated populations across countries. While rich countries, like Canada, France, the United Kingdom and Germany, have managed to fully vaccinate about 70% of their populations, Africa is languishing with a meagre 7.2%. Shockingly, some African countries like Mali and Ethiopia have only 1.5% and 1.2% of their populations respectively fully vaccinated.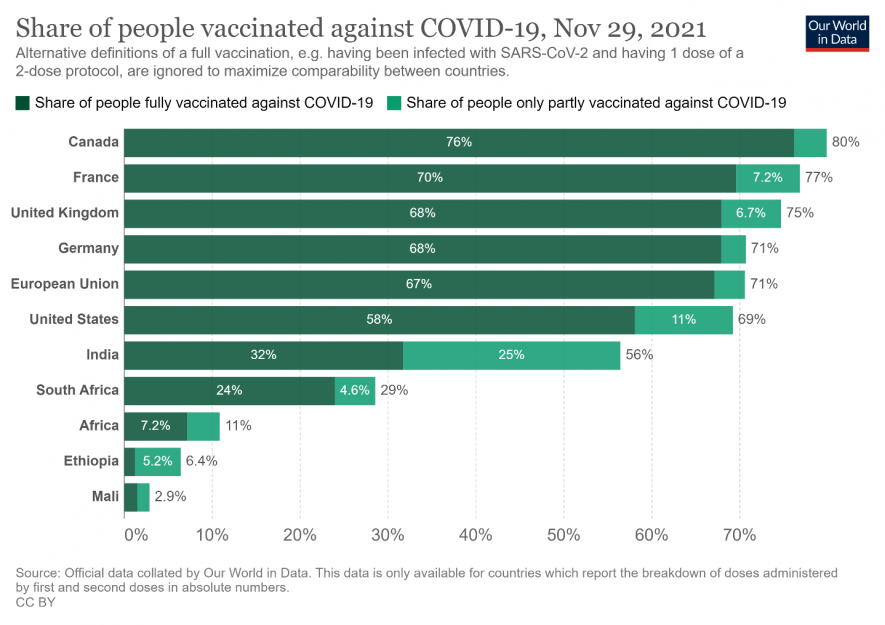 Dr Satyajit Rath, immunologist, Indian Institute of Science Education and Research, Pune, told Newsclick, "While mutations in the virus will keep arising and being selected under appropriate circumstances, the unconscionable vaccine inequity has indeed contributed to the persistence of a large size of the virus pool."
According to Rath, this is, in part, "driven by a global manufacturing shortfall and by vaccine nationalism, leading to inequitable global vaccine supply. The first is driven, in part, by for-profit considerations while the second is driven by xenophobic ideologies".
South Africa punished for omicron Discovery
Several countries have imposed travel restrictions on South Africa and countries surrounding, like Botswana, Namibia, Mozambique, Zimbabwe, Lesotho, Eswatini, Malawi, Zambia and Angola. The South African government has called these restrictions "misguided" and "draconian". "We feel that it's a wrong approach. It is misdirected and goes against the norms as advised by the WHO. We just feel that some of the leaderships of (these) countries are finding scapegoats to deal with what is a worldwide problem," South African health minister Joe Phaahla has said.
In a statement, South Africa's Department of International Relations and Cooperation said that these restrictions are "akin to punishing South Africa for its advanced genomic sequencing and the ability to detect new variants quicker. Excellent science should be applauded and not punished". 
Tedros has supported South Africa and expressed concern over the restrictions. Thanking Botswana and South Africa for rapidly detecting, sequencing and reporting Omicron, he said, "It is deeply concerning to me that those countries are now being penalised by others for doing the right thing." He also expressed concern over the "blunt, blanket measures that are not evidence-based or effective on their own and which will only worsen inequities".
Chandrakant Lahariya, an epidemiologist and public health systems expert, argues, "The reality is that there is low coverage of COVID vaccination in Africa. On the other hand, rich countries have stockpiled vaccines and started providing booster shots."
From the public health and epidemiological perspective, "as long as a virus has a human host which is susceptible and does not have protective immunity, there is a risk of the emergence of new variants and this is the risk that has been probably translated into the Omicron variant. Hence, vaccine inequity needs to be addressed before anything else. It must be noted that South Africa has a very good quality genome sequencing capacity and that is why they could detect it", Lahariya added.
The same countries have been opposing the TRIPS waiver proposal of South Africa and India, which would have helped tackle the vaccine inequity and helped to deal with the pandemic better, for more than a year.
Dr. Shahid Jameel, a leading virologist and Fellow at OCIS and Green Templeton College, University of Oxford, says, "Regions of the world that are poorly vaccinated are likely breeding grounds for newer variants. Countries without the required resources should be supported. The world needs better vaccine access and equity. It should be a wake-up call for the world, especially the developed nations."
Get the latest reports & analysis with people's perspective on Protests, movements & deep analytical videos, discussions of the current affairs in your Telegram app. Subscribe to NewsClick's Telegram channel & get Real-Time updates on stories, as they get published on our website.
Subscribe Newsclick On Telegram