On Road to Recovery, Kashmir's COVID-19 Journey is Beset with Horrors
During a burial, a dead body, as per the Muslim faith, cries for help from those who left it in the grave. But in the absence of any help, it remains held up between hope and the heavens. It is what survivors from Kashmir equate their haunting experiences to, in an indifferent world where they are left alone to fend for themselves.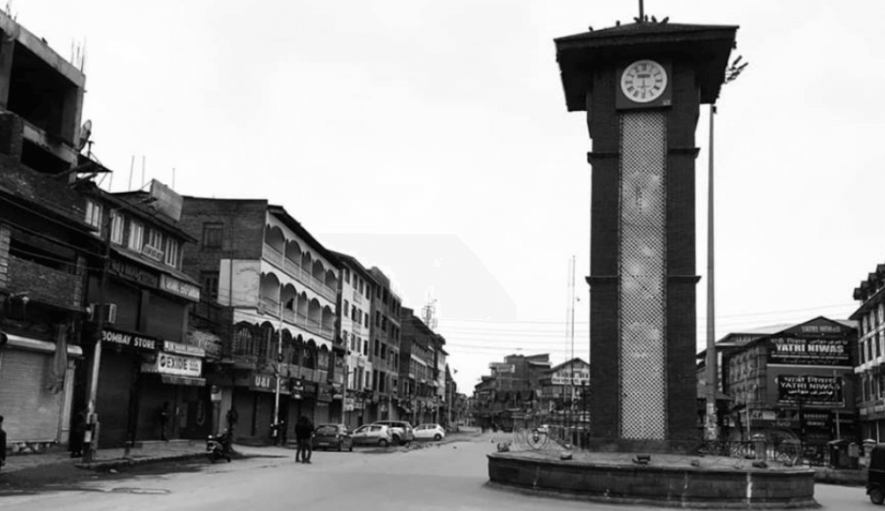 After 35 days of quarantine, when 42-year-old Nazir Ahmad returned to his family in northern Kashmir's Tangmarg, a 'ghost house' awaited him. Not a single relative or friend had turned up for an emotional reunion. On the gate of his house, he read an official notification. It said: 'No one will visit the family till they complete home quarantine.'
Nazir had left home the day his ailing father was shifted to Srinagar's Shri Maharaja Hari Singh hospital (SMHS), where he tested positive for COVID-19. He ended up becoming the second victim of the novel coronavirus in Kashmir. Shortly, as per government guidelines, the man was given a quick farewell.
"I have not witnessed such a funeral in my life," Nazir said, in a choked voice, "where only three sons stood as mourners."
Back home, Nazir's extended family had become prisoners to the pandemic in their own home. It was done to keep the virus in check. But his inconsolable mother stood in the corner of their house, crying, as she could not see her partner for the last time.
Earlier, carrying his father's body in an ambulance from Srinagar's Chest Disease Hospital to his ancestral graveyard in Tangmarg, Nazir kept wondering about his father's fatal fate, and the void his sudden departure had left behind.
"At the same time," Nazir said, recalling the most haunting hour of his life, "I put out a Facebook post: 'I know all friends and relatives must have felt bad for us and want to console, but please don't visit our home. If you will be fine, we will meet again'."
After his father's funeral, Nazir and his two brothers were taken to Baramulla District hospital for quarantine and testing. Their samples were taken on March 31. A day later, only Nazir's report came positive. The news shook him.
But since he showed no symptoms of COVID-19, he gave himself delusional hope. "I had to stay strong because my family was still in the middle of mourning when my test result devastated them," he said. "More than myself, I was worried for my four daughters," he added.
Like his father, he thought he would be leaving his family behind too.
"But while my father's funeral was attended by his three sons, my daughters would not be able to even do that," Nazir lamented, alone in his agony. The very idea of being thrown in a pit like a dead animal unsettled him.
And meanwhile, fearing more infections, Nazir's family members and relatives were put through mass testing on April 2. All of them were huddled and quarantined in the same hospital, but in different premises. They were so near, yet so far. "In the same hospital," Nazir said, "we would console and comfort each other through phone calls."
A day later, however, when he was sleeping, he had visitors in his ward. Opening his sleepy eyes, he saw his wife and seven-year-old daughter standing in front of him.
"I got up and asked my wife, 'What are you doing here?' She replied, 'We too have tested positive [for COVID-19]," he recounted.
The news sent Nazir into a daze, and when he regained his composure, he saw his wife holding his hand and his daughter looking at his face.
"I asked my wife, 'I did not hear Magrib Azaan today. Did you?' She replied, 'It's already 10:30 p.m.' I had indeed lost my senses for a long time after hearing that devastating news," he said.
Nazir recalled the night his wife consoled and supported him. "She told me, 'It's good that I am also positive. At least, we are together in this'," he said.
But Nazir knew she was broken inside.
Their two elder daughters were at his brother's place, while their younger daughter, just over two years old, was with her grandmother. They would call their mother ten times a day, Nazir said, asking her, 'Mommy, when will you come back home?'
In Baramulla District Hospital, both husband and wife were given a five-day course of medicines—Hydroxychloroquine for breakfast, Azithromycin during dinner. Their young daughter was not put on pills, given her asymptomatic condition.
But inside the hospital, Nazir clearly witnessed how he and his tribe had become the new "untouchables".
"Despite wearing protective gears," he said, "doctors would check us from at least a 20 feet distance, asking, 'Are you guys fine? In case of any symptoms, let us know'."
There was no hygiene and a proper diet for them in the hospital, he said. Medicine and food used to be kept on a table on the ground floor, which they would collect themselves. "After our daughter could not stomach the dal and chawal as her daily meal anymore, I gave money to a hospital worker to get some fruit for her," he added.
But after some time, the fruit supply stopped. The worker, Nazir said, was told by others that the money could be infected, too.
"It was too much for our daughter, who cried many times, insisting that her mother take her home," Nazir continued. "And looking out of the window, she would ask, why can't I play in the hospital lawn? Even as it was getting hard for us, we still managed to shift her focus to playing video games and watching cartoons on a mobile phone," he said.
On April 12, Nazir and his family were shifted to the Jhelum Valley Medical College (JVC) in Srinagar. They were kept in the Labour Room which was divided into three small wards. A total of eight patients were kept there.
Having already taken the five-day course of medicines in Baramulla district hospital, doctors in JVC gave the couple Limcee and Thymine to build their immunity.
"It was a different experience for us at JVC," Nazir said. "The doctors in protective gear checked us closely and even played with our daughter. We did not have to buy fruits for our daughter there, as they gave us fruits twice a day," he added. Soon, the family got much-needed relief.
Their samples taken on April 16 and April 18 were negative for COVID-19. And on April 20, they were discharged from JVC, and sent to Dhobiwan village in Kunzer for a nine-day administrative quarantine.
After the quarantine was over, it was a happy homecoming for the couple.
"It was a moment when we finally defeated the coronavirus," Nazir said. "Everything seemed impossible without the will of Almighty and our resolve to fight back," he added. He soon decided to donate his plasma.
However, his first night back home after 35 days felt the darkest for Nazir, as he kept thinking about the tormenting journey.
"COVID-19 makes a person a dead body, which cries for help from those who left it in a grave. But in absence of any help, it lies held up between hope and the heavens," he said.
As of today, official figures say that Jammu and Kashmir had reported 1,921 COVID-19 cases. Of these, the union territory officials said, 1,535 were in Kashmir, while 386 are in the Jammu region. J&K has witnessed 27 deaths due to the pandemic so far.
A Mother's Tryst
Like Nazir, Taja Banu had an agonising COVID-19 experience before her road to recovery.
The elderly woman and her husband had attended the "controversial" Tablighi Jamaat programme, first in Bangladesh from January to mid-March, and then in New Delhi's Nizamuddin on March 17.
While leaving for Bangladesh, Taja had overheard some Kashmiri passengers at New Delhi Airport talking about a disease affecting the Chinese. "They did not exactly know the name of the disease, but insisted that we avoid any contact with people from China. I did not take it seriously then," she recalled.
She got alerted when she saw a couple from Kashmir rushing home from Nizamuddin. Their anxious faces made her concerned. "So I asked the lady, 'What's the matter?' She said that there is a disease called COVID-19, which was earlier found China, and now has reached India as well."
Hearing this, Taja insisted that they should immediately go back home before the situation got any worse. The aged couple left for Jammu via train on March 20. They were stuck in Jammu for two days before they got air tickets for Srinagar.
At Srinagar Airport, authorities were already deployed to check the travel history of incoming passengers. As the couple had come from Bangladesh, they were seated in a bus and dropped off at Baramulla district hospital.
"The hospital authorities did not want to keep us there," she said. After a few hours, the couple was taken to Handwara Degree College. They spent a night in the campus, where students from different countries had been quarantined.
The next day, the couple was shifted to ITI Handwara, where they shared a room with two other couples who had also been to Nizamuddin.
The next thirteen days were "like hell" for Taja and the others.
"Nobody visited our room," she said. "No check-ups were done. No cleaning of dirty washrooms. There was no warm water at all; no proper bedding to spend the cold nights."
Doctors in PPE would call them from the lawn, she said. "They were just checking whether we were alive or not, or whether we developed any symptoms like fever, cold or cough," she added.
And then, her husband was shifted to Baramulla District Hospital, after he complained of chest pain. "They put him in quarantine, and took his sample for COVID-19 testing," said Taja.
The next day, her husband's test came back negative. Along with her four roommates at ITI Handwara, Taja was shifted to Baramulla District Hospital for tests. "We were happy we would finally be tested and allowed to go home," she said. However, despite being asymptomatic, Taja and her roommates were completely unaware that their tryst with the virus had only begun.
"The next day, my relatives called me from Handwara saying that I had tested positive," Taja recalled. "I told them, 'What rubbish! I am alright.' But they said they had seen my name in the list being circulated on the internet," she added.
As Taja was still on the phone, a health official confirmed the news. "I dropped the call at once," she recalled. "It felt as if something had fallen on my head," she added.
Taja was given a small room on the first floor of the hospital where she began her COVID-19 journey. Soon, her five children began calling and consoling her.
"I can never forget that dreadful night," Taja lamented. "That night still haunts me and will continue to haunt me till I'm alive. I couldn't sleep a wink and kept praying."
As dawn rose after the long and dark night, Taja prepared herself to fight it out.
A security guard came with the news of a bag for her. "My younger daughter called and informed me that she had sent me clothes, soaps, cleaning towels, and some food items," Taja recalled.
All her five children—two sons who live outside Kashmir and three daughters—are married. She lives alone with her husband.
"My daughter would send me food, fruits, and other items from her in-laws' home for 20 days," said Taja. Despite her concern and support, she felt terribly alone.
The only thing, she said, that kills a person before COVID-19, is loneliness.
"Nobody comes near you. Your family, friends cannot see you. Even doctors check from a distance. You feel as if you are dirt," said Taja. "And you die like an animal, with no funeral procession or a gathering. Your family cannot see you during your last moments in this world," she added.
With tears rolling down her cheeks, Taja said that her husband was discharged from the hospital without her being informed. "He left when I needed him most," she said. "That pinched me the most!"
After that day, she said, she made sure to support other patients in the hospital.
"So, I would make tea and serve it to other COVID-19 patients. We were all together, praying and supporting each other," she said.
Even as her diabetes gave her a tough time, she stood firm, "putting faith in Allah and hoping that she would get past this phase."
It was due to Taja's outspoken nature that the hospital improved its facilities for COVID-19 patients.
On the day when Taja was discharged from the hospital, she was surprised to see her elder son waiting for her. He had come all the way from Patna, where he works in the State Bank of India.
"He was not able to get any vehicle to travel to Srinagar," Taja said. "He then took a bike from Delhi, for Rs 50,000."
Taja now keeps herself busy with kitchen gardening. "Sometimes I wake up during the night and start crying when the past comes rushing back," she said. "It haunts, scares, and leaves me dripping with sweat."
Tale of Two Siblings
On March 26, there were helpless tears at Srinagar's Jawahar Lal Nehru Memorial (JLNM) hospital after two sisters—aged four and eight—were declared positive for COVID-19.
Aleeza and Sehrish of Natipora, Srinagar, had come in contact with their grandfather who had arrived from Saudi Arabia after performing Umrah, and has subsequently tested positive for COVID-19. He was on the same flight which was boarded by Kashmir's first COVID-19 patient, a 67-year-old woman from Srinagar's Khanyar area.
Their test results shocked everyone in the hospital, and the two girls started crying after sensing that something was wrong. "They wanted to be with their mother, especially the little girl," said Dr. Bilquis Shah, nodal officer, JLNM hospital, Srinagar. "Since it was the beginning of COVID-19 cases in the valley, there was much panic in the hospital," the doctor added.
Even as the girls were crying, no one could come closer and console them, fearing the virus.
It was then that Masrat, their mother, who had tested negative, stepped ahead. She was given PPE gear so that she could go close to her daughters and calm them down.
Fearing for the health of their mother in the ward full of COVID-19 cases, the hospital administration kept her and her daughters in a separate room.
But inside that room, the two asymptomatic girls would give a tough time to their mother who was standing wearing a PPE and a mask.
"They wanted to touch and hug me," the mother said. "But I would tell them that they should stay away from me, 'as I am infected' and can infect them too," she added.
Owning her daughters' disease meant spending sleepless nights while consoling them. At times, she said, she would even get into heated arguments with healthcare specialists over the treatment and facilities.
With anxiety making her numb, the constant use of masks and gloves damaged her skin.
"For me it was a do-or-die battle," Masrat said. "I had prepared myself for anything, just to ensure that my daughters were healed properly," she added.
After spending a haunting time in the room, Masrat finally got some relief on April 11, when her daughters' third test came back negative.
"And with that," she said, "I thanked my Allah and cried. It was like winning a war of emotions," she said.
On April 13, the doctors at JLMN sent off the mother and her two daughters with cheers and flowers.
Masrat could only stand, smile, and shed a tear or two from her sleep-deprived eyes. The feeling that her 18-day long nightmare had indeed come to an end had not sunk in yet.
Get the latest reports & analysis with people's perspective on Protests, movements & deep analytical videos, discussions of the current affairs in your Telegram app. Subscribe to NewsClick's Telegram channel & get Real-Time updates on stories, as they get published on our website.
Subscribe Newsclick On Telegram