Once a Peaceful State, why Madhya Pradesh is Seeing Spurt of Communal Violence
The state has recorded 479 cases of rioting in the last six months, according to Madhya Pradesh Police. Of them, over 30% of the cases are related to communal clashes.
Bhopal: Nawab Khan (65) and Manjula Bai (55) are the victims of the latest communal violences that rocked Madhya Pradesh. Sitting outside their burnt houses in Sanjay Nagar locality of Madhya Pradesh's Khargone district, they say they have never witnessed such intense religious violence and deep mistrust between Hindus and Muslims.
Unlike other northern states, Madhya Pradesh does not have a long and bloody history of religious violence post independence. However, the situation has been changing over the years.
Nawab and Manjula who lived across the street in Sanjay Nagar locality for decades, were attacked by the rioters on April 10 after a clash broke out during a Ram Navami procession. Their houses were set on fire just like during riots in 1992 and 2015 that occurred in Khargone. But the distrust and bitterness that occurred with this riot has cost their bonhomie.
Often referred as Shanti Ka Tapu (Island of Peace) by Chief Minister Shivraj Singh Chouhan, the state has recorded 479 cases of rioting (section 147 of the IPC) in the last six months according to Madhya Pradesh Police. Of them, over 30% of the cases are related to communal clashes.
An in-depth investigation of these clashes reveals a modus operandi of the riot; provocation, inaction of police, involvement of right-wing groups followed by one-sided action of the district administration after the violence. The recent wave of communal incidents occurred in MP point towards the electoral mathematics of Malwa and Nimar regions.
Malwa and Nimar fall on the western and southwestern parts of Madhya Pradesh bordering Rajasthan, Maharashtra and Gujarat, and comprising 15 districts with 66 assembly and eight parliamentary seats. It has a sizable Muslim population from total 6.7 % as per the 2011 census and have recorded the highest number of confrontations between the two communities last year. Most importantly, it is the road to electoral power in Madhya Pradesh.
Since 1990, when BJP first came to power in Madhya Pradesh, both Malwa and Nimar regions became its invincible fortress. But the fortress fell in the 2018 Assembly elections after Congress won 35 seats of total 66 against its rival BJP with 28 seats and three Independents. Before 2018, the saffron party was sweeping this region with 56 seats in 2013, 41 in 2008, and 51 in 2003. Nonetheless, despite the electoral debacle in 2018, the BJP won all the eight parliamentary constituencies in 2019. The saffron party has been winning these seats since 2013.
To be specific, in tribal-dominated Khargone and Barwani districts, which have been on the boil since last year, have 10 assembly seats including seven reserved. The saffron party, which had been securing six-seven seats before the 2018 elections, was swept by the Congress with eight seats. In Khargone, the Congress won five out of six seats and the remaining one seat won by a Congress's rebel. In Barwani, which has four assembly seats, BJP managed to win only one.
"Losing nine out of 10 seats in 2018 Assembly elections took BJP by surprise and majority of them are reserved seats," said Madhuri Krishnaswamy, a tribal rights activist working in Nimar regions for over two decades. "After the BJP returned to power in March 2020 toppling the short-lived Kamal Nath government, the cases of confrontation and turmoil surged in the region without any major developments," she claimed.
The opposition Congress too blamed the BJP for fuelling the riot for political gain. Speaking to the workers after the Khargone clash, sitting Congress MLA from Khargone Assembly seat, Ravi Joshi blamed Shivraj Singh Chouhan and the BJP for the riots. "The BJP and the chief minister can't digest the crushing defeat they have faced in 2018. After failing on all fronts, now they are fuelling riots to polarise voters ahead of civic polls this year and assembly elections next year," he said.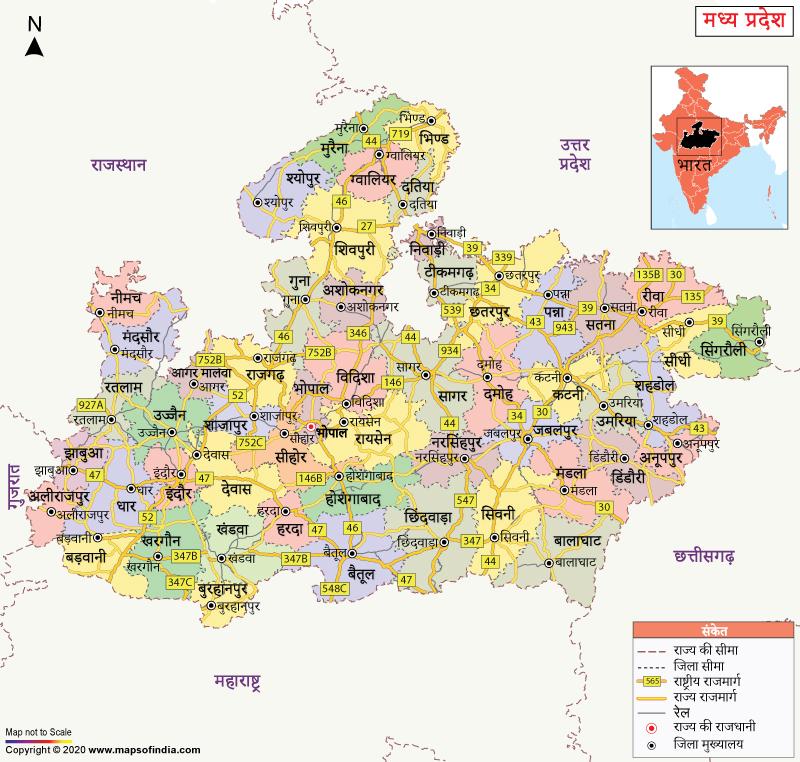 Challenging Shivraj, he said, "I challenge chief minister Chouhan to come and fight the election from Khargone but he will not win. Shivarj believes that he can defeat Congress and Ravi Joshi by fuelling riots. The voters have understood that the BJP has devised the recent clashes."
Recent Clashes in Malwa and Nimar Regions
In Nimar's Burhanpur district, police arrested kin of a BJP leader on May 2. The person was allegedly trying to fuel communal violence on the eve of Eid-Ul-Fitr. It happened when Khargone, over 140-km from Burhanpur, was under strict curfew after a clash broke out on Ram Navami on April 10, leaving one dead and almost four dozen properties belonging to Muslims razed.
More than 60-km away, the violence was repeated in Sendhwa city, a block in Barwani district. A day after the clash, houses of 13 Muslims were razed by the district administration terming it "illegal".
"In a bid to carry out religious activities in Khargone, members of the Hindu right-wing group and the BJP men formed Gau Raksha Samiti in 2019 after the BJP lost all seats in the area. Interestingly, the clash which broke out on April 10 during Ram Navami procession was carried out by the newly formed Samiti," said Manoj Raghuwansh, a social worker from Khargone.
In Malwa's Neemuch, a group of right-wing men placed a statue of a Hindu deity on a century-old shrine, and then allegedly set a mosque on fire and pelted stones in Muslim colonies, forcing the district authorities to impose curfew. On October 3 last year, a shrine located on the outskirts of Neemuch district was attacked with explosives. Over 140-km from Neemuch, Dhar district witnessed close to half a dozen clashes in the last couple of months during the religious processions.
The situation deteriorated further after the Indore High Court admitted a PIL by a Hindu outfit to stop Muslims from performing Namaz on Friday on an 11th century disputed site -- Bhojshala in Dhar. Around 90-km from Dhar, Ratlam district has witnessed numerous clashes over Azaan, playing provocative songs outside the mosques and other factors.
Similarly, between December 2020 and April 2021, the Malwa region witnessed a spurt of communal incidents and the law enforcement agencies recorded over 12 communal incidents in the region. It happened during the Ram Temple donation collection drive in which Muslims were instigated at many places.
Not only Muslims, in tribal dominated Jhabua and Alirajpur districts of Malwa, which has a sizeable converted tribal population, have witnessed cases of atrocities and harassment allegedly by the right-wing groups in the garb of stopping conversion. Nonetheless, the incidents saw a steep decline after a missionary school in Ganj Basoda locality of Vidisha district was attacked purportedly by Bajrang Dal and Vishwa Hindu Parishad men on December 7 last year under the suspicion of conversion, which grabbed international attention. The attacks stopped after the government drew flak over the issue.
From an electoral point of view, Congress dominates four out of five assembly seats of Jhabua and Alirajpur making an eyesore for the BJP. Congress won all five seats in 2018 elections but lost one in 2020 by-polls after a sitting Congress MLA died. In a bid to win these seats and to keep converted tribals on check, the BJP has been running tribal outreach programmes with extensive push on "Delisting Campaigns". Under this drive, BJP's Member of Parliament from Jhabua, Guman Singh Damor has been holding rallies in the tribal districts urging the government and tribal voters to support a bill to strip down the special status of converted tribals given by the constitution to Schedule tribes.
Critics say that, rather than defuse the tension, Shivraj Singh Chouhan's Hindu nationalist Bharatiya Janata party has tacitly enabled hardline Hindu groups while cracking down on Muslim properties after the clash.
"Most communal incidents have a basis in the politics of the day and are perpetuated keeping political gains in mind," said Vineet Tiwari, national secretary, All India Progressive Writers Association, and a former journalist.
Almost 15-day after the Khargone violence, a fact-finding team comprising representatives of eight political parties visited the area on April 25 and blamed the BJP government and district administration for not only fuelling the riot but also targeting a particular community after it.
The fact-finding team has alleged that the officials holding constitutional posts are breaking every law in the rulebook. They allowed a rally without permission despite the input of a clash by intelligence. The rally that should have left Talab Chowk Masjid Square at around 3 pm stayed there till 5 pm and provocative songs were playing in front of the mosque, the report says.
"As the lockdown has been lifted, people have begun to question the failures of the government through small movements or protests. Since Madhya Pradesh has been under the BJP rule for close to two decades and they have failed on many fronts; the government is using communal riots to keep people busy and not question the administration," said Jaswinder Singh, state secretary of the Communist Party of India (Marxist) who headed the fact-finding team in Khargone.
He further said, "India has a long and bloody history of religious violence. But now confrontations are taking place with greater frequency." One clash is triggering clashes in another place and the frequency of the skirmishes points to the deep "loss of trust between Hindus and Muslims," he added.
Indore-based journalist Javed Alam pointed out, "After losing the 2018 Assembly elections, the BJP and Shivaraj Singh Chouhan realised that the party can't win without religious polarisation. As a result, the state is on the boil post-Covid, which was peaceful despite the BJP rule."
Get the latest reports & analysis with people's perspective on Protests, movements & deep analytical videos, discussions of the current affairs in your Telegram app. Subscribe to NewsClick's Telegram channel & get Real-Time updates on stories, as they get published on our website.
Subscribe Newsclick On Telegram