One out of 10 SARS-CoV-2-Infected People Suffers Long COVID: Study
Long COVID symptoms may include severe fatigue, brain impairment as well as nervous system dysfunction, nausea and shortness of breath.
One out of every 10 (or 10%) people infected with COVID-19 will end up with 'long COVID', according to a recent study published in the journal Nature Review Microbiology. It means that 65 million people worldwide have already suffered from long COVID.
Long COVID consists of multiple conditions often comprising of severe symptoms following an infection by SARS-CoV-2, the coronavirus that causes COVID-19. These symptoms persist for more than 12 weeks after the initial infection.
Long COVID symptoms may include severe fatigue, brain impairment as well as nervous system dysfunction, nausea and shortness of breath. The respiratory, gastrointestinal, urinary, endocrine and reproductive systems are found to be impacted from Long COVOD. The study suggests that women between 30 and 55 are particularly at risk.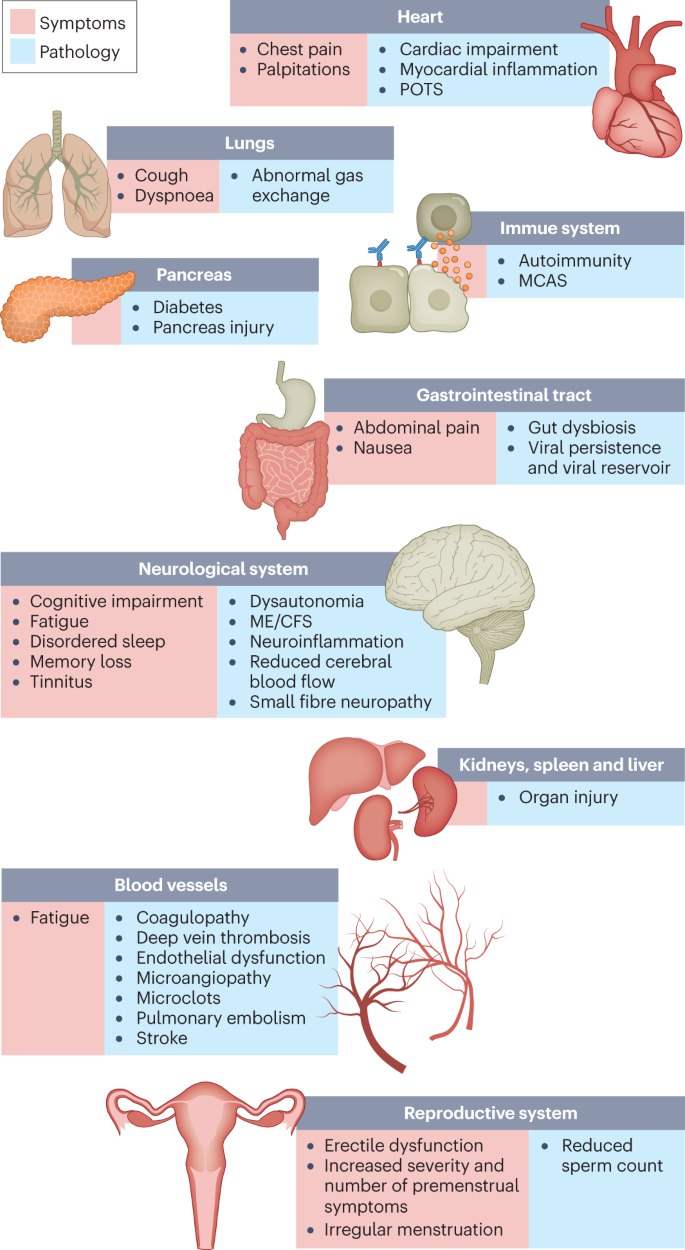 Image taken from the Nature Paper: Long COVID: major findings, mechanisms and recommendations. Presented by Davis et al.
The study was based upon 200 already published peer-reviewed studies on long COVID and conducted by a US-based research team. A portion of the people having suffered long COVID may have lifelong disabilities if early treatment and diagnosis are not done, the study shows.
The researchers of the study suggest that there are many significant similarities between Long COVID conditions and some other chronic health conditions. These include ME/CFS, or myalgic encephalomyelitis/chronic fatigue syndrome. ME/CFS has wide-ranging symptoms lasting for long time.
The most common symptom in this condition is extreme tiredness all the time so that one cannot even perform daily activities. Other than ME/CFS, dysautonomia is also common in Long COVID. Dysautonomia is related to the autonomic nervous system, which regulates involuntary physiologic processes such as heart rate, blood pressure, respiration, digestion along with sexual arousal.
The National Institute of Neurological Disorders and Stroke of NIH (National Institute of Health), USA, defines dysautonomia as "hallmarks of generalised dysautonomia due to sympathetic failure are impotence and a fall in blood pressure during standing (orthostatic hypotension). Excessive sympathetic activity can present as hypertension or a rapid pulse rate".
Reportedly, three of the authors of the study had experienced long COVID themselves. The other author of the study is cardiologist Eric Topol, from the Scripps Research Translational Institute, Scripps Research, La Jolla, USA. "We need a comprehensive long COVID research agenda that builds on the existing knowledge from ME/CFS, dysautonomia and other viral-onset conditions," the authors wrote. "Robust clinical trials must be a priority moving forward as patients currently have few treatment options."
Another important aspect that the study authors highlighted is that in Long COVID conditions, people often display an exhausted, or reduced levels of T cells, which are specialised cells belonging to the immune system and play a vital role in fighting off infection. 
The study authors also advocate for a communication campaign that can inform the public about the long COVID symptoms and their outcomes in order to get proper and timely medical consultation.
Get the latest reports & analysis with people's perspective on Protests, movements & deep analytical videos, discussions of the current affairs in your Telegram app. Subscribe to NewsClick's Telegram channel & get Real-Time updates on stories, as they get published on our website.
Subscribe Newsclick On Telegram