PM Modi to Celebrate Narmada Mahotsav as Villages Continue to Submerge in the River
Homes of more than 2.5 lakh people, living in 192 villages of Madhya Pradesh and 175 villages of Gujarat have submerged into the Narmada or will face submergence.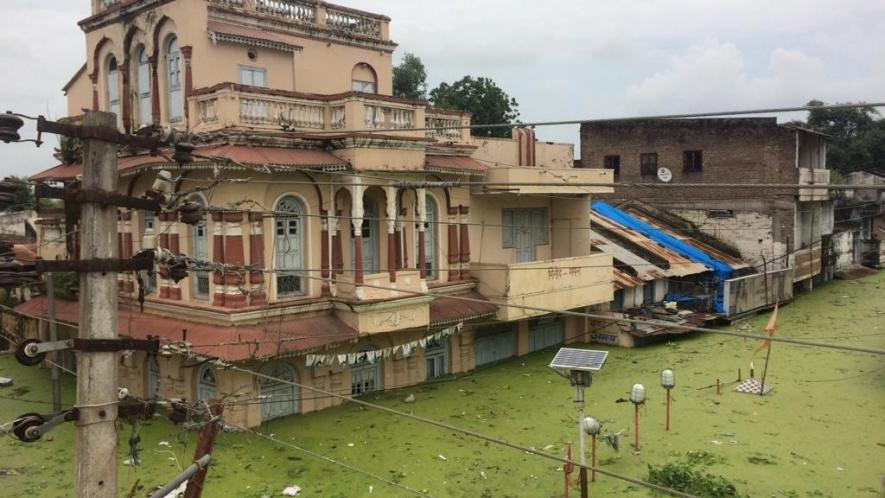 Badwani/ Dhar: The Sardar Sarovar Dam (SSD) at Kevadiya (Gujarat) achieved its full reservoir level (FRL) of 138.68 metres on September 14 at 6:35 pm for the first time in the history, said an official of Sardar Sarovar Narmada Nigam Limited (SSNNL).
PM Modi, who had inaugurated the dam on his 67th birthday (September 17, 2017), will celebrate his 69th birthday by participating in a celebration event called 'Namami Narmade Mahotsava' – commencing after filling of the dam.
"Sardar Sarovar Dam has achieved its full reservoir level of 138.68 metre on Sunday evening for the first time. To celebrate it, Prime Minister Narendra Modi and CM Vijay Rupani will visit the dam," said SSNNL Managing Director Rajiv Gupta.
On the other hand, homes of more than 2.5 lakh people, living in 192 villages – including a town Dharampuri of Dhar – in Badwani, Alirajpur and Khargone districts of Madhya Pradesh and 175 villages in Bharuch, Narmada and Vadodara districts of Gujarat have submerged into the Narmada or are facing submergence.
"They are celebrating filling of the dam and call it a development, while lakhs of people have become homeless in Madhya Pradesh and Gujarat. They have lost their homes, lands, crops, families, even, domestic animals," said convenor of Narmada Bachao Andolan, (NBA) Medha Patkar.
"Prime Minister Modi talks about 'Sabka Sath, Sabka Vikas (holistic development for everyone)' , but, today, lakhs of people have become homeless and the PM is celebrating. It doesn't suit the PM of a democratic country," said Patkar.
The NBA members claim that the rehabilitation of more than 30,000 families from Madhya Pradesh is overdue, but the administration is evacuating the villagers without any commitment.
Besides, the villages which had not appeared in the evacuation survey or whose names were removed from the primary list have also submerged or will be facing submergence, said an NBA worker, Rahmat.
In 2014, the height of Sardar Sarovar Dam was raised from 121.92 metre to 138.68 metre on the instructions of Narmada Control Authority (NCA). With length of 1.2 kilometre and depth of 163 metres, the project is supposed to be one of the largest dams in the world.
The district administration and rescue teams are evacuating villages alongside the Narmada and are shifting them to 10 sheds. In some villages like Ekalbara and nearby villages of Dhar district, tremors of earthquakes were reported.
According to SSNNL, the dam's reservoir received water (at the rate of) 6.45 lakh cusec while the water was released (at the rate of) 5.81 lakh cusec.
According to the official records, the dam aims to provide drinking water to 131 urban centres and 9,633 villages (53 % of total 18, 144 villages in Gujarat) and irrigation facilities for 18.54 hectares of land, covering 3,112 villages in 15 districts.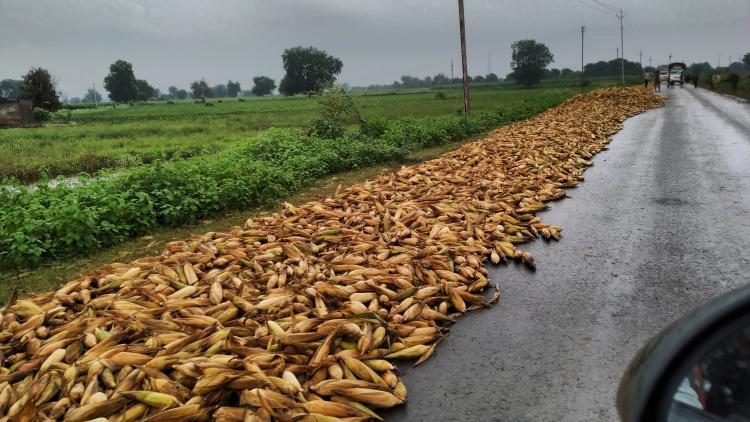 But, the residents of the villages of Madhya Pradesh, who have lost their homes to the human-made flood, criticise PM Modi. "He made us homeless and drowned our homes and now we are leading a pathetic life," said 62-year-old Radhe Shyam Kewat from Rajghat Kukra village.
While another resident of Khaperkheda village, which is about to submerge in Narmada water, Deoram, said, "Modi is drowning us because he wants to supply water to Gujarat. He is only thinking about Gujarat ka vikas aur hamara kar diya satyanash (development for Gujarat, destruction for us). His slogan 'sab ka sath sab ka vikas' is a lie."
Rahul Yadav, who is also associated with the NBA, said, "We are giving water to Gujarat, losing our thousands of hectares of forest; [we are] shutting away fishery business, and it's us who are drowning."
Ground reality of Madhya Pradesh's affected districts
Villages of four districts – Dhar, Badwani, Alirajpur and Khargone alongside the Narmada river in Madhya Pradesh – have been affected owing to the rise in the water level.
In a 1993 survey, the MP state government had identified 54,000 families of the state for rehabilitation, whose homes or villages were likely to submerge, if the dam were to be filled.
In following years, 5,500 families (most of them being farmers) have been shifted to Gujarat in a bid to rehabilitate them, however, a year after, they returned to their native homes because the land they had been offered was sandy and wasn't suitable for irrigation.
Later, the state government conducted a survey and the committee removed names of 15,946 families from the backwater submergence list. Today, however, water has entered many of these villages.
In 2005, Narmada Valley Development Authority conducted a survey and identified 38,000 families. According to NBA activists Rahul Yadav, only 12,000-13,000 families were rehabilitated, even as about 54,000 families should have been identified as 'eligible for rehabilitation'.
The BJP-ruled MP government had announced a package of Rs 5.80 lakh for homes. In 2017, the Supreme Court asked the state government to give Rs 60 lakh as compensation to those who owned agriculture land and figured in the survey. Besides, Rs 15 lakh compensation was to be given to those whose documentation was incomplete.
Barwani
As many as 65 villages from the Barwani district have made it to the evacuation survey and more than 40 have submerged in the water. Rest of the villages will submerge if the water level rises by even half a metre.
District administration has set up five camps in Barwani with a capacity of 300 each for those who have been evacuated. Besides, the administration has booked Dharamshalas to accommodate the evacuated villagers, while some are living on rental homes.
Homes of the 500 families, which were removed from the Backwater level survey list, have now drowned.
Rehabilitation of more than 1,000 families is overdue.
Dhar
As many as 76 villages including a town Dharampuri are included in the survey. Most of the villages along the Narmada have drowned, and residents of these villages have been sent to tin sheds.
Rehabilitation of more than 1000 families are overdue.
Alirajpur
Alirajpur is a tribal-dominated district and all 26 villages, which were listed under the survey and alongside the Narmada have submerged into water. More than 1,000 tribal families had been living in these villages.
The MP government had shifted all the families from this village to Gujarat, but most of them had returned because it was a deserted place with no facilities of drinking water, farming, schools, etc.
Ironically, the administration hasn't set up any rehabilitation camp for these villages and they are forced to live in the slums of the cities.
Also read: Maha Govt's Apathy: 6 of 8 Submerged Villages Unrecognised
Get the latest reports & analysis with people's perspective on Protests, movements & deep analytical videos, discussions of the current affairs in your Telegram app. Subscribe to NewsClick's Telegram channel & get Real-Time updates on stories, as they get published on our website.
Subscribe Newsclick On Telegram