Paddy Prices Have Crashed Below MSP in Many States
This is because the new farm laws have already paralysed mandis and traders are buying up paddy at lower prices.
Even as farmer protests against the three new farm laws entered the 17th day, information available for mandis (wholesale markets) shows that a large proportion of this year's paddy crop is being bought from farmers at much below the government declared Minimum Support Price (MSP). This could be attributed to the looming prospect of effective scrapping of MSP and freedom now available to traders to buy at whatever prices they want.
According to daily data available on the online portal AgMarknet run by the agriculture ministry, paddy has been bought by traders for prices ranging from as low as Rs.1,150 per quintal to Rs. 1,868, which is this year's MSP for common paddy. Data was available for 292 grain mandis across 15 states. The kharif marketing season starts in October each year and paddy arrivals in mandis goes on for three months, as regions where harvesting is done later, come to markets later.
As the table below shows, some of the major states where a significant proportion of the paddy crop was sold below MSP were Uttar Pradesh (47% crop sold below MSP), Gujarat (83%), Karnataka (63%), and Telangana (60%). In Tamil Nadu, the total amount of paddy sold has not been completely estimated, at least on this portal.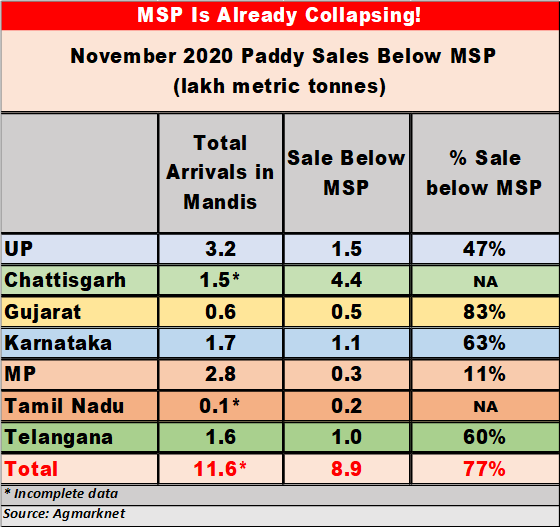 Notably, the biggest paddy producing states, like Punjab, Haryana, West Bengal, do not show much divergence below the MSP. Data available from Chhattisgarh, which has emerged as a major producer in the past decade, however, showed that 4.4 lakh tonnes of paddy was sold below MSP – an enormous quantity. The estimate of total sale in mandis is only partially available so the low-rated paddy cannot be estimated as a share of the total. In Madhya Pradesh, 11% of the produce was sold below MSP.
Worse conditions prevail for other kharif crops that have their own MSPs – jowar, maize, soyabean, arhar (tur), moong, black gram and groundnut. In all these crops, a significant proportion was being sold below MSP.
Reasons Behind Falling Prices
Although every year a significant proportion of produce is sold below MSP, this year's share is believed to be much more. Remember, that this is sales recorded in mandis. Outside sales made by farmers to traders or agents of companies are separate and constitute a very big share by themselves.
In many cases, traders buy at low prices from farmers outside the mandis and then sell it at MSP to the official procurement agencies in mandis. This happens because the smaller farmers – making up the bulk of farmers – do not have the wherewithal to transport the grain to mandis, or they may have taken advances from traders on the understanding that the produce will be sold to them at a fixed price after harvest.
But why this year's fall in prices? The main reason appears to be the uncertainty and fear among farmers that the whole protective system of MSP and procurement by government agencies is on the brink of collapse and the new laws may lead to even further fall in prices.
Reports from many states suggest that Agricultural Produce Market Committee (APMC) -run mandis are either closing down or flagging. In MP for example, as a Newsclick exclusive report revealed, "out of 269 mandis in the state, 47 reported zero business in October while 143 have recorded a massive drop of between 50% to 60% in business between June and October".
Read Also: New Laws Paralyse 70% of MP's Mandis in Six Months
The reason behind this is the three new laws. These laws were first promulgated as ordinances in June this year and later passed in Parliament in September. The APMC-related law allows traders to buy any produce (including those with declared MSPs) outside mandis at any price that is settled between them and the farmers. In fact, it even proposes setting up of private mandis, to be run solely by and for traders, as a parallel to the government-run APMCs. This has led to fears that the APMCs will be closed down since traders will not have to pay any tax for 'outside' trade and they may entice farmers initially with better prices, or offer to pick up produce from farm gates, thus undercutting government procurement.
In many states, the very traders who were earlier procuring grain in order to sell to the government are moving more heavily towards outside buying and then trading in their purchased stocks. One of the new laws, in fact, allows unlimited stocks to be built up and the prospect of speculative trading also cannot be ruled out.
Government Procurement
Meanwhile the government has put out data to show that this year's kharif procurement is going on "smoothly" and that already, 22.5% more procurement has taken place compared with last year. How is that happening? It seems that traders are making a killing by buying grain at lower prices from farmers and selling it to government agencies like the Food Corporation of India (FCI) or other state-level procurement agencies, at the higher price which is the MSP. Only this can explain the fact that while a substantial share of farmers are getting lower-than-MSP prices, government procurement is still running smoothly and they are paying out MSP.
In this way, the new laws are ensuring that traders make good profits while farmers will have to be satisfied with lower prices. Small wonder then that farmers across the country are up in arms and want these new laws scrapped and also want a statutory guarantee for getting MSP for their produce.
Get the latest reports & analysis with people's perspective on Protests, movements & deep analytical videos, discussions of the current affairs in your Telegram app. Subscribe to NewsClick's Telegram channel & get Real-Time updates on stories, as they get published on our website.
Subscribe Newsclick On Telegram