Pandemic Is Good! Top Companies Show Record Profits
Meanwhile, workers, farmers and small businesses are reeling under a deadly economic crisis
Representational use only.
In the third quarter of 2020, top Indian companies garnered record profits amounting to a staggering Rs 1.33 lakh crore, the highest ever in any quarter, according to latest data available with the Centre for Monitoring Indian Economy (CMIE). This is despite their incomes declining due to the pandemic and the accompanying lockdown over the first half of this year.
According to CMIE, the incomes of these companies declined by 27% in the quarter end June 2020, and partial data for the September quarter also shows a dip in income of about 6%. Yet, their profits have zoomed up. The data is for 1,897 companies listed in the Bombay Stock Exchange (BSE). [See chart below]
This is happening because the big companies have slashed their expenditures. They have retrenched workers or converted them to low paid contract work, thus making a big saving on their spending. They have also reduced their other expenses on raw materials, utilities and storage. All this put together has helped maintain their profit margin.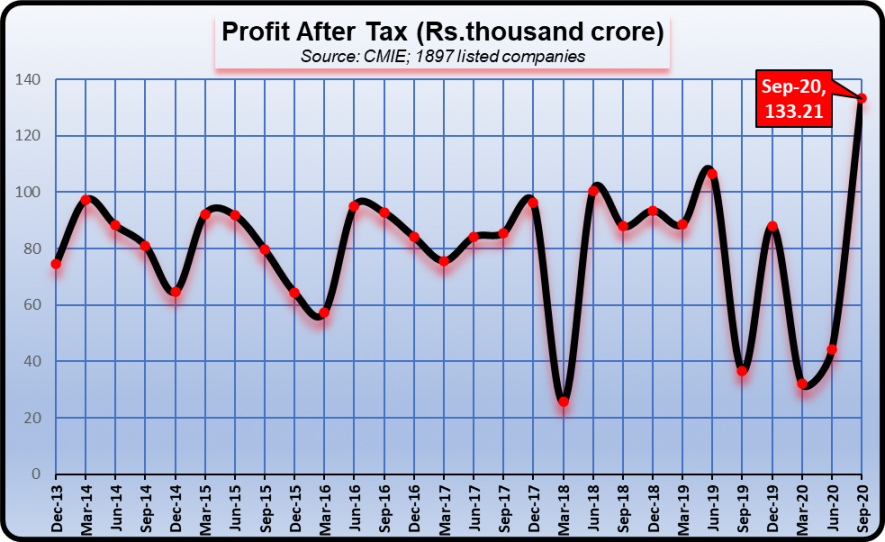 Note that these companies have been making profit throughout the past six years, with some seasonal ups and downs. They made a profit of Rs 44.1 thousand crore in the June 2020 quarter and Rs 32 thousand crore in the March 2020 quarter. In the past four quarters, the average profit of these companies was a healthy Rs 50.2 thousand crore. Recall that this is the period when the Indian economy started its downslide with much gnashing of teeth and hand wringing among the corporate czars about the sorry state of affairs. If these profits are anything to go by, all that sound and fury was only for missing out on making more profits, not for losses.
It was the workers of these companies, and the common people who were paying the cost of the downturn – through unemployment, reduced wages, restricted government funding of welfare programmes, and finally by reduced family spending on consumption. This of course led to an exacerbation of the crisis, because demand continued to spiral downwards, the government refused to intervene with increased spending and the economy sank. But as the CMIE data starkly shows, the big industrialists and business people sailed through all this with increased wealth.
Globally, The Rich Are Thriving
India is not the only country where the top echelon of the economy – often described as the one-percenters – are doing well and raking in profits at a time when global GDP has sunk, many countries are in recession and the pandemic is still raging unbridled. 
According to a report by the Swiss bank UBS, between April and July this year when the pandemic was ravaging the world, billionaires' wealth increased by 27.5% to reach a record $10.2 trillion. The number of billionaires increased to a new high of 2,189 in this period. The UBS analysis said that these mega-rich persons had gained by gambling on stock markets which had plummeted during the pandemic.
Also read: Sacked -- 50 lakh Industrial Workers, 62 Lakh Professional Employees
Writing in NewsClick, economist Prabhat Patnaik had analysed this phenomenon as being part of a process called centralisation of capital. Every crisis, whether political or economic or indeed health-related, leads to the wealthy becoming wealthier, Patnaik explained, saying:
"In fact, it is inevitable under capitalism that every human tragedy which unleashes a crisis in this system becomes an occasion for an increase in wealth concentration through the mechanism just outlined."
According to a report by UBS and the global accounting firm PricewaterhouseCoopers (PwC), the net worth of Indian billionaires increased by 35% to reach a staggering $423 billion between April and July, the months when the country went through a severe lockdown that ruined the lives of millions, and failed to control the pandemic to boot.
It is often argued, including by Prime Minister Modi, that top business people and corporate honchos are "wealth creators", and that their enterprise and ingenuity helps everybody, as the benefits trickle down to poor people. This is patently untrue.
As per an Oxfam report, India's richest 1% of population owns nearly 43% of the country's wealth while the bottom 50% has only 2.8% of the share. It points out that "73% of the wealth generated in 2017 went to the richest 1%, while 67 million Indians who comprise the poorest half of the population saw only a 1% increase in their wealth". Clearly, wealth is going disproportionately towards the wealthier sections.
Unbearable Burden on Working People
All over the world, the past months of pandemic and related lockdowns of various intensities have devastated the lives of common working people. In India, this was dramatically exhibited in the mass return of hapless migrant workers to their homes in distant villages as incomes and jobs vanished in April and May this year after the heartless and ill-conceived lockdown announced on the night of March 24.
According to a report by the International Labour Organisation (ILO), working hours declined by 5.6% in the first quarter of this year, followed by a decline of 17.3% in the second quarter which continued in the third quarter with a 12.1% loss. These are compared to average hours worked in 2019. In all, over the three quarters, workers lost 11.7% of working hours in nine months – a chillingly brutal blow to their incomes and living standards. In the South Asia region, which is mainly India, the working hour losses in the three quarters were 3.1%, 27.3% and 18.2%, respectively.
Converting this working hour loss to wages lost gives a truer picture of this savage devastation. While the world average for income loss is 10.7% for the three quarters combined, in South Asia (mainly India) the income loss was as high as 16.2% for three quarters.
These figures should be compared to the picture given previously of how much billionaires' wealth has increased in the world, and how much have Indian companies profited from the pandemic.
Various small surveys in India have also validated this by showing that workers lost up to 60% of their incomes in the 2-3 months of complete lockdown.
It is because of this extreme contradiction between the wealthy and their trajectory on the one hand, and the poor suffering even more misery and exploitation on the other, that has led to sustained protests, agitations and strike actions, across the world, and in India too.
Continuing the protests started in April this year, under stringent lockdown conditions, a joint platform of trade unions has called for a general strike on November 26 to demand reversal of rich-friendly policies in India. It is being supported by a two-day protest call by an umbrella platform of over 200 farmers' organisations.
Also read: Unemployment Ravages Indian Economy But Resistance Mounts
Get the latest reports & analysis with people's perspective on Protests, movements & deep analytical videos, discussions of the current affairs in your Telegram app. Subscribe to NewsClick's Telegram channel & get Real-Time updates on stories, as they get published on our website.
Subscribe Newsclick On Telegram