Pandemic Rages On, But is Modi Govt Prepared for Future?
Procuring vaccines and arranging mass vaccination is a task that needs preparation right now.
Clearly, the Narendra Modi government has been unable to control the spread of COVID-19 in India. The cumulative number of confirmed cases crossed 40 lakh (4 million) on September 4, just short of Brazil which has the second highest cases in the world after the US.
Meanwhile, the number of active cases touched 8.46 lakh, the second highest in the world. Over 2.6 lakh active cases were added in the preceding month. [See chart below] The rise in active cases is accelerating. Soon, the already burdened healthcare system, especially in smaller towns and rural areas, will be under immense strain.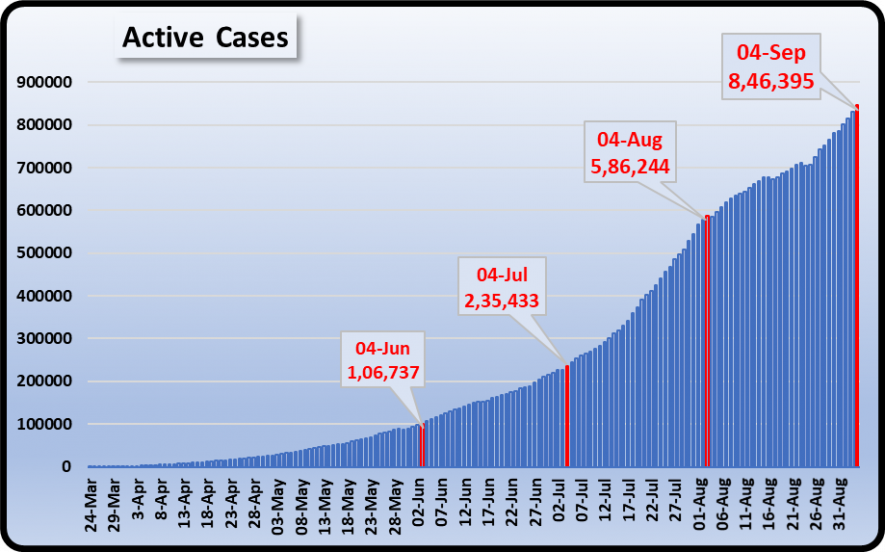 This represents the tragic failure of the Bharatiya Janata Party-led government in controlling the spread and also its neglect of the decrepit, urban-centric healthcare system. Despite months of forewarning, no substantive preparation was done to ramp up healthcare facilities adequately. Even now, there is over-emphasis on testing (without tracing and isolation) at the cost of prevention.
But there is another failure looming large on the horizon if the government doesn't get its act together. And this one will not be easily explained away as "an Act of God', as the Finance Minister recently said. As and when it becomes available, it is the government's responsibility to ensure effective and fair use of the COVID-19 vaccine(s) so that Indians are protected from the deadly virus.
Procurement During Global Scramble
There is a global scramble going on over booking up vaccines that are in the pipeline. According to an analysis in the magazine, Nature, US has already booked 800 million (80 crore) doses of six vaccines in development, and has secured options for buying up a billion more doses. The UK has purchased 340 million (34 crore) doses, which is about five times its population. The European Union and Japan, too, have booked hundreds of millions of doses.
All these deals are secretive, with prices and schedules not revealed. The vaccine manufacturing companies have announced very ambitious targets for doses to be available by end of 2021. For example, Oxford/AstraZeneca has said it will produce 2.94 billion doses, out of which 2.4 billion are already booked. Novavax says it will make 1.35 billion doses, of which 160 million are booked; Moderna will make 0.95 billion, of which 104.5 billion are booked, and so on.
There are several things to watch out for: these are 2021-end targets, so there is some time left, but the pandemic has already destroyed much; some of these vaccines may not turn out to be very effective; many of them are two-dose vaccines and, hence, many more doses will be required.
The grimmest factor to be reckoned with is the cost of these vaccines. It has been reported that the US has paid $4 per dose to Oxford/AstraZeneca and as much as $25 per dose to Moderna! For a country like India, which has been procuring vaccines for as low as Rs.60 per dose (less than $1), these costs are prohibitive.
This means that India will have to depend on the mercy of multilateral arrangements like GAVI (Global Alliance Vaccine Initiative), which is funded by the richer countries and ensures that Big Pharma supplies the vaccines.
What About Indian Vaccine Makers?
Vaccine availability could, perhaps, be eased if it was made in India. The Serum Institute of India, referred to as the world's largest vaccine manufacturer, will be manufacturing one billion doses of the Oxford/AstraZeneca vaccine, says a report. The institute has said that it will keep aside half of this for use in India.
The vaccine would be priced at about $3 per dose, that is, Rs.225 per dose. It has, in fact, already manufactured two million doses in advance, anticipating regulatory clearance of the Oxford vaccine, although its efficacy and other parameters are yet to be determined.
Besides this, a slew of local manufacturers in the fray: Bharat Biotech (Hyderabad ); Zydus Cadila (Ahmedabad); Biologicals E (Hyderabad) in partnership with Belgian company Janssen Pharmaceutica and also with Baylor College of Medicine in Houston; and Indian Immunologicals (Hyderabad) working with Griffith University in Brisbane. These companies are in various preliminary stages of vaccine development, and their capacities are unclear.
Even if most of these succeed in their development, it will be at least mid-2021 and in any case, the number of doses would be far lower than needed.
Even if in the first round, only frontline healthcare workers, elderly and those with other diseases are targeted for vaccination, the numbers are mind-boggling. An estimate made by Gagandeep Kang of CMC, Vellore, and quoted by Nature puts this first priority number at 30% of Indian population, that is, 400 million.
Preparation for Mass Vaccination
Which brings us to the most worrying aspect of the vaccine situation for India: how to get such a large number of people vaccinated. Remember that vaccination involves cold chains – the vaccines will have to be kept at 2 degrees to 8 degrees Celsius right through till these are administered. So, India will need massive infusion of funds and advance procurement of the necessary equipment. Also needed would be other basics: syringes, antiseptics, and so on. These may be not difficult to purchase but unless planning is done and orders are placed, there would be unconscionable delay.
But, the biggest task would be to have sufficient number of trained people to take these vaccine doses down to villages, and administer them. In this, the vast network of ASHAs (accredited social health activists) and other health workers will become indispensable. Although they have grounding in such work, some training will be required. More importantly, their wages and dues should be cleared so that they don't have to go on strike for non-payment of salaries, as they have been forced to do repeatedly in these past months.
Tracking of the vaccination programme will be essential because of both -- ensuring its completion as well as monitoring adverse events. So, a digital platform for this will need to be created.
The big question is this: is the Modi government ready for all this? Have preparations started, and if so, where do these stand now?
And also: what is the government policy on making vaccines available? Will it be that a fraction of population will get vaccinated through government channels and the rest will be left to fend for themselves? Or, will the government stand up and deliver vaccines free to all the people?
[Data on COVID-19 cases collated by Peeyush Sharma and Newsclick's Data Analytics Team]
Get the latest reports & analysis with people's perspective on Protests, movements & deep analytical videos, discussions of the current affairs in your Telegram app. Subscribe to NewsClick's Telegram channel & get Real-Time updates on stories, as they get published on our website.
Subscribe Newsclick On Telegram