'Pause' – A New Hope for Local Artistes and Fading Languages in Jammu
A 24-year-old local entrepreneur has launched a performing arts platform that encourages local artistes to promote their art, irrespective of language barriers.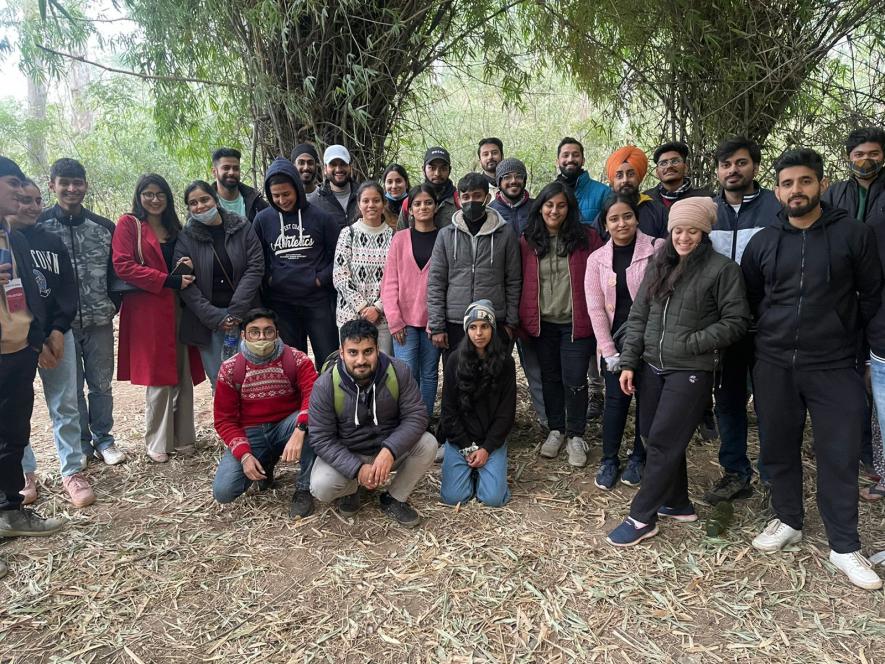 Jammu: In 2020, when the Indian Parliament passed a Bill for the inclusion of Kashmiri, Dogri, and Hindi in the list of official languages in the Union Territory of Jammu and Kashmir, in addition to the existing Urdu and English, there were many artists like Tanvi, who were upset by the government's move to ignore other regional languages. 
Many people criticised the Bill at that time but artistes like Tanvi took responsibility to revive and save these neglected regional languages by exploring them on public platforms.
To save these regional languages from extinction, Tanvi, 24, a local entrepreneur in Jammu, and daughter of a fruit seller, took launched  "Pause Tribe"- a performing arts platform that encourages local artistes to promote their art, irrespective of a language barrier.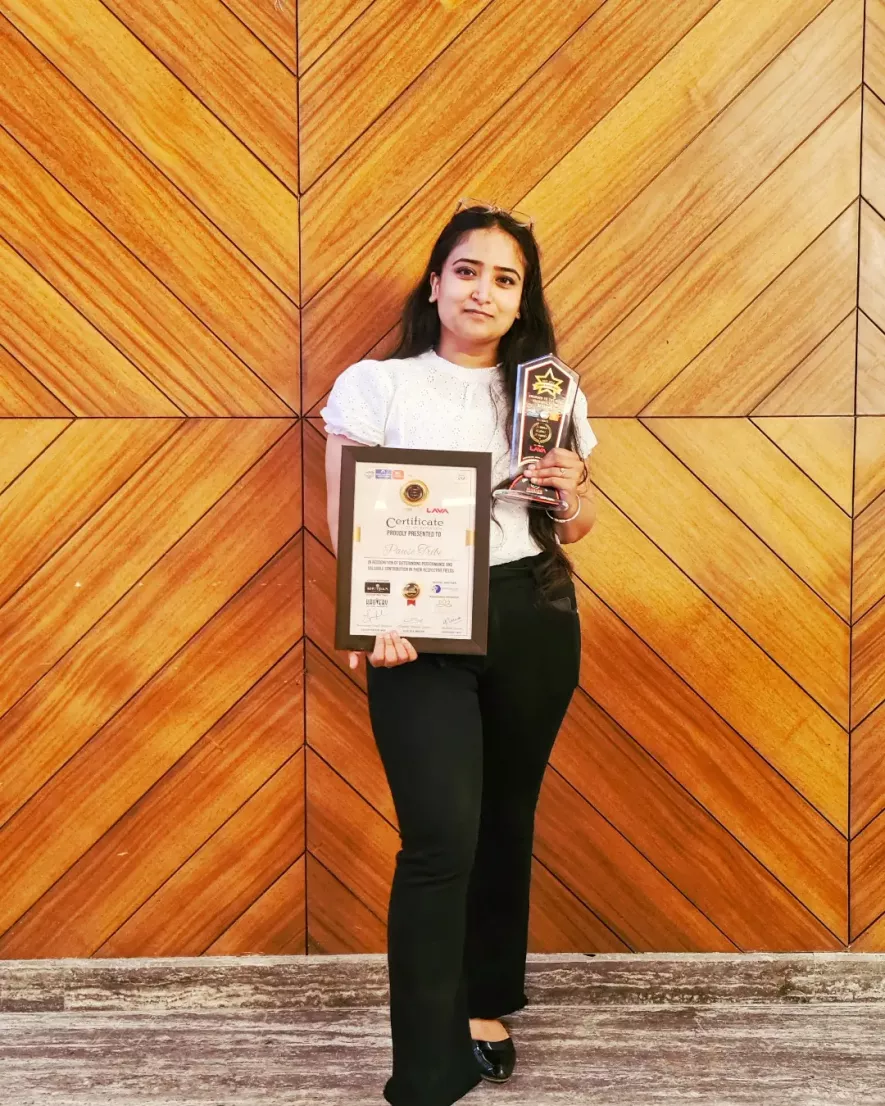 Tanvi, a passionate storyteller from Bakshi Nagar, the centre of Jammu city, says she was looking for a platform to read her stories on a public platform in 2019, but couldn't find any public platform to showcase her talent.
 "I had written two-three stories and was curious to read them in front of an audience. I have had a passion for writing stories since my childhood. In 2019, I wrote some stories and was looking to narrate them on a public platform but unfortunately, couldn't find any. That's when I thought how unfortunate we as artistes in Jammu and Kashmir are that we have no platform to showcase our talent. I made up my mind to fill this gap," she told NewsClick.
Tanvi thought there would be many more talented artistes who, like her, would want to explore their talent but did not get the required opportunities and platforms. She made up her mind to launch her own platform, where artistes from downtrodden areas could showcase their talent in their native languages.
In 2019, she launched 'PAUSE', a performing arts platform to encourage local artistes to keep the centuries-old regional languages alive. 
Tanvi claims that 'Pause'  is the first Jammu-based performing arts venue and company that conducts open mics, workshops, conversations, and much more, and gives artistes an opportunity to showcase their talent to the world. 
Talking about her journey, Tanvi told NewsClick, "My journey is quite nice. I'm glad that I didn't give up. I believe in the time-taking process and I am sure that I have developed myself a lot during this short time. From the very first day, I knew there would be blues and greys, but had trust in myself. In the beginning, my biggest fear was social anxiety. I was nervous whenever I had to face people. I didn't know how to manage things but kept telling myself that I have to do this."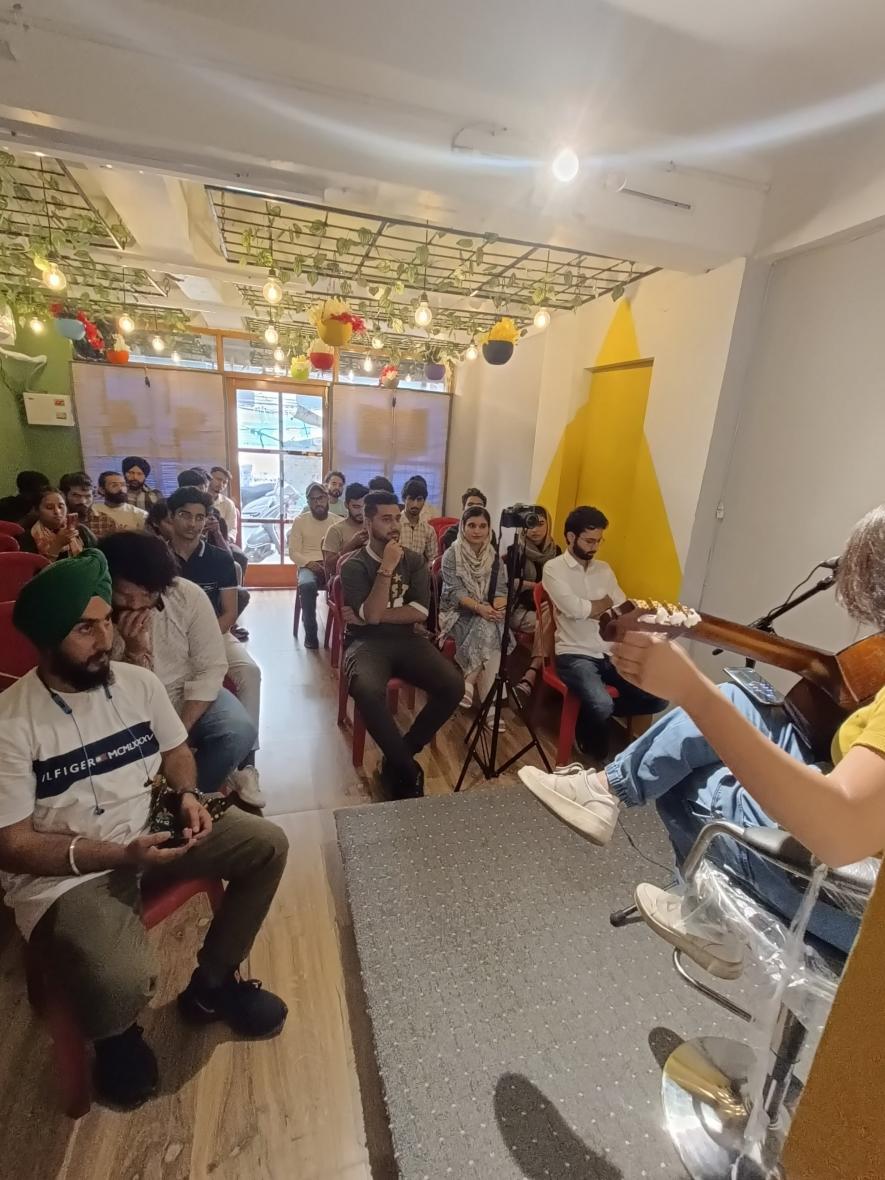 A local artiste Jaffeer Tabish, from the Chenab region, told NewsClick that 'Pause' is a platform where rappers, storytellers, poets, musicians and comedians are space to uplift their talent in their languages.
"Tanvi, through Pause, is trying to draw more and more artistes into her programme, who are using their talent to uplift their fading regional languages," Jaffer said.
"Artistes of Chenab valley lack opportunities to perform on public platforms and we are really grateful to Pause, which gives us the opportunity to perform before an audience. I participated in two different events of Pause at two different places. It was an outstanding experience. Pause has very good reach both on the ground and in social media as well," he added.
Jaffer said: "What makes Pause unique is that there is no language bar and you can perform in any language; anybody can perform any item, whether it's a song, poetry, short story, etc. They admire their artistes so much. It is an amazing platform for students."
Pause is a national level initiative, says Tanvi. The interesting part of her initiative is that she has not limited this to Jammu but has scheduled her programme in the other parts of the State as well.
Tanvi is now looking to draw artistes from other parts of the country into her programme so that the local artistes can get an opportunity to learn from them.
In the upcoming event scheduled for August 28, they have invited actor Priya Malik who is also a famous storyteller.
Considering the fact that Jammu and Kashmir are hubs of regional languages but many languages have become endangered due to the lackadaisical approach of the government, this platform is not only giving opportunities to young artistes but also trying to promote regional languages through art.
"It's Pause that was working on me. I recently hosted the Pause Open Mic April edition and I managed it quite well as it was my first as a host. It is building me more than I'm building it", she says.
Tanvi told NewsClick that her biggest achievement so far was when her father's friend told her that he knew what Pause was all about because he saw her interview on a local channel and that her father must be very proud of her.
"My mother on the other hand scolded me that day because I had not eaten anything that day. My people, my loved ones and my family's trust is my biggest achievement so far. I'm glad I didn't waste the time that was provided to me by my family, "she added.
The writer is a freelance journalist based in Jammu and Kashmir.
Get the latest reports & analysis with people's perspective on Protests, movements & deep analytical videos, discussions of the current affairs in your Telegram app. Subscribe to NewsClick's Telegram channel & get Real-Time updates on stories, as they get published on our website.
Subscribe Newsclick On Telegram