Personal Life to Academics: How COVID has Affected Mental Health of Junior Doctors
Citizens thronging tourist sites and flouting COVID norms, need to keep in mind how the second wave wreaked havoc, leading to death, destruction and rising mental health issues.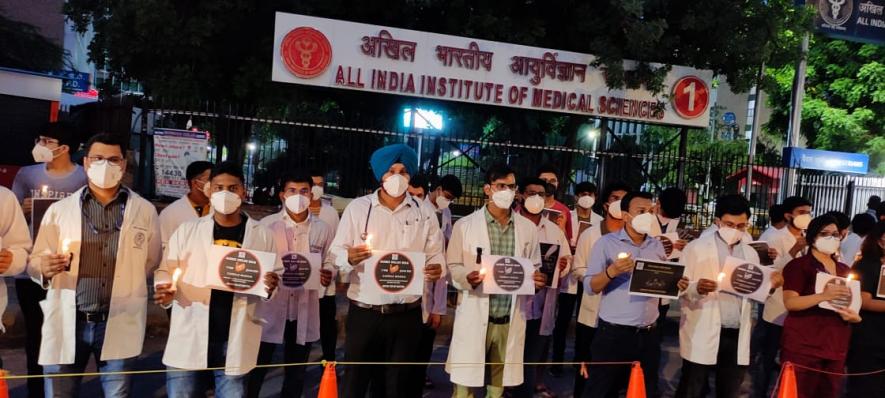 Image Courtesy: Resident Doctors Association, AIIMS Twitter
"Wherever the art of medicine is loved, there is also a love of Humanity."― Hippocrates
Doctors and healthcare workers have emerged as valiant warriors in the battle against COVID-19, and have also faced the wrath of the pandemic, with many of them losing their lives and suffering long –term complications, physical as well as mental.
According to Indian Medical Association, 798 doctors lost their lives serving in the COVID ward during the second wave of the pandemic. Of these, 128 deaths were registered in Delhi alone. Although the number of cases has receded, the touristy and careless behaviour of people after the lifting of lockdown may make matters worse if and when the third wave raises its head.
Doctors have been repeatedly urging people to stay indoors and follow the social distancing protocols, but Indian citizens have been indulging in reckless behaviour. Social media platforms are full of visuals and memes of tourists crowding several hill areas, especially Manali in Himachal Pradesh. "For the third wave, Manali may be Wuhan of India", Dr Devendra commented on Twitter.
An aspect such careless citizens don't seem to realise, and which is not being talked about much in the media, is the professional, physcial and mental toll that the pandemic has taken on doctors, especially junior doctors, who have been on call almost 24X7.
Several junior doctors of All India Institute of Medical Sciences, Delhi, say have faced academic losses and are suffering from mental health issues. All junior doctors have been working tirelessly for one-and-a-half years. Some junior residents of AIIMS, Delhi, said they had also highlighted their issues on social media platforms but were neglected by mainstream media.
"I really don't want to wear a PPE (personal protective equipment) again, don't want to go through the mental exhaustion of catering to hundreds of patients while they fight for their lives. Please people, it's very simple. All you have to do is wear a mask, take the vaccine and stand apart. Don't blow this away." Dr. Tandon urged on Twitter to the citizens.
Working six or seven hours in a PPE kit is the biggest challenge, many healthcare workers say. "It is very hectic and tiresome," said Dr. Omar Afroz, Junior Resident, AIIMS, Delhi
There have also been instances when frontline health workers, despite working tirelessly to save people, have instead, been threatened or beaten, or pelted with stones. Many landlords have evicted doctors and nurses due to fear of COVID-19.
In working extra hours, junior doctors are not just mentally and physically drained, but being away from friends and family is also taking away the emotional support they need in such trying circumstances.
Overworked Doctors
The doctor-patient ratio in India is 1:1456 against the recommendation of 1:1000 by the World Health Organisation (WHO).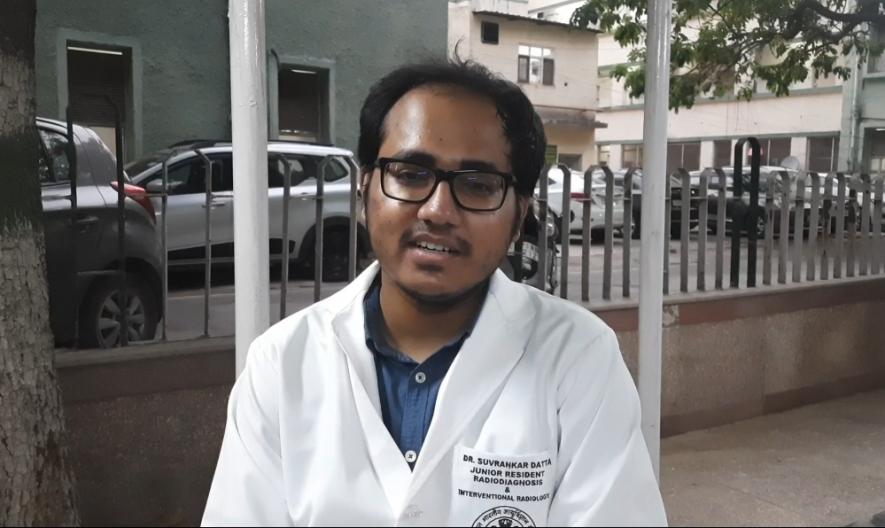 "We are not even close to the figure expected by WHO. In India, we need more doctors. Junior doctors are working for 24 hours and many of them for even 36 hours, with only food breaks," said Dr. Survankar Dutta, Junior Resident, AIIMS, Delhi.
Another doctor said they spend almost eight hours in PPE kits, which results in excessive sweating and dehydration. "We are so exhausted by the end of the day that we prefer to rest rather than do something else. Therefore, eat, sleep, repeat has become our life cycle with COVID duties", he said.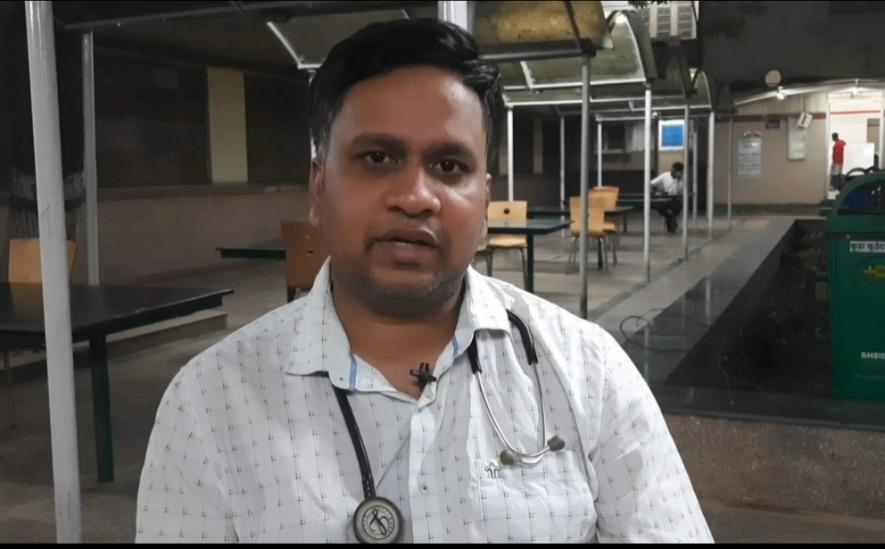 "We are tired now, and just want this (pandemic) to end. When we entered the COVID ICU for the first time, we were full of vigour. We took it as one big opportunity, which would be recognised and acknowledged by the country. But with the onset and descent of the second wave, we now just wish for it to end," said Dr. Kalicharan Das, Junior Resident at AIIMS.
Mental Health
Mental health has taken a huge toll on everyone amidst the pandemic, but, according to Dr. Dutta, practicing doctors have been severely impacted and are facing both academic losses as well as mental health issues.  "We just sleep after our long shifts because we are left with no energy to do anything else," said Dr. Afroz. 
Dr. Dutta said one of the reasons for increasing mental health issues is that resident doctors of departments like radiology or bio-chem are not used to watching people die in such high numbers.
"We were not prepared for this, therefore it gives us a lot of mental stress when we can't do anything to save patients," said Dutta, adding: "Last month, one of our residents died by suicide because he couldn't bear the number of deaths in his ICU. The mental toll on all healthcare workers is very significant. We all need to keep a check on the mental health of our colleagues and support them," he said.
Despite themselves suffering from mental health issues, doctors even have to console and support patients and their relatives. "We need a lot of willpower because there is not just a single patient but hundreds of them," said Dr. Mohini Singh, Junior Resident, AIIMS.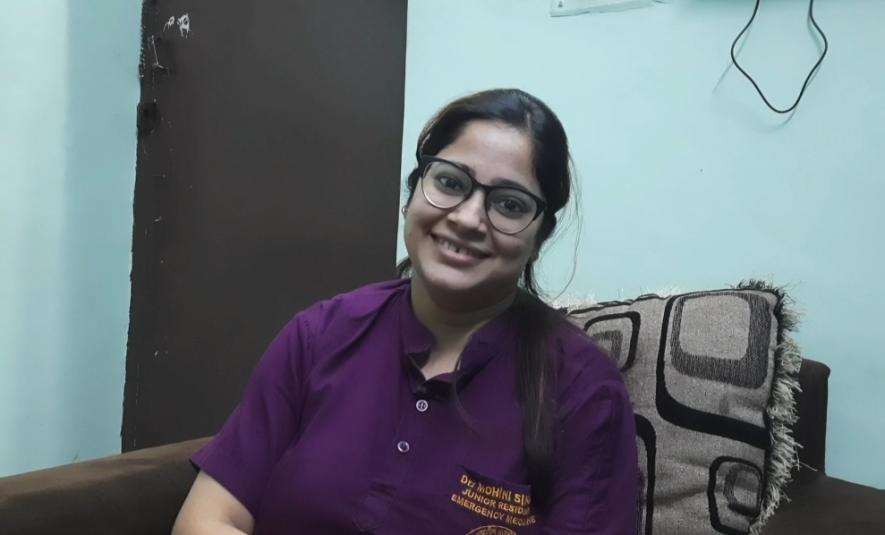 Lack of sleep, too, is severely impacting doctors and "has exhausted us physically and mentally," said Dr. Singhadding that "we are not able to sleep at times, thinking about our patients. During our night duties, we come back at three in the morning. At that time, we cannot even talk to anybody. Sometimes I lie down thinking about some of the patients and correlate them with my parents, as they are of similar age, and worry about what if the same things happen to them, which adds to our mental exertion." 
The scarcity of ICU beds and oxygen cylinders during the second wave was so dire that at times even three patients were being treated on a bed. Beds were not even available for some residents of the hospital. "The situation was grim during the second wave and I just held my breath, praying that my family doesn't get infected," said Dr. Ansar. 
During the second wave, several doctors reported facing a lot of anxiety and stress issues after witnessing the disturbing sight of hundreds of deaths in a day. Dr. Das said he took anxiolytics before COVID duty to reduce stress and anxiety. Even though he works in an ICU, the mortality rate reached its zenith. Young people were dying and it was depressing for doctors to witness one death after another. Not only doctors, patients were also paranoid whether their dead bodies would be handed over to their relatives. The pandemic created an eerie atmosphere for everyone. 
According to some studies, doctors and nurses have witnessed increased psychiatric issues during the pandemic. Anxiety, insomnia and depression are some. Many national and international surveys have pointed out the rising cases of depression. AIIMS, Delhi, published an article highlighting the rising mental health concerns of health care workers.  
Social and Personal Life
COVID-19 has affected everybody's personal life. Healthcare workers are staying away from their families and don't even get time to talk to their friends and family over phone. "Sometimes we have to work continuously for 24 hours and don't even get to check our phones. My mother lives in Kolkata and I try to talk to her every day but there are times when we don't talk for two-three days," said Dr. Dutta. 
Dr. Singh said earlier when they got breaks, they could meet family and friends, which would relieve mental stress. But now as the situation is not stable, as they themselves apprehensive about spreading the virus to their family members.
Academic Losses
Practical knowledge of almost all the doctors has been affected due to the pandemic. Doctors are being assigned COVID duties and not their specialisd wards. As a result, specialisation training has been affected the most. The junior doctors were allotted department duties when cases went down but with the second wave, they are back in the COVID pool. 
"I'm in the surgery department and I am not getting my surgery training. I'm at a loss and, in fact, all the junior doctors are at loss. I will have to spend more time after my PG for the specialisation," said Dr. Ansar. Their National Exit Test has also been delayed by the PMO in lieu of pandemic. 
"It's not that we are not satisfied. Treating COVID patients gives us immense satisfaction but for the past 1.5 years, we have been only working for COVID patients. We need more doctors to treat those patients," urges Dr. Dutta.
Despite all the academic and personal losses, many junior  doctors have even lost their lives. People don't respect the martyrs, rather blame them on national television and media and call them 'looteras', "it is heart-wrenching to see that," says Dr. Dutta. Doctors have a love for humanity and therefore they are working 24x7 for us. It is time citizens acknowledge their sacrifice and abide by the COVID-19 protocols and go for vaccination, to circumvent the third wave of coronavirus.
The writer is studying English journalism at Indian Institute of Mass Communication, Delhi.
Get the latest reports & analysis with people's perspective on Protests, movements & deep analytical videos, discussions of the current affairs in your Telegram app. Subscribe to NewsClick's Telegram channel & get Real-Time updates on stories, as they get published on our website.
Subscribe Newsclick On Telegram