Photojournalist Living with Broken Lens
Since the 90s, Kashmiri journalists have been facing killings, thrashings, and beatings at the hands of armed forces as well as unidentified gunmen.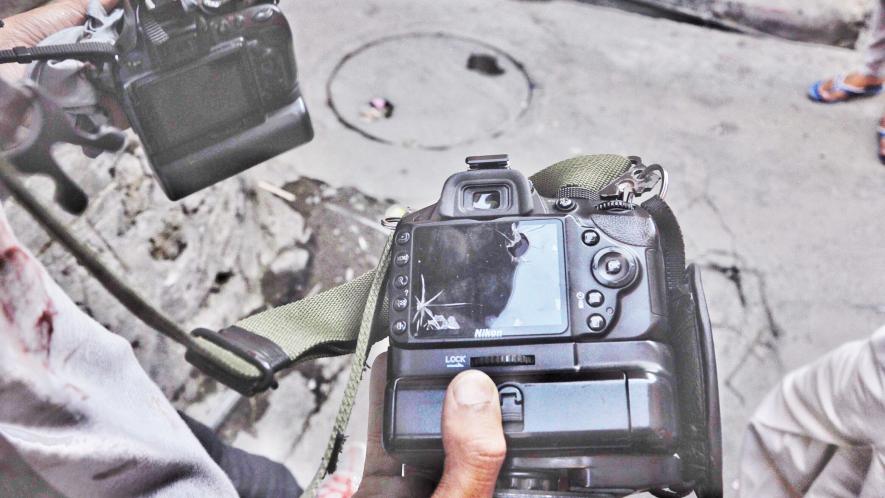 Pellet Pierced Camera of Xuhaib Maqbool. Photo Courtesy: Syed Shahriyar
A 30-year-old photojournalist in Kashmir is living with more than 200 metal pellets in his body after being shot by the police while being on the field in 2016.
In 2016, protest, rallies and stone-pelting were a common occurrence in almost every corner of the valley as were the civilian killings. The phenomenon of 'take to the streets' had come about following the killing of Hizbul Mujahideen's commander Burhan Wani on July 9, 2016. Soon after, a curfew was imposed and the streets were generally deserted, except for the movement of the government forces and a few journalists.
With this, the workload of the photo and video journalists – who had to reach the spot in case of any development or action – intensified. Mobile internet and domestic broadbands were barred, only commercial lease lines were functional. All mobile connections were barred, except Bhartiya Sanchar Nigam Limited (BSNL) [BSNL connection in Kashmir then was used mostly by VIP and VVIPs]. A few journalists had managed to get the connection too.
The situation was rather tense for journalists, with people enquiring about the identity of journalists while covering the news. In several instances, they were thrashed by protesters.
On September 4, 2016, the 58th day of continuous day and night curfew across the Valley, a photojournalist, Xuhaib Maqbool was at home in Kalwal Mohalla, Rainawari in the Downtown area of Srinagar. In the afternoon, Xuhaib received a call from one of his journalist friends who asked for his assistance as people were planning to offer Asr (evening prayer in Arabic) and absentia funeral prayer on the road of Naidyar, one kilometre away from Xuhaib's residence.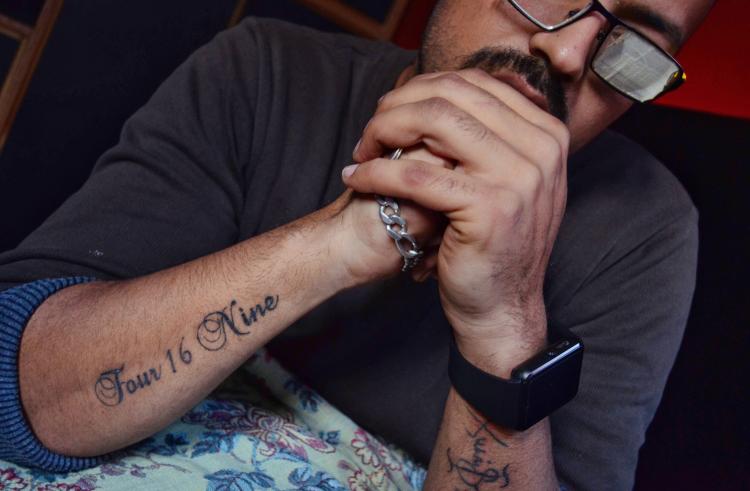 The absentia funeral was being held for a 17-year-old boy, Basit Ahmad Ahanger, who was killed during clashes between government forces and protesters in the evening of September 3. As per the data provided by Jammu and Kashmir Coalition of Civil Society, Basit was the 74th civilian killed by the government forces within a span of 58 days while 10,500 people were injured. Xuhaib acted as a mediator between the protesters and his journalist friends as he was known in his locality. The protest was going on in the area, while journalists continued to cover the news.
At around 5 pm, a few vehicles of the armed forces arrived and trigged tear gas canisters and pellets to disperse the protesters. Xuhaib and another journalist, Syed Shahriyar, were covering the clashes from a distance. "We were contemplating whether we should move ahead or not. After monitoring the situation, we went near a corner of a lane to click pictures," said Xuhaib.
Shahriyar and Xuhaib were standing next to each other. Recalling the details of the incident, Xuhaib said that when a cop walked towards them, he raised one of his cameras and shouted "press". But before he could complete the word "press", the cop pointed the barrel of his shotgun towards him and shot at him, riddling his body with metal pellets.
He says that his whole body was pierced with pellets and for 10 seconds he kept shouting "Mea Ha Phout Lal (My eye is busted), while holding his hand on the left eye. His camera fell off from his shoulders. Shahriyar rushed and picked up the broken camera of his friend.
One of his neighbours, Imtiyaz Ahmad Bhat, a 33-year-old man, found Xuhaib in a white T-shirt, soaked in his own blood.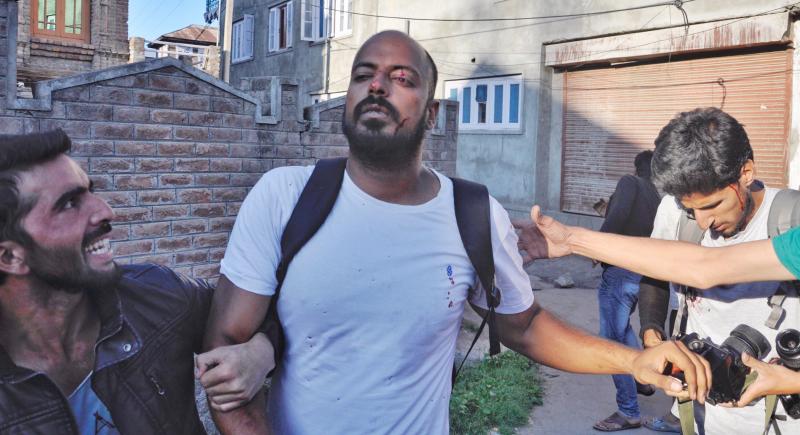 "I rushed to him, after assessing his situation, we managed to get a bike and made Xuhaib sit in the middle, I sat behind," recalls Imtiyaz with tears in his eyes.
Crossing many barricades and checkpoints established by the government forces, they reached the hospital. Xuhaib was the 68th pellet victim of that day, says Imtiyaz.
Corridor of the operation theatre was filled with the attendants of other non-combatants who were injured during the clashes from all the districts of Kashmir.
Xuhaib was waiting for his turn to be operated in a ward next to the operation theatre. By then, his father Mohammad Maqbool Hamzah, a 58-year-old retired government employee, had arrived accompanied by his wife and daughter.
"I felt like I had lost one of my shoulders; my every dream and hope was dented," said Maqbool.
"For the next four hours, I kept offering payers and prayed for Xuhaib's wellbeing," recalls Maqbool, with tears rolling down from his cheeks.
While operating Xuhaib, doctors found that pellets had destroyed his pupil, cornea and sliced his retina which rendered him blind. After finishing the four hour-long surgery, Xuhaib was shifted to the ward number 7. It was the same ward where he had clicked pictures of pellet victims a few days back.
While lying on the bed, an attendant held Xuhaib's feet and started weeping. He was the same guy who had tried to stop him from clicking pictures in the same ward, thinking of him as a biased pressman. "When he stopped me, he kept saying 'don't click pictures'. I had said to him that it's your beloved today, tomorrow it can be me," recalls Xuhaib.  His injuries cleared his all doubts.
For the next three days, Xuhaib was undergoing treatment. There were 19 stitches holding his eye with the retina and he was asked not to move much.
He was supposed to keep his head on the ground while sleeping. His pain was excruciating which wouldn't go away even after taking 19 painkillers in one go, he recollects. He was asked to avoid sunlight. From here, the journey of his darkroom started.
"I was not allowed to go out, thick curtains were hung on my windows. My life was confined to 12x8 feet room," says Xuhaib.
On the third day at home after being discharged from the hospital, Xuhaib was lying on the bed and checking his call recordings when he found something which soon would become news.
The call may have got recorded while he was running around during the shooting. The recording had many voices and a sudden gunshot-like sound which was followed by Xuhaib's screaming.
"I heard that and banged the phone on the floor, and held a cushion on my mouth and cried as loud as I could," recalls Xuhaib.
After a few days, Xuhaib was supposed to go for a check-up and he called some of his friends, whom he would normally take in his car while going for work.
But no one came with him. When none of his friends received his almost three hundred calls, he asked one of his cousins to take him to the hospital on a bike, which was the only option left, and not a very good one considering the delicacy of his operated eye.
It took him three hours to cover the three kilometres distance, as he would ask his cousin to stop every now and then due to continuous pain in his eye. The next surgery was conducted within 20 days. And third surgery in Jan 2017 in which the repair of his eye was done but that couldn't do much.
"Every time during the surgery, doctors would only give local anaesthesia around my eye. During his third surgery, the moment the last pellet was removed from his eye and dropped in the kidney tray, it made a sound that still haunts him.
"Such sounds trigger my anxiety. I can't even bear the noise of the coins. So, I avoid carrying them," recalls Xuhaib.
Xuhaib kept the pellets removed from his body and had it cast in a silver bracelet. He wore it on his left arm for almost a year. Now, that bracelet shines on him arm only on the anniversary of his injury.
For the last three years, he has been waking up at 12 pm as he is unable to sleep almost for the whole night. His morning starts with an unusual temperature in his body due to the metal pellets, and he has to fix the contact lenses before anyone enters his room.
Before the injury, his morning would start with clicking pictures at the sunrise. He has tattooed his body with symbols which are in some way related to his injuries. One large tattoo on his right arm has recorded the date of his injury. In the first week of July 2019, he visited the doctor, who has reportedly told him that his eye will not improve anymore. He is also unable to take a flight, due to the pellets in his body. "My mind is occupied with painful memories, but I keep a smile on my face to keep my family alive," he said.  
Xuhaib now has repaired his camera and turned himself into a beauty and commercial photographer. He continues to entertain people as a Radio Jockey on All India Radio Kashmir 102.6 FM in Srinagar as well.
Since the 90s, Kashmiri journalists have been facing killings, thrashings, and beatings at the hands of armed forces as well as unidentified gunmen. Detention by the National Investigation Agency, banning the publication of prominent newspapers, has become a common suffering for journalists in Kashmir, a big dent on secularism and democracy.
Get the latest reports & analysis with people's perspective on Protests, movements & deep analytical videos, discussions of the current affairs in your Telegram app. Subscribe to NewsClick's Telegram channel & get Real-Time updates on stories, as they get published on our website.
Subscribe Newsclick On Telegram