'Police Were Forcing us to Remove Our Veils, Shouting That There's a Male Inside the Burqa'
Muslim women narrate the horror of UP Police's crackdown in Lucknow after the December 19 violence. Thousands have been booked across districts by the BJP-led government.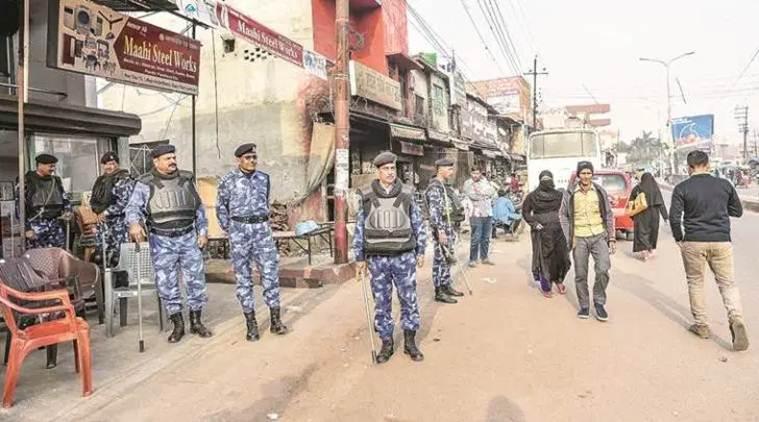 Image for representational use only.Image Courtesy : The Indian Express
Lucknow: "I was praying when a large number of police force started beating my door and started hurling abuses on me. I did not open the front door, as I was alone and terrified. But they barged in from the rear door and started damaging things," claims Asiya Begum, a resident of Hussainabad in old Lucknow.
Asiya, 45, was narrating to Newsclick what she went through in the name of police crackdown in the aftermath of the violence that broke out in Lucknow on December 19.
"They first broke our car and started entering the rooms. I was trying my best to stay calm and stop them from ransacking our home, but they were not listening to me. They were only hurling abuses, asking me where the men were hiding and taking away my valuables. They even broke my TV and took away jewellery along with Rs 1.10 lakh in cash, which my husband gave to me about a week ago to buy something for my newly born granddaughter," she adds.
Asiya is one among hundreds of people in Uttar Pradesh who suffered this illegal invasion of their homes and violence by police after anti-CAA/NRC protests on December 19. According to media reports, at least 18 people have been killed, although the official tally is put at only 15. Police has denied that they fired on the protesters although at least 14 of the dead are reported to have succumbed to bullet injuries.
Subsequently, thousands of people have been booked for criminal cases in several districts across the state ruled by the Yogi Adityanath-led Bharatiya Janata Party (BJP) government. Latest reports indicate that the police is arbitrarily filing cases and issuing notices for recovery of damages to public property.
"All this ransacking continued for about 30 minutes. I should appreciate that there were few policemen who were asking their colleagues to only do the searching and not ransacking. I even tried to offer them water. They even asked me 'Do not we policemen have family when you people throw stones at us?'" says Asiya.
Asiya is not biased despite what she suffered. She says that "heavy stone pelting was done in the area on police and this area also saw the maximum violence".
"But that does not justify the actions of the policemen who entered our houses and destroyed everything," she asserts.
On being asked if she had officially got a complaint lodged in this regard, Asiya says that her husband had asked her to stay mum and forget what she witnessed, as this may bring more trouble for the family.
As the Newsclick team walked further inside the congested Hussainabad area, broken window panes, shattered glasses around the shoulder-rubbing lanes and damaged buildings were proof that the area was one of the worst affected after the violence that ensued while people were protesting against the recently passed Citizenship Amendment Act (CAA).
Nausheen, a seven-month pregnant women and wife of a daily wager, claims that she was hit by the police on her stomach and chest. She has now left Lucknow for her mother's place.
Nausheen's neighbour, Kaneez, says, "Watching Nausheen's belly, anyone could have easily made out that she was pregnant. Yet, she was hit by the police on her belly and chest. The police was not listening to anyone and was putting the onus of violence on us. Nausheen was injured and was in great pain but Allah saved her baby. She has left for her mother's place in central west part of the state, fearing police crackdown again. She was scared and in trauma. Her husband, who works as a daily wager, has also gone into hiding. We all knew that he was not present with the mob that went on a rampage that day. Those involved in damaging public property and breaking the peace of the city were outsiders and even police is accepting this fact, then why are we being bothered by the police?"
The fear and trauma of police crackdown on the people in the Shia Muslim- dominated area of the old city of Lucknow was even visible on the faces of children aged between 4 to 10 years.
"Uncle, we all were sitting and watching Doremon on TV when police uncle came into the house and beat me. They beat my mother and were trying to open the cupboard," said Salman, 10, showing his bruised leg.
The boy also showed an exploded cartridge and said that police even opened fire at their house after they did not find any male members.
Another lady, Heena, from the same locality, says that the intention of the police was not good as they even asked some of the women to remove their veil.
"They were forcing us to remove our veil and were shouting at us, saying there is a male inside the veil (burqa). We were beaten up when we told them that can't you spot a difference between a male and female body," she says.
(All names have been changed to protect the identity of the people who have been quoted).
Get the latest reports & analysis with people's perspective on Protests, movements & deep analytical videos, discussions of the current affairs in your Telegram app. Subscribe to NewsClick's Telegram channel & get Real-Time updates on stories, as they get published on our website.
Subscribe Newsclick On Telegram