Power Sector Employees Protest Against Electricity Amendment Act in Capital
Thousands of employees from across the country came to Jantar Mantar on Wednesday to oppose the introduction of Electricity Amendment Act in parliament.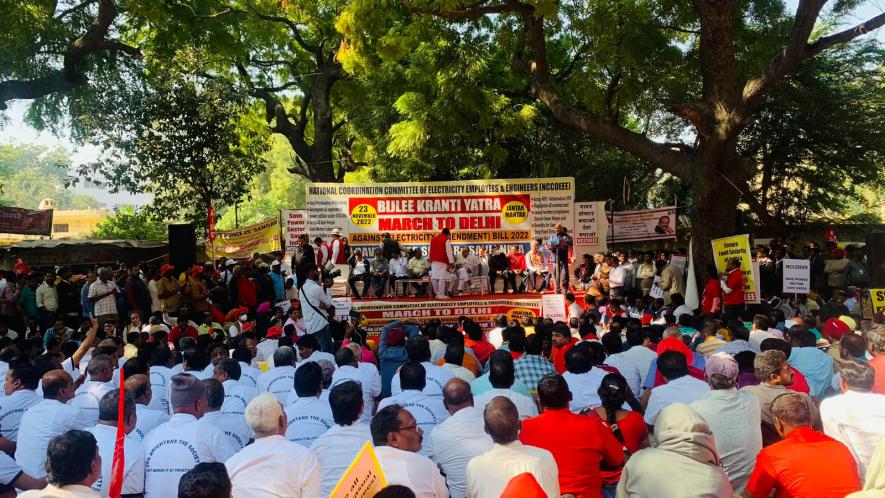 New Delhi: "When roads are empty, parliaments often get rogue," the famous couplet by Socialist leader Ram Manohar Lohia read by one the leaders on the stage perhaps denotes the mood of thousands of power sector employees who came to the iconic Jantar Mantar on Wednesday to oppose the introduction of Electricity Amendment Act into parliament. Enraged over the privatisation efforts of Daman And Diu and Chandigarh Electricity boards, the employees maintain that the act will pave way for costlier electricity with the complete elimination of cross-subsidy.
Pankaj Parmar, an electricity worker who came from Himachal Pradesh along with his colleagues told NewsClick that the huge power generation and transmission infrastructure came into existence after thousands of employees and engineers put their sweat and blood into it for years. The basic idea behind the Electricity Act of 1948 was to provide cheap and affordable electricity for nation-building but it is being seen now as a commodity for minting profits.
He said, "our employees in Himachal Pradesh achieved 100% coverage in 1987 despite its challenging hilly terrain and no private company contributed to it. Similarly, we could provide electricity across state at uniform rates. If the provisions of the Electricity (Amendment) Act come into force, the board will be forced to eliminate subsidies and cross-subsidy. It means that the people living in remote districts like Una, Hamirpur and Kinnaur will have to pay up to Rs 30 per unit because the companies incur more expenses in providing electricity to these areas. Just think about farmers and small entrepreneurs. They will not survive in the new regime."
Parmar added that the focus of the government should have been to recruit more staff to enhance the consumer experience. "We have 8000 vacant posts in different categories. The situation is so worse that 35 transformers are maintained by two teammates. Much of the work is done through outsourced employees who are paid very less even though the nature of duties remains the same. The government is proposing privatisation as the panacea for all ills but our experience suggests that it is sheer cheating."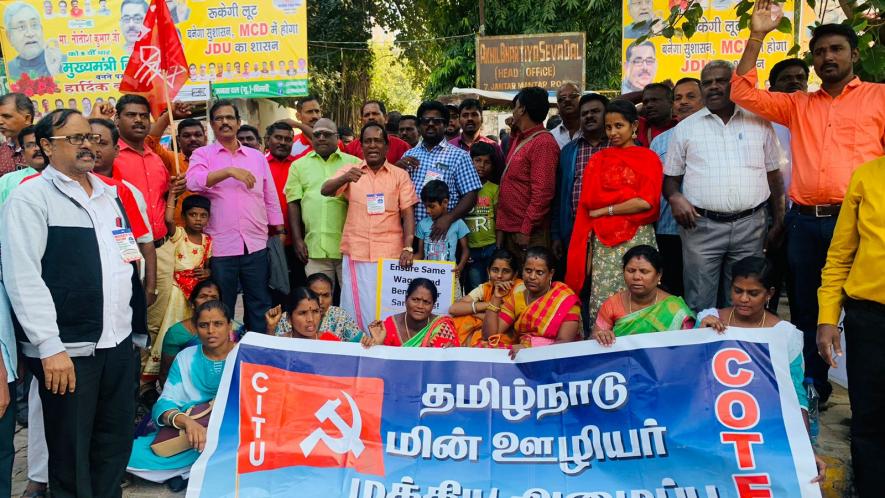 When asked about the government's proposal about fixing lower and upper ceilings to protect consumers from predatory pricing, Parmar responded that had it been the consumer interest alone, the new amendment act would not have allowed more profits. "Why would a private player come if there are no profits? There is no guarantee that they would abide by these ceilings. Let us take the example of telecommunications sectors where private players provided services at a much cheaper rate but increased tariffs substantially once their control was complete" he said.
Shedding more light on the issue, M G Suresh Kumar, President, of Kerala State Electricity Board Officers Association said that the common consumers could get electricity at affordable rates because a cross-subsidy mechanism was employed by electricity boards. He said, "please bear in mind that generation of power is a costly affair. Common consumers could get it at affordable rates because commercial enterprises were paying more than the average price. With the introduction of multiple service provider options, we are concerned that there will be cherry-picking of consumers where big industrial units could get offers from all service providers but common consumers may witness the cold shoulder. So, the responsibility will ultimately fall on state-backed boards. In this situation, they will simply collapse."
The protesters maintained that the sustenance of social infrastructures like schools and hospitals will be a big hurdle if the private sector is given a free run. Kumar added that the electricity boards generally sold electricity to these entities at an average price. Given the constitutional mandate of providing affordable electricity to common consumers, the state boards could do it easily because they could match losses with profits from other segments. Private companies do not have such obligations.
Echoing similar concerns, Rajesh Anand, an Electrical Engineer who came from Punjab has other questions in mind. Anand said, "Who will provide electricity to critical sectors like railways, agriculture and defence? We have been the backbone of the system in running the country. It is also interesting to note that the Modus operandi of the governments, be it state or the union, in privatising critical sectors remains the same. They created situations where the incomes of these public enterprises would affect. Then, a smear campaign would be run that the units are making losses and must be privatised. Finally, assets worth thousands of crores which were created with taxpayers' money get transferred into private hands. It happened with BSNL in the telecommunications sector. It may happen in the Electricity sector if the sinister moves of government are not resisted."  The employee unions in Bharat Sanchar Nigam Limited (BSNL) have been alleging that it was deliberately denied 3G spectrum by the government which in turn limited its revenue prospects.
Hannan Mollah, a veteran farmers' leader and a key component of Samyukta Kisan Morcha which spearheaded the historic farmers' struggle, greeted them with a message of struggle and victory. Explaining his concerns, Mollah said that it is not common consumers or the power sector who will be solely affected but farmers who depend heavily on tube wells for irrigation. He said, "it is no surprise that despite large-scale irrigation efforts through canals, our farmers depend on tube wells. The farmers of the country are already in distress because the cost of production has been steadily increasing whereas there is no remuneration for hard work. In this situation, this bill will kill farmers with inflated bills. I am here to give you my solidarity that you are not alone in this fight. The government, through its Secretary, promised us that they will not go ahead with this bill unless farmers' unions' concerns are not addressed. Still, they introduced it in parliament. But our experience also shows that the unity of people compels oppressive governments to kneel down. It happened the previous year. It will happen in future too."
Get the latest reports & analysis with people's perspective on Protests, movements & deep analytical videos, discussions of the current affairs in your Telegram app. Subscribe to NewsClick's Telegram channel & get Real-Time updates on stories, as they get published on our website.
Subscribe Newsclick On Telegram