Punjab: 'We Averted Second Lakhimpur' Allege Farmers After Alleged Attack in Firozpur
Demanding criminal case against 2 SAD leaders, the farmers block road for hours in protest.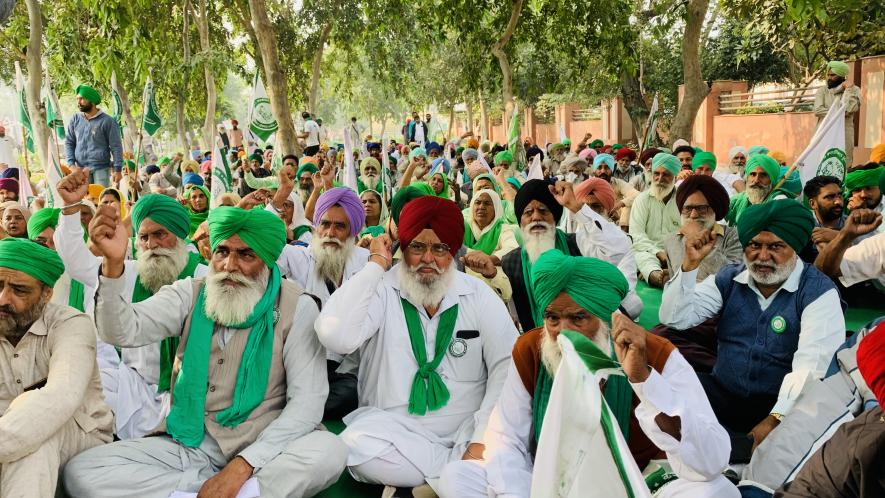 The farmers of Ferozpur district in Punjab on Thursday demonstrated in front of District Commissioner's office and blocked the adjoining road for hours to demand a criminal case against Shiromani Akali Dal (SAD) leaders Vardev Singh Mann and Joginder Singh Jindu.
Terming it a ploy to replicate the Lakhimpur Kheri incident, the farmers in this cantonment town are furious over an incident where some SAD leaders allegedly tried to "mow over the farmers" who had gathered to protest against former Union minister Harsimrat Kaur Badal.
Harjinder Kaur, who travelled from Ludhiana to participate in the protest, told NewsClick that the local leaders of Samyukta Kisan Morcha (SKM) had assembled to question Harsimrat Badal over her plan of action to revive the state out of crisis, which she is promising to voters in the run-up to elections.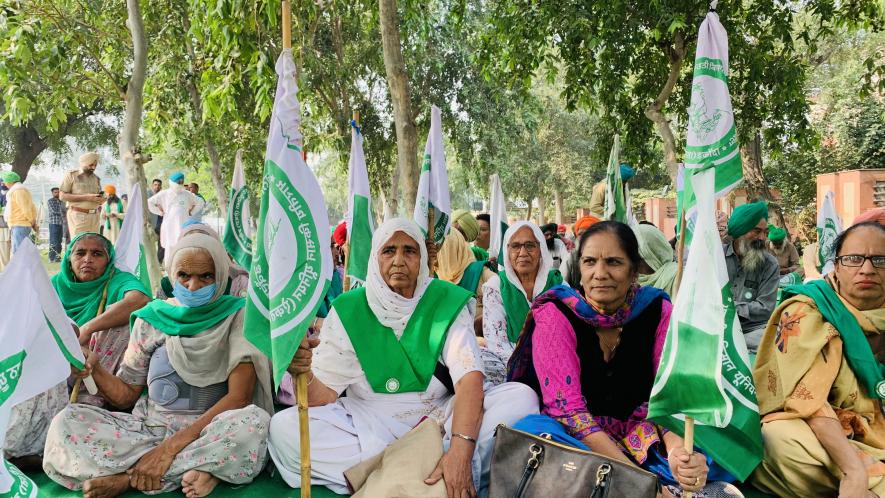 "First, our leaders were assured that she would meet us and answer our questions. Later, the officials of administration too informed us that she would meet us. But she went away without meeting us. After half an hour of her departure, the leaders of SAD came and tried to mow farmers down the vehicle," she alleged adding that "our local leader Harnek Singh Mehma jumped over the bonnet of the vehicle to save two young persons by holding them. He even requested the leaders to stop the vehicle but it did not stop. They were dragged for more than a kilometre. They even fired bullets in air."
Enraged by the incident, Kaur said: "Can't we ask them questions? She is campaigning prior to elections and as a public official, she can be questioned. But what they did was dastardly and cannot deter us from protesting. For months, they maintained that three Central farm laws were beneficial for farmers? If they were so, why did she resign? What is she going to do for rampant unemployment, to stop illegal sand mining?"
Holding her green union flag firmly, Jaswinder Kaur, interjected to say: "They have been misleading us for decades. But we refuse to be misled now. It is a fact that this party remained a firm ally of RSS and its political arm, Jan Sangh and later BJP. They continued their relationship with the party post Godhra riots where Muslims were butchered in thousands. In Punjab, they used drugs to kill our children. They built their empires on our dead bodies. The mothers in every household sob today for their sons."
Harnek Singh Mehma, who sits on the ground with an injured leg, told NewsClick that he never imagined that this would happen in Punjab and termed it a conspiracy to "kill" farmer leaders. "It is a conspiracy because the leaders were in question had gone away from the place of incident half an hour ago. If they were not interested in answering our questions, they should have simply gone away. They returned only to harm us with their weapons."
When asked about what he was about to ask Harsimrat Badal, he said, "she is campaigning for her party and promising a revival of the state. What's her plan for pulling the country out of World Trade Organisation (WTO)? The state suffered immensely because India adhered to unjust laws of the body. The problem began with the idea that entire world is one market."
Mehma said the government's privatisation policy has forced it to withdraw its hands from public investment and hand it over to the private sector. Punjab has the highest unemployment rate now. The state is in tatters where three farmers commit suicide every day despite the state producing so much grain that the country can be fed for three consecutive years without any production."
He said companies were charging arbitrarily for tractors and other agricultural machines. "There are no audit committees to suggest a price ceiling for them. In seeds, three companies including Monsanto, Corteva Agriscience and Syngenta are dominating and there is no end to plunder. The seeds of tomato and chilli are priced at Rs 70,000 per kg and Rs 1,60,000 per kg whereas these items are sold for pittance. They have no answer for it. They deliberately promoted illegal sand mining because the money goes straight to MLAs and they earn billions out of it. When we question them, they try to silence us," he alleged.
When asked about future SKM action on entering the national capital from borders, he said "it's a timely and fine call and we will go to Delhi. Every battle requires sacrifices and we are ready for it." Farmers in this bordering district are also miffed with latest decision of the ministry of home affairs of giving free hand to the Border Security Force to enquire and search people's within 50 kilometres of the border without any warrant.
Ravinderjit Singh, who came from Dhaipai village in Jatto tehsil, said the action appears to be disturbing. "Today, a resolution against the decision was passed in the Assembly and only three MLAs supported it, two from BJP and one former CM Amarinder Singh. 114 MLAs voted against it. This shows the mood. If police comes to our house and takes away somebody, we can go to police station. In case of BSF, how will we locate the person? The country shares its border with Pakistan through Punjab, Rajasthan and Gujarat. Why did they framed rules for Punjab alone?"
Get the latest reports & analysis with people's perspective on Protests, movements & deep analytical videos, discussions of the current affairs in your Telegram app. Subscribe to NewsClick's Telegram channel & get Real-Time updates on stories, as they get published on our website.
Subscribe Newsclick On Telegram