Rafale Deal Gets Murkier with yet Another Exposé
The silence of both French and Indian governments, and regulatory agencies, on the three-part series by French investigative portal, Mediapart, is telling indeed.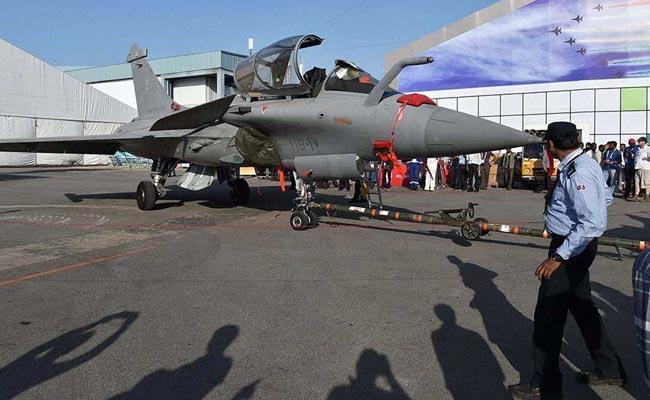 The French investigative web-portal Mediapart released a three- part series of articles last week containing much dramatic new material on touching on the controversial Rafale deal.
The material once again brought into focus murky dealings, possible shady transactions, and evasive as well as non-cooperative responses by supposedly independent investigative agencies and top government and corporate officials in both India and France.
No inquiry had been permitted in India after the deal was signed in September 2016, despite the public outcry and the vast amount of material brought out by the press, defence analysts, legal experts and others raising serious questions. Expectedly, the Mediapart exposé and calls for investigation have been met by denial, blanket rejection and scorn by spokespersons of the ruling party and allied forces.
The problem is that the new information means there is now even more smoke around the Rafale deal, adding to the huge cloud already hanging over it. Any responsible person would reason that with, so much smoke, there must be a fire somewhere, and at least a search for it rather than just waiting for time and passing winds to blow the smoke away.
What Mediapart found
In the first part of the series, Mediapart reports that in October 2018, while auditing Dassault Aviation, the French Anti-Corruption Agency AFA (which is like the Comptroller and Auditor General or CAG but also audits private firms) discovered an out-of-the-ordinary payment in 2017 of about half a million Euros (about Rs.4.5 crore) to Defsys Systems in India towards making 50 scale models of the Rafale fighter as "gifts to the client."
Dassault produced a proforma invoice for over EUR 1 million (over Rs.9 crore) but could not produce any other document or photographs as evidence that these models were actually made or delivered, or provide any more details to the auditors.
Dassault was also unable to justify contracting an Indian firm to make the models and the high price paid. AFA seems to have suspected something, and mentioned this in a couple of paragraphs in its audit report, but did not report it to the authorities. Both the Auditor and Dassault refused to further discuss this matter with Mediapart.
The second part of Mediapart's expose goes into some detail on the stonewalling by French authorities and investigative agencies into this and other transactions discussed later, citing "interests of France" and the "working of institutions." Why were these entities so cagey?
Defsys Systems is no shady, fly-by-night operator. It is a fairly well-established defence company and is also one of several sub-contractors in India in the Rafale deal, contracted to maintain the Rafale simulators supplied by Sogitec, a Dassault subsidiary, and stationed at both the Ambala and Hasimara bases where Rafale squadrons will be based. 
As it now transpires, Defsys had indeed, at least as per GST (goods and services tax) filings, way bills and transportation documents, dispatched 50 scale models in several batches from Bangalore to Dassault's office in Delhi between September 2017 and January 2018! These scale models have since been on display at various civilian and military institutions in India. This is a common practice in arms deals, so why all the secrecy?    
Part of the answer must lie in the price of these models, which nobody is willing to discuss either in France or India. Mediapart's insinuation that these payments to Delfys are a cover for something else, therefore seems plausible. Yet, the relatively small amount involved in this particular transaction, and the disproportionately secretive response of the French authorities and Dassault, suggests a strong aversion to anyone sniffing around this transaction, and finding a trail leading to something bigger.
Other large payments
The third part of the Mediapart story alleges that Dassault and Thales, an important partner in manufacture of the Rafale, paid several millions of euros between 2004 and 2013, and other payments afterwards, to one Sushen Gupta, apparently a well-known figure in the arms market, who is currently under arrest but out on bail for his alleged role in kickbacks involved in the Agusta Westland helicopter deal.
Mediapart, citing documents it claims to possess belonging to Sushen Gupta himself, to the Enforcement Directorate and to different departments of the Government, claims that these funds were routed through various shell companies and off-shore accounts. Very similar routings, with inflated invoices for software services, were apparently involved in the Agusta Westland deal as well. In exchange, Mediapart states, Gupta provided vital information and internal government documents to assist Dassault through the long negotiations for the Medium Multi-role Combat Aircraft (MMRCA) contract. All these allegations have been denied by Gupta.
In particular, according to Mediapart, Gupta provided Dassault internal defence ministry documents on pricing, minutes of the Indian Negotiating Team (INT), methodology to arrive at a price, arguments prepared to present to the French side, and full details of the counter-offer made by rival Eurofighter.
Mediapart states that Gupta had suggested to Dassault a total price of EUR 7.87 billion, which was the exact amount offered by the French team and, despite objections within the INT, was the final price agreed between India and France.      
Silence all around
Spokespersons and supporters of the ruling dispensation in India have attacked all calls for an investigations, arguing that both the CAG and the Supreme Court have given a "clean chit" to the Rafale deal. The outcome may well have been that no adverse findings were finally made by either CAG or SC. But there was plenty in both to suggest that everything was not hunky-dory.
As discussed at the time in these columns, the CAG report is replete with findings of irregularities, of Eurofighter having first been adjudged L1 (lowest bidder), of goalposts being shifted and apples being compared with oranges, of dodgy price negotiations, and heavily redacted price details, with a conclusion that the Rafale was finally bought, not at a huge discount, as averred by government, but at a small fraction less than the initially offered price.
On its part, the SC based its decision on selective information, declined to examine technical or pricing aspects, accepted the government's assertion that procedures were followed despite ample evidence to the contrary, and based itself on a government note handed to the Court in a "sealed cover" and not disclosed to the petitioners. This is hardly a clean chit!
As repeated in the Mediapart story, an anti-corruption clause which is part of the approved Defence Procurement Procedure was removed in the inter-government agreement, despite vigorous protestations by the INT several times over, protecting both governments from disclosure.
Dassault has issued a carefully worded statement that "numerous controls are carried out by official organizations," but not mentioning that AFA itself declined to pursue the matter "in the national interest," and that "no violations were reported in the frame of the contract." So, if anything happened outside the "frame of the contract," that is nobody's business?
Mediapart has claimed that voluminous details are available with both the Indian and French governments, but both sides have decided to bury the issue. The silence of both governments, and regulatory agencies, is telling indeed. A famous Sherlock Holmes story, even cited in court judgments, revolves around a pet dog that did not bark. The fictional detective concludes that someone familiar, like the master of the house, must have been involved. 
Get the latest reports & analysis with people's perspective on Protests, movements & deep analytical videos, discussions of the current affairs in your Telegram app. Subscribe to NewsClick's Telegram channel & get Real-Time updates on stories, as they get published on our website.
Subscribe Newsclick On Telegram