Rafale Scam: Truth Has a Way of Revealing Itself
If scarcity of funds was a reason for buying 36 Rafale aircraft, as BJP leader Nitin Gadkari, said recently, then why did the Modi Sarkar shun Eurofighter which made an attractive offer?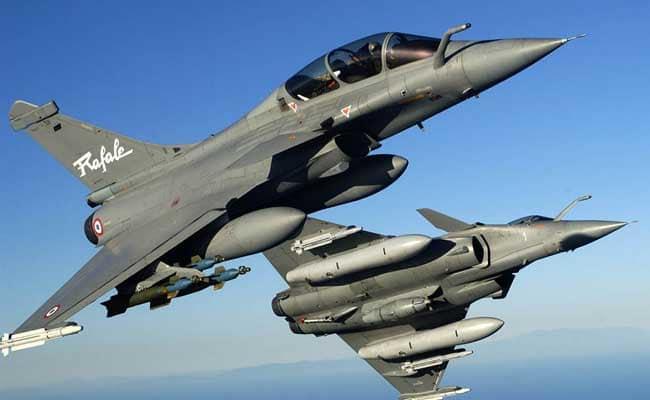 Assuming that Nitin Gadkari provided Indians with an authoritative version of the ruling Bhartiya Janata Party's views on a variety of questions raised by Karan Thapar [Tiranga TV, Monday May 14, 2019] let's look closely at what he had to say on the purchase of 36 Rafale fighter jets.
"My question was if you are getting the plane cheap, as you claim you are, why only buy 36? Buy all 126, you need 126, why not buy them in one go?
It is depending upon the finance sale (sic!) availability.
You mean the French wouldn't sell more?
No, no financial availability with the government of India. How can you advise me that you can take 100 planes? At least we need that much money to spend, so it is depending (sic) upon the government's financial position to purchase 36.
You have given the clear answer. No one in the government has given this honest answer before. The government didn't have financial means to buy more than 36.
First of all, you are just taking it that way — your purchasing system is wrong, you are violating this rule. Then we purchase. Then, why are you purchasing 36 and why not purchasing 100, what is the meaning of this? Anything, anywhere you purchase, you take first phase, second phase, third phase and then you increase. Suppose, after 36 planes, if there is an availability of new technology, new plane with a cheaper price, then we are free to purchase that, why we should purchase Rafale?"
So, the argument is that the reason why the Modi Sarkar settled for 36 fighter jets, and scuttled the deal for 126, was because there was not enough money available to buy more. This flies in the face of facts.
If scarcity of funds was a reason, then why was the Modi Sarkar so determined to shun Eurofighter which made a hugely attractive offer to cut their prices by 20%!
Even if India wanted to settle for Rafale fighter jets, by inviting Eurofighter and encouraging competitive bidding, French company Dassault Aviation would have been compelled to lower its price and thus the country would have saved scarce resources. Why was this not done?
As Newsclick's defence analyst D Raghunandan has pointed out, there's much which is curious about the Rafale deal. Take the India Specific Enhancement (ISE) for which the country has had to pay euro 1.3 billion (Rs 10,500 crore). Apart from whether these features needed development in the first place, there is the issue of ownership of these features and the research and development for it, all of which India is forced to pay for. He also pointed out in a recent interview to Newsclick that most of the 13 features which make up ISE, were already available with other fighter jets, including Eurofighter. In fact, as he said, MiG 29s came fitted with them but were the first to be rejected.
Indeed, even the Comptroller and Auditor General's (CAG) audit report has pointed out that four out of 13 features were "not needed at all". Even the Indian Air Force, as far back as 2010, had the same opinion. 
Besides, the cost of developing nine out of 13 should have automatically lowered the cost of ISE because fewer ISE features would have been needed. Yet, the price of euro 1.3 billion remained unchanged. Why this generosity by the Modi Sarkar, when according to Gadkari, the country was short of funds!
The generosity of the Modi Sarkar towards Dassault Aviation does not stop here. By settling for a "letter of comfort" instead of sovereign and/or bank guarantee which amounted to the French company saving euro 574 million or Rs 4,600 crore, this benefit was not passed on to India. Dassault was allowed to retain the amount. This is strange behaviour from the ruling BJP, which never tires of claiming a "nationality" mantle for itself and whose cabinet minister claimed that paucity of funds made them go in for reduced number of fighter jets.
In the course of the interview, Gadkari challenged the interviewer to point to one instance of France going back on its word. The answer is there in the French sale of Exocet missiles to Argentina. The source code of Exocet was shared with Britain during the Falklands War in 1982. Where France's national interest is concerned, they can scuttle deals and renege on promises.
By far the most astounding part of Gadkari's interview related to the Rafale scam is where he offers a glib response to a question:
 "Suppose, after 36 planes, if there is availability of new technology, new plane with a cheaper price, then we are free to purchase that, why should we purchase from Rafale?"
For a senior cabinet minister to not know that one of India's Achilles' Heel is its reliance on multiple platforms with Russian, British, French aircraft, each requiring a different set of technical staff and facilities for service and maintenance. The very idea behind the MMRCA (Medium Multi-Role Combat Aircraft) project was to wean India away from these while enhancing indigenous production capacity through a large order.
Even more serious is the fact the Modi Sarkar, after ordering 36 Rafale fighter jets, started a new tender process for 114 fighter jets. Not only is this wasteful in terms of time and money, something Gadkari kept blaming the Congress-led United Progressive Alliance for, but worse, it is going to be done as part of 'Make in India' where the foreign original equipment manufacturer will end up controlling India's military aviation production base  and hollow out the indigenous Hindustan Aeronautics Ltd. HAL has been systematically denuded of its financial strength and viability.
All this makes it evident that there is something rotten in this Rafale deal struck by Prime Minister Narendra Modi and that country is paying a heavy price because a crony capitalist had to be benefitted. The very fact that the same crony capitalist is today insolvent, lends further weight to the evidence that the Rafale deal stinks.
Get the latest reports & analysis with people's perspective on Protests, movements & deep analytical videos, discussions of the current affairs in your Telegram app. Subscribe to NewsClick's Telegram channel & get Real-Time updates on stories, as they get published on our website.
Subscribe Newsclick On Telegram