Why Rahul Gandhi Targets Crony Capitalists in Bharat Jodo Yatra
Some interrogating perspectives from the freedom struggle on the corporate-financial-political nexus in India.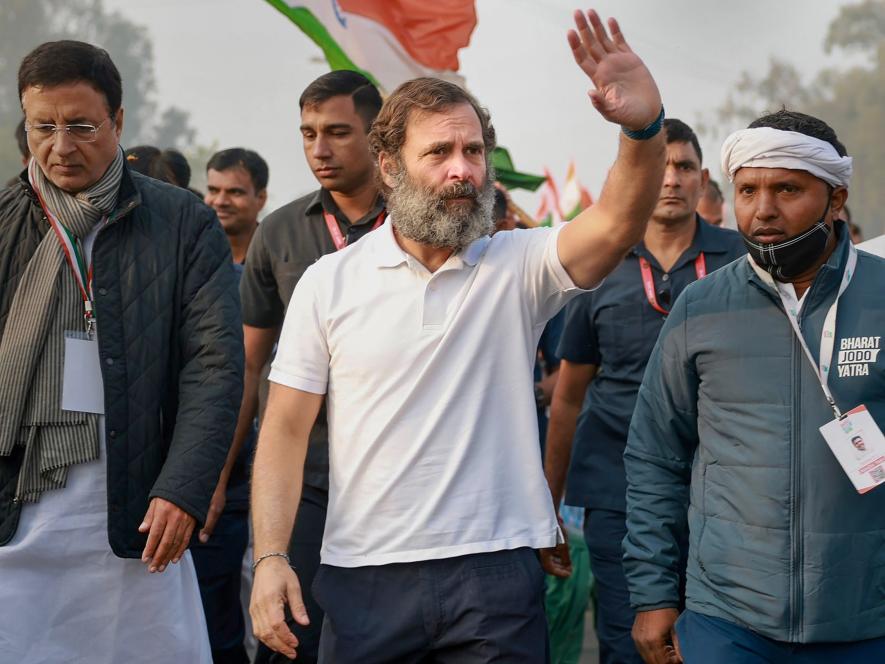 Congress leader Rahul Gandhi's Bharat Jodo Yatra, which started from Kanyakumari and will end in Kashmir, has become a mobile people's platform to raise social, economic and political issues, especially the nexus of the corporate sector with the Narendra Modi regime. In this way, the foot march echoes the year-long movement of farmers against the three farm laws. In 2020 and 2021, farmers repeatedly raised their voices against corporate giants, whose business interests they saw as the driving force behind the Centre's agriculture 'reforms'.
Congress and Big Business During Freedom Struggle
Big business houses and their links with political parties and people's movements were intensively scrutinised during the freedom struggle. On  June 4, 1942, noted American journalist Louis Fischer asked Mahatma Gandhi if the accusation that the Congress party was in the hands of big businesses was true and that Gandhi was supported by Bombay's mill owners, who gave him as much money as he wanted. Firmly committed to the truth, Gandhi candidly responded, "Unfortunately, they are true." He explained that the Congress party did not have enough money to conduct its work. Initially, the party believed that collecting four annas a year from every member would help it carry forward its programmes, but that did not work out.
Fischer asked Gandhi if the money the Congress was getting from business houses had affected its politics by creating a moral obligation toward those who kept it going. Gandhi acknowledged that it was a silent debt. He said, "But actually, we are very little influenced by the thinking of the rich. They are sometimes afraid of our demand for full independence".
These assertions of Gandhi's reveal the autonomy to frame its policies, which the Congress party safeguarded despite funding from business houses. That the business houses feared complete independence testified to how deeply they were linked with the British regime, which sustained their business interests.
Bharat Jodo Yatra and Farm Movement Expose Crony Capitalists
Insights from the freedom struggle are significant to understand how the Bharat Jodo Yatra, in which millions are participating, has exposed the nexus between big corporates with the regime in power today. Such corporates exercise complete control over most of the media and have a determining influence in shaping government policies in ways favourable to them. The situation today testifies to their hegemonic power in our collective life. And it is in sharp contrast to the Congress party protecting its autonomy during the freedom struggle to script policies without letting business houses influence it.
The Bharat Jodo Yatra and the farm movement had openly targeted India's most influential corporates. Therefore, a political party's yatra and a non-political movement have one thing in common: both attempt to unravel the connection of crony capitalists with the political regime headed by Prime Minister Modi.
Recall that just over two years ago, Rahul Gandhi, on October 4, 2020, said while addressing a farmer rally in Jattpura near Ludhiana, had targeted the Prime Minister for allowing himself to be used by corporates. He said, "Yeh Narendra Modi ki sarkar nahin hai. Yeh Ambani aur Adani ki sarkar hai. Narendra Modi unkey liye kaam kartey hain, yeh jo kehtey hain, Narendra Modi wohi kartey hain—This is not Narendra Modi's government. It is the government of big corporates, and Narendra Modi works for them. Modi does what they ask him to do." Throughout his yatra, Gandhi continued to target the big business-politics nexus by referring to some prominent companies in India.
Perhaps, the direct references to his business empire prompted Gautam Adani, the promoter of the Adani Group, to give interviews to newspapers and television channels defending his image and business activities. In these interviews, he has said his interests accelerated during the Congress regimes led by former prime ministers Rajiv Gandhi and Narasimha Rao.
What is also noteworthy is that people have responded approvingly to Rahul Gandhi's remarks about the close affinity of some big corporates with the government in power. The approval he is getting indicates the hegemonic role of these corporates in fashioning Indian politics and policies. It is also an unmistakable sign that the neo-liberal State's withdrawal from key areas of governance to let the private sector become the engine of jobless growth has not been lost on ordinary people.
Pro-Business Tilt of Political Regimes
Christophe Jaffrelot, Atul Kohli and Kanta Murali write in the introduction to their co-edited book, Business and Politics in India, published in 2019 by Modern South Asia: "Over the last three to four decades, politics and policy in India have moved steadily in a pro-business direction." They say the change in the political and policy tilt was "initiated" by Indira Gandhi on her return to power in 1980. It is a tilt her son Rajiv Gandhi deepened and transformed into economic liberalisation in 1991. And, "With Narendra Modi as India's prime minister at present, it would be difficult to deny the slow but definite transformation of India from a socialist political economy to one that sharply prioritises economic growth and business interests," they write.
Modi's rise gave even more priority to corporate interests and fundamentally altered the modicum of a socialist dimension to the Indian economy. Jaffrelot writes in his chapter on "business-friendly Gujarat" about Modi's emphasis during his tenure as chief minister on large corporates at the cost of small and medium businesses. It promoted economic growth and industrialisation but starved the health and education sectors of funds.
Jaffrelot writes, "Large subsidies provided to giant corporations have cut into public finances; this pressure, in turn, has led to a decline in investment in education and health. The pattern of investment of big corporate firms has also been more capital intensive, leading to fewer new jobs per unit of investment than in the past." A key observation is that the "government-business cooperation has been accompanied by grand corruption."
The authors also write that even a casual observer of Indian politics would not miss how Modi is "probably the first Indian Prime Minister openly anointed by leaders of the business community". The voices of caution raised during the Bharat Jodo Yatra and the apprehensions of farmers expressed during their movement thus converge with the scholarly analysis of Jaffrelot and his co-editors.
Era of 'Tata-Birla ki Sarkar'
There was a time in India when opposition parties and protest movements described the Congress regime as the "Tata-Birla ki Sarkar—government of Tata-Birla". Their main concern was that Congress policies favoured these corporate houses, which reaped economic dividends and expanded their business interests. Public sector units were not acquired by corporates those days at the breakneck pace the ruling party and government now enable. That is another substantive difference between how the political-corporate nexus operated before and after 2014.
Democracy Draws Power & Legitimacy From Citizens, Not Corporates
The deepening of the hegemonic role of corporates in shaping politics and policies harms democracy by excluding the concerns of citizens. Jaffrelot et al. note that the promotion of business, then big business, followed by narrow capitalist interests in the present era, weakens the legitimacy of democracy. This is because access to power amid a broad spectrum of citizens and groups is essential to preserve the legitimacy of democracy. Business groups are central and legitimate participants in a capitalist system, but the narrower that interest group gets, and when it gathers "veto power," it threatens democratic functioning.
For all these reasons, seeing citizens awakened by the Bharat Jodo Yatra is heartening. Expressed by a political party and a popular movement in recent times, it signals that citizens are aware of the danger of crony capitalism. When such interests attempt to reshape public policies in their favour, popular movements also arise to generate hope for remedies. After all, at stake is the very existence of our democracy.
The writer served as an officer on special duty to former President of India, KR Narayanan. The views are personal.
Get the latest reports & analysis with people's perspective on Protests, movements & deep analytical videos, discussions of the current affairs in your Telegram app. Subscribe to NewsClick's Telegram channel & get Real-Time updates on stories, as they get published on our website.
Subscribe Newsclick On Telegram