"Delhi Crime is a Reminder to Treat Women with Respect"—Rasika Dugal
"People now expect me to collaborate more, not just follow instructions"—Rasika Dugal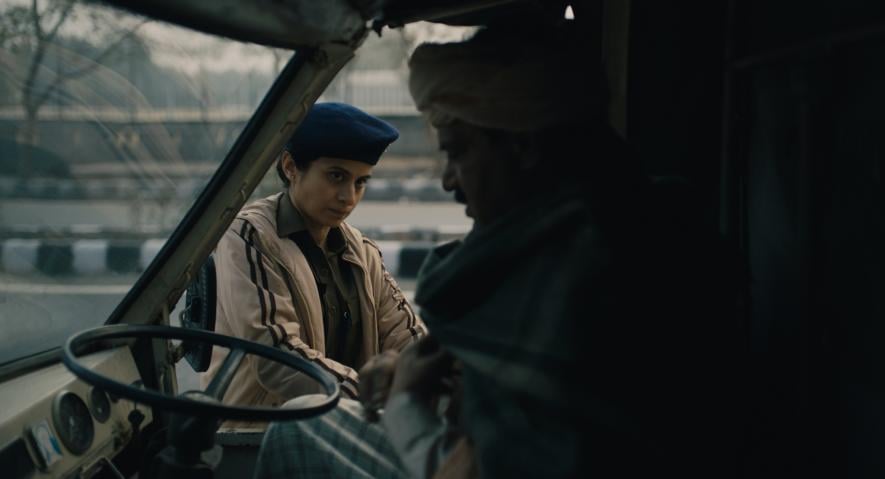 Rasika Dugal as Neeti Singh, a policewoman in Delhi Crime.
As we go to press, Delhi Crime, a web series starring Rasika Dugal, has just been declared winner of the Best Drama Series award at the 48th International Emmy Awards. On a phone call from Ooty, where Dugal is on a long shooting schedule, she says playing Neeti Singh, the cop in Delhi Crime, was like revisiting her own time as a student in Delhi University. "There was a disappointment with the system but not strong enough to let go of the idealism," she says of that time. 
With small but persuasive films like Tahaan, Kshay, Qissa, Hamid, Manto and Tu Hai Mera Sunday to take pride in and popular web series like Mirzapur, Made in Heaven and Delhi Crime to boast of, Rasika Dugal is now perched at a wonderful stage in her career. For her, Delhi Crime stands out for the "skills and sensitivity" of those who made it. "Though it is a police-procedural about a heinous crime, it gave us a glimpse of the lives of women and how they face up to everyday patriarchy. It is about how small things eventually make for and lead on to bigger crimes. It is a reminder to treat women with respect," she says. 
Earlier, just as she was preparing to leave for her first outdoor in the pandemic, Newsclick had caught up with the lively and luminous Dugal, who was elated about the momentous date in her life as an actor—October 23, 2020—when she had come home to Indian viewers as two diametrically different characters, the gentle Savita Mehra Kapoor in A Suitable Boy and the manipulative Beena Tripathi in Mirzapur. Excerpts from an extended conversation with Namrata Joshi: 
A lot has been happening for you in the last few months when the world has otherwise come to a halt...
Quite strangely actually, because when the lockdown started, I thought it would be time for a pause. I had just come off a long [and exhausting] night schedule of Season 2 of Delhi Crime. The first few days of the lockdown, I slept for more than ten hours every day. That time, we didn't have much information [about the pandemic]. Everyone was taking in new information every day. We still are wondering to some extent but, at that time, the worry was greater. But it didn't quite end up being free time. It became more productive than I would have wanted it to be. 
The first few months, when I was actually free, [actor and husband] Mukul [Chaddha] and I ended up making a short film called Banana Bread. Two actors living in the same house during the lockdown—I thought I had to make something of that experience. It shouldn't go waste. Mukul had been wanting to write for a while. I was interested in ideating on a project and being involved in it at the initiation [stage] but I had never actively thought of writing. We thought that since we were together, it was a good time to explore that. There was a round of promotions for Lootcase from home. That was my first experience of online promotions and Zoom meetings. 
I was happy that both of these [films] were in the comic space. I felt they could bring some cheer in gloomy times. Something away from any kind of emotional exhaustion and darkness which many of my projects tend to have. 
While shoots were not happening, we were worried and obviously horrified at some of the things happening outside, starting with the migrant labour crisis, the health concerns...  It was all so strange and dystopian and still feels like that. When I went out and saw everybody wearing masks, I thought that we have accepted it as a new way of life. We have all sort of started working, almost as we used to. [But] the health situation hasn't really improved. It's not as though the situation is better today, it's worse, maybe. This is something I would have read a couple of years back and called it a dystopian story, would have never expected it to be the reality. I would have never imagined living through a pandemic. 
During the [early days] of the pandemic I read and listened to a lot of economists and health experts and policy makers. What do you do in a country like ours, especially in a situation like this?  Do you take care of the economy or the health concerns? It was clearly one against the other, especially for a country like ours. 
When unlock happened and people started getting comfortable about doing more things, that's when the dubbing started for Mirzapur. That was the first job I stepped out for. A Suitable Boy I dubbed pretty early in the pandemic from home. The team was very quick. They managed to dub with actors around the world—London, New York, Delhi, Mumbai, Goa—over the first few months of the lockdown.
So you have been busy despite not shooting?
I had begun to enjoy the pause in the first two months of the lockdown. There were so many books I had been wanting to read and the shows I wanted to watch. I did some of it. It was like I was seizing the actor in me again, than just working continuously and giving a project everything. It felt like my soul was being fed again. But it didn't last very long. 
You said you were reading the academicians, economists. Was it like going back to the communications student you once were [at Mumbai's Sophia Polytechnic]?
I totally enjoyed it; it felt like my mind was being stimulated. Such great thinkers! Shruti Rajagopalan and Vivek Kaul I follow regularly now. There is so much more knowledge I get [from them]. It's about getting different kinds of perspective on things. Yes, it was going back to that research assistant phase in my life, the Social Communications Media student phase of my life which is something I really like to revisit every time I get time off. 
The pandemic has been an altering force, debilitating and diminishing for most. How has it affected actors in particular and acting as a profession?
It has affected people who don't have the luxury of savings to fall back on or a bank of work to show. It would be heart-breaking and difficult in many ways for those [who have to] make ends meet every month. Also people looking to project themselves, who haven't had many releases before. Projects have got significantly delayed. Not just actors; wage earners from spot-boys to people in charge of transport, the car suppliers. For them these have been very hard times. But I was also very moved by the very sensitive civil society initiatives... 
For some, it was an economic problem, for some it was a career issue, projects shelved and delayed that can't be put together now. Fortunately, for me, it has been a question of scheduling which is just a minor grouse. If I had two projects lined up, the problem now is where to fit in what. Then there are the new projects I can't say yes to because I have these held-over commitments. Some of these were very exciting and I would have loved to have done them. But these are regular actor problems, nothing like what others might be going through.
Aren't the actors also getting captive viewers at home now with content streaming on OTT platforms rather than cinemas?
But within that space there is so much vying for attention. Why would someone watch your show over another? They can choose a big budget film with a star or a small series. I am happy that there is room for everything... You also don't need big hoardings or prime time trailer runs to get noticed. There are creative, innovative ways of reaching out. The ones with money have the advantage when it comes to marketing and publicity. But even the smaller ones are not devoid of that.
Some actors got noticed and established themselves during the pandemic...
Lots of people have taken to watching stuff on streaming platforms during the pandemic from lack of an alternative. Viewing habits have changed. People who may have preferred to go to theatres have now taken to watching online. In the early days, people were craving entertainment to escape from the situation we are in. Those shows kicked off really well. Jaideep Ahlawat, for instance, but I already knew a lot about him. Paatal Lok was perhaps the one push that was waiting to happen to him, but he was well known earlier too, with Raazi and Gangs of Wasseypur. 
You once told me comedy is the one thing that you would want to see more of in your portfolio. Your three pandemic releases—Lootcase, A Suitable Boy and Mirzapur—they have all been very different from each other. Does the variety give you a high as an actor? 
A Suitable Boy and Mirzapur, both releasing on the same day, give me a very big kick. Beena Tripathi and Savita Mehra are two different sides of my range as an actor. I was also excited about the two shows being from entirely different genres. This is the time when different stories can be told and there is an audience for it. It means there is no subscribing to formula.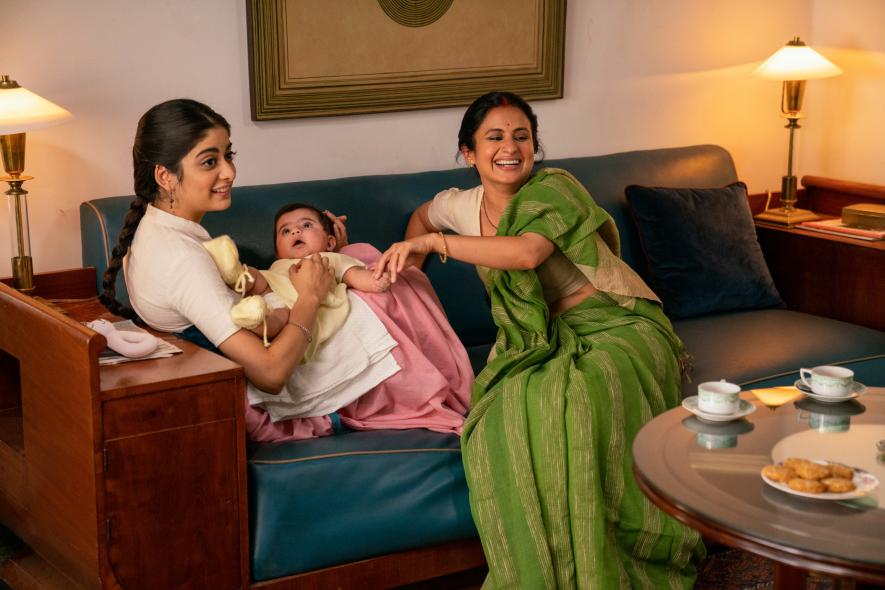 Rasika Dugal (R) in A Suitable Boy directed by Mira Nair.
Lootcase got comedy on my portfolio. In the comic space there is always this one person who is playing off the other parts. In Lootcase, I was that. Now I would like to play someone on whom rests the onus of comedy. That I don't think happened completely with Lootcase.  
How did your character (and your approach to it) change in the two seasons of Mirzapur? 
I was very nervous to start shooting for the second season because it's difficult to revisit a character after you have heard everyone say everything about it. Friends and family have told you what they felt. Some have praised it, others haven't. With that knowledge and memory, it becomes a very different experience [to go back to it]. I felt that I had too much information, which was not how I felt about Beena when I was playing her. Articulating and expressing things about something you are watching is very different from experiencing it. How do I remove memory of all that I know? How do I start afresh with who I was in Season 1? I realised it was better to not fight it. It is better to accept and work with it. As an actor I have realised that anything that happens, I have to use it to my advantage and make it a part of my work and my experience than fight it. If there is chaos happening when you are shooting the most important scene then this is something you have to constantly apply. You have to tell yourself 'it's okay', that there is 'nothing I can do to erase this. I have to find my way to work and go about it accordingly.' 
What I found very helpful was that the director and writer were much more in sync with the character than in Season 1. They knew exactly what each one of them would do, how they would respond to events. They knew how the characters were hardwired. They were playing around with the characters, in the writing and in the direction, effortlessly. 
Just like people in reality, characters in a story also change. They go through experiences and even though they might be hardwired in one way, things might happen to them and they change. Beena, after she has been violated at the end of Season 1, starts Season 2 on a very different note till she gets back to reclaiming her Beena-ness again. It was a very interesting journey to explore. There was the insecurity though, that there should be something about her that reminds you of Season 1. It couldn't have been completely different so that you don't see her at all. It's like meeting an old friend. You know basic things about them, but it takes you a little to re-acquaint yourself. 
From one season to another must be quite a jump when even within a series, a character could be evolving from episode to episode. A series, in that sense, must be a very different beast from doing a character in a two-hour-long movie.
I find the series space more comfortable. With the number of days of shoot, both in terms of time and the script, I feel I have more to play around with the character. With long form, there are scenes where even writers end up playing with the characters. As an actor, you tend to warm up to it. You find time to live and be the character. I feel satisfied with the long form because it gives you time to explore. If I had to do it in a film, it would have to be done during the rehearsal and then in the film itself. However much you might rehearse, the kind of urgency and focus you get to your work when you are shooting is unparalleled. It can't happen in a rehearsal. When you are shooting, you are aware that this shot would be there forever. I like long form more than film in how it makes me warm up to the character.
Stage is another ball game altogether then...
What makes me want to do my job really well when I am shooting for a film is the idea that this shot, how I do it today, will be like this forever. This is what will remain. I will never have a chance to improve it. In theatre, I feel like every show is a rehearsal because there will always be another time [when] you can do it again, add something new, take away something that is not working, play around. 
You appear to be your own critic...
I think all actors are, some more than others. Most actors I know, I think, need to hold back from being too critical. It can sometimes bog you down. Many people don't watch their films/shows because they get too stressed out. Earlier I used to feel very bad about things not going right. Now feel like I have learnt something from it. 
But the popular imagination equates vanity with actors. That they are in love with themselves.
Maybe being self-critical is also a way of being self-absorbed. 
I guess it's fine so long as it doesn't lead to any anxieties...
It can; in my early days it did. I have learnt how to manage it better now. Maybe because I have a lot of other work, I can move on. When you get bogged down by your own thing, you bring down people around you as well. Film-making is a highly collaborative exercise. People now expect me to be more of a collaborator than follower of instructions. Because of that responsibility, I feel that if minor things are not going my way then I have to let go and move on
Get the latest reports & analysis with people's perspective on Protests, movements & deep analytical videos, discussions of the current affairs in your Telegram app. Subscribe to NewsClick's Telegram channel & get Real-Time updates on stories, as they get published on our website.
Subscribe Newsclick On Telegram