Real Impact, Real Change: CJP's Year of Monitoring Violations: a Review
Approaching several authorities to curtail hate speech and demand action against those guilty of targeted violence, CJP has had an action-packed year, and achieved tangible results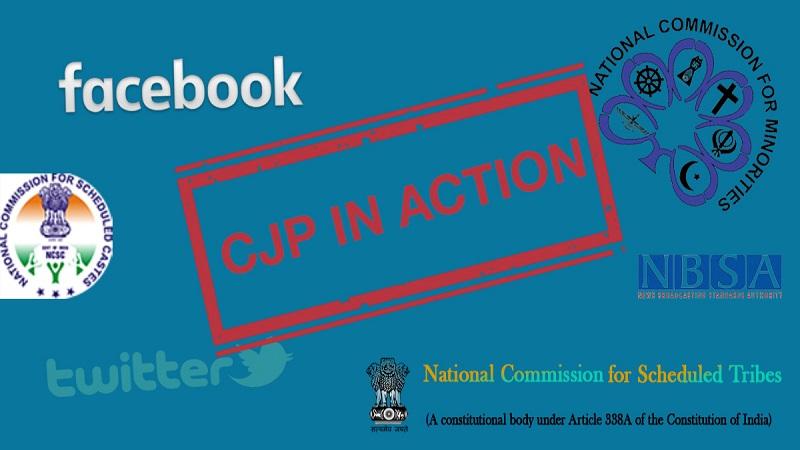 In CJP's endeavour to uphold and protect freedom and constitutional rights of all Indians, the organisation monitors rights violations, especially infringements on social peace through the sustained (mis)use of hate speech and targeted violence. We then approachseveral statutory authorities to bring to their attentionthe infringement of these rights. CJP has been systematically carrying out these multi-layered tasks for years, right from its inception in 2002. Year after year, CJP's impact keeps growing, deepening this effort at demanding accountability and transparency.
Our  persistent efforts to highlight injustices served uponthe most marginalized and voiceless,Adivasis, Minorities, Dalits, and Women, focus on instances of targeted violence and hate speech: this comprehensive complaint mechanism and monitoring has compelled the authorities to take notice and seek action. In 2023, we will redouble these efforts, adding more and more creative dimensions; to ensure systemic monitoring and accountability from institutions of democratic governance.
Let's take a look back at 2022 and list down CJP's strikes and their impact: in terms of real action and change.
News Broadcasting & Digital Standards Authority (NBDSA)
Times Now's 'Madrassa Jihad' Trope
On December 5, CJP wrote to NBDSA against the debate segment of Times Now Navbharat aired on November 11, titled 'Madrasa Jihad' परबड़ाखुल़ास़ा, मजहबीत़ालीमक़ा '491 तंत्र". The debate, hosted by Naina Yadav and Rakesh Pandey, was based on a survey carried out by the UP government on Madrassas in certain districts of the State whereby it was reportedly found that Bahraich city has 792 madrassas out of which 491 were found to be running "without license". The complaint raised "concern over the manner in which or the approach chosen to deal with this data. Using terms like "Madrassa Jihad" and "the 'M' Factor" the channel has resorted to cheap tactics to spread communal tension and hatred which is unbecoming of a news channel".
NBDSA has sought a response from the channel, the complaint is ongoing and the case is pending.
Communal venom over garba celebrations
On October 4, News18 India aired a show hosted by Aman Chopra containing themes of communal divide and direct displays of hatred throughout its narrative while dealing with a news that the Gujarat police had openly flogged men while tying them to a pole, for allegedly pelting stones at a garba event. While showing the video on the screen, of police beating the men, Chopra said, "Aapko Gujarat Police ka Dandiya dikhatehai (We will show you "Dandiya"  played by Gujarat Police)". Then he cheered them more as the beatings continue and the victims, visibly pained and begging for mercy saying "please forgive us". CJP wrote to NBDSA on October 22, 2022 as it was dissatisfied with the channel's response.
Through the entire debate, the members of the panel brought into question not just the various principles of Islam as a religion but also mocked speakers belonging to the Muslim community by asking them to hail Hindus gods on national television. The complaint further states, "There is no iota  of doubt that the intention of the host was to incite Hindus against the Muslim by questioning why Muslims should get involved in garba celebrations, by justifying the unlawful police action of flogging Muslim men publicly, by picking one or two incidents to show that Muslims are acting against Hindus by stone pelting or by entering garba celebrations to eve tease Hindu girls, by posing baseless questions like why Muslim girls do not celebrate garba."
Even Aaj Tak conducted a similar vilificatory exercise over Garba celebrations. Sudhir Chaudhary, against whose show CJP has complained against in the past as well, hosted this show on Aaj Tak called  'Black and White Show' flagging it off by asking the question Muslim yuvaon ka garba ke pandolon mei jaane ka makshad akhir hai kya? (What is the reason for Muslim youth to go to garba pandals?).
CJP moved NBDSA on October 20, 2022 against the show and stated in its complaint that throughout the show Chaudhary did not try to mask his bias in any manner, manipulated facts and actively participating in the communal diatribe. The host has also presented "data" that claimed that the channel's team went to the pandals and found that Muslim boys are befriending Hindu girls.
These complaints are pending and will be pursued.
Media trial against Teesta Setalvad
On July 28, CJP moved NBDSA against Times Now for consecutively airing 3 shows amounting to a media trial of human rights activist and journalist, Ms Teesta Setalvad. The three shows, while making Setalvad's arrest by Gujarat Police a point of discussion, made wild allegations against her questioning her patriotism and credibility, and presented information about her in a manner that not only demeans and vilifies her, but also casts aspersions upon her humanitarian work. The channel went as far as to misrepresent judgements attributed to the Supreme Court of India, when in fact they were comments made by a hostile government.
A hearing was conducted before the NBDSA and the order is awaited.
News18 India held accountable!
CJP had filed this complaint on March 15, 2022 with NBDSAagainst News18 unverified and misleading live debate programme titled 'Toh hijab ke liye bam barsaenge?/ Danke ki chot par' (Translation: Asking openly- So will bombs be hurled for hijab?) that aired on February 15, 2022.  The host depicted a distorted view around the incident which took place at a school at Murshidabad, West Bengal by making statements such as "Desh ke kayi hisso mei pradarshan kari itne ugr ho chuke hai, haalat itne kharab ho gye hai ki hijab pehen kar aane se mana karne par school mei pathtar bazi ki gayi, tod phod kiya gaya, dawa kiya bam bhi yahan phenke gaye"  (Translation: In various parts across the country the protesters have been so violent that they pelted stones in the school and vandalized it, it is ascertained that bombs were hurled at the school).
In this complaint, CJP pointed out how, by fact-checkers and news portals such as Alt News and The Print, that in truth, there were no bombs being hurled during the protest, and the claims made by News 18 were not supported by any ground reports or statements from local administration officials.
The NBDSA, vide its order dated July 26, 2022 issued a warning to the broadcaster not to hold such debates without verifying the facts and directed the channel to take down the video of the show from all platforms on the internet. The NBDSA also took serious objection to the language used by the anchor in the programme and said, "The broadcasters must be mindful of their duty towards communities and telecast programmes which are accurate, balanced and impartial and in accordance with the Code of Ethics and Broadcasting Standards and Guidelines."
CJP's complaint met with success.
Zee News directed to take down communal debate show
Through its June 142022 order, the NBDSA directed Zee News to pull down the videos of its show titled Kudrat ek bahana hai, Muslim abaadi badhana hai? (Translation: Nature is just an excuse, the motive is to increase Muslim Population?) that aired on June 27, 2021. Thr authority held that "the manner in which the topic was framed, and the language used clearly pointed to the fact that there was an agenda to the debate. This was also clear from the images that were displayed during the debate."
It further noted that "the following taglines were run during the debate: "Nizaam-e-kudrat ya Hindustan pe aafat?"; "Kudrat bahana hain, Muslim abaadi badana hain?" ; "Hum do hamare do par majhabi rukawat kyo?" ; "UP me chunao, isliye abaadi par tanao?" which taglines were used without any supporting data or facts. In the absence thereof, these taglines amount to giving tilt to the debate which created a perception that there is only one community which is responsible for the population growth in the country."
CJP had filed the complaint with NBDSA on July 23, 2021.
Zee Hindustan pulled up for "Vaccine Jihad" trope
The NBDSA, vide its June 14 order directed Zee Hindustan to take down all videos of the show titled कट्ट़रपंथियों से सीधे सवाल करने वाला बहुत बड़ा खुलासा | देश में कौन कर रहा है Vaccine वाला जिहाद ? (Translation: Fanatics to be questioned on this big revelation. Who is involved in "Vaccine jihad" in the country?) aired on May 30, 2021. CJP had highlighted in its complaint that the show was about a breaking news story about one Niha Khan from Jamalpur Primary Health Centre in Aligarh, UP, who was booked for allegedly disposing 29 syringes filled with Covid-19 vaccine without administering them to the beneficiaries. CJP pointed out that this news story was false and referred to a fact checked article that stated that the incident had actually taken place in Ecuador. CJP's contention was that the channel did not even bother to fact check the video that they kept alleging to be of an incident in India.
The Nupur Sharma controversy
On May 31, CJP called out Times Now for allowing, now suspended BJP leader, Nupur Sharma to make derogatory comments about Prophet Mohammad on its debate show.CJP has highlighted in its complaint that no attempt was made by the host Navika Kumar to stop or restrict Nupur Sharma from making such hateful and even hurtful comments, all so she could outshout another speaker. The complaint states that the Times Now Channel clearly allowed this kind of extremely inflammatory statements to run their course and do immeasurable damage before removing this video altogether.
What the complaint stressed upon is that it is not just the participants who have to maintain restraint with respect to the language used against fellow panelists, but it is also the duty of the host/anchor representing the channel to monitor the debate and call out the participants for using such foul language.
Communalising UP elections
On February 15, CJP complained to NBDSA against News18 India's show 'Desh nahi jhukne denge – Hinduo ke khilaf mahagathbandhan' hosted by Aman Chopra which aired on January 18. The show was flagged off by the host with a communally charged question, "Hinduon ke khilaf uttar Pradesh me Mahagathbandhan tayyar ho raha hai aur jab 80 vs. 20 ki baat ki thi yogi Adityanath ne toh wo sahi thi?" (Translation: In UP, a grand alliance is being formed, and was Yogi Adityanath right when he said it is now 80 vs. 20?). The complaint also stated that the narrative of the debate show was to show that the Opposition in the state of UP was forming an alliance against the Hindu community, thereby creating divisions along communal lines in the election campaign phase of the Assembly elections.
The hearing in this case is still pending before the NBDSA.
National Commission for Minorities (NCM)
The 'Miya Muslim' stigma
On November 25, the NCM directed the Director General of Police (DGP), Assam to send a detailed report in a complaint filed by CJP against BJP leader and previously a Member of Legislative Assembly (MLA) from the Hojai constituency of Assam, Shiladitya Dev.
On October 31, CJP had filed the complaint after he made derogatory statements and spewed hate against Muslims. In the video, that was uploaded on Facebook he said, "Assam is filled with Miyas, so why there is need for a Miya Museum, it should be set on fire and set ablaze." He then continued, "After the CAA protest, one section of the community wants Miya Museum in Srimanta Shankardev Kalakhetrya, specially one MLA." This is not the first time that Shiladitya Dev has found himself in trouble over his comments. In Aug 2020, multiple FIRs had been filed against him by several groups and individuals for particularly inciteful speeches
The "Virat Hindu Sabha"
On October 14, CJP wrote to the NCM against the provocative speeches made at Delhi's "Virat Hindu Sabha", calling for a boycott of the Muslim community and even threatening violence. The event, organized by the Vishwa Hindu Parishad (VHP), was held in North East Delhi on October 9, 2022and witnessed some self-professed religious leaders and members of the ruling Bharatiya Janata Party (BJP), espousing a hard, right-wing, exclusionist ideology delivering incendiary speeches.
As per news report, FIR was filed only under Section 188 of IPC, that is, for lack of permission for holding the event. The complaint details excerpts of these speeches and has also shared with the NCM, the videos that were widely circulated on social media, which become proof that these speeches that were delivered. In one of the videos, BJP MP Pravesh Sahib Singh Verma can be heard saying, "Jahan jahan yeh aaapko dikhaee de, mai kehta hun, agar inka dimaag thik karna hai… toh ek hi ilaaj hai, woh hai sampurna bahishkar… Aap is baat se sehmat ho?" (If you want to set their minds right, if you want to cure them, there is only one solution – complete boycott.)
Suresh Chavhanke -- the repeat offender
On September 13, CJP wrote to NCM against Sudarshan TV editor-in-chief Suresh Chavhanke for his derogatory, Islamophobic and hate-filled speech at a rally held on September 4 in Badarpur, Haryana. In the video he can be heard saying, "If you marry a Hindu man, he won't do any kind of injustice to you. I'll tell you 10 benefits today keeping Hindus as witness, keeping Bhagwan (God) as witness on camera, in the video, I promise that if you get married to Hindu boys and become Hindu, then you won't have to face talaq. You won't have to become a baby making factory, you won't have to give birth to 40-40 children." The complaint stated that the speech "amounted to spreading of hatred and distrust against vulnerable and marginalised Muslims sections, especially Muslim women, besides being a grave threat to the peace, unity and integrity of India".
Action sought against Swami Jitendranand Saraswati
On July 29, NCM directed the Mumbai Police to investigate the Islamophobic and misogynistic call for lynching of pregnant Muslim women given by self-styled spiritual leader Swami Jitendranand Saraswati. This was in response to CJP's complaintwhere we had highlighted that in the video titled "देशधर्मपरआघातहमचुपक्यूँहै" (Why is the country silent on the attack on religion?) he had said, "Aisa singhnad karo ki desh virodhi mahila ki kokhmein koi gauhatyara, koi rashtravirodhi pal raha ho to kokh phaadkar gir jaaye. (Translation: Roar like a lion, so that if there is a 'cow killer' or an anti-national, being nurtured in the womb of an anti-national woman, your slogans should result in the unborn baby falling out of the ripped open womb.)" He had also clubbed together all Muslims with the Taliban and made a series of allegations against the community ranging from marrying children, to raping women.
Action against Deepak Sharma
The NCM, on July 29, issued another letter, this time to the Superintendent of Amroha Police, Uttar Pradesh directing them to investigate hate speech of repeat hate offender Deepak Sharma for making derogatory comments about the anatomy and biology of Allah (the word used for God in Islam), which  cannot be repeated in print. These comments were made him in an audio chatroom organised by Deepak Sharma titled Mahadev ko gaali India mein legal, (Translation: Verbally abusing Mahadev is legal in India) on social media app called 'Clubhouse'.  CJP has tracked Sharma and his hateful diatribe on social media. CJP was one of the first to flag his profile to National Human Rights Commission (NHRC) on December 27, 2018 and had detailed how Facebook helped news and media channels to team up with such offenders to share and transmit discriminatory content.
Swords distribution by Hindu outfit
On June 29,CJP approached NCM against the hardline outfit Hindu Sena for distributing swords at an event organized by the outfit's National president Vishnu Gupta and its Delhi president Deepak Malik. The event was held at Vishwagiri temple in Rajouri Garden, Delhi on June 19, 2022, in support of suspended and sacked Bharatiya Janata Party (BJP) leaders Nupur Sharma and Naveen Jindal. Such distribution of arms are clear violations of the Indian Arms Act.
BJP MLA Haribhushan Bachaul—multiple times, a hate offender
On June 29, CJP wrote to NCM against BJP MLA Haribhushan Bachaul for using the term 'jihadi' (which originally means 'Muslims carrying out a holy war as sacred duty', often used by Islamophobes in an attempt to demonise the minority community) for the youth protesting the Agnipath scheme for army recruitment.
This was follow up complaint as CJP had written a complaint earlier, on May 12, against Bachaul for openly comparing Muslims to demons and called for them to be set ablaze, amounting to an open call for genocide.
On June 2, the NCM took note of the May complaint and directed the Director General of Police (DGP), Bihar to investigate and file a report before the Commission within 21 days. There is no further update in this case.
Complaint against Islamic scholar
On June 23, CJP brought to the attention of NCM, hate-filled comments of Ilyas Sharafuddin against Hindus which could have led to a communally polarising reaction within the majority. Sharaufuddin is often invited to debate shows by television news channels to speak on 'Hindu-Muslim' issues, at which point he proceeds to use words that either mock or hurt the religious sentiments. During one such appearance on Zee News, on May 31, 2022, he was caught describing in a particularly derogatory manner, the "Shivling", which is a highly revered symbol in Hinduism. Few other comments made by him on different debate shows across TV channels have been highlighted by CJP in its complaint.
Politician calls 'Bangladeshi' and 'Rohingya' Muslims  'Terrorists'
CJP wrote to NCM against BJP Chief Adesh Guptafor addressing 'Bangladeshi' and 'Rohingya' Muslims as 'Terrorists'in a video dated May 9. Gupta even wrote a letter to South Delhi Municipal Corporation (SDMC) Mayor Mukkesh Suryaan and East Delhi Municipal Corporation (EDMC) Mayor Shyam Sunder Agarwal, Adesh Gupta asking them to "identify" the encroachment by "anti-social elements" and "bulldoze them", India Today had reported on April 22, 2022.
Pravin Togadia's remarks at Trishul Diksha
On May 5, CJP brought to NCM's notice the hate speech of surgeon-turned-Hindutva leader and president of Antarashtriya Hindu Parishad (AHP), Pravin Togadia. In the complaint, CJP highlights Togadia's virtual call for an 'ethnic cleansing' drive under the guise of an oath to eradicate "illegal Bangladeshis" at a ceremony where youth were also encouraged to bear arms like trishuls (traditional tridents). Togadia also made communal arguments in favour of a divisive National Register of Citizens (NRC) to weed out the so-called "outsiders, who are more often than not Bengali-speaking Muslims, falsely accused of being illegal Bangladeshi immigrants.
In a rather prompt action, the NCM, on May 13 forwarded CJP's complaint against Togadia to to the Chief Secretary, Government of Assam to take necessary action.
On December 29, 2021NCM asked DGP, Bengaluru to take necessary action against BJP MP Tejasvi Surya for making communal remarks against the Muslim community and accusing them of "blocking beds" in hospitals providing Covid-19 care. In May 2021, CJP had approached the Commission about the incident that took place on May 4, 2021 where  the BJP MP listed out sixteen names all belonging to people from the Muslim minority community, linking them with an alleged bed blocking 'scam' in the south Municipal Zone. There has been no update in this matter.
National Commission for Scheduled Tribes
Dalit man attacked for drawing water from tube well!
On November 23, 2022 CJP wrote to NCST seeking protection for the family of the 46-year-old Tribal man, Kishanlal Bheel from Rajasthan who was lynched by a group of people over drawing water from a tube well. On November 7, a 45-year-old tribal man from Rajasthan's Jodhpur district died as he was assaulted by a group of people over drawing water from a tube well. As per the police, the family of the deceased alleged that the accused also abused the deceased man Kishanlal Bheel (46), from Bhomiyaji ki Ghati, with casteist slurs. The complaint urges the Commission, to "closely monitor the case through the investigation and prosecution to ensure that substantive and exemplary justice is delivered."
National Commission for Scheduled Castes
On September 19, CJP sought protection from NCSC for the family of the 9-year-old Dalit boy from Rajasthan who succumbed to his injuries after being allegedly thrashed mercilessly by an "upper caste" teacher allegedly for touching a pot of water which was only meant for "upper castes". According to the boy's father, the brutal beating had led to haemorrhage, and the boy's limbs had stopped working. The family accused an upper caste teacher named Chail Singh who was enraged when the boy had touched a pot of water meant for the teacher. The accused teacher, Chail Singh was arrested on August 13 after the child's death and the police have taken statements of his classmates and other students present on that day. Since the accused was already booked, CJP sought protection of the victim's family under Section 15 A of the Scheduled Caste and Scheduled Tribes (Prevention of Atrocities) Act, 1989 that provide for "protection of victims, their dependents, and witnesses against any kind of intimidation or coercion or inducement or violence or threats of violence" as well as right of the victim's family "to be heard at any proceeding under this Act in respect of bail, discharge, release, parole, conviction or sentence of an accused or any connected proceedings or arguments and file written submission on conviction, acquittal or sentencing."
In what seems to be a spate of unfortunate incidents of violence against Dalits, especially minors, On September 28, CJP once again wrote to the NCSC seeking protection for the family of the 15-year-old Dalit boy, Nikhit Dohre from Uttar Pradesh who succumbed to his injuries after being allegedly thrashed mercilessly with sticks and rods, by an "upper caste" teacher. We also highlighted how the police has also booked the father of the minor boy, "Instead of ensuring that the perpetrator of this crime is put behind bars, the police is busy further tormenting the Dalit family and the protestors. It is to be noted that while assurance was given by the police that the accused teacher will be arrested, no arrest has been made so far. It is clear from the aforementioned that the family of the victims is under attack and the focus of the police officials is to bury this incident," stated the complaint. The complaint also seeks monitoring of the investigation by Rajasthan police in the offence already registered to ensure that the perpetrator is booked and proceeded against as per law.
NHRC
Adivasis attacked 2 years ago; inaction of UP Police
It's been two years and counting since CJP complained to the NHRCpleading action against forest authorities for assaulting Tharu Adivasis of Kajaria Village in Dudhwa Tiger reserve, Lakhimpur Kheri, UP and also for molesting the women. CJP and AIUFWP had complained on July 9, 2020 stating that on Juuly 1, 2020 the forest officials came to the fields, allegedly fired shots in the air, molested women and beat up some youngsters. After considering the matter on December 28, 2021 as per the response submitted by the Forest Department and the rejoinder filed by CJP-AIUFW, the Commission directed the SP, Lakhimpur Kheri, UP to submit the status/outcome of the case within the period of four weeks. 
In June 2022 the NHRC took a serious view of the non-responsive attitude of the Superintendent of Police (SP), Lakhimpur Kheri, Uttar Pradesh and issued conditional summons for his personal appearance before the Commission on July 5 in case the requisite report and copies of the relevant documents are not received by the Commission on or before June 28, 2022. There is no further update on this case.
Election Commission of India
During the campaigning for the Uttar Pradesh Assembly elections, CJP brought to the notice of the Election Commission of India (ECI) as well as the UP State Election Commission (SEC), several violations of the Model Code of Conduct (MCC).
BJP advertisement on last polling day
On March 10, CJP wrote to the Commission that the BJP had published an ad on the front page of Dainik Jagran, a popular Hindi newspaper, on March 7, 2022, the last day of polling for the Uttar Pradesh Assembly Elections. The complaint states that the publication of the said advertisement does not only violate the MCC issued by the ECI, but also constitutes offences as per the provisions of the Representation of People's Act, 1951. Moreover, it also goes against the guidelines of the Press Council of India. The complaint brings to the attention of the Commissions, how a political advertisement on a poll has the potential to alter people's perceptions and their voting behaviour even if it is at the very last moment.
Reports of faulty EVMs, bogus voting
CJP also wrote to ECI and SEC about certain reports from the ground it received during polling in different phases of the Uttar Pradesh Assembly elections, about poll code violations. The letter listed down the detailed reports of the incidents along with the booth numbers, constituency and districts of the state, specifically mentioning the allegations behind the incidents by categorising them into different categories such as: Faulty EVM, Bogus voting, Obstruction at booths and Candidates obstructed at polling booths. There were allegedly, six incidents of bogus voting, two incidents of booth obstructions, one incident of faulty EVMs at several polling booths across the constituencies of Mirjapur, Malhani, Sagdi, Zafarbad, Sevapuri, Jaunpur and Varanasi Saudh. While the veracity of these claims could not be ascertained, CJP sought an inquiry into these incidents. A similar complaint was filed on February 24 reporting 6 incidents of faulty EVM, 7 incidents of bogus voting, 5 incidents of booth obstructions and 4 incidents of candidates being obstructed at several polling booths across the districts of Kannauj, Mainpuri, Etah, Firozabad, Kasganj, Kanpur and Etah.
Hate speech
CJP repeatedly complained against BJP MLA Raghvendra Pratap Singh for his hate speeches during UP Assembly poll campaign. In its February 23 complaint, CJP highlighted Singh's speech where in a recoded video he can be heard saying, "Any Hindu who doesn't vote for me has Miyan (slang for Muslims) blood in his veins. He's a traitor. He is a b***ard son of Jaichand. He's a h****khor son of his father…I am giving warning this time…traitors of Hindu religion will be destroyed."
In an earlier complaint dated February 15, CJP highlighted another of his hate speech where he said,"If you make me MLA again, they (Muslims) will stop wearing skullcaps and start applying tilaks." Singh also claimed that after he got elected in the last election, "250 acres of land belonging to Muslims got confiscated, their shops destroyed." He also asked the crowd, "Will there be Jai Shri Ram or Walekum Salam in Domariyaganj? Durga ji is here with us, promise once in front of her." In both complaints CJP urges that these "serial hate offences and hate crimes are evaluated and acted upon for what they are, not individual misdemeanors but concerted attempts to not only vitiate the social and political atmosphere but –in brazen violation of Indian criminal law and election law –criminally intimidate voters and also indulge in a corrupt electoral practice."
The ECI, on February 23, finally acted in one of the complaints made by CJP, whereby itdebarred BJP MLA from Amethi Mayankeshwar Singh from campaigning, for 24 hours. In the complaint dated February 19, CJP had highlighted a video in which Singh had said, "If the Hindus are awakened, we will pull out the beards and make a chotia (a ponytail sported by Brahmin Hindus). If you want to stay in Hindustan you will have to say "Radhe Radhe" (a Hindu chant) else, just like at the time of partition people had gone to Pakistan, you should also go."
Complaints to Other authorities
Complaint to Haryana DGP
After coming across a viral video on social media of a group of men dragging two men on the streets, while shooting bullets in the air and accusing the two men of "slaughtering cows", CJP wrote to Haryana's Director General of Police (DGP) urging him to identify the group of men and book them for abducting and assaulting the two men.
Dalit sanitation worker murdered
On May 13, CJP wrote to the Commissioner of Police of Meera-Bhayandar, Vasai-Virar (MBVV) seeking strict action against the perpetrators behind the brutal killing of 30-year-old Shri Krishna Palaram Tusamad who was allegedly beaten to death with iron rods by his employer. While an FIR was registered, CJP urged further protection be provided to the victim's family under the Scheduled Caste and Scheduled Tribes (Prevention of Atrocities) Act, 1989 since the deceased who was the sole earning member of the family is survived by his parents, a wife and four children.
Seeking stricter action against Mahant' Bajrang Muni Das
On April 18, CJP sought inclusion of stringent offences to be invoked against 'Mahant' Bajrang Muni Das from Khairabad, Uttar Pradesh who was booked for repeatedly making hate speeches and issuing rape threats to Muslim women outside a mosque in Sitapur on Hindu New Year on April 2, 2022. CJP, in its memorandum to the DGP, UP urged that key sections of the Indian Penal Code (IPC) like Sections 153, 153A, 153B, 295A, 354A, 503, 504 and 505 be added to the FIR along with Section 67 of the Information Technology Act, 2000 and Sections 3 and 4 of the Indecent Representation of Women (Prohibition) Act, 1986.
In its detailed communication, to Mr. Mukund Goel, DGP, UP, we contended that only such a comprehensive complaint will ensure both a non-partisan and in-depth investigation as also a prosecution.
Acted against Fake News
On April 7, CJP wrote to YouTube and two YouTube based news channels to immediately take down their baseless "news report" videos where they have claimed that CJP secretary, journalist and Human Rights defender Teesta Setalvad is involved in the making of an upcoming movie titled The Gujarat Files,  since the same is misinformation. The channels Desh Live and The Live TV aired stories claiming that Teesta Setalvad had held a secret meeting in her home with actor Naseeruddin Shah, director Rahul Dholakia, activist Harsh Mander and many others to start work on The Gujarat Files. They further claimed that the script was ready and that Shah would play the role of Narendra Modi! The news being fake, based on as pictures, sourced from a public event held to commemorate 20 years of the Gujarat carnage of 2002, was pointed out to the channels and we asked that these be taken down at the risk spreading misinformation.
Communal posters in train removed
On May 26, the Government Railway Police (GRP) acted upon CJP's complaint that there were communal posters being put up in local trains and accordingly traced them and had them removed. A video sent by a Mumbai resident showed a train halted at Malad station that had two to four posters in Devnagri-script stuck on the coach windows. The posters read, "Wake Up Hindus! Section 30 should be removed so that schools can teach Ved, Upanishad, Gita, Ramayan and other scripts."
The GRP thanked the CJP team for bringing this matter to their notice. Borivali Railway's Senior Police Inspector Anil Kadam told us, "We have removed all posters inside the train. While we could not check the entire train at the time, our officials will inspect nearby coaches again to check if any more posters have been pasted." Kadam further assured us that the issue will be raised with higher officials.
YouTube alerted for hateful content
On May 20, CJP wrote to YouTube bringing to its notice certain videos that exist on the platform despite being flagged by CJP for their hateful content. These include content aired on Channels namely, Pavitr Sanatan, CarryLime and Ishwar Lal Pracharak. In its complaint, CJP explains the potential repercussions of incitement of violence against Muslim community which has faced incidents of communal violence and genocidal pogroms that have damaged India's social fabric for decades.
The complaint raises concern that the accounts, mostly anonymous, know that there is hardly any precedent for anyone in India from being prosecuted for misogynistic or hate speech. They are also aware that even if one handle is banned by a platform, it is easy to set up another account using another anonymous handle. The fact that they are able to have such a wide reach despite their content that is violative of YouTube's community guidelines, means they are able to thrive and mushroom into more and more accounts.
In this case, YouTube acted promptly and on May 31, informed CJP that they had taken cognisance of the accounts we had reported, and suspended six videos for violating YouTube's Community Guidelines regarding Hate Speech.
Sadhvi Giri's incitement to sexual violence
On February 9, CJP wrote a complaint to the DGP, Chhattisgarh to take action against and direct filing an FIR Sadhvi Vibhanand Giri for making abhorrent remarks provoking sexual violence against women from the minority community. In the video, Giri can be heard saying,  "If any Muslim man laid their eyes on a Hindu girl from today onwards, their women will give birth to Hindu children, without a nikah or pheras," thus, openly supporting rape of Muslim women and promoting rape culture.
The dynamic team of Citizens for Justice and Peace (C JP) with its ears to the ground, committed to protecting the rights of all Indians, especially those structurally rendered the most vulnerable, among so much else, will continue to call out such repeat rights violations and alert statutory authorities to intervene to protect the right to life and dignity of all Indians. For all the work that we do, and so much more that needs to be done, we need the support of the wider community of Indians, committed to the Indian Constitutional Vision. As 2023 approaches and challenging times lie ahead, CJP is both ready and committed to this demanding task.
(Through the year, CJP's on ground teams backed by legal research and communication both compile, monitor and complain to appropriate authorities on hate speech and rights violations of India's most marginalsied)
Get the latest reports & analysis with people's perspective on Protests, movements & deep analytical videos, discussions of the current affairs in your Telegram app. Subscribe to NewsClick's Telegram channel & get Real-Time updates on stories, as they get published on our website.
Subscribe Newsclick On Telegram