Record Harvest, Record Stocks; Yet, Why Are People Hungry?
It is beyond belief and understanding why the government is refusing to distribute the mountain of food grain stocks sitting in its warehouses.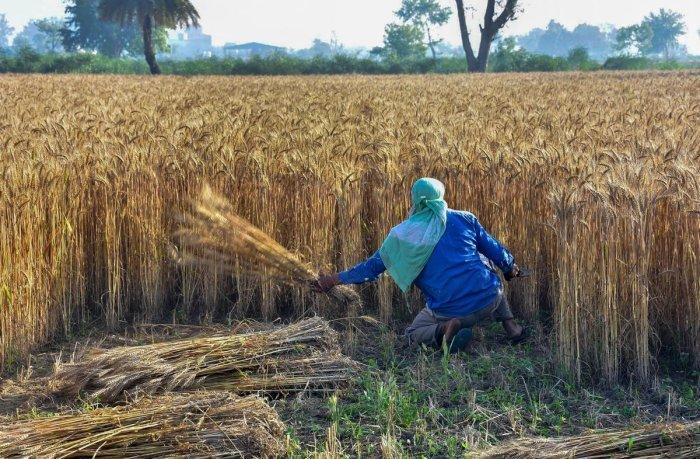 India produced a record cereal harvest of nearly 273 million tonnes in 2019-20, a jump of 10 million tonnes over the preceding year. While rice production increased marginally, both wheat and coarse grains showed notable increases. Besides these, the production of pulses increased by nearly a million tonnes this year, although it was still lower than the record-breaking 25.4 million tonnes in 2017-18. [See chart below, derived from data released by the department of food and public distribution]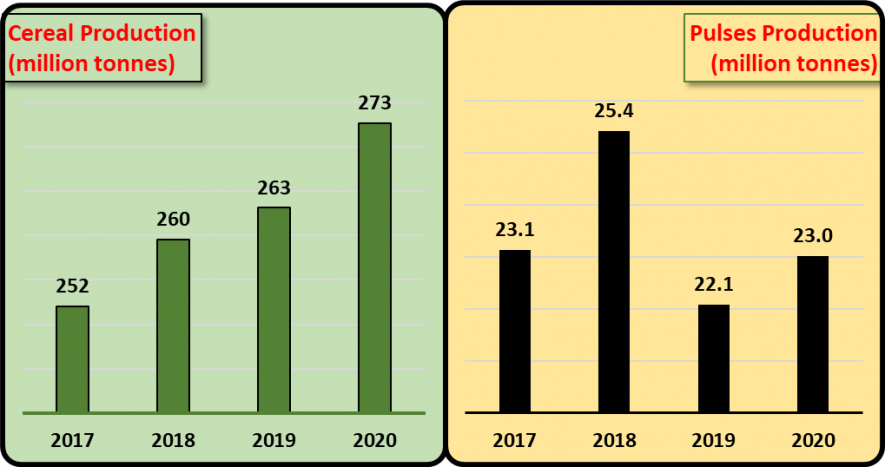 As a result of these continued good harvests, the food grain stocks maintained by the government are full to the rafters. As of July 20, stocks of rice, wheat and coarse grains in the central pool were 824 lakh tonnes. In June, the stocks were at the peak at 835 lakh tonnes. As can be seen in the chart below, June is the month when central stocks hit their highest level every year after the rabi harvest – mainly wheat – has come in.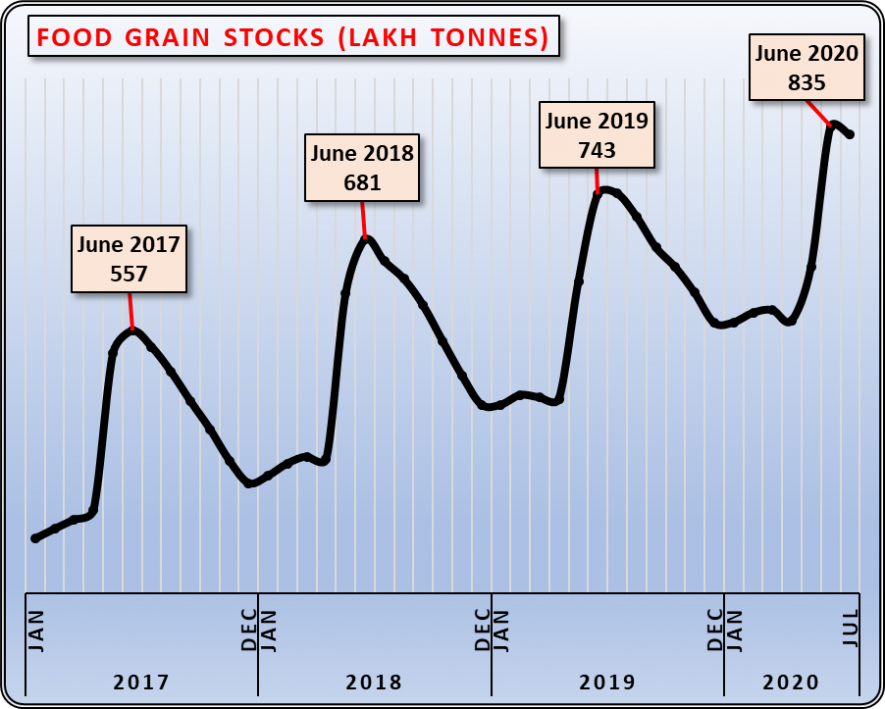 This year's June peak was the highest ever, beating last year's peak by a whopping 92 lakh tonnes. In fact, as can be seen above, each June peak has been higher than the previous year for the past several years, indicating the massive accumulation of cereals in government warehouses. Currently, the stocks are twice the level that is statutorily required for the month of July.
Why is the government holding on to this mountain of food grain even as the pandemic and the lockdown have devastated people's lives, leaving them hungry?
First, the scale of distress needs to be fully understood. For the past several years, agricultural and industrial wages have been either stagnant or have only marginally increased. This had already created a situation of deep distress as families struggled to meet their expenses. A consumer expenditure survey that was never officially published had said that there was a fall in spending by families, especially on food items – something that has not happened for four decades.
There were starvation deaths in some states despite the massive distribution of food grain as mandated by the National Food Security Act, 2013, under which some 80.42 crore persons are getting the affordable food grain at subsidised prices (or in some states, free). This number is worked out by the government on the basis of the 2011 Census, which put the population of the country at 121 crore. Since then, nine years have passed and it is estimated that the population would be over 133 crore, and those eligible for cheap food grain would be some 89 crore. Although PM Modi himself often mentions "130 crore Indians" in his speeches, the food ration provision is still being done at the previous 2011 count, leaving at least 9 crore people in the lurch.
In different small studies, it has been shown that due to the lockdown 40-70% (or more) of families lost all their earnings. Many families reported that there were days when they didn't get anything to eat. Although the government announced additional food grain and pulses to be distributed along with the existing allocations, this was insufficient and didn't reach all the needy families. Government data itself admits that of the 12 million metric tons (MT) of food grains allocated for three months (April, May, June) under the PM Garib Kalyan Yojana only 11 MT was lifted from the Food Corporation of India warehouses, and only about 10 million MT was actually distributed. It also admits that about 18% of the ration cards with people were not considered authenticated (probably because of Aadhar card seeding problems) and hence those persons were not eligible.
Later, after the tragedy of migrant workers dramatically became visible in their long treks back home, and news that over 200 persons had died of exhaustion, hunger, and dehydration, the government announced that it would extend the PMGKY food grain distribution to those who had no ration cards. But the latest data shows that only 7.4 lakh MT of grain was distributed to the estimated one crore or more migrant workers' families, in three months.
Yet all this time, the government warehouses were getting filled up. Despite the extra food grain distribution for three months, the stock is at record levels. Procurement has increased this year, although it is also due to relaxed quality norms. But still, there is enough food to feed millions who are suffering from a deficient intake because of the pandemic/lockdown double whammy.
Distribution of grain at a large scale by universalising the Public Distribution System (PDS) and increasing the allocation per person would not only be a lifeline for survival, but it will also help the poor families to spend the money thus saved on other things. This would help the economy to revive by increasing demand for non-food items.
Yet the government is refusing to open the warehouses to let anything but the bare minimum go out. Is it afraid of being bullied by the US which has been demanding that India should stop subsidising agriculture and food so much? This issue has cropped up in various international deliberations. Or is it that the Modi government is ideologically shackled to the premise of the government not extending help too much and thus giving space to the private sector? All this is unclear – the only reality known painfully to Indians is that food is short and the future is uncertain.
Get the latest reports & analysis with people's perspective on Protests, movements & deep analytical videos, discussions of the current affairs in your Telegram app. Subscribe to NewsClick's Telegram channel & get Real-Time updates on stories, as they get published on our website.
Subscribe Newsclick On Telegram