Remembering Gauri Lankesh: Adamant Ideologue to Some, Akka to the Underprivileged
'I was still sceptical about her. But, by the third annual meeting at Chikkamagaluru, she had not only joined the movement, but had the audacity to invite me to "our" meeting!'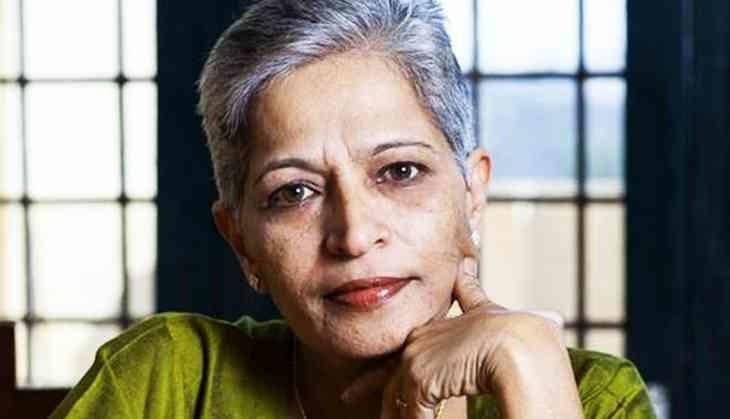 She was such a diminutive person that most of us would see her as a "Gubbachchi", a Kannada word which translates to little sparrow, or the little one of a sparrow. The translation does not do justice, as it does not communicate the love, affection and the protective feeling which accompanies this term of endearment in Kannada.
When she was shot dead, and lay crumpled in a pool of blood, she was still a gubbachchi; beyond all the shock and sorrow we were also left wondering who could pump bullets into the tiny body of this gubbachchi. For older people like me, who had seen the miracle and metamorphosis of the little sparrow into a feared, hated political being, it was still a surprise that hyper-masculinist nationalist forces were so disturbed by her, they decided to physically eliminate her.
I had met her with K.S. Vimala, who is also a fierce, committed activist in Bengaluru as Ganesh Devi and some others, including me, came out of the chief minister's residence. We had taken a delegation to the CM to request him to expedite the enquiry into the murder of Prof. M.M. Kalaburgi on August 30, 2015 in Dharwad. Gauri and Vimala were to be a part of the delegation. However, confusion between the two offices of the CM (Krishna and Kaveri) had the two of them running to meet us as soon as we came out.
We requested her and Vimala to see the CM again to pursue the matter.
When I asked her if anything was being done about the Baba Budangiri controversy, she pointed to her worn-out slippers and said: "See, I have worn out my footwear pursuing it" (a common idiom in Kannada). We all left the place. Exactly a week later, she was shot dead.
I had vaguely heard about her when I had come to Shivamogga in 1980. Just a couple of years later, her father, the great Kannada writer P. Lankesh, had launched 'Lankesh Patrike' – a tabloid which proved to be the most important phenomenon in Karnataka society in the second half of the twentieth century. At the height of its popularity, Lankesh had visited Shivamogga and we, the admiring crowd, took him to a girls' junior college to talk to the students. Lankesh looked at the students and said, 'Oh, these little girls, just like our Baby and Gouru. Baby was Kavitha Lankesh and Gouru was Gauri Lankesh. Nearly four decades later, his voice and words remind me how Gauri's father loved her. Of course, like all children, she took her time, not only to acknowledge her legacy, but carry it forward.
After a long interval we met again, late one evening, in a badly-lit, dingy, small room in a college in Shivamogga. In the room, which belonged to
Dalit leader Prof. Rachappa, we founded 'Komu Souharda Vedike' (Communal Harmony Forum), which went on to lead the struggle to protect Baba Budangiri Shrine in Chikkamagaluru. For centuries, the shrine had been a sacred place symbolising a syncretic faith which was especially followed by poor Hindus and Muslims. The BJP had declared that it would turn it into another Gujarat and another Babri Masjid. None of us thought the small meeting would lead to a powerful movement against communalism. It was not because of us, but because the entire state rose up to protect the plural tradition of Karnataka.
Gauri, who had not yet fully left her 'English Journalist' phase behind,
attended some of our preparatory meetings. I was still sceptical about her. But, by the third annual meeting at Chikkamagaluru, she had not only joined the movement, but had the audacity to invite me to "our'' meeting! We loved her for her dedication and a total immersion into what she set out to do. From then on, she made it her mission and became the most strident voice against Hindutva forces. 'Gauri Lankesh Patrike' became the most powerful platform for communal harmony. She supported the extreme left and earned the title of a 'naxalite journalist'.
But by then, her transformation had been amazing. Though she spoke like an adamant ideologue, she became akka (sister) to practically all who were unprivileged. Harassed by a hundred legal cases, trolled by the right-wing 24X7, with little money to support her tabloid, Gauri was always an ebullient, perky, little packet of energy.
Many of us had not realised how Gauri had become an integral part of the Kannada imagination. She had become a symbol of empathy, succour and support for thousands. When we saw an ocean of young faces, all declaring "I am Gauri" when we gathered at Bengaluru to protest her killing, we understood that the Gubbachchi had metamorphosed into a tidal force of democracy and dissent. We old men are such tardy learners.
Get the latest reports & analysis with people's perspective on Protests, movements & deep analytical videos, discussions of the current affairs in your Telegram app. Subscribe to NewsClick's Telegram channel & get Real-Time updates on stories, as they get published on our website.
Subscribe Newsclick On Telegram