Revisiting Ambedkar on Epidemics, Treatment Bias and Hindu Raj
Amid the corona pandemic, taking a leaf out of Babasaheb's writings would do well to ensure that the poor and marginalised are not profiled and denied treatment, as seen in the flu epidemic of 1918.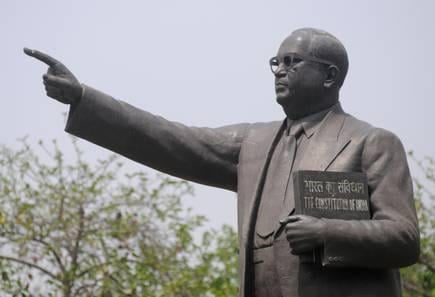 The 130th birth anniversary of B R Ambedkar is being celebrated in the country today when the global pandemic caused by COVID-19 has paralysed almost all human activities across the world and the poor, marginalised and women are suffering the most due to this disaster of apocalyptic proportions. 
Ambedkar's worldview assumes enormous significance in such a grave and worldwide crisis which, both in scope and magnitude, is unprecedented in the history of humanity. 
We gratefully recall his monumental role as the principal architect of the Constitution and his relentless struggle against graded social inequality represented by caste, economic exploitation of the poor and other structural forms of oppression, such as patriarchy. Former President of India, late K R Narayanan, very insightfully observed: "If Mahatma Gandhi gave our freedom struggle a mass and moral dimension, Jawaharlal Nehru gave an economic and social dimension and Dr. Ambedkar gave a challenging social and democratic dimension". 
Dalits denied treatment during Influenza Epidemics of 1918
In the context of the coronavirus or COVID-19 menace, it is instructive to recall Ambedkar's  ideas and articulations on epidemics and infectious diseases and the way such health disasters were used by the proponents of caste system to discriminate against the dalits and poor and deny them access to medical treatment. These ideas have hardly been explored. 
Now when the world is engaged in an arduous battle against coronavirus and when country after country has been locked down to stem the spread of this highly infectious virus, we are confronting not only a severe economic crisis but a humanitarian and health crises which disproportionately make the poor, marginalised and women the worst victims.  This serious situation has jeopardised human and health security and deprived the poor and women of their livelihood and their access to food and other entitlements. This crisis has been caused not just because of the lockdown but also because of the way the poor are profiled on the basis of religion, caste and gender, which are used to deny them their human rights. 
In such a crises-ridden context, we need to recall ideas and articulations of Ambedkar to counter such tendencies. In fact, his ideas are of importance with added poignancy now when some leading public figures in India, who are controlling the State apparatus and the embedded media, are unfairly targeting Muslims and vilifying them for the alarming spread of coronavirus.  
When the influenza epidemics of 1918 spread across the world and India was one of the severely affected countries suffering heavy casualties, some of our doctors and health professionals could not rise above their narrow caste identities and refused to treat the victims of the killer influenza because of their low status of caste hierarchy. 
Ambedkar, who in his book,  Annihilation of Caste, had famously described caste  as a system representing ascending order  of reverence and descending order of contempt, found that doctors treated only those flu patients who belonged to higher castes. In his piece "Untouchables or Children of India's Ghetto" available in the volume 5 of Dr. Ambedkar's writings and speeches he wrote with anguish:
"Very few people, even in India, know the extent to which caste determines the scope and objects of charities provided by the Hindus..... That caste can influence doctors in the ministration to the sick was a charge made among certain doctors in Bombay in 1918 during the influenza epidemic".
In 1934, when the plague epidemic struck the cattle in Talaja village in Gujarat and there were large number of deaths of cows and oxen, the upper castes attributed the spread of the killer disease to dalits, who were known as harijans. Mahatma Gandhi wrote about it and painfully observed that they were harassed and beaten to death.  He wrote:
 "At the root of the Talaja atrocities are utter ignorance and superstition. It is the duty of Harijan workers to dispel this darkness. They should explain to the people that epidemics of the plague are known to occur occasionally in all countries of the world, and that outside India nobody is suspected when such an epidemic occurs. The people in those countries merely regard it as a natural calamity, employ blameless remedies for eradicating the plague and give medicines to the cattle. This should be done vigorously and ceaselessly in villages sunk in ignorance."
In post-Independent India, Ambedkar was very vocal in pointing out the worst situation faced by dalits who were held responsible for the origin of epidemics. While participating in debates and proceedings in the Rajya Sabha on the "Report of Commissioner for Scheduled Castes and Tribes for 1953", he said the report did not contain the inhuman treatment of a dalit woman because the high caste people thought she was a witch and remained a source of epidemic in the area. He said that in  Hyderabad and in Aurangabad district, a certain Scheduled Caste woman was declared by the villagers as a witch as she was suspected for the outbreak of some kind of an epidemic that was prevalent in that village. 
Ambedkar then added that she was questioned and she could hardly prove her innocence. As a result, she was belaboured, her house was burnt, and members of her family were subjected to ignominies of the worst kind. In the end, he said with sadness that he did not find any mention of that in the Report of the Commissioner.
The indictment of caste by Ambedkar and Gandhi in determining discriminatory treatment of people during disasters has hardly diminished the role of caste in doing exactly the same thing in 21st century India. We witnessed how during the terrible disaster caused by earthquake in Bhuj in Gujarat, dalits were denied relief just because of their caste identities. 
Ambedkar cautioned Hindu Raj would be Greatest Calamity
In 21st century India, when the corona pandemic is spreading and threatening people's health and human security without taking into account factors such as religion, caste or any other primordial identities, some leaders associated with the ruling regimes and the embedded media are now blaming Muslims, some of whom have been killed because of the vilification campaign against them for spreading the virus. This is borne out of a cultivated, pernicious, majoritarian agenda being made central to the political campaign and electoral calculus of some political formations. 
Locking down and shutting down of identity-based vilification campaign against minorities is a fundamental prerequisite to liberate ourselves from the pandemic of COVID-19.  
Ambedkar had cautioned that such majoritarianism would itself be a calamity. In volume 8 of his writings, one finds a meaningful sentence which is worth quoting. He wrote: "If Hindu Raj does become a fact, it will, no doubt, be the greatest calamity for this country. ... Hindu Raj must be prevented at any cost".
Indeed Ambedkar was prophetic. Now, Muslims are being unfairly targeted for spreading of the virus in India. Some poor fruit and vegetable vendors have even been beaten up just because they were Muslims. The idea of pernicious Hindu Raj,  which Ambedkar called a calamity, is actuating some people to multiply the calamity caused by COVID -9. 
Ambedkar cited British Government's Financial Help to Provinces
Ambedkar's ideas on the Government of India's greater responsibility to the then British Provinces to give more financial assistance to them at the time epidemics and famines assumes significance for 21st century India when several states are asking the Centre for a financial package for them to face disaster caused by COVID-19. 
In volume 6 of his writings, Ambedkar wrote: "It must, however, be admitted that the financial arrangements of the Provinces during this period were considerably disturbed by the outbreak of plague and famine towards the close of the settlements. The expenditure which the Provinces were obliged to incur to meet these two calamities depleted the resources of all and brought the Central Provinces and the North-West Provinces to the verge of bankruptcy, from which they were rescued by the ....contributions made by the Government of India". 
Will the Government of India pay heed to the wise words of Ambedkar when India is facing the worst crises caused by the corona pandemic? 
Idea of Women's Empowerment of Kautilya to Counter Epidemics
Another fascinating point made by Ambedkar concerning measures to counter epidemics, flows from his ideas on women's economic empowerment. In his piece "The Woman and the Counter Revolution", he invokes Kautilya, who prescribed that women should be economically empowered by guaranteeing them the right to property and possess other material things, including ornaments, which could be of use when disasters like epidemics devastate life and livelihood. He then asked a question as to why Manu degraded women in the Hindu fold? 
Buddhism and Epidemics 
Ambedkar described Buddhism as a religion based on enlightenment, compassion and equality and embraced it by rejecting Hinduism, which he described as a religion based on graded social inequality. In the context of epidemics, he invoked Buddhism in the context of epidemics. 
In his book, The Buddha and His Dhamma, Ambedkar wrote that self-control would protect people from epidemics and self-indulgence and reckless pursuit of sense-based pleasure and life would make us victims of epidemics. It is worthwhile to juxtapose this interpretation with the observations of economist Jeffery Sachs who in his book, Economics for a Crowded Planet, wrote in 2008: "As humanity pushes against ecological limits, we are bound to be surprised by the consequences, including abrupt ones....Another likelihood is that we will be confronted with a continuing explosion of new infectious diseases that seemingly come out of nowhere and suddenly pose phenomenal risks for the entire world". 
All these insights from Ambedkar's writings clearly bring out his profound relevance in the context of ongoing corona menace. 
The writer served as Officer on Special Duty and Press Secretary to Former President of India, late K R Narayanan. The views are personal.
Get the latest reports & analysis with people's perspective on Protests, movements & deep analytical videos, discussions of the current affairs in your Telegram app. Subscribe to NewsClick's Telegram channel & get Real-Time updates on stories, as they get published on our website.
Subscribe Newsclick On Telegram