SFI Protests Against Proposed NEP, Burns Draft Copies Across India
"The proposed NEP is nothing but a policy initiative written by corporate, for the sake of corporates," said V P Sanu, all India president of SFI.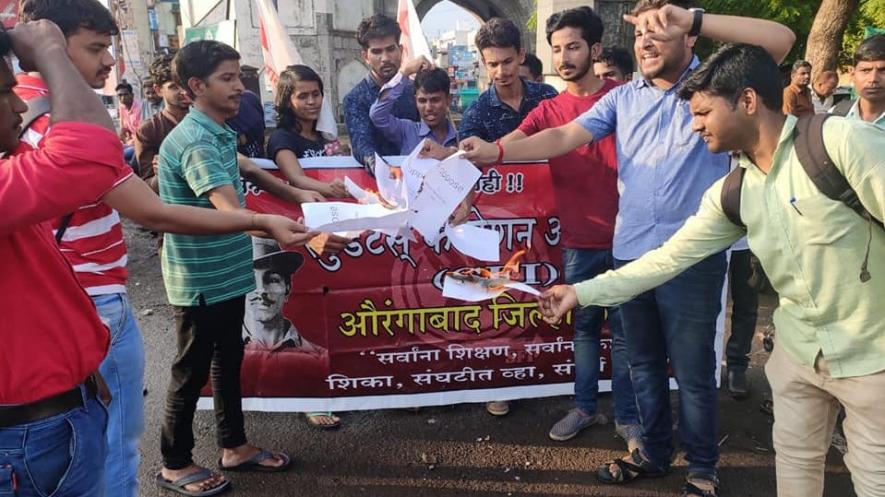 The Students' Federation of India (SFI) burnt the copies of Draft National Education Policy (NEP) across India on Tuesday, June 25, protesting against the policy which is totally against the federal system and constitutional values of India. The draft NEP released by the Ministry of Human Resources Development (MHRD) on May 31, is a 484 page detailed draft which primarily proposes a liberal education policy for the complete education system of India, from pre-primary level to higher education system.
V P Sanu, the all India president of SFI told NewsClick, "The proposed NEP is nothing but a policy initiative written by corporate, for the sake of corporates. The draft has been written in a beautiful language but it talks of nothing but the complete monopolisation of education. They have used a beautiful word to describe that- "Knowledge Economy", a word that we never use in usual terminology. The written draft has been made without giving any consideration to the diversity and federal structure of this country."
Anurag Behar, who was part of the Drafting Committee and is the Vice Chancellor of Azim Premji University, writes, "The NEP has the vision to transform the regulation and governance of the education system. Three of the key underpinning principles for this transformation are: transparent public disclosure, maximal empowerment and autonomy for institutions, and separation of roles and powers of regulation, operations, standard-setting."
The proposal is talking about a liberal educational structure, creating a space for autonomy and privatisation, which will eventually exclude the marginalised sections from the system. "The draft proposes public exams in classes 5 and 8, and semester type education from class 9 to 12. This clearly shows that the policy was conceived without even studying the different kind of public education system existing in different states and did not consider the large number of dropouts from rural India. What happens to those poor students who fail in these public exams?," Sanu asked.
Also read: Nothing 'New' in New Education Policy, Peddles Corporatisation and Centralisation in Education
The proposal which has been made with the aim of centralisation of school education says the current structure of school must be restructured on the basis of the development needs of students. This would consist of a 5-3-3-4 design comprising: (i) five years of foundational stage (three years of pre-primary school and classes one and two), (ii) three years of preparatory stage (classes three to five), (iii) three years of middle stage (classes six to eight), and (iv) four years of secondary stage (classes nine to twelve).
In the last part of the 11th chapter in the Draft NEP "Towards a More Liberal Education", it has been stated that, "Admission to all undergraduate programmes of public Higher Educational Institutions (HEIs) will be through a process of assessment through the National Testing Agency."
Thus, it is proposing that admission to UG courses in all government-funded Universities and Colleges will held through all India common entrance tests. Currently, in India, the common entrance tests at a national level are conducted mainly for professional courses.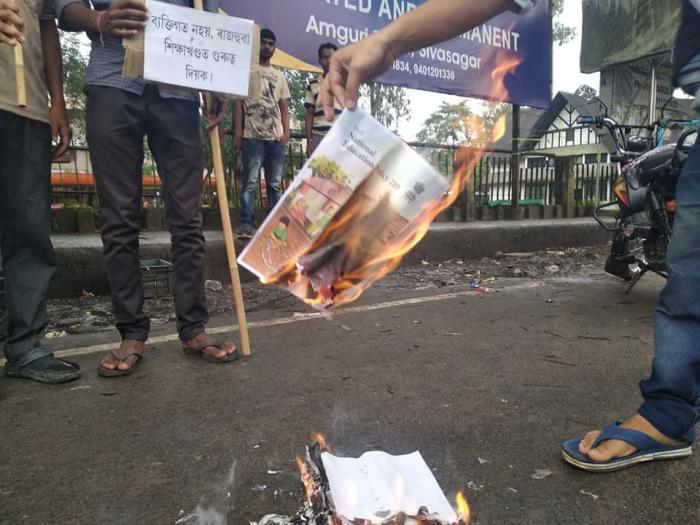 Commenting on the proposal to centralise examinations, senior educationalist Prince Gajendra Babu told NewsClick, "Our constitution guarantees that there will be a division of power between the state and the centre. And every state has been given certain powers, because the need and aspirations that the people living in different states differ. There are also regional imbalances in terms of economic development, and taking all these under consideration, the restructuring of the education system as proposed by the draft NEP will not help the deserving students to pursue their higher education. It is a very regressive mission. Any eligibility test at the national level is an elitist concept."
Also watch: Modi Govt Tried to Demolish UGC and Destroy Higher Education: Educationalist Gajendra Babu
Sanu said, "The draft proposes setting up a National Higher Education Regulatory Authority (NHERA) for centralised decision making, which will replace the existing academic body, University Grants Commission. It also proposes that the National Research Foundation (NRF) headed by the Prime Minister will look after higher education research. You see, the prime agenda of NRF under Modi Government is not only for providing funds for research but to assert total control over the kind of research taking place in the country, leading to complete centralisation."
Asserting their resolve to fight this draft NEP tooth and nail, N Sai Balaji, president of Jawaharlal Nehru University Students' Union (JNUSU), told NewsClick, "In order to protest against this policy, we are talking to all stakeholders and we will jointly take up the action and move together, because its going to impact everyone. The aim of NEP is nothing but whatever the RSS-BJP have always wanted to implement, they brought it in the form of NEP."
Talking about the future course of action, Sanu added, "We have already started our protests against the proposed National Education Policy, which is nothing but Privatisation, Centralisation and Saffronisation of education. We symbolically burnt the copies of Draft NEP across India. As part of our struggle, the SFI will organise various seminars and other programmes all over India in the coming days, and we are asking the government to extend the time for submitting responses from states."
Also read: PM Modi's Agenda for First 100 Days Will Only Push Privatisation and Centralisation in Higher Education
Get the latest reports & analysis with people's perspective on Protests, movements & deep analytical videos, discussions of the current affairs in your Telegram app. Subscribe to NewsClick's Telegram channel & get Real-Time updates on stories, as they get published on our website.
Subscribe Newsclick On Telegram