SSC Scam: People Shed Fear, Ask TMC Netas to Return Money
Mamata Banerjee's image takes a big hit despite distancing herself from her tainted aide, with the victims of the school recruitment scam firmly believing that it is the cabinet that is responsible for their woes.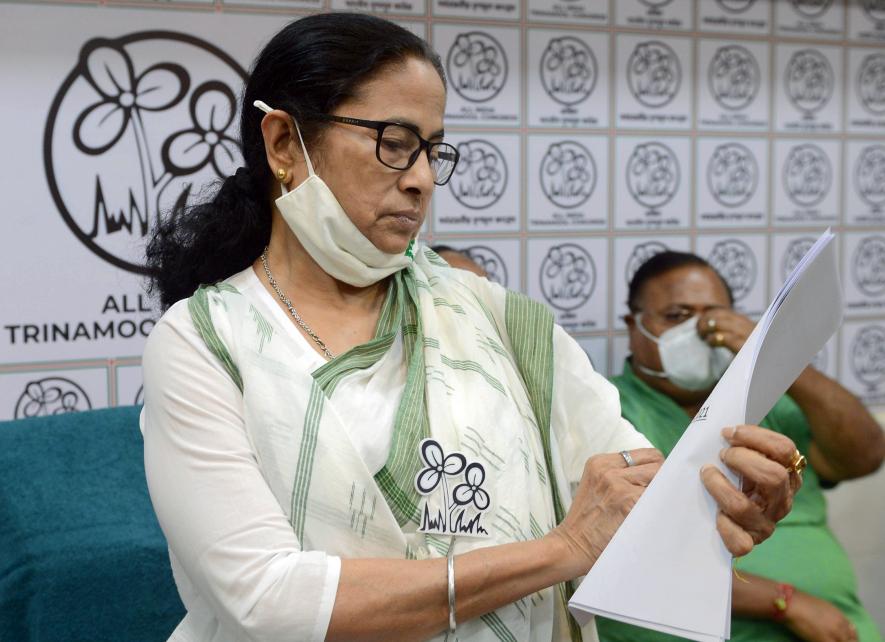 Representational use only.Image Courtesy: ANI
Kolkata: For the ruling Trinamool Congress supremo and West Bengal Chief Minister Mamata Banerjee, the third term in power, which commenced in early May 2021, is proving to be ticklish, although the TMC had won the Assembly election with a comfortable majority, dashing all hopes of the Bharatiya Janata Party (BJP) of forming its maiden ministry in West Bengal.
But, fast-paced developments since the third week of July have put TMC on a sticky wicket and the image of Banerjee, projected by the party brass as a 'symbol of honesty', has been hugely dented. 
Investigators probing the alleged multi-crore school staff recruitment or SSC scam, have already seized over Rs 50 crore in cash, plus valuables from flats, houses and other premises linked to senior TMC leader and Mamata Banerjee's confidante Partha Chatterjee and his aide Arpita. 
Chatterjee, who was given Industry and allied portfolios after the 2021 victory, was education minister during TMC's second term. As skeletons continued to tumble out of the minister's closet, the Enforcement Directorate (ED) arrested Chatterjee on July 23. After dithering for five days, the Chief Minister relieved him of his ministerial responsibilities. Simultaneously, the party placed him under suspension. Ironically, his five posts included the chairmanship of the disciplinary action committee. 
Even after Chatterjee's arrest, the Chief Minister for some time was in a combative mood, asking the Opposition to remember that an "injured lion is very dangerous; I know how to fight, should they try to tarnish my image; remember I too have tar with me".
But her fulminations were short-lived as the seizures and arrest of the minister and his aide were a shot in the arm of the aggrieved applicants for jobs who, despite having qualified in tests/examinations, were bypassed by the authorities. Their sit-in agitation in batches by then was close to 500 days.
The Opposition parties, which had been alleging corruption in the recruitment of teaching and non-teaching staff for a long time, stepped up their agitation by organising rallies and meetings where they held the Chief Minister responsible "as no one else in her regime has any decision-making role". 
The protests of the Left Front, led by the Communist Party of India (Marxist) or (CPI (M) had high visibility because of large-scale participation. Pro-Left civil society members, who included academic Pabitra Sarkar, thespians Bimal Chakraborty and Chandan Sen, poet Mandakranta Sen and filmmakers Kamaleswar Mukherjee and Anik Dutta, were seen at a rally on August 1. They demanded the dissolution of the ministry, accusing it of being neck-deep in corruption. The BJP also utilised the occasion to 'prove' its Bengalee connect by paying homage to eminent singer-actor Kishore Kumar on the occasion of his 93rd birth anniversary on August 4.
For the aggrieved protesting applicants and the Opposition parties, what came in handy were the strictures by the Calcutta High Court whose designated bench called it a "public scam" and directed a probe by a Central agency into the alleged money trail as "no state agency could be appointed in a scenario involving high ranking officials, including a senior minister".
The most scathing part of the observations read: "It is a matter of shame that such abundant facts have emerged in the records of the Hon'ble Court and from the Bag Committee, ... prima facie establishing the role of white collared individuals in charge of Education in letting down a generation of teachers and the taught". [A division bench had earlier set up an inquiry committee headed by a former judge of Calcutta High Court Justice Ranjit Kumar Bag to probe the controversial recruitment exercise].
Two other developments added to the Chief Minister's discomfiture as she appeared to suggest that the removal of Chatterjee from the Ministry will aid her damage control exercise in which she involved her nephew and Lok Sabha member Abhishek Banerjee. Well-known film personality and BJP member Mithun Chakravorty suddenly appeared on the scene, was closeted with party leaders and then told the media: "I am giving you breaking news; 38 TMC MLAs have indicated to us their willingness to switch over to BJP and 22 TMC MPs have conveyed to me that they have kept in view the option of joining BJP". Given the BJP's often practised tactics of activating "Operation Kamal' when needed, it will be difficult for TMC to ignore Mithun's 'breaking news'.
Taking refuge under the constitutional provision that lists education as a concurrent subject, Union Education Minister Dharmendra Pradhan wrote to the Chief Minister on August 2 pointing out that teachers being the pivot of the education system, it is imperative the recruitment process should uphold their dignity and honour, which will be possible when the recruitment is transparent and is free of corruption.
Significantly, Pradhan wrote that he had received many complaints of corrupt practices in teachers' appointments in West Bengal. [Pradhan and his cabinet colleague Jyotiraditya Scindia were in town for party work on the day of the minister's arrest on July 23. They reacted by saying that the state has a "corrupt" ministry. The saffron camp termed Mamata Banerjee's outbursts against the Central probe agencies as an example of 'chor machaye shor' or quite literally, 'thieves make noise'.] 
 
Asked about court strictures and what lies ahead, an eminent lawyer and CPI(M)'s Rajya Sabha member Bikash Ranjan Bhattacharya, who is leading the legal battle on behalf of the aggrieved side, told NewsClick: "The investigation is in progress. It is important to see that the report is not politically influenced; the report will provide us with key inputs for follow-up action. Partha Chatterjee is, if I may use the word, a pawn. The cabinet is responsible for this shameful episode. Our aim naturally will be to argue to that end." 
Now, reports are being carried out by the media that the victims of TMC's "extortion gang" and intermediaries in villages and district towns are asking for a refund of the money they paid in the hope of getting jobs. "The awareness about the court's stern stance is spreading. People are slowly shedding their fear of speaking out against TMC activists' malpractices," Bhattacharya added. 
NewsClick also elicited the views of senior sociology teachers Prof Surajit C Mukhopadhyay of Amity University at Raipur in Chhattisgarh, Prof Sanjoy Roy of North Bengal University and president of School Teachers' Federation of India (STFI) Abhijit Mukherjee, on this issue.
According to Prof Mukhopadhyay, the scam has brought to the fore the issue of integrity. He believes that it is part of a larger socio-economic malaise and it shows how people have become corruption-prone. "And then, it is not merely taking money, we see instances of intellectual corruption and systemic corruption – the last one, it will appear was waiting to be exposed. And then, one may legitimately ask, will this matter in voting? If it does, the next question will be, how deep will the impact be?" he told NewsClick.
"Corruption is inherently structural. It appears voters also have a stake in corruption as long as other things are okay. This understanding prompts me to say that the ruling dispensation may still retain power in future; it should not come as a surprise," he added. 
Mukhopadhyay agrees with the perception that the lawyers' team led by Bhattacharya has been doing a good job. "The Calcutta High Court suspecting a money trail and ordering a probe by a Central agency has proved critical," he said..
Roy sees the SSC scam as the result of compensation of politics in the state during TMC rule. "It has been promoting mediocrity; it has no ideology, no vision and no direction for governance. Lust for money is inevitable as the ruling party's attention is focused on grabbing and retaining power and it sees dole-based politics as an easy way out. The Chief Minister's style of functioning, with an emphasis on cash distribution before votes, has made her party a safe haven for hooligans," he observed. 
"The party has no history of struggle; workers have never been told to rise above self and work for the larger interest of the society. In her regime, she has redefined politics on selfish terms. So, the school staff recruitment scandal involving crores of unaccounted money is part of the malaise the state has been suffering from," Roy added.
The STFI president said that the organisation had decided to organise a march to Raj Bhavan on August 12 and hand over a representation demanding transparency in the recruitment of teachers and other staff and punishment for those found guilty of violating norms in lieu of money. 
Interestingly, Mukherjee told NewsClick that their destination has to be Raj Bhavan because ministers and bureaucrats in this administration do not accept representation/memorandum from organisations. "Corruption in the education segment is a byword in the state since 2012 (TMC came to power in 2011) and people have accepted that if they are to get something done, that has to be in lieu of money. In our state it is as simple as that", Mukherjee said. His lament was, "imagine what will be my feeling if I have to teach poems written by Mamata Banerjee."
Two points emerged from a conversation with politics watchers on the possible use of the money seized. If it is for party work, it has to be for establishing a national footprint, which is Mamata Banerjee's oft-repeated aim. The TMC members chartering flights are standard these days; select leaders' visits to Panaji and Agartala were all through chartered flights. It is possible the sacked minister has been collecting money for "his own political use" which may even be for causing a split. Abhishek Banerjee's rise has been denting Chatterjee's number two position; resulting in frosty relations between them.
The writer is a Kolkata-based senior freelance journalist. Views are personal.
Get the latest reports & analysis with people's perspective on Protests, movements & deep analytical videos, discussions of the current affairs in your Telegram app. Subscribe to NewsClick's Telegram channel & get Real-Time updates on stories, as they get published on our website.
Subscribe Newsclick On Telegram