Setting Aside 2013 Riots, Farmers Protest Reviving Jat-Muslim Political Alliance
The 2013 Muzaffarnagar riots led to the break-up of a crucial political alliance of Jats and Muslims forged by Chaudhary Charan Singh; the current farmers protest is uniting them again.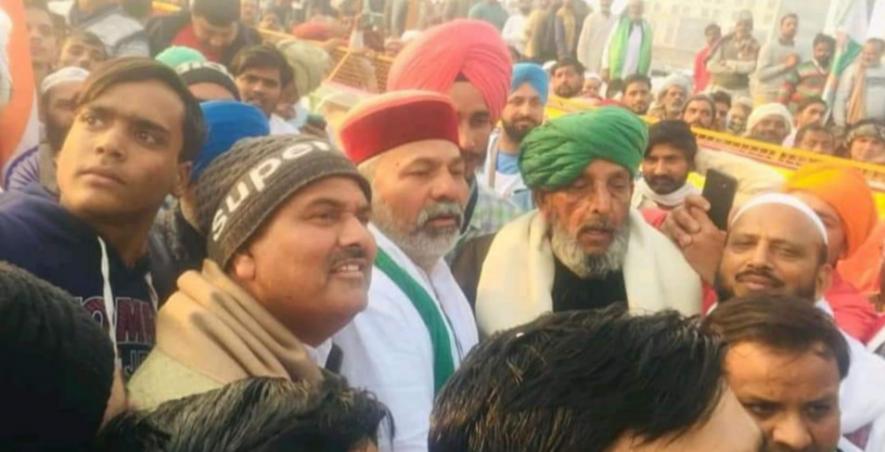 New Delhi: "Is aandolan men Hindustan hai; Hindustani bane raho; Hindu-Musalma mein mat batna (India is participating in this movement; continue to be an Indian; don't fall into the trap of Hindu-Muslim divide)," Mahendra Singh Chaudhary, district president of the Bharatiya Kisan Union (BKU) in Uttar Pradesh's Gautam Budha Nagar, asked the youth from the stage at the Ghazipur border protest amid thunderous applause from the huge crowd.
Ghazipur (the Delhi-UP border near Ghaziabad) is one of the five doorsteps of the national capital where farmers have been staging a peaceful sit-in since November 26, last year, in the spine chilling cold to press the government to withdraw three contentious agricultural laws enacted by Prime Minister Narendra Modi-led central government in September last year. They are also demanding a legal guarantee of the minimum support price (MSP) — a price fixed by the Government of India for procurement of an agricultural product directly from the farmer.
Chaudhary said the communal divide between Jats and Muslims created post 2013 Muzaffarnagar riots ran deep, and it was high time the two communities put behind the bloodied history, which cost them heavily in terms of economic distress. "It's time to move on and stay united, leaving aside our differences. Together, we can reshape the politics of western Uttar Pradesh and re-emerge as a force that can never be ignored," appealed Chaudhary, who is in his late 60s.
Following the August-September 2013 rift in western UP's Muzaffarnagar and Shamli districts that resulted in at least 62 deaths (42 Muslims and 20 Hindus) and displacement of over 50,000 people, Muslims led by Ghulam Mohammad Jaula had walked out of the BKU. It also led to weakening the non-partisan peasants' outfit founded by Chaudhary Charan Singh — former prime minister and champion of the farmers' causes.
Although the demand of farmers has not yet been fulfilled even after 74 days of the ongoing protest, the agitation has definitely brought social and political consciousness among masses. People from different sections of the society (especially Hindus and Muslims) are seen standing together, forgetting their old rivalry and feud. This is the reason that Jats, Muslims, Sikhs and Dalits are together participating in the 'dharnas' at Delhi borders and also in the Mahapanchayats being organised across western Uttar Pradesh and Haryana.
The realisation came at a heavy cost: weakening of the regional agrarian economy known for its cash crops, which is sugarcane, break up of the decades-old crucial political alliance of Jats and Muslims forged by Charan Singh and most importantly, the division in the society and the loss of social amity between the two influential communities.
Having the biggest area under cane production, Uttar Pradesh's sugar industry has achieved a record production of sugar so far. The state's sugar mills had produced 124.92 lakh tonne of sugar till May 27, 2020 against the previous highest of 120.45 lakh tonne in 2017-18 sugar season. Last year on the same date, the state had produced 117.68 lakh tonne. It is significant when seen in the national context, which has posted a 19% decline in production from 32.61 million tonne to 26.36 million tonne till May 15, 2020.
This is one of the very few regions in India where the two communities not only share the same culture and traditions, but also have the same blood. A group within the Jat, Gujjar and Rajput communities in western Uttar Pradesh had converted to Islam and is known as 'Mule Jats' and 'Gujjar Muslims'. They share the same surnames (Chaudhary, Chauhan, Rana, Tyagi, etc.) and same 'gorta' (clan). Despite coming from two different religions, they share the same culture, custom and tradition in marriages, deaths and occasions of festivities. Till 2013 communal violence, they voted together for their political messiah Charan Singh and his son Ajit Singh.
Muzaffarnagar has precious memories of electing even a Kashimiri (late Mufti Mohammad Sayeed, former Jammu and Kashmir chief minister and Union minister) as its leader in Parliament. Mufti, who had won the election from Muzaffarnagar seat in the ninth Lok Sabha on a Janata Dal ticket, was made the first Muslim Home Minister in the country under the VP Singh government.
But the riots brought the western Uttar Pradesh society apart like never before, destroying the political career of Chaudhary Ajit Singh and his party, the Rashtriya Lok Dal (RLD). It directly benefited the Bharatiya Janata Party (BJP), which was accused of inciting the violence for political gains. The saffron party swept in the region in the 2014 and 2019 general elections and UP Assembly polls of 2017.
Since then, people like Ajit Singh as well as many community elders had been trying to bring them together, but to no avail. The farmer agitation has given a new hope for the revival of this political and social alliance.
The Mahapanchayat held in Muzaffarnagar on January 29, a day after BKU's national spokesperson Rakesh Tikait burst into tears while talking to media persons, was the first time since the riots that a former Muslim leader of the BKU, Ghulam Mohammad Jaula, was seen sharing the stage with Tikait's elder brother Naresh Tikait.
"Several precious lives were lost. So many families had to migrate to safer places. Had Mahendra Singh Tikait been alive, the riots would have never happened. He was a secular person who always believed in unity. He garnered huge respect and had influence in the region," Jaula told NewsClick, claiming both communities have remorse and they have moved on.
"There was a pin drop silence in the panchayat in Muzaffarnagar when I said Muslims were killed. It means, people have remorse. Years have passed now; therefore, there is no point to live with the difference. We have moved on. There is a bigger issue at hand. Since all of us are farmers and Rakesh Tikait is leading our fight, he has full support from our community," he said.
He was a close aide of Tikait's father Mahendra Singh Tikait, the legendary farmers' leader from Muzaffarnagar's Sisauli village, and was considered as a father figure to the Tikait brothers.
Jaula too, like several other farmer leaders, said he was moved seeing Rakesh Tikait in tears. On January 28 evening, Rakesh broke down while talking to media persons at Ghazipur border as police personnel moved in to clear the protest site. It inadvertently galvanised protesters in western UP and Haryana. The thinning protest that has faced intense pressure after the January 26 violence, got a new life following the outburst.
"When we saw Rakesh Tikait crying, we had a different feeling. We felt as if his father is crying, which cannot at all be tolerated as the Tikait patriarch was also someone who would do anything for the farmers," said Jaula.
Camping at Ghazipur border, Zile Singh, a resident of Chaura Khurd in western UP's Saharanpur district, said, "We are all together in this fight, and we need to raise our voice against these laws. It is need of the hour as all of us, be it Chaudharys, Muslims and Kashyaps (Dalits), are either farmers or farm labourers. We are farmers first and only after that we can consider our religion,"
He claimed that the Jat-Muslim divide has got bridged to a "great extent" with this agitation. "The credit also goes to Tikait's tears, which made the stir against the farm laws a battle of 'pride'."
"For farmers in western Uttar Pradesh and Haryana, it was not just few drops of tears but an attack on their pride," he added.
He alleged that the BJP fed the youth communalism as a medicine. But now, after the government (both in the Centre and the state) failed to give them a better future, the youngsters too have realised the fact that they were used and later betrayed. "They are not getting government jobs. Except for the police and the defence forces, they don't have any other option. They are exploited in private jobs. Now, the trust of youth in the Modi and Yogi governments is lost. This agitation will write a new script of Indian polity," hoped the marginal farmer.
Prabal Pratap Shahi, a BJP leader who recently parted ways with the saffron party, protesting against the three laws, said although the society was divided on communal lines, democracy was still in people's DNA.
"If the peasants are refusing to accept the so-called reforms, withdraw it. The rigidity of the government to implement the laws by hook or crook while ignoring such a massive protest across the country strengthens the suspicion the farmers have in their minds — it will leave them at the mercy of corporates, their mandis (agricultural produce marketing committees or APMCs) will be eradicated once there will be open market, etc. They know the procurement will be done by Reliance, logistics will be provided by Adani and banks will be privatised for funds," he said. "The youth of the country is educated enough to understand why profit-making PSUs (public sector units) such as BPCL (Bharat Petroleum Corporation Limited) that has given a dividend of Rs 25,000 crore are being sold. How can the government sell the public sector companies, which have shareholdings of people?" he asked.
Among the protesters wearing skull caps was Md Perwez Alam from Ghaziabad district. "Love for farmers is love for God too" was his prompt reply to the query as to what prompted his group to extend their solidarity to protesting farmers.
Zahind Ali, a 65-year-old farmer from Naqasa village in Amroha district, said the Jats got instigated and fought Muslims, accepting the BJP as their savior. "But after seven years of the bloodbath, now they have understood that they were used as political weapons. Expression of this remorse is helping the two communities to revive their lost unity. The change is quite visible given the inclusive nature of this protest," he added.
A resident of Saharanpur, Majid Ali Khan, who is also a political analyst, said the Jats are very sensitive by nature. "They sound tough, but they are soft at heart. They have never been communal; and therefore, they have rallied behind several Muslim leaders such as Ghayur Ali Khan of Jalalabad. Ghulam Mohammad Jaula extending support to the movement by taking part in the Muzaffarnagar panchayat and reaching Ghazipur border with his supporters is a clear indication that the movement has revived the old relationship between the two communities," he said.
He further said it has been over seven-and-a-half years since that madness engulfed western Uttar Pradesh and both communities suffered a lot. "Those who were killed and migrated were poor people working farm labourers. Jats lost their cheap work force as a result of the riots. Now, they depend on farm labourers from different states to work in their fields. A large number of Muslim victims were blacksmith who used to make farming tools in the village at lower prices. Losing them increased the input costs exponentially. We also witnessed a split in the BKU that resulted into its weakening. So, both communities did not have any option but to join hands once again. And the same is happening with this movement, which is a very positive sign," he added.
Some local level Jat leaders, like Vipin Singh Baliyan, among others put in their share of effort to undo the Hindu-Muslim rift. "There is no split anymore in the group. Both communities have already set aside their differences. Several victims have also withdrawn criminal cases. It's wrong to say that Muslims took part for the first time in the Muzaffarnagar panchayat after the riots. We had called at least 14 panchayats previously that witnessed participation of the two communities. Several families have already returned to their villages. Lives are quite normal," Baliyan told NewsClick.
Dr Ravindra Rana, a Muzaffarnagar-based journalist, said the Jat-Muslim unity was a politically significant coalition and the BJP had realised that it could not make inroads in the politics of the cane land without breaking it.
"So, the party strategically raised the issues of discord, which actually did not exist. In nut shells, the BJP weaponised normal civic affairs like love affairs and eating habits into a source of majoritarian rage. It targeted love marriages between Hindu girls and Muslim boys as an Islamist conspiracy. Post riots, the party groomed and established its leadership in the region instead of depending on regional parties' coalition. Once their candidates got elected in the Lok Sabha and state's Assembly, they were given important portfolios in the governments in the Centre and the state so that the Jats' confidence in the party could be strengthened," Rana said.
But the ongoing protest and Tikait's tears have revived the social bond. Rana said, "Panchayats after panchayats are being organised with huge participation of people from different communities. Interestingly, Jats in the region are now vocally admitting their mistakes they committed after defeating Ajit Singh and Jayant Chaudhry in 2014 and 2019 Lok Sabha elections. At present, there is a lot of anger against the saffron party and if it continues till the UP Assembly elections next year, the party will surely suffer a lot."
With regard to Tikait brothers, Rana appeared to be apprehensive. He still believes that Rakesh Tikait is the weakest link of the ongoing protest. Justifying his arguments, he questioned Tikait's credibility and ability to sustain the movement till the next year's Assembly elections in the state.
"The Tikait brothers have a credibility crisis. It is well known that they made the BKU an unofficial wing of the ruling BJP. Rakesh too admitted recently that he had voted for the BJP and helped the party form the government. Though he argues that he had inputs that miscreants had plans to turn the symbolic 'chakka jam' (announced by the Samyukta Kisan Morcha on February 6 across the country from 12 noon till 3 pm) violent, yet his decision to call it off in Uttar Pradesh and Uttarakhand raise question mark. It would be interesting to see if the Tikaits are able to sustain the movement. It's in fact a great challenge before them as well," Rana concluded.
However, some still feel that it is too early to expect much from what is essentially an act of solidarity between the Jats and Muslims during the ongoing protest as the "scars are too deep to heal".
Get the latest reports & analysis with people's perspective on Protests, movements & deep analytical videos, discussions of the current affairs in your Telegram app. Subscribe to NewsClick's Telegram channel & get Real-Time updates on stories, as they get published on our website.
Subscribe Newsclick On Telegram