Sharjeel Imam on How Not to Let Jail Break You
A free citizen, at the barricades, protesting against the CAA, finds himself incarcerated and alone as he battles his enemy, Time.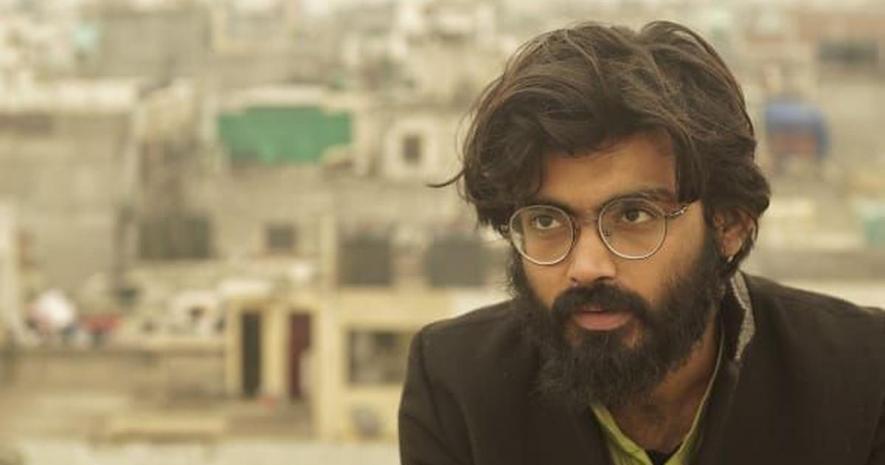 Lawyer Ahmad Ibrahim had been worrying, for a good many weeks, about his client Sharjeel Imam, the PhD student of Jawaharlal Nehru University, Delhi, who is lodged in Tihar Jail on charges of sedition and conspiring to foment communal violence in the Capital in February. Ibrahim thought Sharjeel's anxiety was discernibly mounting at every successive "legal interview", which is a term for the parley that lawyers conduct with their clients lodged in jail. Ibrahim and Sharjeel are allowed to converse for 30 minutes twice a week.
In those interviews, Sharjeel would sound restless and impatient, as if eager to fast-forward time, to experience the day he would walk out free from Tihar Jail. He would incessantly inquire from Ibrahim why his bail applications had not been filed. Ibrahim would, as he had so many times in the past, tell Sharjeel that the time for moving the court for his bail had to be appropriate. Ibrahim would then explain to Sharjeel the legal minutiae involved.
Sharjeel has been named in three chargesheets pertaining to three FIRs—for delivering a seditious speech at Aligarh Muslim University on 16 January 2020; for his role in the violence sparked during a protest in December 2019 against the Citizenship Amendment Act at Jamia Millia Islamia; and for conspiring with 16 others to foment the communal violence in Delhi in February and terrorise the Union government into withdrawing the CAA, which has had the police book them under the Unlawful Activities (Prevention) Act. Until all the three cases are committed to trial, the court is unlikely to grant bail to Sharjeel because of the police investigations still remaining incomplete.
At the end of Ibrahim's lengthy discourse on the judicial process, every time, Sharjeel would, rather gratuitously, analyse the cases in which he is entangled. The sedition charge is flimsy, the undertrial would argue, as if talking to himself. He had, after all, spoken of only organising a chakka jam to cut off Assam from the rest of India; he had not organised one. He would cite Supreme Court judgements declaring that a mere speech could not be treated as seditious unless it instigates violence. On few occasions, Sharjeel would offer to even write to the judges to communicate his views. On all these occasions, Ibrahim would respond: "That is not how the judicial process works."
The case pertaining to the violence at Jamia Millia Islamia does not perturb Sharjeel, for he knows that most of the accused in that incident have been granted bail. Nor does the charge that he conspired to foment the communal violence in Delhi in February. He was taken into police custody on 28 January, for making the alleged seditious speech in Aligarh. He was sent to Tihar Jail on 7 February. The communal violence in Delhi happened 26 days after his arrest. "I could not have possibly plotted the violence from jail, could I?" Sharjeel would tell Ibrahim, as if arguing before a judge.
Sharjeel's analyses of his cases would be more like impassioned soliloquies, at the end of which Ibrahim would counter: "But that is not the state's story." Sharjeel and others are accused of entering into a conspiracy to trigger the communal riot, according to the chargesheet, in the weeks he was a free citizen, at the barricades, protesting against the CAA. Yet Sharjeel would say the prosecution will have no evidence against him, because he was not involved in the violence.
Call it the certitude of the innocent, or the abiding faith of the citizen in justice. It inspires awe—and yet appears unreal, largely because Sharjeel seemed, to Ibrahim, oblivious of the judicial process: A person is exonerated or judged guilty after protracted legal battles; his or her protestation of innocence does not count. The person feels perpetually belittled, disbelieved, as if living a reality different from others.
Their parleys prompted a worried Ibrahim to play the role of psychological counsellor. During their last legal interview, Ibrahim asked Sharjeel to describe his state of mind. Sharjeel said he had been constantly adjusting to the changing reality around him. It had been, initially, a shock to be treated as a terrorist, by the police, in the courts, and on his journey to Guwahati, where he was taken as an FIR had been filed against him there. He was lodged in Guwahati Central Jail, where he awaited bail. "I preferred Guwahati over Tihar," Sharjeel said to Ibrahim. Why?
"Guwahati Jail was not a violent place. Nor was it anti-Muslim," Sharjeel said. Once the curiosity about Sharjeel, the terrorist, ebbed, he mingled around with other inmates, many of whom incarcerated for participating in the protest against the CAA in Assam. They were mostly young and educated. He could discuss issues with them, he could spend hours in the prison library. In June, the inmates of Guwahati Central Jail went on a two-day hunger strike over an eight-point agenda, which included the demand to release Akhil Gogoi, the founder of Krishak Mukti Sangram Samiti, a grassroots organisation.
Gogoi was not released, but at least, Sharjeel said to Ibrahim, the strike testified to the possibility of resolving problems through democratic methods. EVEN IN JAIL. Yet, within weeks of the hunger strike, Sharjeel tested positive for Covid-19. He lived in fear of dying in jail. "My fear was not that I would die without meeting my family. It was rather that I would not able to prove that I am not a terrorist," Sharjeel said to Ibrahim. A month later, he turned negative and was whisked away to Delhi, where chargesheets had been filed naming him among the accused.
"Tihar is a nightmare," Sharjeel confided in Ibrahim. Perhaps his perception is on account of his experiences during his earlier spell in Tihar, where he had been lodged before he was transported to Guwahati. In those days, he was mocked for his design to dismember India, ironically, even by those accused of committing heinous crimes. On 13 February, a gang of prisoners accosted him, calling him a terrorist and anarchist. One of the assailants grabbed his collar before the jail authorities intervened. This incident is perhaps why he has been largely confined to a solitary cell, from where he steps out for an hour every morning and evening.
It was as much to bolster Sharjeel's spirit as to glimpse the working of his mind that Ibrahim asked whether there were techniques of ensuring that jail did not break a person. Their conversation made Ibrahim understand why Sharjeel incessantly asked him about bail applications. Time acquires a new meaning in jail. For most people outside jail, time starts to tick when they wake up in morning. The passage of time is suspended for the undertrial in jail. Time stalls. Every day seems a vacuum. Sharjeel is impatient for bail because he senses time will start ticking only when he returns to life as he knew it before his arrest on 28 January. He had, initially, thought he would be out of jail in a few weeks. He reset time to a few months later—and waited. He has been asked, now, to reconcile himself to another six months in jail.
His is a wakeful sleep. Even as he waits for the ticking of time to resume, Sharjeel reads. Not for him, though, Haruki Murakami's Men Without Women, nor Franz Kafka's The Trial, nor books pertaining to his PhD thesis. He is allowed to read novels classified as pulp fiction—a John Grisham perhaps. And he can, obviously, thumb through the chargesheet pertaining to the "seditious speech" he delivered, which he has, several times.
Or Sharjeel spends the wakeful sleep counting his blessings. To Ibrahim, he said he had always wanted to sensitise Muslims to their marginalisation, to their discrimination by the state. His incarceration had prompted a lot more people to hear his speeches and read his articles than he could have ever hoped earlier. Is that a recompense? He draws solace from the protest of farmers that, to him, seems modelled on the nationwide sit-ins against the CAA. "I could have been there, with them," Sharjeel said to Ibrahim.
In jail, a person is inserted into a social milieu not of his choosing. Guwahati Central Jail was a lucky break. Not so Tihar, where he has people convicted of crimes around him, some awaiting their appeals to higher courts, a good many banished to spend their lives behind its forbidding walls. They no longer hope of returning to the life they knew. Sharjeel's isolation poses a question: Does he enter their circle for human companionship? Or does he stay aloof to ensure he is not led to believe his life could become like theirs—a trap from which there is no escape?
In living outside the ordinary notions of time and social reality, the only lodestar is Sharjeel's belief in his innocence, with the hope that the chimes of freedom would be heard again. And that time would tick, now or months later. Until then, humour makes the wakeful sleep bearable. When Ibrahim conveyed to Sharjeel the news that a friend of his has got married, he quipped, "I am also of marriageable age. Get me out of jail."
The author is a freelance journalist. The views are personal.
Get the latest reports & analysis with people's perspective on Protests, movements & deep analytical videos, discussions of the current affairs in your Telegram app. Subscribe to NewsClick's Telegram channel & get Real-Time updates on stories, as they get published on our website.
Subscribe Newsclick On Telegram