Sikkim: Battle Between Lamp and Umbrella is Far From Over
The Sikkim Democratic Front has refused to participate in the legislative Assembly until Golay is no longer the chief minister.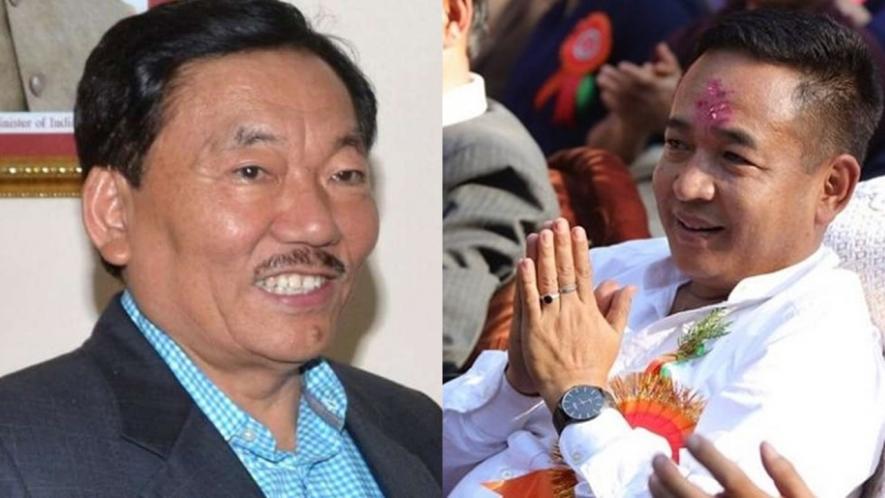 While many in Sikkim are still coming to terms with the change in ruling party, the Sikkim Democratic Front (SDF) is still getting used to being in the Opposition. There was high drama in the Assembly when after former chief minister, Pawan Kumar Chamling, questioned the legality of Prem Singh Tamang (Golay) serving as chief minister. In doing so, he referred to the case of J Jayalalithaa when the Supreme Court of India struck down her appointment as chief minister in 2001.
While Chamling was speaking, members from the treasury benches stood up to counter his assertions. Chamling, with his SDF members in tow, then staged a walkout. As the SDF members reached the exit door, persons in the gallery affiliated with Golay's Sikkim Krantikari Morcha (SKM) shouted 'chor' (thief) at Chamling. He later told the press that he would not to enter the Assembly as long as Golay was chief minister.
The controversy surrounding Golay's chief ministership stems from his conviction in a case for misappropriating funds when he served as the minister for animal husbandry in Chamling's government. The initial complaint was filed by Chamling's predecessor chief minister, Nar Bahadur Bhandari. It was only in 2017 that Golay got convicted with a one-year sentence. The conviction was also upheld in the Supreme Court. Golay completed his sentence in 2018 and was released. However, just ahead of the 2019 elections, a controversy arose over whether Golay was barred from contesting the elections or not.
Also Read | Can a Former Convict Contest an Election?
According to Section 8(m) of the Representation of the People Act, 1951 (RPA), a person convicted under the Prevention of Corruption Act, 1988, for a term longer than six months would be barred from contesting an election for six years. However, through the Repealing and Amending Act of 2015, the Amending Act, which inserted clause M in Section 8 of the RPA, was repealed. This has led to some ambiguity as to whether the Repealing Act served to repeal the Amendment and hence delete the provision from the statute, or was it merely a clerical clean-up of the legal inventory.
Golay, probably on the advice of his party, decided not to contest and instead successfully fielded his son, Aditya Golay, from the family constituency of Soreng-Chakhung. When the results of the Assembly elections were announced on May 23, the floor opened up for speculation regarding who would be the chief minister. Then, on May 24, a delegation of SKM party workers approached the governor, Ganga Prasad, with a memorandum that Golay should be appointed as chief minister. This led to Golay's swearing in on May 25.
The big question regarding Golay's appointment is whether a person who is barred from contesting elections can become chief minister. Going by the strict letter of the existing statutes, anybody can be appointed as chief minister by the Governor. It is just a matter of convention that the chief minister is usually an elected member of the House from the party enjoying majority.
Article 164 of the Constitution does not prescribe restrictions on who can be appointed, except that the person to be appointed should not be disqualified from holding office due to defection. The caveat, however, is that the person appointed, if not a member of the House, should become a member of the House within six months, i.e. successfully contest an election. This is where the problem lies as far as Golay is concerned.
The SDF's reference to Jayalalithaa's 2001 case is, however, sounds. In this case, the Supreme Court spelt out that a person who has been convicted with a sentence of no less than two years cannot be appointed as chief minister. Since Golay's sentence was for only one year, it would appear that his serving as chief minister for six months is perfectly legal.
Also Read | Sikkim Elections: Slim Win for SKM But SDF Not Yet Down and Out
However, the entire fracas appears to be more about politics rather than law. There were three candidates who won from more than one constituency -- Kunga Nima Lepcha from SKM won from Shyari and Gangtok. From SDF, Pawan Chamling won from Poklok-Kamrang and Namchi-Singithang, while DT Lepcha won from Martam-Rumtek and Gnathang-Machong. Kunga Nima Lepcha has vacated his Gangtok seat while Chamling vacated the Poklok-Kamrang seat. DT Lepcha resigned from Martam-Rumtek. Of these three seats, Gangtok and Martam-Rumtek are Bhutia-Lepcha (BL) seats.
If Golay were to be declared eligible to contest the bye-election, he would only be able to contest from the Poklok-Kamrang seat, where Chamling won by a large margin. Hence, there has been speculation that his son would vacate the Soreng-Chakhung seat for Golay to contest the bye-election. However, other speculation points towards him contesting from Poklok-Kamrang. If this would be the case, it would be a bold move on his part as Poklok-Kamrang was the constituency from which Chamling won by a large margin. Kamrang specifically is considered a SDF stronghold.
The abusive words shouted by persons in the gallery against Chamling appear to have gained him some public sympathy. After all, he is an elderly politician who has served as chief minister for two and a half decades. The SKM also may have inadvertently attracted some ire after they cancelled all appointments made under the One Family One Job (OFOJ) scheme after March 8. The OFOJ scheme was introduced by Chamling in 2018 to ensure that at least one member from a family would be 'employed'. He did mention in an interview that the scheme was aimed at making people feel employed, as the mindset in Sikkim is that one is only employed when they have a government job. Any other source of income is not considered employment for many.
Sources in the bureaucracy have claimed that a day before the imposition of the election Model Code of Conduct (MCC), files were moving at lightning pace to process appointments under the OFOJ scheme. The SKM's reason for cancelling the appointments are in fact ethically sound, these appointments would appear to be political in nature and would violate the MCC. However, for those whose appointments have been cancelled, their votes are unlikely to go to the SKM.
The next upcoming six months will be a litmus test as to whether Sikkim's grand old party will stage a comeback (by winning all three bye-elections) or whether the age-old practice of voting for the ruling party will persist.
Get the latest reports & analysis with people's perspective on Protests, movements & deep analytical videos, discussions of the current affairs in your Telegram app. Subscribe to NewsClick's Telegram channel & get Real-Time updates on stories, as they get published on our website.
Subscribe Newsclick On Telegram