'Society Should Protect Itself' – Govt Washes Its Hands Off Omicron Fight
COVID cases have surged by over 40 times in the past two weeks in India but the government appears to be letting the new variant sweep freely.
"It is the society's responsibility to slow it [omicron variant] down. It is the individual's responsibility to protect oneself by using mask, to protect the family by using mask, and protect by getting vaccinated those who are left out…" VK Paul, Member Health, NITI Aayog said (2:04) while addressing the weekly press briefing by the Union health ministry.
This came on a day when India reported a record 2.47 lakh COVID-19 cases on January 12. The next day, the tally further increased to 2.64 lakh cases. The total death toll as per official records has reached an unconscionable 4,85,050, though most experts believe that this is a gross under estimate. The current third wave driven by the omicron variant is mostly affecting cities as of now. But in all likelihood the virus will start spreading in peri-urban and rural areas in the coming weeks.
The government of India has, meanwhile, announced a slew of new guidelines and advisories which include how to stay in home isolation, early discharge from hospitals if cases are asymptomatic, abandoning testing of contacts unless there have comorbidities, allowing home testing with no record keeping, and so on.
Put all this together and you start to get a sinking feeling that the Narendra Modi government is simply washing its hands off the pandemic. The compulsion to keep the economy open is understandable – they will never admit, but the devastating lockdowns of 2020 have ensured that the government is terrified of that prospect. In any case, it failed to "break the chain of transmission", as was claimed when PM Modi first announced the country-wide lockdown on March 24, 2020. Short of a lockdown, there are many, many measures that need to be taken by the government. Strangely, it is just letting go of everything.
But first let us look at the COVID situation as on January 13, 2022.
Cases Surge 40 times in two weeks
As the chart below shows, new cases confirmed on December 27, 2021 were 6,358 one of the lowest tallies after the second wave. In the next about two weeks, cases have risen phenomenally as the highly infectious omicron variant exploded on India. On January 13, new cases reached 2.64 lakh, which is the highest daily tally since the peak of the second wave in April-May 2021. In this same period, 5,323 persons succumbed to the disease (not shown in chart). (Data from MOHFW and covid19bharat.org, collated by Newsclick's Data Analytics Team)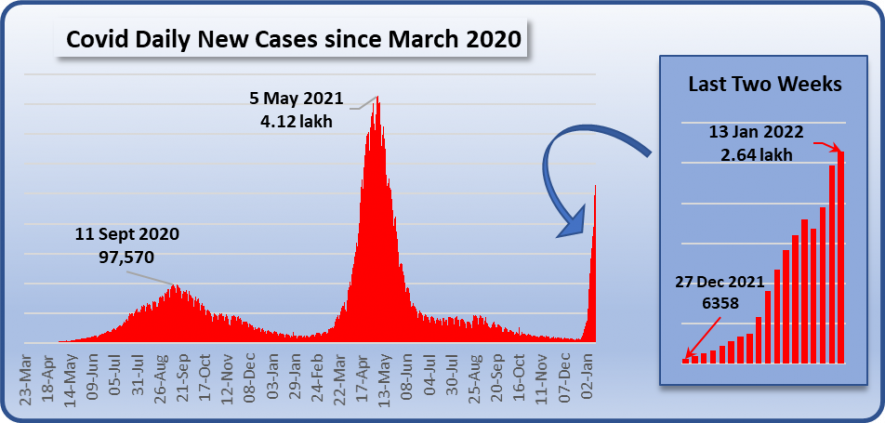 Low Vaccinations
Despite the hype about India having delivered over 150 crore vaccine doses (including a special and grand spike in vaccinations on September 18, which happened to be the Prime Minister's birthday), the harsh reality is this: since the start of vaccination drive almost exactly one year ago, 95% of adults have got one dose and just 68% have got the full protection of double doses. (See chart below based on COWIN app data of GoI)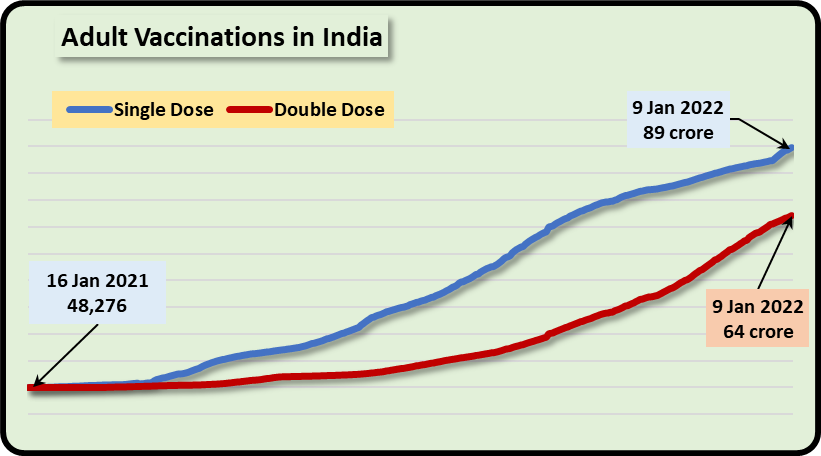 There are an estimated 94 crore adults (18+ years) in India, who were targeted for vaccination. So, with about 64 crore people having only single dose, the remaining 30 crore are still at risk of infection, especially from the current highly transmissible omicron variant. This is apart from the under-18 population which appears to be catching the virus too.
Remember, that it was promised by the government that all adults will be fully vaccinated by the end of 2021. This huge gap that has been left is not only leading to a spread of infections but also of more severity than would occur in a fully vaccinated person. Moreover, experts have been cautioning that unvaccinated people will become ready sources for the virus to mutate and ever newer variants to arise and spread.
Sub-adult Population and Boosters
As the omicron variant is showing, vaccinations are needed for the sub adult population too, that is, those below 18 years age. While the government has announced vaccinations for the 15-18 years age group since January 3, it is progressing at a slow pace, as usual.
More importantly, the booster shots promised for 3 crore health workers and other frontline workers are shockingly lagging. These are the persons who man hospitals, dispensaries and carry out the ground level tasks of identifying patients, helping them get medical attention and indeed, implement all the advisories and guidance that the mandarins of Delhi issue periodically. If they themselves are unprotected, how will they go about fulfilling the responsibilities?
Govt is only for "guidance" not work?
The government, however, is blithely going about patting its back on "achieving" 150 crore vaccinations and simultaneously urging the people to take responsibility of protecting themselves and their family. The government, it appears, is only an adviser. In the nearly two years since the pandemic entered India, the government's failure to provide faster vaccine coverage joins a long list of failures and misses earlier, which include the failure to provide adequate oxygen, or hospital beds, or give timely salaries to frontline health workers.
Also, the ill-conceived lockdowns, the neglect of migrant workers, the attempt to pass on vaccination to private sector in May 2021 (thankfully reversed after a month), the incompetent arrangement of vaccine supplies, etc. created a condition where people were left helpless and vulnerable.
Amidst all this, bureaucrats who unfailingly refer to the Prime Minister's continuing guidance, have been doling out all kinds of advisories not just to people at large but also to scientific bodies, state governments, other government bodies and the healthcare fraternity.
While it is their right to guide and give advice, and many such advisories may be useful, what remains hidden is their omissions. This was best exemplified in the oxygen supply arrangements, which fell apart under pressure of the delta variant onslaught. The inability to fully vaccinate all adults in time is another such failure.
Govt Hoping for Herd Immunity from Omicron?
It is being suspected that perhaps the future of the pandemic is being envisaged in a different way by the powers that be. Since there is a widespread belief that omicron is milder in its effects than previous variants, so if it is allowed to sweep through the population, some level of herd immunity will emerge. Nobody has said this officially but there are reasons to suspect that this is informing policy making.
If people are just going to do tests at home with the new home-testing kits, and subsequently if they just isolate at home if positive, then there can be no guarantee of proper protocols being observed, neither will the government ever get any forewarning of where clusters and hotspots are emerging. As it is, various estimates by independent agencies have said that India's confirmed cases and fatality rates are highly under-estimated. This new strategy means nothing will be known and the virus will continue to devastate the people.
While natural emergence of herd immunity is something that can happen, but to hope and plan for it is a futile and callous strategy because it is possible that a more deadly variant can emerge. In any case, the omicron variant is still causing untold distress to people who are daily earners and have no financial savings or coverage to deal with illness, mild or otherwise.
India can only hope that among all the botched COVID preparations and policies, this also is not one of them.
(Data collation by Peeyush Sharma and Pulkit Sharma of Newsclick Data Analysis Team)
Get the latest reports & analysis with people's perspective on Protests, movements & deep analytical videos, discussions of the current affairs in your Telegram app. Subscribe to NewsClick's Telegram channel & get Real-Time updates on stories, as they get published on our website.
Subscribe Newsclick On Telegram