Spying for the Revolution
The Soviet Union is no more. However, the legacy of the Russian Revolution and the Soviet Union is still honoured by remembering those who laid down their lives for the idea and ideals of socialism.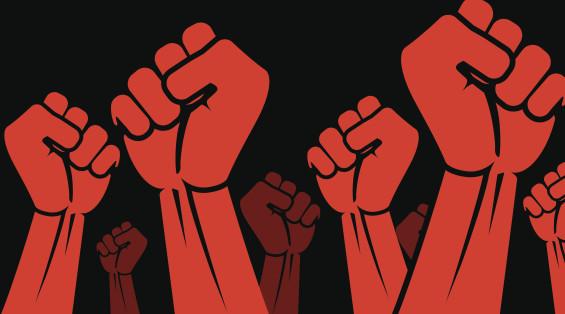 On November 9, Google Doodle celebrated 30th anniversary of the fall of the Berlin Wall. But 30 years on, many are remembering the dream of socialism that had fired their imagination; and how they had not realised that the fall of the wall would also be the crushing of their dreams.
As a pastor, Elfriede Begrich, who had celebrated the fall, reflects 30 years on: "I had taken to the streets for a third way, not the old socialism we had in the GDR, but neither the rapacious Manchester capitalism of the west. I wanted socialism with a human face … But the peaceful revolution soon slipped from the grasp of those who really wanted it. It became the revolution of those who wanted to buy colour TVs and bananas."
The idea and ideals of socialism inspired people across the globe; it was not only the poor and the oppressed, but many men and women in Britain and America who were living in the heart of the capitalist society. They were so inspired by the Russian Revolution that they were willing to risk their lives by spying for the Soviet Union.
On the anniversary of the Russian Revolution, it is important to remember why Soviet Union inspired so many millions of people around the world; and why it inspired so many men and women in Britain and the USA to risk their lives to spy for Soviet Union.
Melita Norwood was 87 years old when the British government discovered that she had been a spy for the Soviet Union for 40 years—making her the longest serving spy for the Soviet Union in Britain. When the press asked whether she thought it was right to spy, she replied that she wanted to help Russia's "new system".
Norwood started working for the Soviet Union in 1937 while working as personal assistant to the director of the British Non-Ferrous Metals Research Association, which was developing Britain's nuclear technology.
She told the BBC in September 1999: "I did what I did not to make money, but to help prevent the defeat of a new system which had, at great cost, given ordinary people food and fares which they could afford, good education and a health service." She said she wanted to support the first worker-peasant state which had abolished unemployment and for the first time enabled working people to realise their full potential.
An English priest of the Church of England, Hewlett Johnson (1874 – 1966), left a powerful account of the Soviet Union in the 1930s.
"The vast moral achievements of the Soviet Union are in small measure due to the removal of fear. Fear haunts workers in a capitalist land. Fear of dismissal, fear that a thousand workless men stand outside the gate eager to get his job, breaks the spirit of a man and breeds servility. Fear of unemployment, fear of slump, fear of trade depression, fear of sickness, fear of an impoverished old age lies the crushing weight on the mind of the worker. A few weeks wages only lie between him and disaster. He lacks reserves.
"Nothing strikes the visitor to the Soviet Union more forcibly than the absence of fear….No fear for maintenance at the birth of a child cripples the Soviet parents. No fear for doctors' fees, school fees, or university fees. No fear of underwork, no fear of overwork. No fear of wage reduction, in a land where none are unemployed….so long as work is needed, work is free to all. Workers are in demand in the Soviet Union; and wages rise." [Quote from Carlos Martinez, The end of the beginning (2019)]
Norwood's mother was English; she married a bookbinder from Latvia, whose family name was Sirnis, and set up home near Southampton, where their daughter was born. Norwood's parents were active with the Left. Her father, who died when she was six, had founded the Southern Worker and Labour And Socialist Journal, a weekly paper inspired by the Russian Revolution; her mother joined the Co-operative party.
Educated at Itchen Grammar School, at her mother's urging, Norwood became a student at what was then the University College of Southampton, but quit after a year of logic and Latin. The family moved to London in the 1930s, looking for work at a time of mass unemployment. By then, Norwood's political sympathies were in place. She had seen the victims of the depression begging for food as well as a job. Norwood joined the Communist Party in 1936, having been with the Independent Labour party until it split. She remained a Communist till her death in 2005. Melita Norwood's role was revealed by a KGB archivist, Vasili Mitrokhin, who defected to Britain in 1992. Despite the revelations, the British government did not persecute her for espionage activities.
Unlike Melita Norwood, who remained unknown, the most well-known British spy who worked for the Soviet Union, was Harold Adrian Russell Philby, better known as Kim Philby. He was born into the ruling class of the British Empire and he became a communist while studying at the Cambridge University where he joined the Cambridge University Socialist Society in 1929.
Philby worked as a journalist and then was recruited first into SOE in 1940 and next year, he was transferred to the Secret Intelligence Service (MI6) from where he worked himself to the top of the MI6.
In 1949, he became the SIS representative in Washington, working in liaison with the Central Intelligence Agency (CIA) and the Federal Bureau of Investigation (FBI) coordinating their activities in various parts of the world.
While he was in Washington, two fellow Cambridge spies, Guy Burgess and Donald Maclean, fled to Moscow, leading to suspicions about Philby. Despite the suspicion and even a secret trial Philby continued his work.
Philby says the reason why he got away with his espionage for so long was the British class system, which could not accept one of their own was a traitor.
But by 1962, Philby was known as a Soviet agent and in January 1963, he fled to Moscow where he remained for the rest of his days.
For 30 years, Kim Philby supplied information to the KGB, the Soviet intelligence agency. When he died in Moscow, he was carried in an open casket and buried with full military honours.
Some writers have called him a double agent. On this allegation, Philby wrote in his autobiography, Kim Philby My Silent War (1968): "Some writers have recently spoken of me as a double agent, or even as a triple agent. If this is taken to mean that I was working with equal zeal for two or more sides at once it is serious misunderstanding. All through my career, I have been a straight penetration agent working in the Soviet interest."
Many years later, Kim Philby's granddaughter, Charlotte Philby, wrote about her father, John Philby (Kim's eldest son): "As open-minded as he (John Philby) was close-lipped… my father believed Kim had acted upon his devotion to Communism—an ideological principal he deemed admirable against the rise of fascism. He was fiercely proud that until the bitter end, his father stood by his principles."
In America, too, there were men and women who were so inspired by the Russian Revolution, they were willing to risk their lives to spy for the Soviet Union. The most famous were Ethel and Julius Rosenberg, a Jewish couple from a working class background. They were executed on June 19, 1953 on the charge of stealing secrets relating to the atom bomb and giving it to the Soviets. They were first and the only Americans ever to be put to death for espionage in the civil court history. Julius and Ethel Rosenberg were born in the slums of lower East Side ghetto of New York. They dreamed that one day everyone would have bread, peace and roses; and they sacrificed their lives for that belief.
When they were executed, their two sons were young: Michael was 10 and Robert was six. The photograph of their lawyer, Emanuel Bloch, holding the two boys on the day of the execution was etched into my mind and has been a source of inspiration all these years.
This is the last letter written by Ethel just before she and her husband were executed:
Dearest Sweethearts, my most precious children,
Only this morning it looked like we might be together again after all. Now that his cannot be, I want so much for you to know all that I have come to know. Unfortunately, I may write only a few simple words; the rest your own lives must teach you, even as mine taught me.
At first, of course, you will grieve bitterly for us, but you will not grieve alone. That is our consolation and it must eventually be yours.
Eventually, too you must come to believe that life is worth the living. Be comforted that even now, with the end of ours slowly approaching, that we know this with a conviction that defeats the executioner!
Your lives must teach you, too, that good cannot really flourish in the midst of evil; that freedom and all the things that go to make up a truly satisfying and worthwhile life, must sometimes be purchased very dearly. Be comforted then that we were serene and understood with the deepest kind of understanding, that civilization had not as yet progressed to the point where life did not have to be lost for the sake of life; and that we were comforted in the sure knowledge that others would carry on after us.
We wish we might have had the tremendous joy and gratification of living our lives out with you. Your Daddy who is with me in these last momentous hours, sends his heart and all the love that is in it for his dearest boys. Always remember that we were innocent and could not wrong our conscience.
We press you close and kiss you with all our strength.
Lovingly,
DADDY AND MOMMY
JULIE ETHEL
The Soviet Union is no more. However, the legacy of the Russian Revolution and the Soviet Union is still honoured by remembering those who laid down their lives for the idea and ideals of socialism; and for us to study the failures so that the dream of a socialist society can be realised. In a world with growing inequalities, rampant unemployment and threat of wars, the ideas and ideals of socialism are even more relevant today.
Get the latest reports & analysis with people's perspective on Protests, movements & deep analytical videos, discussions of the current affairs in your Telegram app. Subscribe to NewsClick's Telegram channel & get Real-Time updates on stories, as they get published on our website.
Subscribe Newsclick On Telegram